The Complete Morton Project refers not to the completeness of this particular album but to the lofty goal of its participants to learn and record as a duo all 93 of Jelly Roll Morton's compositions, including his rarest.
In 2018, they began posting YouTube videos of their arrangements recorded in an apartment and the delicacy and buoyancy of their performances attracted jazz fans the world over. Both musicians on the screen were however already established and well known in the field. They've even played together in The Dime Notes, and more recently The Vitality Five, highly respected traditional jazz bands with slightly different focuses.
Andrew Oliver is a pianist from Portland Oregon who got his start in classical piano, fell in love with ragtime and early jazz, and studied music at Loyola in New Orleans just before Hurricane Katrina. In 2007 he toured Africa with Jazz at Lincoln Center. When he got home he founded the Portland Jazz Composers' Ensemble and toured with groups playing both modern chamber jazz and traditional jazz before relocating to London in 2013 and concentrating his efforts solely on the early styles. He draws on the greats for inspiration which made this project a natural fit. In fact, the light bulb went off when he and Horniblow were rehearsing yet another Morton piece to add to the repertoire of their full band.
David Horniblow is from Reading in the UK and studied classical clarinet. He started his jazz career playing swing and modern styles, but his first fascination had been early Duke Ellington. He followed up an opportunity to play with Keith Nichol's by joining the Chris Barber Band. He's played with Acker Bilk, Kenny Ball, and all the legends of British Trad still active during his tenure. In addition to his work with The Dime Notes and The Vitality Five, he leads Horniblow's Hot Three and appears with a number of other traditional jazz acts active around London.
Though this project may have started on YouTube this album was recorded in a professional studio under the best circumstances. Oliver had use of a Steinway grand piano, Horniblow occasionally grabs the rarely heard bass sax. Having the Youtube versions available is no reason not to treat yourself to this disc. Comparing both gave me a fine appreciation of what a studio offers, even at the expense of that spontaneous bedroom feel. The pure musical beauty on display in the videos suffers not at all for the better acoustics.
Extensive liner notes written by Andrew Oliver accompany attractive packaging from the lejazzetal label. They explain that to explore the Morton compositions is to explore the very earliest stew of New Orleans jazz, including elements of blues, Spanish influences from the Caribbean, the inspirations of ragtime improvisers, and the musical understanding of classically trained Creoles like Morton himself. While Morton's claim to have invented jazz is dubious he was the first of the great jazz composers, and because most even into the early 20s weren't putting their jazz creations to paper his record is an important glimpse at the past and a continuing source of inspiration for those wishing to explore it.
Says Oliver:
"Morton's early compositions… show an advanced compositional mind at work, creating unique and complex forms, sweeping melodies and potent counterpoint and, most importantly, allowing for improvisation and variation in a true jazz style, all before 1920!"
This 15 track release includes the most obscure Morton while also covering the full length of his career. "Good Old New York" has Morton sliding into the 30s tin pan alley pop market. To draw attention to the Spanish tinge they include "Mamanita", dedicated to a lady Morton pursued at two different stages of his life. "Jungle Blues" is a one-chord tour de force that shows him decades ahead of his time. Oliver and Horniblow play it with the power of a full orchestra. In fact, they amaze with the depth, nuance, and rhythm they draw out of each of these titles.
Covering everything as a duo leads to some unusual situations. Late in his career, shortly before his death, Morton wrote some arrangements for big band that were only unearthed in the 90s. They have since been recorded at the proper scale but for this album, one of them, "Gan Jam", had to be pared down to fit a piano duo. "Croc-O-Dile Cradle" was only recently discovered in Vince Giordano's massive collection of arrangements. The Fat Babies recorded it for their band but we hear it here in concentrated form.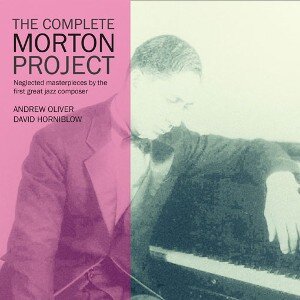 Not everything on the disc is a rarity, they lead off with the familiar "Shreveport Stomp". It's a smart way to bring the audience on board. Late in the album, they also include "Black Bottom Stomp" and "Mr. Jelly Lord", which captures Morton's famous braggadocio.
This is an album of pure traditional jazz that is getting well deserved recognition far beyond our walled confines, and for good reason. Oliver and Horniblow play with a freshness and creativity within the style that is undeniable even to those who wouldn't normally have ears to hear. What these two accomplish with these compositions is a testament to Morton's greatness but also to their own unquestionable talent and to the power of jazz itself to be ever new, raw, and moving.
Purchase the album at lejazzetal.com