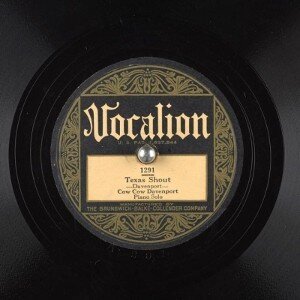 Set forth below is the forty-sixth "Texas Shout" column. It first appeared in the December 1993 issue of The West Coast Rag, now known as The Syncopated Times. Because the text has not been updated, I would like to pass along at this point some information I received, shortly after its publication, from my friend and bandmate in The Rent Party Revellers, Jim Riley, an ace banjoist and expert on banjo lore.
He told me that the characteristic banjo sound mentioned in the column is the result of a preference among European banjoists for the use of a device called a "tone regulator," a sort of flattened cylinder that clamps across the strings between the bridge and the tailpiece. If I understand Jim correctly, a tone regulator purifies the note being plucked by minimizing or eliminating its normal overtones, but at the cost of a diminution of resonance and a more incisive sound.
The Dixieland revival that began in the U.S. in the early forties spread to England fairly rapidly despite the obstacles of wartime. By 1943-44, British pianist George Webb was recording with a combo that certainly sounds as if someone therein had been listening to Lu Watters' 78s.
Bunk Johnson's recordings of that period also didn't take long to get across the pond. By 1949-50, the Crane River Jazz Band was performing an uptown New Orleans-derived Dixieland style. Two of its members were cornetist Ken Colyer and clarinetist Monty Sunshine.
In order to get closer to the source of his musical interests, Colyer took a job as a seaman and jumped ship when he reached New Orleans in 1952. Before the authorities caught up with and deported him, he had spent as much time as he could learning jazz at the knees of George Lewis and other seminal uptowners.
Colyer returned in 1953 to something of a hero's welcome from the British Dixieland community. He found a band waiting for him, a piano-less sextet with himself, Sunshine, and trombonist Chris Barber in the front line.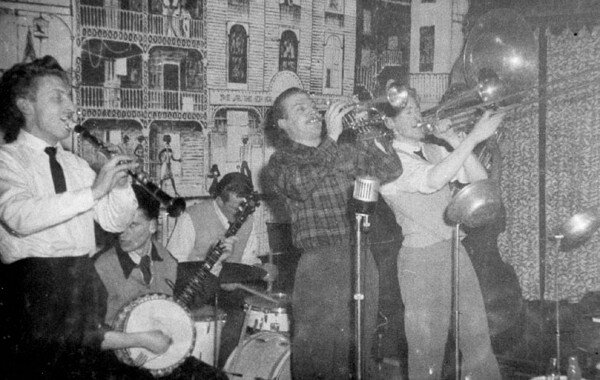 That version of Ken Colyer's Jazzmen was one of the all-time great British Dixieland units. While it did not stay together long (breaking up in 1954), it was highly influential on up-and-coming British Dixielanders.
Two first-rate bands emerged from the breakup, one led by Colyer and one by Barber (with Sunshine in the personnel). While both leaders perpetuated the basic sound they had created together, Colyer favored a somewhat looser, more uptown-leaning approach, while Barber tightened the routines and the instrumental voicings.
Of course, there have been lots of good bands over the years. However, the Colyer/Barber matchup and its two immediate successors inspired imitators among their countrymen.
It is the widespread attempt, over a sustained period, of disciples to play more or less like a specific model that creates a jazz style. A band may be the most original combo that ever took the field, but if no one follows its lead, the stylistic ripples it makes will never mature into tidal waves.
As units led by clarinetist Acker Bilk or trumpeter Kenny Ball became popular, even to the point of making the pop charts once in a while in the U.S., common characteristics thereof began to be noticed. Dixieland bands exhibiting those characteristics have come to be known as "British trad" bands.