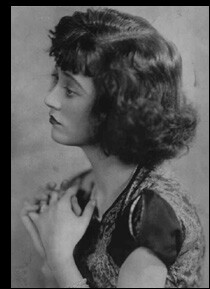 Lee Morse
(November 30, 1897 – December 16, 1954) was a very popular recording artist, songwriter and actress of the 1920s and early 1930s. She got her professional start in vaudeville on the west coast around 1920 and went on to perform in several plays and musical revues on Broadway. In 1924 she began to make records under her own name for the Pathé Actuelle company accompanying herself on guitar, ukulele and kazoo.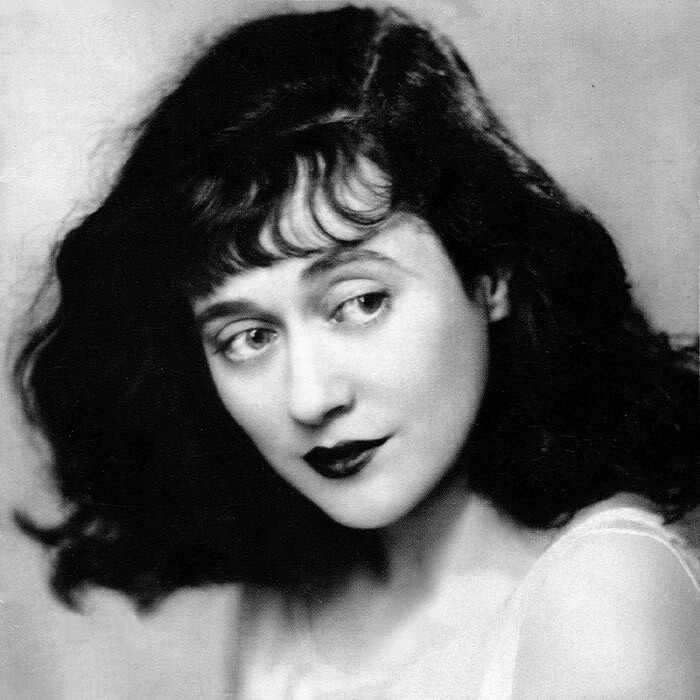 Morse's voice was so deep and unusual that her early records were labeled Miss Lee Morse apparently so that the record buying public wouldn't confuse her for a male singer. Many of her recordings especially those released under the name of Lee Morse and her Bluegrass Boys feature accompaniment by a small jazz band that often included some of the best White jazz musicians of the era.
Morse was an excellent and unique singer. She had great range and her style of singing combined Blues and Jazz phrasing as well as almost yodel-like passages. Morse's career faded in the early 1930s due to bouts with alcohol and illness but she continued to perform in nightclubs and to record sporadically throughout the 1930s. In the late 1940s she tried to revive her career and briefly had a local radio show in upstate New York. She recorded one last record in 1950. She died suddenly in 1954.


Title

Recording Date

Recording Location

Company

After We Kiss


(Britt / Fiorito)

1-25-1928
New York, New York
Columbia
1328-D
A Little Love


(Lee Morse)

6-1-1926
New York, New York
Pathé Actuelle
32102
Perfect
11618
A Miss In Mississippi


(Lee Morse)

3-24-1925
New York, New York
Pathé Actuelle
25205
Perfect
12197
All Alone


(Irving Berlin)

10-7-1924
New York, New York
Pathé Actuelle
32102
Perfect
12181A
Alone At Last


(Gus Kahn / Ted Fiorito)

10-7-1924
New York, New York
Pathé Actuelle
32102
Perfect
11585
Are You Sorry?


(Davis – Ager)

6-19-1925
New York, New York
Pathé Actuelle
25147
Perfect
11581
Best Of All


(Lee Morse)

8-20-1925
New York, New York
Pathé Actuelle
025155
Perfect
11589
Bring Back Those Rock-A-Bye Baby Days


(Christy / Silver)

10-7-1924
New York, New York
Pathé Actuelle
32086
Perfect
12165
Careless Love
3-2-1938
New York, New York
Decca
1737 A
Daddy Your Mama Is Lonesome For You
(Chris Smith / Bob Schafer / Jimmy Durante)
10-5-1925
New York, New York
Pathé Actuelle
25162
Perfect
11596 B
Dallas Blues


(Hart A. Wand / Lloyd Garret)

6-19-1925
New York, New York
Pathé Actuelle
25148
Perfect
11582
Deep Wide Ocean Blues


(Lee Morse)

11-1925
New York, New York
Pathé Actuelle
Perfect
Dawning


(Silver / Pinkard)

8-27-1927
New York, New York
Columbia
1149-D
Did You Mean It?
(From "A Night In Spain")


(Phil Baker / Sid Silvers / Abe Lyman)

10-10-1927
New York, New York
Columbia
1199-D
Don't Try To Cry Your Way Back To Me
3-24-1925
New York, New York
Pathé Actuelle
32118
Perfect
12197
Golden Dream Girl


(Lee Morse)

11-28-1924
New York, New York
Pathé Actuelle
32103
Perfect
12182
Happy Dreams
(Chinese Love Song)


(Lee Morse)

New York, New York
Pathé Actuelle
Perfect
11609
Home
1-13-1925
New York, New York
Pathé Actuelle 32110
Perfect
12189
I Ain't Got Nobody to Love


(Sam Coslow / Abner Silver)

12-13-1924
New York, New York
Pathé Actuelle
32107
Perfect
12186
I Like Pie I Like Cake
1-13-1925
New York, New York
Pathé Actuelle 32110
Perfect
12189
I'd Love To Be In Love


(Lee Morse)

3-16-1927
New York, New York
Columbia
1011-D
I'm Tired of Everything But You


(Isham Jones)

8-5-1925
New York, New York
Pathé Actuelle
025155
Perfect
11589
In Old Madrid
2-13-1925
New York, New York
Pathé Actuelle
21143
Perfect
11216
In The Middle Of The Night


(Donaldson / Rose)

4-20-1926
New York, New York
Pathé Actuelle
25172
Perfect
11616
In The White Church On The Hill
4-11-1933
New York, New York
Bluebird
B-5044
I've Got To Sing A Torch Song
(From "Gold Diggers of 1933")


(Harry Warren / Al Dubin)

4-11-1933
New York, New York
Bluebird
B-5052-B
I've Looked All Over
(For A Boy Like You)


(Lee Morse / Downey)

8-27-1927
New York, New York
Columbia
unissued
I Want To See My Tennessee


(Milton Ager / Jack Yellen)

12-11-1924
New York, New York
Pathé Actuelle
32100
Perfect
12179 B
I Wonder Where My Baby Is Tonight


(Walter Donaldson)

11-11-1925
New York, New York
Pathé Actuelle
Perfect
11599-A
Juanita
2-13-1925
New York, New York
Pathé Actuelle
21143
Perfect
11216
Lee's Lullaby


(Lee Morse)

10-1-1924
New York, New York
Pathé Actuelle
32102
Perfect
12181 B
Lonely Nights


(Lee Morse)

9-1926
New York, New York
Pathé Actuelle
25201
Perfect
11635 B
Lonesome And Sorry


(Davis / Conrad)

6-1-1926
New York, New York
Pathé Actuelle
Perfect
11618
Look What You Went And Done


(Lee Morse)

8-17-1926
New York, New York
Pathé Actuelle
25205
Perfect
11639
Mail Man Blues


(Lee Morse)

10-7-1924
New York, New York
Pathé Actuelle
32086
Perfect
12165
Me Neenyah
(My Little One)


(Brown / Spencer)

2-1925
New York, New York
Pathé Actuelle
32103
Perfect
12182
Mother And Dad
(Lee Morse)
12-1925
New York, New York
Pathé Actuelle
25172
Perfect
11606
My Idea Of Heaven
(Is To Be In Love With You)


(Johnson / Sherman / Tobias)

3-16-1927
New York, New York
Columbia
974-D
My Old Kentucky Home


(Stephen Foster)

9-28-1925
New York, New York
Pathé Actuelle
25166
Perfect
11600
My Red Headed Blue Eyed Colleen


(Lee Morse)

6-29-1926
New York, New York
Pathé Actuelle
25190
Perfect
11624
My Sugar Babe


(Lee Morse)

11-11-1925
New York, New York
Pathé Actuelle
25165
Perfect
11599-B
My Sweetie Turned Me Down
10-5-1925
New York, New York
Pathé Actuelle 25162
Perfect
11596 A
Nobody Else
12-9-1925
New York, New York
Pathé Actuelle
25158
Perfect
11604
Old Fashioned Romance


(Lee Morse)

10-10-27
New York, New York
Columbia
1199-D
Old Folks At Home


(Stephen Foster)

9-28-1925
New York, New York
Pathé Actuelle
25166
Perfect
11600 B
Pettin' In The Park
(From "Gold Diggers of 1933")


(Harry Warren / Al Dubin)

4-11-1933
New York, New York
Bluebird
B-5052-A
Poor Butterfly Waits For Me


(Lee Morse)

1-25-1928
New York, New York
Columbia
1328-D
Rosita


(Lee Morse)

6-30-1927
New York, New York
Columbia
1082-D
Sad and Lonesome Little Pickaninny


(Lee Morse)

8-?-1926
New York, New York
Perfect
11628
Shadows On The Wall


(Lee Morse)

3-24-1925
New York, New York
Pathé Actuelle
25147
Perfect
11581
Shadows On The Wall


(Lee Morse)

6-25-1928
New York, New York
Columbia 1497-D

Side By Side


(Harry Woods)

3-16-1927
New York, New York
Columbia
974-D
Sing Me A Song Of Texas


(Lee Morse)

3-2-1938
New York, New York
Decca
1737 B
Someday You'll Say "O.K."
10-10-1927
New York, New York
Columbia
unissued
Someone Is Losin' Susan


(Tuck / Meyer / Ash)

8-4-1926
New York, New York
Pathé Actuelle
25161
Perfect
11595
Perfect
11630
Thanks For The Buggy Ride


(Jules Buffano)

3-1926
New York, New York
Pathé Actuelle
25178
Perfect
11612
The Light In The Bend Of The Road
8-4-1926
New York, New York
Pathé Actuelle
25196
Perfect
11630
To-night You Belong To Me


(David / Rose)

8-16-1926
New York, New York
Pathé Actuelle
25197
Perfect
11631
Too Tired


(George A. Little / Arthur Sizemore / Larry Shay)

12-11-1924
New York, New York
Pathé Actuelle
32100
Perfect
12179
We (My Honey And Me)


(Woods / Sherman / Tobias)

6-30-1927
New York, New York
Columbia
1082-D
What Is Love All About?
(Lee Morse)
4-20-1925
New York, New York
Pathé Actuelle
25182
Perfect
11616
When I Lost You


(Irving Berlin)

3-2-1938
New York, New York
Decca
1919 A
While The Rest Of The World Is Sleeping
4-11-1933
New York, New York
Bluebird
B-5044
Yearning


(Davis / Burke)

4-21-1925
New York, New York
Pathé Actuelle
025140
Perfect
11574

| | |
| --- | --- |
| Artist | Instrument |
| John Cali | Guitar |
| B. Downey | Piano |
| unknown | Piano |

| | | |
| --- | --- | --- |
| Title | Director | Year |
| The Music Racket | Vitaphone 1004 | 1930 |
| A Million Me's | Monte Brice | 1930 |
| Song Service | Norman Taurog | 1930 |