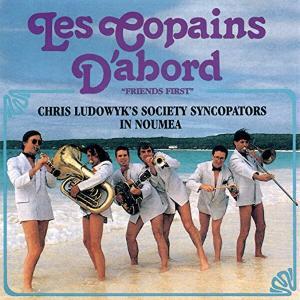 Australian trombonist Chris Ludowyk has loved and played New Orleans style jazz since at least his debut recording (with Lachie Thompson's New Whispering Gold Orchestra) in 1968. He worked in Melbourne with the New Harlem Jazz Band in the 1970s and in 1984 formed Chris Ludowyk's Society Syncopators. The group, which later became known simply as The Syncopators, was quite popular and did well in Australia for decades. The Syncopators toured Europe 18 times and are featured on the same number of CDs.
Les Copains D'abord, which was recorded back in 1992, features the leader, trumpeter Peter Gaudion and Richard Miller (clarinet, alto and tenor) as the frontline; the three were still in the band at the time of their most recent recordings. For this early set, they are joined by Jeff Arthur on guitar and banjo, Pip Avant on tuba and acoustic and electric basses, and drummer Cal Duffy. Two songs add pianist Bruno Zanchetta and have Gilbert Andre on drums while guest Claudine LaFleur sings "I'm Beginning To See The Light."
The music ranges from Dixieland (including a hot "Let Me Call You Sweetheart"), to swing and ballads with the emphasis on melodic material. Gaudion contributes a solid lead on trumpet, some heated solos, and occasional vocals. His scatting on "Song Of The Islands" sounds exactly like Louis Armstrong and "Buona Sera" gives one an idea what it might have sounded like if Satch had sung with Louis Prima's band.
Guitarist Arthur is featured on a tasteful version of Django Reinhardt's "Nuages" while "Cajun Calling" is a one-chord romp for clarinetist Miller and Arthur on banjo. The band engages in some group singing on "Glow Worm," is quite effective on an expressive version of "Black And Tan Fantasy," and really gets to stretch out during an extended version of Sidney Bechet's "Dans Les Rues D'Antibes" which closes the fine CD.
Les Copains D'abord (Self-Released, 15 selections, TT = 67:52) www.thesyncopators.com
Availability: At shows, Mail Order ([email protected]), and all reputable streaming sites.
Personnel: Chris Ludowyk, Peter Gaudion, Richard Miller, Jeff Arthur, Pip Avent, Cal Duffy.
Guests – Bruno Zanchetta, Gilbert Andre', Claudine LaFleur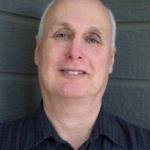 Since 1975 Scott Yanow has been a regular reviewer of albums in many jazz styles. He has written for many jazz and arts magazines, including JazzTimes, Jazziz, Down Beat, Cadence, CODA, and the Los Angeles Jazz Scene, and was the jazz editor for Record Review. He has written an in-depth biography on Dizzy Gillespie for AllMusic.com. He has authored 11 books on jazz, over 900 liner notes for CDs and over 20,000 reviews of jazz recordings.
Yanow was a contributor to and co-editor of the third edition of the All Music Guide to Jazz. He continues to write for Downbeat, Jazziz, the Los Angeles Jazz Scene, the Jazz Rag, the New York City Jazz Record and other publications.