Jeff Barnhart: Faithful readers, due to a very busy travel and performance schedule, Hal Smith indicated he'd need to relinquish his usual seat at our jazz forensics lab and looks forward to returning next month. I'm using this opportunity to invite my old friend pianist Bill "Perfessor Bill" Edwards to explore the great music of Lou Busch, who recorded under the name Joe "Fingers" Carr. Bill, welcome and thanks for joining me!
Bill Edwards: I was not aware that you were falling apart, so glad to do that great service to the world. Hope the Gorilla glue was enough. And thanks for asking me.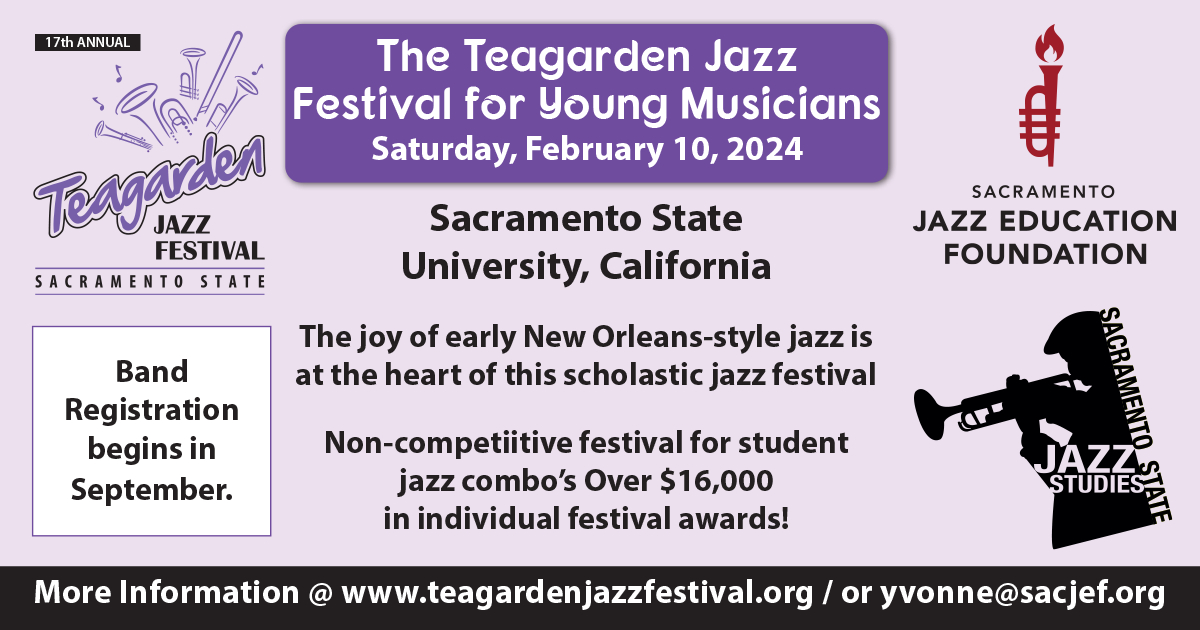 JB: There's one album that captured my attention and heart when I was a preteen, but before I introduce it for our exploration, can you please tell our readers who Lou Busch was and why he chose to record under a fictitious persona?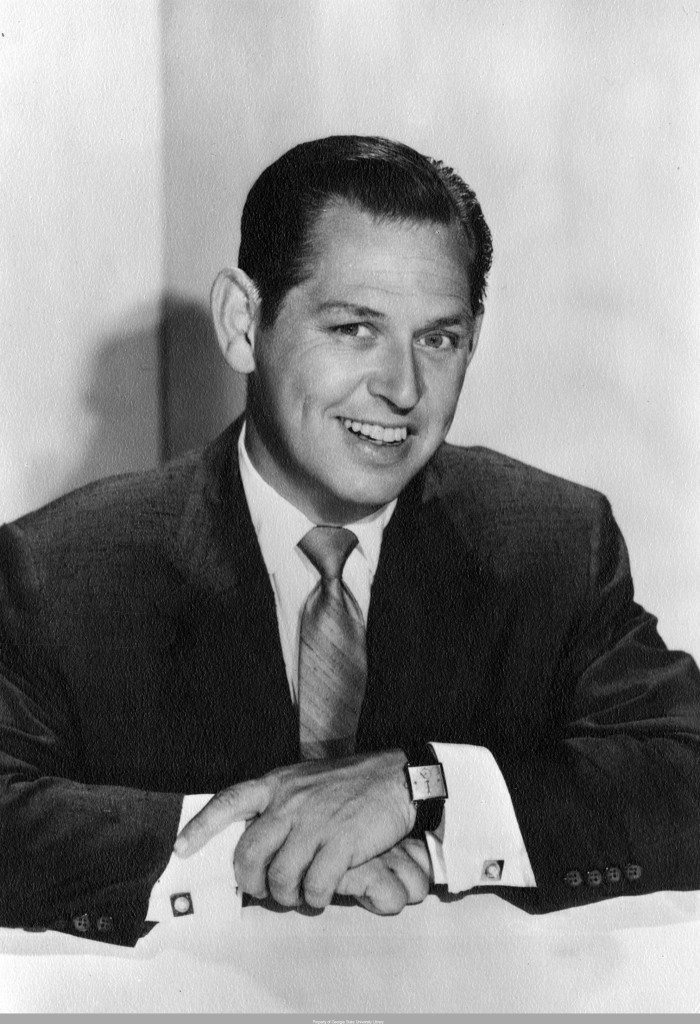 BE: Louis Ferdinand Busch (July 18, 1910 to September 19, 1979) was the second born son to William Harry Bush and Anna Irene Ernwein in Louisville, Kentucky in the midst of the ragtime era, and would grow up during the jazz age. Even though the family name was spelled Bush, Lou added the c for Busch at some point in the 1920s, largely for the uniqueness it provided. The change was most likely for stage purposes and was not completed legally.
Truly blessed with an inherent musical talent, Louis was already leading a ragtime and jazz band by the time he was 12 years old. At 13 he led a combo called Lou Bush and His Tickle Toe Four. At 16 he left school and home for a career as a professional musician, playing with the likes of "Hot Lips" Henry Busse, Clyde McCoy, and George Olson. After a few years on the road, Lou's desire to learn more about music theory led him to study at the Cincinnati Music Conservatory in Ohio in the early 1930s.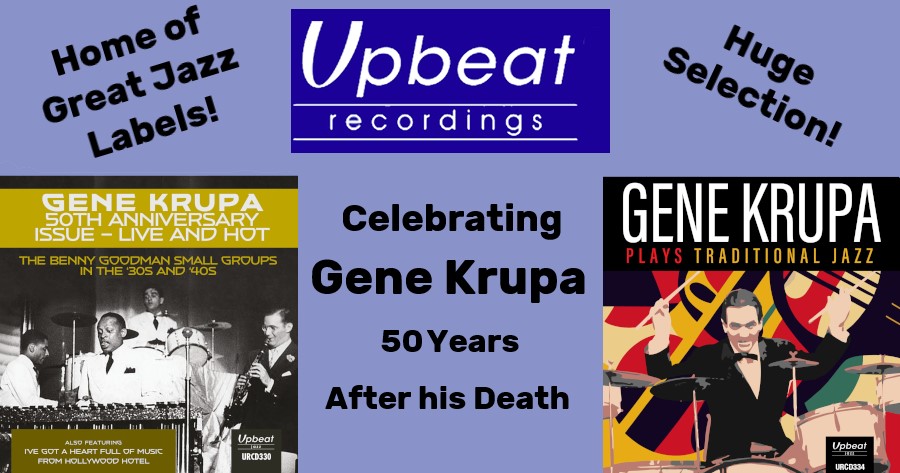 Following his music education break, Busch became the pianist for Hal Kemp's "sweet music" band for the remainder of the 1930s. Lou also honed his arranging skills, being offered that position when arranger John Scott Trotter left the band in 1936. The band continued working through to most of 1940. However, after Kemp died December 21, 1940, from complications suffered during a head-on automobile crash two days earlier, the group quickly disbanded. Busch made HIS way to California in early 1941 to work as a studio-musician and on whatever gigs he could find BUT was interrupted by World War II.
Lou enlisted in the Army and was immediately considered for entertainment duty. As entertainers, he and many others in his field were considered highly valuable for morale. After his tour of duty, Lou decided to dive back into the music business. It was around this time that singer Johnny Mercer was recruiting artists and employees for his recently formed label, Capitol Records, so Busch was hired for the Radio Transcription Service in 1946. By 1949 he had been promoted to A&R (Artist and Repertoire) man, given his considerable talent and contacts.
A little after the unintended mid-1948 Pee Wee Hunt hit with "12th Street Rag," Busch was asked to see if he could infuse a little bit of ragtime into some of their upcoming recordings. Among the successes in 1949 was a single of "Ragtime Cowboy Joe" with Jo Stafford and Paul Weston, including two choruses played by Lou. In 1950 Busch released a cut of his own, the "Ivory Rag." The single was released under the pseudonym Joe "Fingers" Carr, accompanied by his Carr Hops, referring cleverly to the wait staff of drive-in diners popular at that time. Released in May 1950, the success of his early records was a clear mandate for nostalgic tunes during an otherwise nebulous period of American music that lacked a singular dominant focus.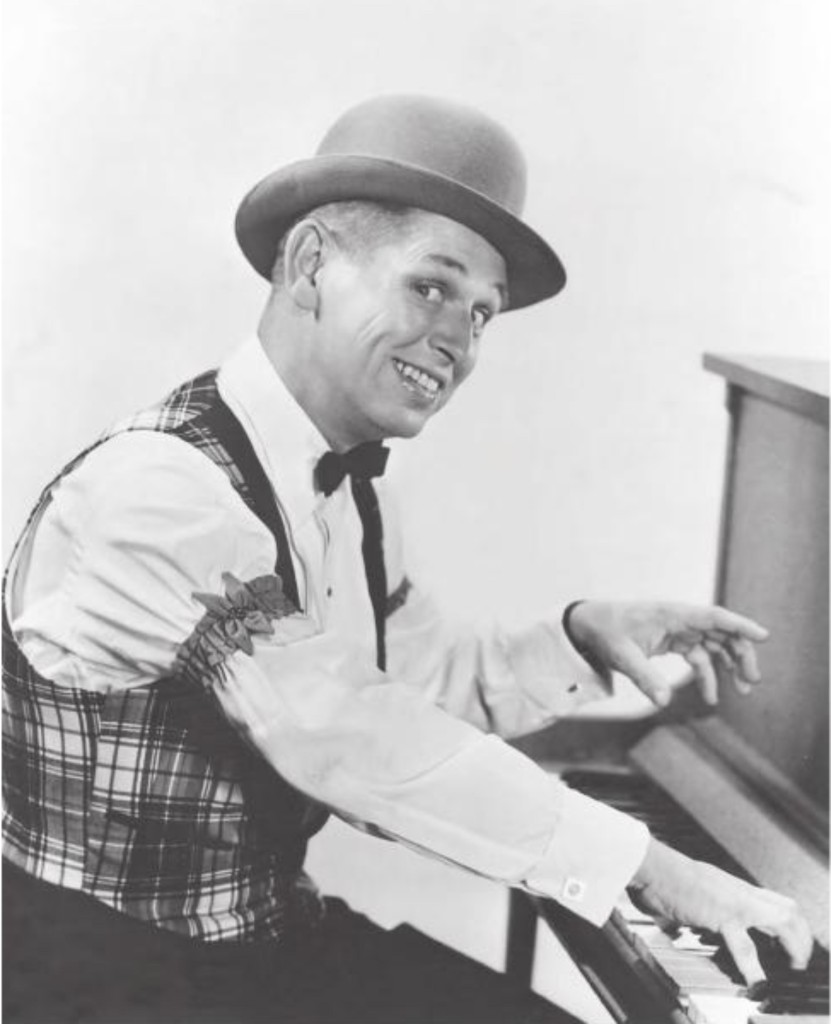 On the origin of his alter ego's name, Lou said: "I figured there was a real need for some straight ragtime piano, so I worked up some arrangements. Lou Busch isn't much of a ragtime name and I'd long had this 'Fingers' idea floating around. That led to Lou 'Fingers' Busch, but I knew that wouldn't have any appeal. So I went through the phone book, real scientific like, and came up with 'Joe' for a short, raggy name. 'Carr' seemed pretty good for the last name, and I must say 'Joe Fingers Carr' has taken on pretty well." Even though Lou came up with the catchy name for his character, it was Capitol that pushed the nostalgic Carr image with the derby and the cigar more so than Busch. Because of this he worked hard to keep his records from becoming mere whimsical fluff, choosing the best music and sidemen for each session.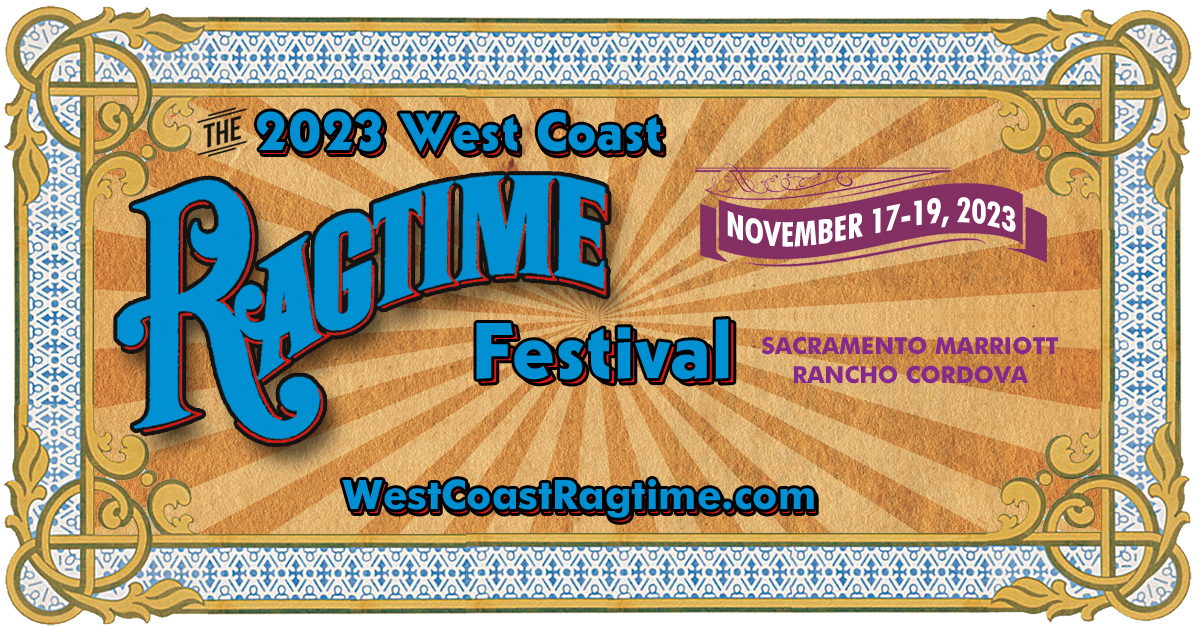 JB: Great stuff, Bill! I remember the late ragtime historian and performer Dave Jasen recalling Busch told him he was happy for the alias as it wouldn't pigeonhole him as a pianist of one specific style; Lou Busch covered many genres in his career! And YOU once told me this was one of the very first times the now iconic image of the arm-garter-wearing, cigar-smoking, derby-hatted barroom pianist appeared, essentially recreating (or perhaps more accurately re-imagining) history after the era being represented had faded away.
I'm glad you mention the quality of the music on this album. Even at a young age, the difference stood out to me. I'd been listening to ragtime LPs featuring Jo Ann Castle and Del Wood and was also already in love with early jazz. Although it would be several years until I could articulate what struck me when I listened to the 1953 release entitled Joe "Fingers" Carr and His Ragtime Band (Capitol T443), I was dumbfounded by Busch's incredible technique and independence of hands executing wildly complex patterns that significantly departed from the steady "oom-pah" to which the left hand is traditionally relegated in ragtime. Moreover, in contrast to the predominant sound popularized by the "honky-tonk" releases of the period utilizing tacks on the hammers of the piano (reference the Jo Stafford recording of "Ragtime Cowboy Joe" you mentioned, a lot of Del Wood's releases, and all of the recordings featuring the fictitious "Knuckles" O'Toole—as played by the VERY real Dick Hyman), Busch's piano had a hard, brittle sound but was always in perfect tune—compare that with the piano chorus featured on the Pee Wee Hunt record you referenced of "12th Street Rag" and the difference is obvious.
In this column, we're always sure to only discuss music readily accessible to readers online (primarily via YouTube), and it happens that Bill put together such an entry that covers all tracks from both the 10″ and 12″ versions. Go to YouTube and type in "Joe Fingers Carr and his Ragtime Band" to listen. Bill, when I first heard this album, I'd just finished struggling through Scott Joplin's seminal "Maple Leaf Rag" and here it was on this recording! Could you identify the performers heard on this album and give insight into "Maple Leaf?"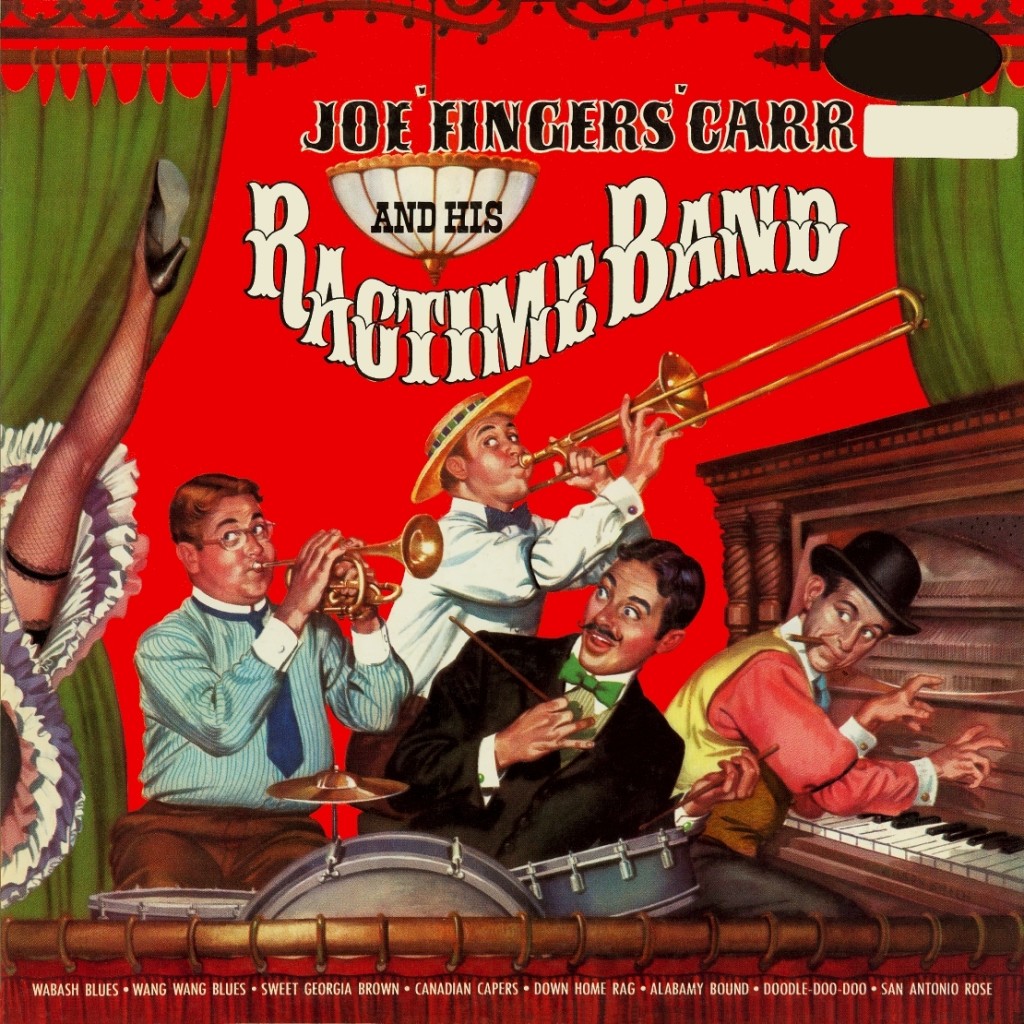 BE: I have over 450 honky-tonk and ragtime albums from the 1950s and early 1960s, and one of the frustrating aspects of most of them is the void of information on who played what, even the main performer when they or the producers applied a pseudonym. However, some deep digging turned up the following which is at least a 90% accurate accounting of who played on this album and the subsequent Fireman's Ball record (Capitol T527) from 1954. They include Manny Klein [tpt], Tommy Pederson [trb], Skeets Herfurt and Jerry Casper [sax/cl], John Cyr and Nick Fatool [dr], Vince Terri [gt] and Phil Stevens [bs], plus other potential players that can't be fully ascertained from the Capitol archives. Fatool was a favorite among Hollywood drummers. Manny Klein was skilled, but on this album, he almost falls into parody at times with the cupped mute bit, possibly due to Busch's instructions for the arrangements.
As for "Maple Leaf Rag," this was, quite surprisingly, the first Busch recording of the piece that was released, and it wasn't even on the original 10″ album. It was recorded at the same time, and given the vivacity of just that track alone, it's omission from the 10″ release is suspect at the very least. Jeff, I know your propensity for Traditional Jazz and Dixieland recordings overall, and some that you have cleverly replicated with your own touch. However, this album is heavily arranged, and on most tracks shies away from improvisation, not coloring too far outside of the lines. This is shades of what Dukes of Dixieland would become known for. What are your thoughts on that aspect of these tracks?
[Webmaster's note: you may navigate the below embed to reach every track discussed in this column. Or watch through and enjoy the whole album as annotated by Bill Edwards.]
JB: At the tender age of 12, I wasn't even thinking along the lines of improvisation vs. expert assaying of an amazing arrangement. The Ragtime Band on this LP ticked all my boxes: a traditional Dixieland Jazz line-up in the front line consisting of incredible players with the piano prominently featured. Bliss!! Over time, listening with more experienced ears, I learned it would have been impossible to improvise such intricate roadmaps, breaks, and surprise moments "off-the-cuff" no matter how seasoned or fluent a band was in the idiom.
For example, we know we're in new ragtime territory with Busch's intro to "Maple Leaf Rag." The horns hit the rhythm Joplin featured after the arpeggio in his original score, and Busch flies through an arpeggio of his own, band hits again, then five bars of piano pyrotechnics that would send Juilliard grads back to the practice bench! Busch, as Joe "Fingers" Carr, plays the A section with rhythm back-up (I was floored by the intricate rim work of the drummer) and the repeat of A is the full band playing SO cleanly and HOT!! The B section belongs to the piano with the band only entering for the final four bars of the first go-round; the repeat of B has figures I still incorporate nearly every time I perform this rag!
Abandoning the Joplin form, the arrangement skips the reprise of A and launches into an ensemble C section. While the first time through builds some heat (with a great surprise break by soprano sax), the lead-in to the repeat and the ensuing chorus are scorching!! Rather than continuing onto section D (which we never hear), it's back to the A section (a bit anticlimactic excepting the run Busch inserts to take place of the Joplin's scored arpeggio) and, after a 4-bar interlude cribbed from the interlude into the trio of "That's A Plenty," a final run through "C" takes us out. But WHAT a final chorus it is! A front-line riff punctuates wild piano arpeggios for 12 bars, a final 6-bar ensemble, the final bar consisting of a trombone lip-glissando and a SOLID hit on beat four. ALL of this in just over two minutes!
Bill, as a twelve-year-old, I was only familiar with this piece and "Sweet Georgia Brown." The other selections were new to me. What tune would you like to highlight?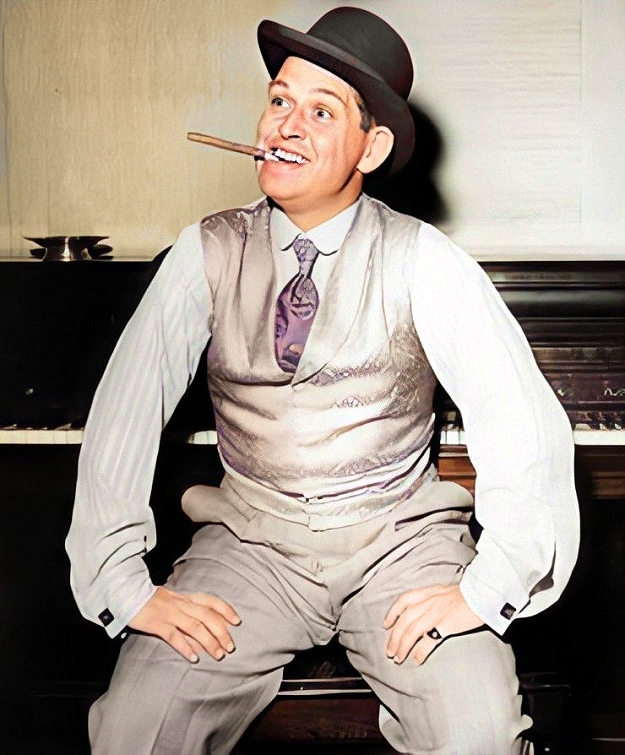 BE: This recording of "Sweet Georgia Brown," which is not as loose and fun as that of the FH5+2, is still well-crafted. It's kinda hard to ruin a good piece in the first place, and this remains a great one. However, I would draw attention to the two "blues" numbers in the mix. "Wang Wang Blues" is, for my taste, a bit fast and over-arranged, but it is still very listenable. It is not a true "blues," of course, given the 16-bar sections, but typical of the 1920s. I don't skip over when listening.
"Wabash Blues" also conforms to the latent ragtime song format, but this recording borders on seductive with that "moaning sax" taking some of the melody. The inclusion of a bass saxophone further pushes the 1920s aspect of it, and Lou's playing does evoke the bluesy aspect of the recording. This has nice motion throughout, and remains, regarding "Wabash Blues," a unique version of the tune. Listen for the close at the end of the fade.
Otherwise, the inclusion of "Canadian Capers" and "Down Home Rag" certainly codify the contents as based in ragtime, despite the addition of more current tunes. And "Canadian Capers," in particular, is just fun. I like this just as much as the relaxed version Claude Bolling recorded in 1967.
We need to factor in that this, like so many of these "ragtime bands" of the 1940s, starting with Tony Parenti's Ragpickers, was a ragtime band in terms of repertoire— though not always—but not in instrumentation. The ensembles used on countless 1950s recordings were based on early Dixieland and Traditional Jazz conceits. Lou may have been well aware of this, but for the average non-fickle consumer of the era, that really didn't matter. For my money, the Albert White and "Your Father's Moustache" recordings of the mid-1950s constituted a true ragtime band or orchestra. This is a technical point, and I will not insist upon it as canon, but there it is. However, this is frickin' Lou Busch (can I say frickin'?), so it's hard to find fault.
So, Jeff, tell me, how has your perception of this album changed in the decade since you were 12 years old?
JB: Bill, you're an even better friend than I thought!! Unless there was a typo, your question suggests that I'm only 22! I'll TAKE it!!
By age twelve, I'd become familiar with Pee Wee Hunt's version of "12th Street Rag," so even back then, I was struck by the "gold-diggin'" preponderance of muted "doo-wack-a-doo" choruses worked into so many of these tracks, from "Sweet Georgia Brown" to "Doodle-Doo-Doo." That aside, there are so many highlights: the band emulating a steam train at the start of both "San Antonio Rose" and "Alabamy Bound;" the enhanced instrumentation (including xylophone) on "Wang Wang Blues;" the awfully corny intro for "Doodle-Doo-Doo" followed by some actually beautiful (dare I say wistful) piano from Busch; "Canadian Capers" (which I knew from your aforementioned version by the incredible Claude Bolling) in different keys from the original sheet to make it more friendly for the horns: the list goes on.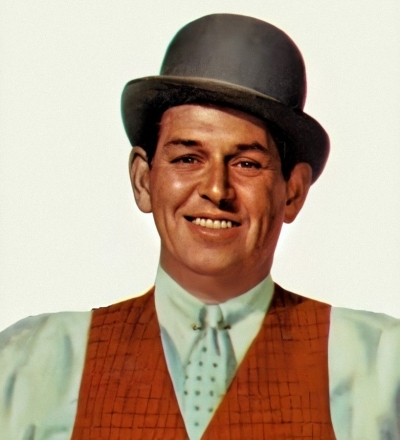 On the flip side, "Baltimore Rag" still doesn't do it for me: now that I'm more experienced, I hear that the B section is almost the same as the B section of 1920's "Shake It and Break It" and the coda is a carbon copy to that of "Maple Leaf Rag" but with a descending baritone sax break replacing the ascending trombone. Perhaps Busch was getting tired here? This is one I DID used to skip over…
"Raggedy Ann Rag" was another story! The introduction alone makes it one of the best tracks on this recording! Syncopation overflows in the band fanfare leading us to a piano break featuring contrary movement between the hands that I spent weeks trying to perfect. Sure, the piano solo the first time through section A reminds us of James P. Johnson's "Charleston" and the band's chorus sounds derivative of the famous après-solo back-and-forth twixt ensemble and drums in "Clarinet Marmalade," but the energy on this one is atomic! I wore out the final ensemble with the soprano sax descant on my LP.
I just loved, and STILL thrill to, the exemplary musicianship and arranging on each of these sides. Again, it's amazing that, except for "Wabash Blues," all of these tracks were under two-and-a-half-minutes long, with a few coming in UNDER two minutes. The variety of texture and style is astounding.
Bill, I'd like to turn it over to you for any further comments about the performances of the tunes on this LP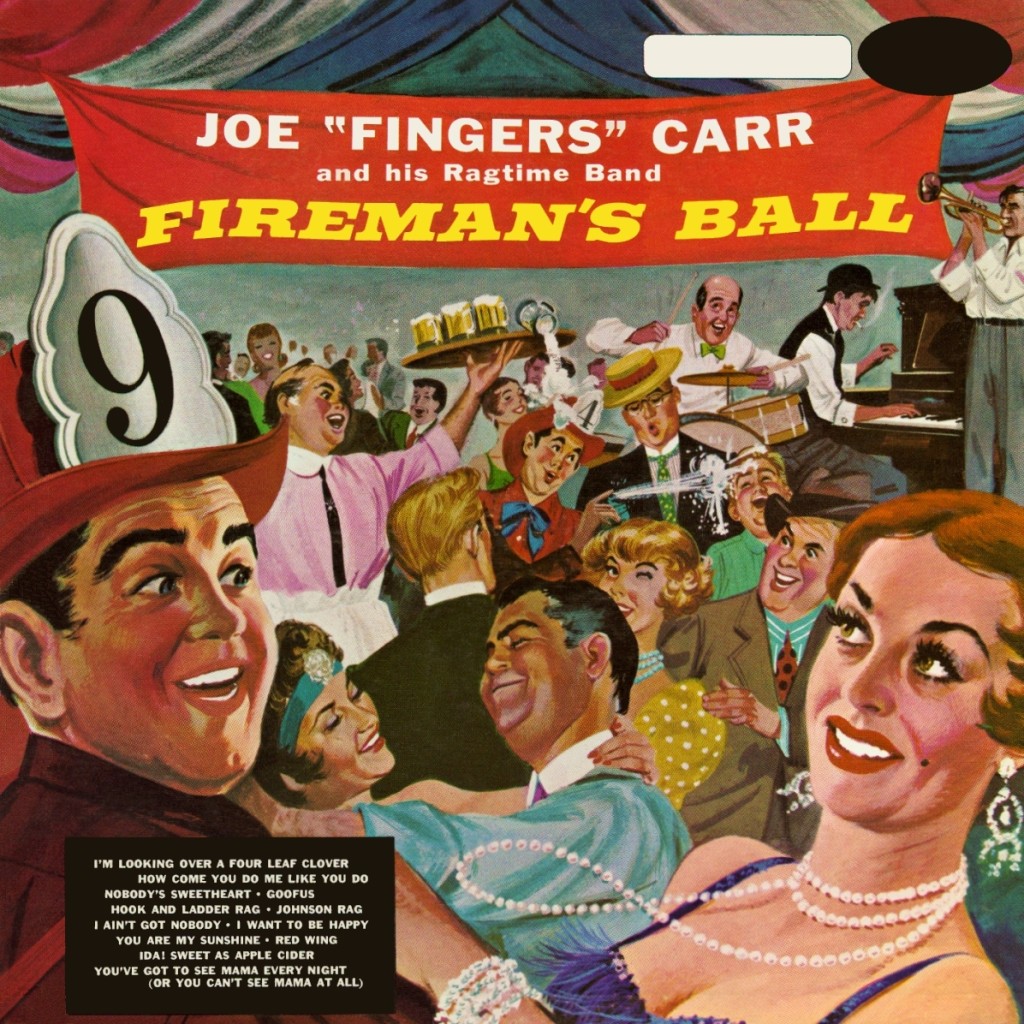 BE: I'll have cream cheese with that turnover. On the track lengths…that is a sticky wicket. As you know, on the first ragtime LP, Honky-Tonk Piano (Capitol H/T188), all of Ray Turner's tracks were sped up horribly, and even on records like this one they weren't all at the proper pitch (they are on the YouTube video I've created, however). 150 seconds was average airplay time back then, which limited creativity for many such groups. However, there was another limit. The RIAA record curve which removed bass from the master and added it back in at the amplifier had not yet been fully adopted. The extra bass captured on tape would sometimes result in skips of the needle unless the grooves were wide enough, and that shortened the time on the 78s and 45s that were being issued as well as the albums. Despite LPs opening up possibilities for expansion, popular music still was beholden to the 78 format and limit. That was in part why the Ray Turner tracks and others were sped up by varying degrees.
However, Busch makes very good use of his allotted time, fitting a lot in, if pushing the tempos a bit. Nothing feels incomplete or too long, except the doo-wacka-doos, which is a testament to his skills if ever. There were other ragtime band records out there going back to 1947, but by 1953, Lou Busch had already got our ear, so his got more attention. And you and I have both been richer for it in our careers. Let's have a ball—which I'm throwing back to you.
JB: There's not much more to say except that for readers unfamiliar with you and your work, Bill, you've created ample opportunity to learn more from you and about you. Interested readers can go visit your educational (and entertaining) website www.ragpiano.com as well as purchase your book Honky-Tonk Piano: The Story of the First Ragtime Revival of the 1950s on Amazon or directly from you for a signed copy. I had a terrific time exploring Lou Busch's music as Joe "Fingers" Carr and would like to invite you to join me sometime on a future column.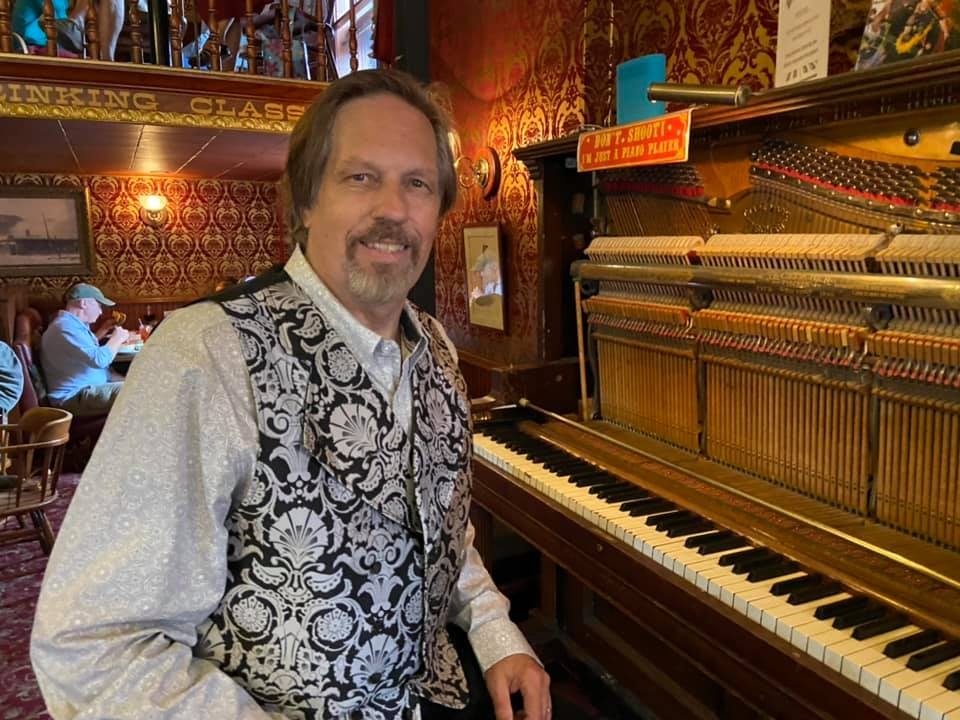 BE: Yeah, this was great. Let's do it again.
JB: Faithful readers, Mssr. Smith returns next month, and he and I will discuss the unlikely connection between Orson Welles and Edward "Kid" Ory.