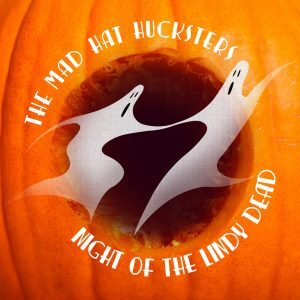 There's no shortage of new Christmas Jazz, Christmas Swing, or even Christmas Death Metal.  But Halloween music has gotten the short end of the femur recently.
Adding to the shortlist of classics like the "Monster Mash", and "The Ghostbusters' Theme" the Mad Hat Hucksters have dug up five swinging tunes from an era more friendly to seasonal novelty. Night of the Lindy Dead is just the thing to get your Halloween party in the spirit. Because you can't just play "Thriller" all night.
The EP kicks off with Louis Armstrong's "Spooks" from 1954. Like all of these tracks, they refit the original with a stronger beat for dancers. BPM's are listed, with all but the rollicking last track clocking in between 165 and 185.
"Swinging at the Seance" was a 1941 hit for Glenn Miller. It's nearly perfect as is, that may be why they take it slow and extend it over four minutes for the ghouls and goblins spinning on the floor.
"Mr. Ghost Goes to Town" started making the rounds around '36 in vocal arrangements by the Mills Brothers and The Five Jones Boys, and instrumental versions, notably one by Tommy Dorsey which seems to be the Hucksters' basis.
"The Headless Horsemen" comes from the Disney movie, as originally sung by none other than Bing Crosby. They play up the rhythm and extend it into a light four-minute danceable jam. "Grim Grinning Ghosts" is another one from Disney, initially composed as part of the soundtrack to Disneyland's haunted mansion. They take it at a spooky 240 BPM to send you bumping into the night.
The San Diego Sextet are mainstays of the local dance scene, playing regularly at the Firehouse and other events. They have a two reed, two guitar, and drums or washboard instrumentation and the period-appropriate use of electric guitar runs comes in especially handy on this album. Add it to the mix at your next spooktacular, at $5 it's cheaper than spiking the punch.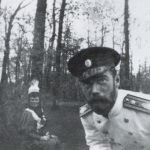 Joe Bebco is the Associate Editor of The Syncopated Times and Webmaster of SyncopatedTimes.com. He is available for liner notes and other writing or to give your website an overhaul. Reach him at [email protected]