At first appearance, Singapore Slingers leader Matt Tolentino seems a living definition of the word "anachronism." He might be an impeccably-groomed Jazz Age time-traveler, dropped unaccountably into twenty-first century Dallas after taking a wrong turn at the Coolidge administration. This impression lingers as you discover that among his instruments of choice are banjo, piano, accordion, and bass saxophone. Soon, however, you learn that he is eminently versed in the arcane technology of the present day, has a Facebook account and a website that certainly looks better than yours, and travels in time at exactly the same rate as the rest of us.
Matt's temporal journey began in 1985, and Dallas, Texas is his hometown. His musical journey began a few years later as he spent time with his grandfather, who had an LP compilation of hits of the Big Band Era. One track in particular appealed to Matt: Henry Busse's mid-1930s recording of "Hot Lips." Unlike his later "shuffle rhythm" approach, Busse's 1934 Decca version of the song has the genuine feel and spirit of the 1920s. That all-too-brief holdover of the earlier style of rhythm captivated Matt Tolentino and determined the course of his musical life.
A Coffee Club Revelation
Shortly thereafter a neighbor gave Matt a copy of a CD by Rob Fisher's Coffee Club Orchestra, Shaking the Blues Away, and his taste for 'twenties music was confirmed. Fisher led the band for Garrison Keillor, who had just come out of his first retirement to host The American Radio Company in New York City.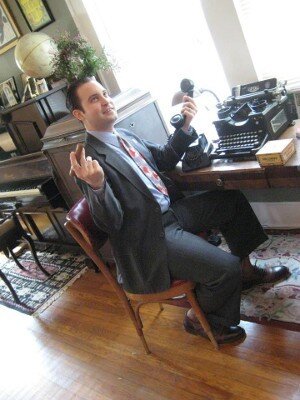 "It was unlike anything I had heard up to that moment," says Matt. The music played in the Tolentino household until then had been mostly 1950s and 1960s rock and roll, Lawrence Welk, big band, and modern jazz. "The album I had been given was a tape copied from the CD; I listened to it until I wore the tape so thin, you'd hear the other side playing backwards." The selections on that album—a lively, stereophonic re-animation of numbers long entrapped in dead shellac and dusty stock arrangements—"laid the ground on what would become my favorite music." Many of the tunes on Shaking the Blues Away are played today by the Singapore Slingers.
Anachronistic music suffused Matt's life as he learned clarinet at Stonewall Jackson Elementary School. While others his age were obsessing about football, he searched the record and CD bins at Borders and Half Price Books to unearth albums suited to his rhythmic cravings. The New Leviathan Oriental Fox-Trot Orchestra was another early favorite. The New Leviathan group began as a goof on the ragtime revival of the 1970s, but their interpretations of obscure prewar exotica were (and still are) played with consummate musicianship.
Matt picked up a slew of instruments in high school: all the saxes, the tuba, and the accordion. The accordion was a particular love of his from an early age, inspired by the virtuoso of the squeezebox, Myron Floren, on rebroadcasts of old Lawrence Welk shows. Matt didn't know they were old shows, and it didn't matter. Nor did it matter that his musically-inclined contemporaries were thrashing and wailing on Stratocasters while he mastered the piano keys and bass buttons on either side of the bellows.
The Theremin? Yeah, Right!
An early fascination with the theremin (borne of a hearing the instrument used in a Halloween concert by the Dallas Symphony) proved less felicitous. The distinctive 1950s Sci-Fi sound intrigued him. "I found and bought off of eBay a very basic digital (first mistake) theremin for $65. I found out it was not as easy as the guest performer made it seem—and pointing out just how silly RCA's ad campaign was (they produced home model theremins for a brief time), who claimed anyone who can hum or whistle can play the theremin. Yeah, right!" (Afterward, Matt got to know the guest thereminist who performed at that DSO concert, and he's actually sat in on a few Singapore Slingers concerts on theremin.)
Matt became proficient enough on accordion to land polka gigs while still in high school. During that period he played with his high school jazz band, and the seeming incongruity of the two styles never fazed him—or his audiences.
"We used to go out on Saturday nights and do concerts and performances all around town—and watching the crowd response was what really gave me the bug to want to perform music, although at that age I never thought I could make a living playing it. There was something about putting our tuxes on and playing for an appreciative audience at that age. It was all new and exciting and very thrilling."
After high school, Matt studied for a degree in music education but decided after a brief time that making music in an academic setting wasn't for him. In 2006 he toured with a Texas polka band, The Sauerkrauts, and worked with the Austin-based White Ghost Shivers. That same year Matt began to communicate with Danielle Bennignus, a mutual MySpace friend of reedman Dan Levinson. Bennignus, a gifted illustrator and fellow time-traveler, and Matt met "in person" in July 2009, and they married in June 2010.
Slingers With Strings
In 2007, Matt formed The Singapore Slingers, a bona-fide dance orchestra (featuring a string section) designed to accommodate hot jazz-age dance music and smooth, sweet swing—a sound directly inspired by both Vince Giordano and the Nighthawks and the New Leviathan Oriental Fox-Trot Orchestra.
"I feel very lucky to know both Vince Giordano and [New Leviathan founder] George Schmidt, and their musicianship and friendship mean a lot to me." The New Leviathan's panoply of strings inspired the instrumentation of The Singapore Slingers. "The Slingers are 18-piece, which means we prominently feature violins, cello, flute, and clarinet along with the 'mainstays' of the band. Vince Giordano has been a big influence on me, not only for his masterful attention to detail, but for the love he has for recreating this music, and the passion in which he instills in everything he plays."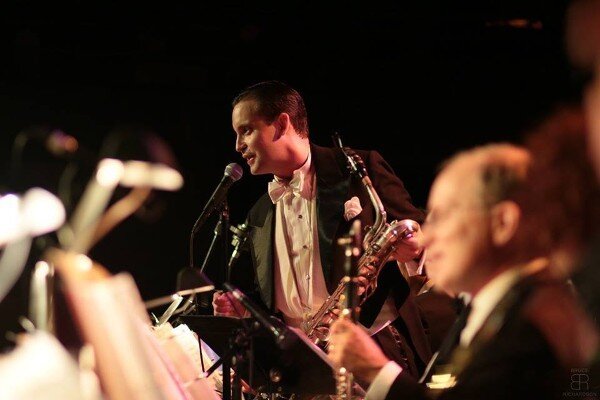 The Slingers have recorded two CDs (available through matttolentino.com), When Summer is Gone and The Frank Skinner Project, both featuring cover artwork by Danielle Bennignus. Frank Skinner, a pioneering stock arranger for the major music publishers of the jazz age, scored over 2,000 popular songs for dance band between 1925 and 1935. You've almost certainly heard Skinner's work: most bands did not hire staff arrangers but freely used (and occasionally modified) the stocks.
The Singapore Slingers play a repertoire dating from 1895 through 1935, and their unique "hotel band" sound derives from Matt's use of accordion and bass sax in addition to a string section. Bass saxophonist Adrian Rollini is a particular hero of Matt's: "I was 15 when I heard his music for the first time, and I'm just as blown away now by his playing as I was then. There is a joy in his playing that you can't deny—a step and a bounce—that tells you this man truly enjoys and takes pride in his craft."
Consider the Accordion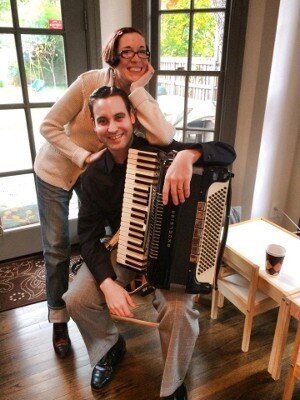 Matt sees the potential for the accordion as largely untapped in the revival of early jazz and popular music. "I feel the accordion gives me an angle on this music that not many have pursued and allows me to stand apart and put my own personal spin on this great music. I particularly enjoy performing ragtime on the accordion . . . which I feel is a natural on the instrument."
The lack of a sustain pedal means that many piano rags are somewhat difficult to play on accordion. Rather than focusing on piano literature, Matt says, "I pick songs that the ragtime bands would have performed, and I find the result very satisfying. The accordion is far more versatile than it's given credit for, and I find it to be very at home with the ragtime and early jazz that we all love."
Matt also leads the four- to eight-piece Matt Tolentino Band which provides hot jazz and/or swing according to the needs of the occasion. The Royal Klobasneks, which Matt assembled in 2010, keep alive the traditional American polka sound drawing from the music enjoyed by the Germans, Czechs, and Austrians who settled in Texas in the 1800s. Matt suggests that he's even like to branch out into Klezmer. "I've always loved Klezmer music, and if I had the time to entertain another musical prospect, this would definitely be an appealing avenue. I've already got a polka band, so why not?"
Read our review: The Royal Klobasneks: Here We Go
Matt is determined to work harder to keep playing the music he loves, which means promotion as well as practice. Some travel is certainly in store: The Matt Tolentino Band will play in Seattle at the Northwest New Deal Weekend this July. As for the bigger geographic picture, it's hard to say. "Dallas has been good to me, and will always be home, but you never know where life will take you. Wherever it takes me, I'll do my best to make sure there's good music there!"