For more than four decades former Stan Kenton lead-trumpeter Mike Vax has traveled the United States and overseas preaching and playing the Jazz Gospel. So when seeking an assessment of the current state of jazz education, Mike is a pretty good source. He doesn't just "talk the talk," but has walked the walk in conducting over 3,000 clinics at high schools and colleges over the past 48 years.
Mike has concerns that most youngsters today don't have the commitment to be serious musicians. "They're involved in too many things, and they don't listen to jazz as we know it," he observes. "They don't always get the instant gratification they expect from playing music. You have to work at it, spend many hours, and develop a great love for the music."
"In some schools, music has in many ways become an extension of the Athletic Department in that band directors and kids are out to win trophies, not just to play the music well and present worthwhile performances. Many times I ask young musicians to name even three people who play their instrument, and they usually can't."
"Young musicians need to become versatile and be able to play any style, whether it be orchestral, pops, trad, big band, or small group jazz. They must want to be a complete musician, not just a trumpet or guitar player. In clinics, I stress the mental aspects of trumpet playing, being able to visualize the results and how to improve the quality of the sound. They must spend time listening to recordings and live performances as well as practicing and be able to learn from hearing professional and more experienced musicians."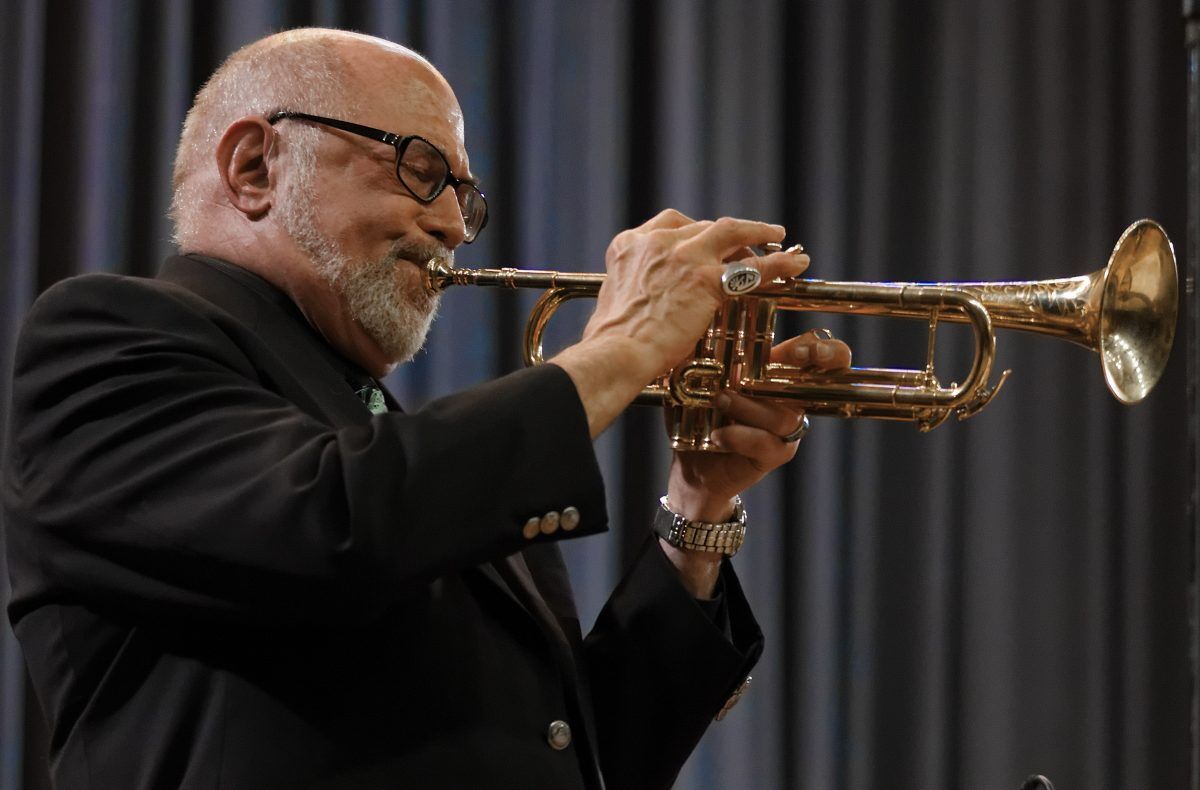 Vax finds it discouraging that very few aspiring musicians today can make a decent living on a full-time basis. "While we are turning out wonderful young musicians, most of them really aren't entrepreneurs who want to work hard to present, promote and preserve the music. The day when you could make a living just playing an instrument no longer exists for most people. There are very few booking agents today who really work to promote jazz, and you have to create work for yourself. There are five things a young musician needs today: 1) his or her instrument; 2) knowledge of the history of jazz; 3) a business card; 4) a resume; and 5) years of practice."
Growing Up in Oakland
There were no musicians in Mike's immediate family, but he acknowledges "we did a lot of listening." What really turned him on to music at an early age was a song flute he played in the third grade. That got him interested in the 100-piece school orchestra where a beat-up trumpet happened to be the only instrument available. A year later in 1952, he bought his first horn and started taking lessons.
As he progressed through the grades, he played in all kinds of bands. He attended Oakland High School which actually had a college preparatory music program. He joined the Musicians Union in 1959 so he could play in a society band, and by the time he was a high school senior, he had his own band.
Upon graduating, he was offered a half-dozen college scholarships and eventually decided on the University of the Pacific in Stockton where he had earlier attended a summer camp. The music curriculum at UOP was very classically-oriented, and Mike's intention was to get a degree in classical performance and go on to become a classical trumpet player.
But things changed when he attended a summer camp conducted by Stan Kenton and was selected to play in the faculty band, a huge honor for a young man just out of high school. Mike had always been a big Kenton fan, but that camp experience made him realize jazz was what he truly wanted to play. The aspiring musician told Stan that his goal was to be the first trumpet in the Kenton band, to which the leader replied, "If you want it bad enough, you probably will."
Mike considers Kenton one of the Fathers of Jazz Education. "He was the first to bring his band into schools to do workshops. He provided financial support to get jazz in the schools and helped start the National Association of Jazz Educators organization (later the International Association of Jazz Educators and now the Jazz Educators Network)."
Duty with Navy Bands
Departing UOP in 1965, he enlisted in the Navy and was eventually assigned to the Navy Show Band that did five-month tours of South America for the State Department. Called the hardest-working band in the U.S. Armed Forces, the Show Band would play two to six times a day, with evening concerts held in bullrings and other stadiums before up to 25,000 people.
After three years of touring, Mike was stationed at Treasure Island in the Bay area where Stan Kenton's first trumpet player heard him in a concert in April of 1970. Mike was invited to audition and accepted Stan's invitation to become a member of the legendary Kenton band. Mike calls Kenton "the best of all leaders" and, because he was older, he was like a father to the members of the band.
For the next two and a half years, Mike was lead trumpet and road manager for the band, but the hectic pace took its toll, and he left in 1972 to concentrate on giving high school and college clinics interspersed with tours with the likes of Pee Wee Hunt and the Glenn Miller and Jimmy Dorsey orchestras.
In 1975, he was recommended to replace Connie Jones in the DUKES of Dixieland, so it was off to New Orleans for a three-year stint. In 1979, Mike was Music Director for a show at Harrah's Tahoe and returned to California, and he's been teaching, conducting clinics, touring, and recording ever since. He and his wife Peg now reside in Prescott, Arizona.
Mike Vax concludes, "We are not cultivating an audience to listen to the great young players." He feels that bringing jazz musicians into schools for concerts and workshops will help bring more young musicians and audiences into the fold. "I'm going to keep doing clinics as long as I'm able to climb on an airplane. I love working with kids and hope I can make a difference. The music can't die."