Noel Kaletsky, born in New Haven CT in 1937, passed away on May 30, 2023. Anyone who heard him will never forget the excitement that he generated with his clarinet and saxophones.
Noel first met Bill Sinclair in 1957. Bill remembers getting together with Noel to play some tunes, with Noel on clarinet and Bill playing on the "crappy" piano in Noel's house.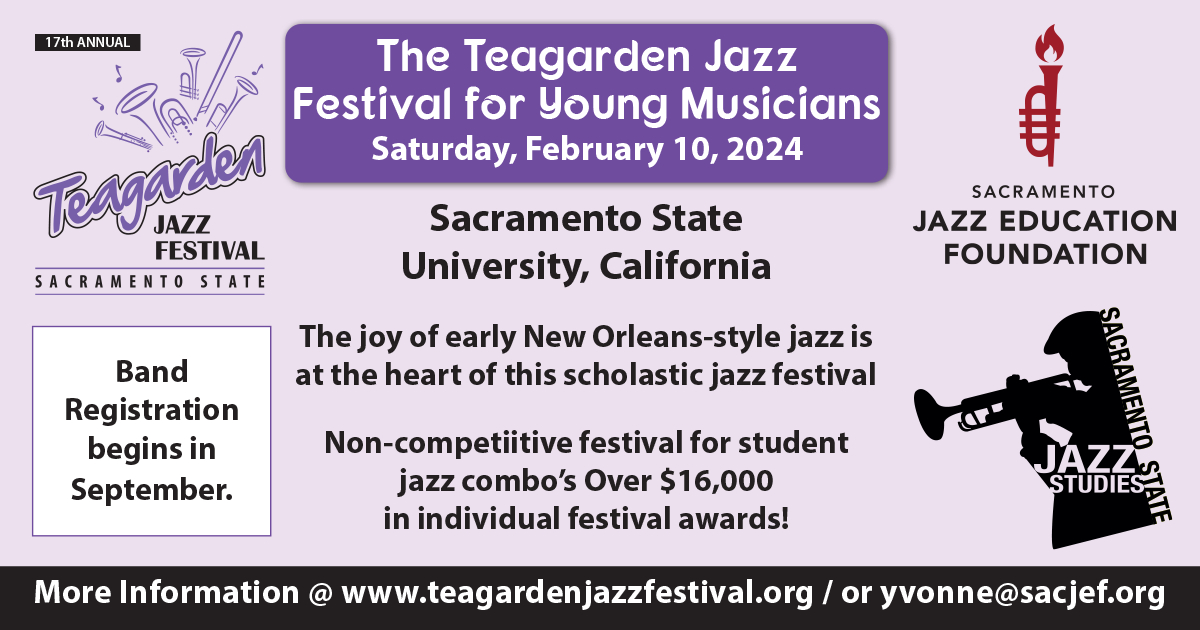 Eventually Noel and Bill met trombonist "Big" Bill Bissonette, who was starting a New Orleans-style band called the Easy Riders. This band continued with various personnel well into the 1960s, giving cornetist Fred Vigorito his first taste of New Orleans jazz and providing Noel the opportunity to meet and record with well known New Orleans musicians. At one particular GHB recording session, Noel played a duet with George Lewis on "Saint Philip Street Breakdown"; it became a challenge to distinguish Noel from George!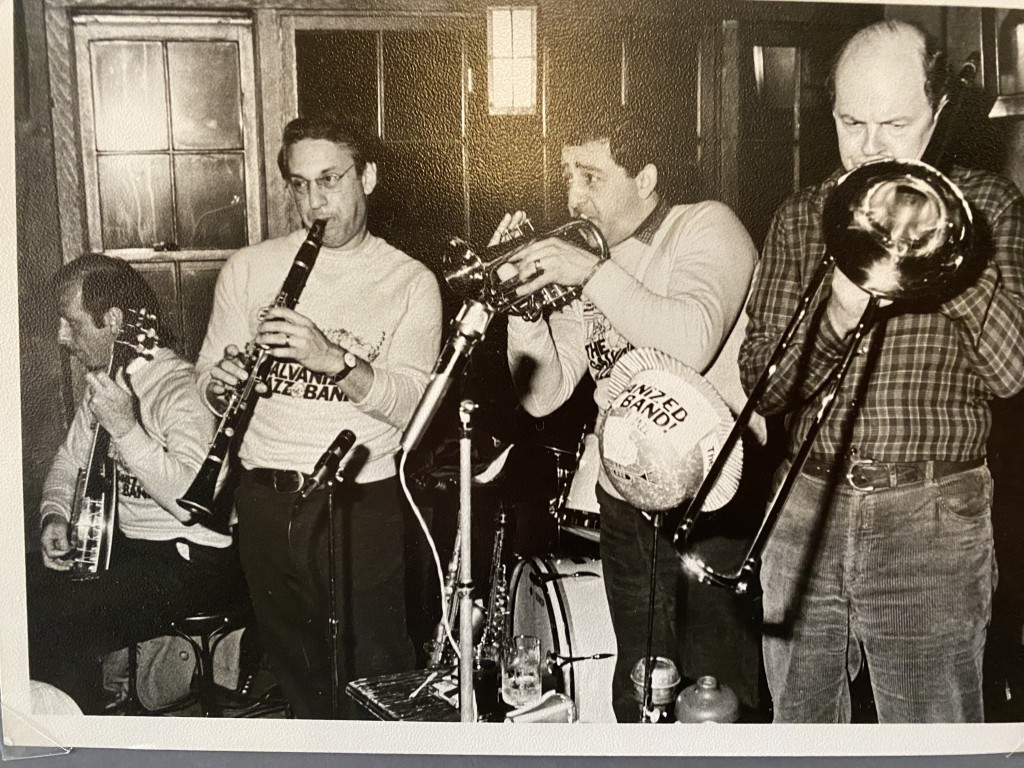 Around 1965 a club called Good Time Charlie's opened in North Haven, CT. Noel and the house band played every Saturday night. At the Rocking Horse in Hartford, Noel and Bill Sinclair put together the Nutmeg Jazz Band to play once a week for $12 apiece. They decided to chip in $2 each so that Wild Bill Davidson could join them once a month. English reedman Sammy Rimington was in Connecticut around that time, frequently joining Noel at the Rocking Horse.
By 1971 remnants of the Nutmeg and Galvanized Washboard bands had merged to form the Galvanized Jazz Band, with Noel, Bill, Fred Vigorito on cornet, Bob Bequilard on drums, Art Hovey on bass, Mark Finks on banjo, and various guest trombonists. The GJB worked every Sunday for many years at the Millpond Tavern in Northford, CT. Also in 1971, George Buck organized a GHB recording session for Noel and Bob with Wild Bill Davison.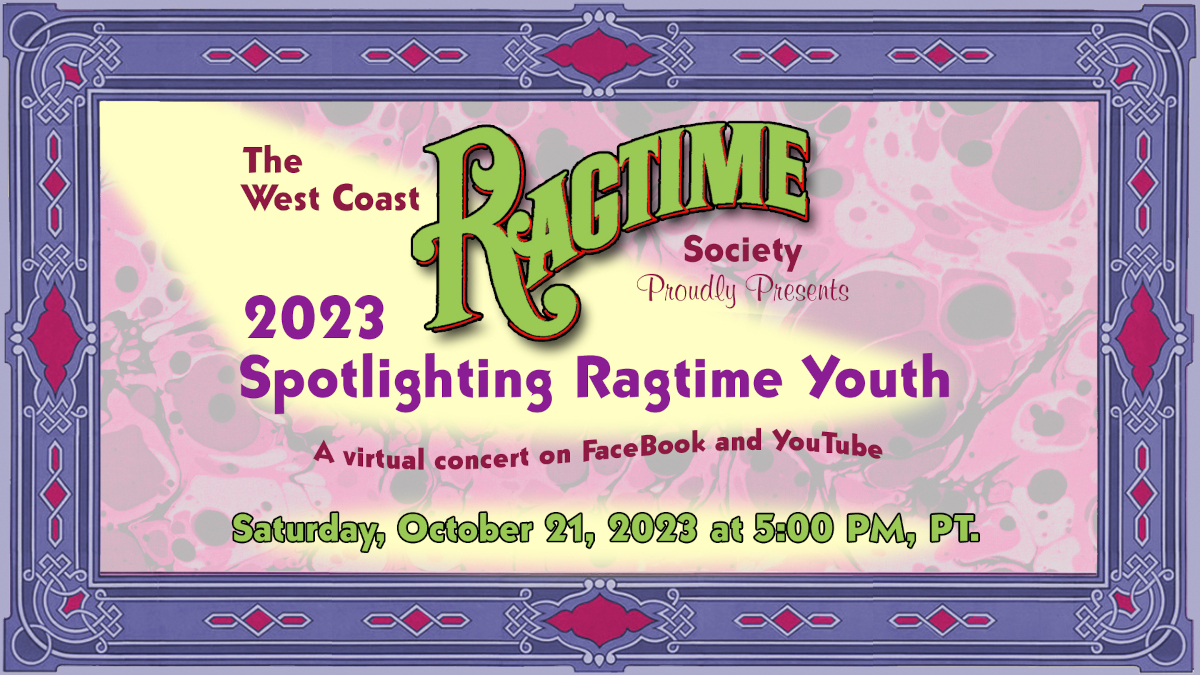 In the mid-'70s Noel began working frequently at the Sticky Wicket in Massachusetts with Johnny Sheehan's Heritage Jazz Band, which also featured a wonderful young singer named Jane Campedelli, who soon became a frequent guest with the Galvanized Jazz Band.
Thanks to his exceptional "people skills," Noel never had trouble finding a day job when he needed one. For example he taught guitar, he tended vending machines at the Sikorsky plant, he managed a machine shop, he was a hospital administrator, and after earning a Master's degree and certification he had a steady job as a special education teacher.
As Noel became a hot item on the Festival circuit, performing frequently with Tex Wyndham's Rent Party Revellers, The St. Louis Rivermen, Red Lehr's Powerhouse Five, The Jazz Incredibles, and the Saint Louis Stompers, he eventually had to choose between the day job and life as a musician. With his frequent festival work and regular gigs in Connecticut (at least five nights a week with the Hot Cats, the Bearcats, the Freight Train Four, the GJB, the Bill's Seafood All-Stars, etc.) and the support of Marty, his loving wife, he chose the latter.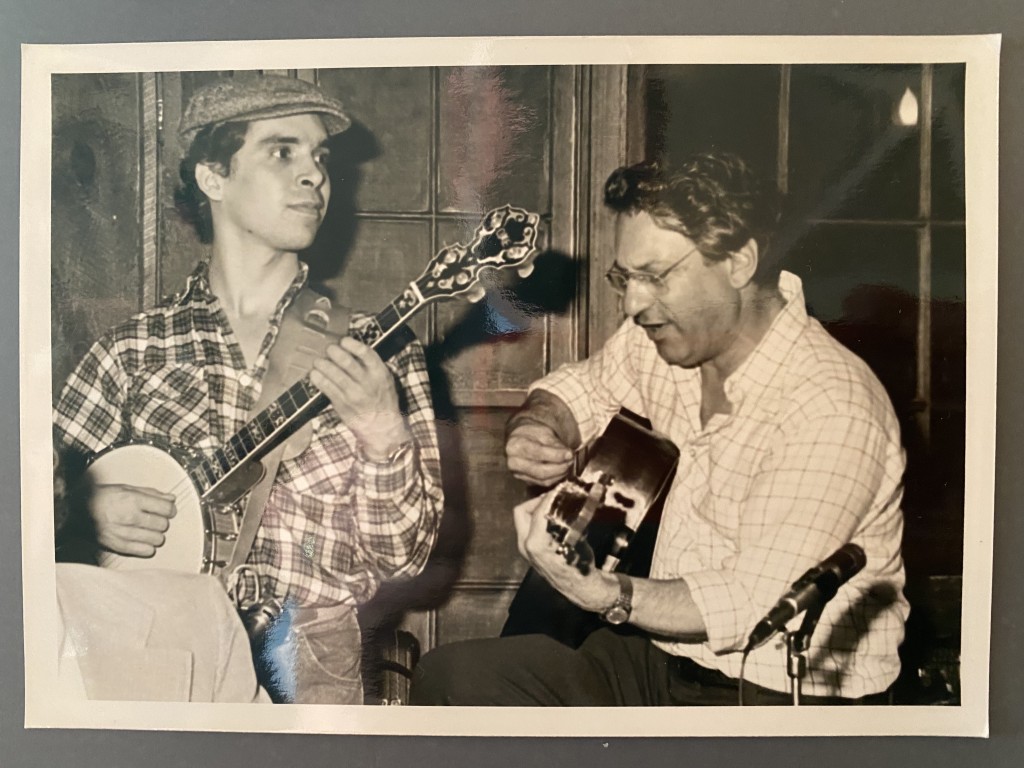 His last appearance with the GJB was March 16, 2023, and his last night at Bill's Seafood was May 5. We miss him and will always remember him fondly. Here are thoughts shared by some of Noel's colleagues and friends:
Jeff Barnhart: It's amazing that one of Noel's final gigs was with me on an 8-hour St. Patrick's Day gig! The man who could make an anvil swing on "Lady Be Good" was playing "Too-ra-loo-ra-loo-ra" with the same conviction and joy. What a versatile musician!!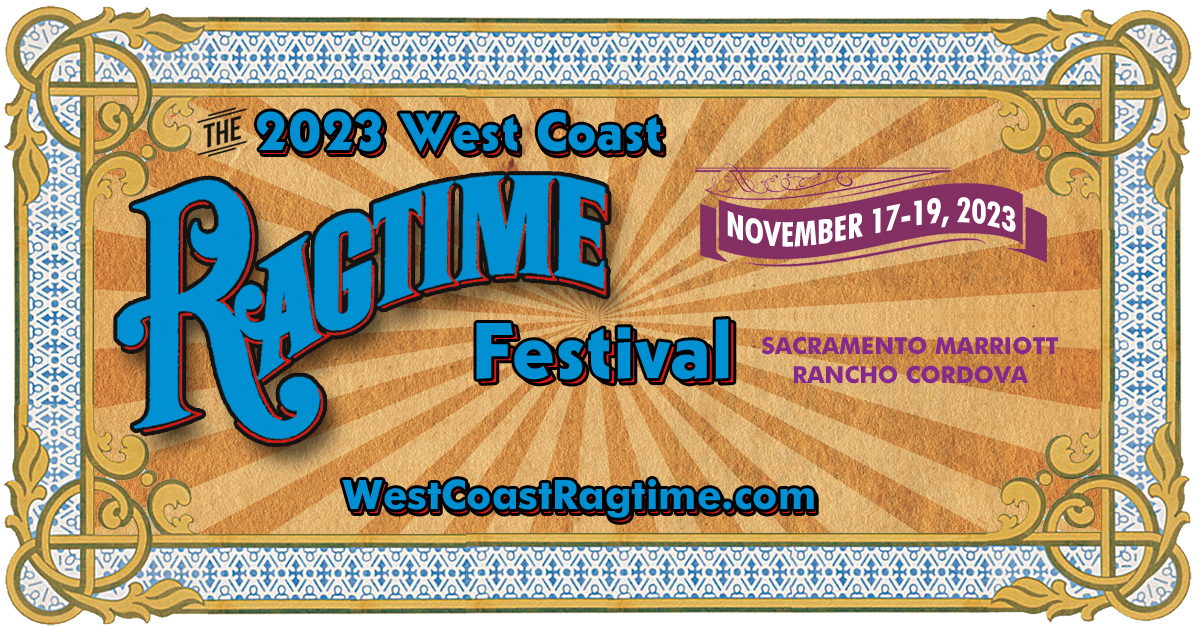 Steve Bulmer (CT based bassist/tubist): Noel, thanks for all the good times and great notes we made together. We shared some fine glasses of scotch and many more glasses of cheap stuff! Thanks for always seeing the levity in even the weirdest gig settings and always sharing a laugh. Thanks for teaching me some of the greatest tunes ever written, especially in the earlier jazz eras. A highlight was when the two of us [would] play "Sweet Lotus Blossom," me on bass, and Noel on soprano sax. Man he could make that thing soar!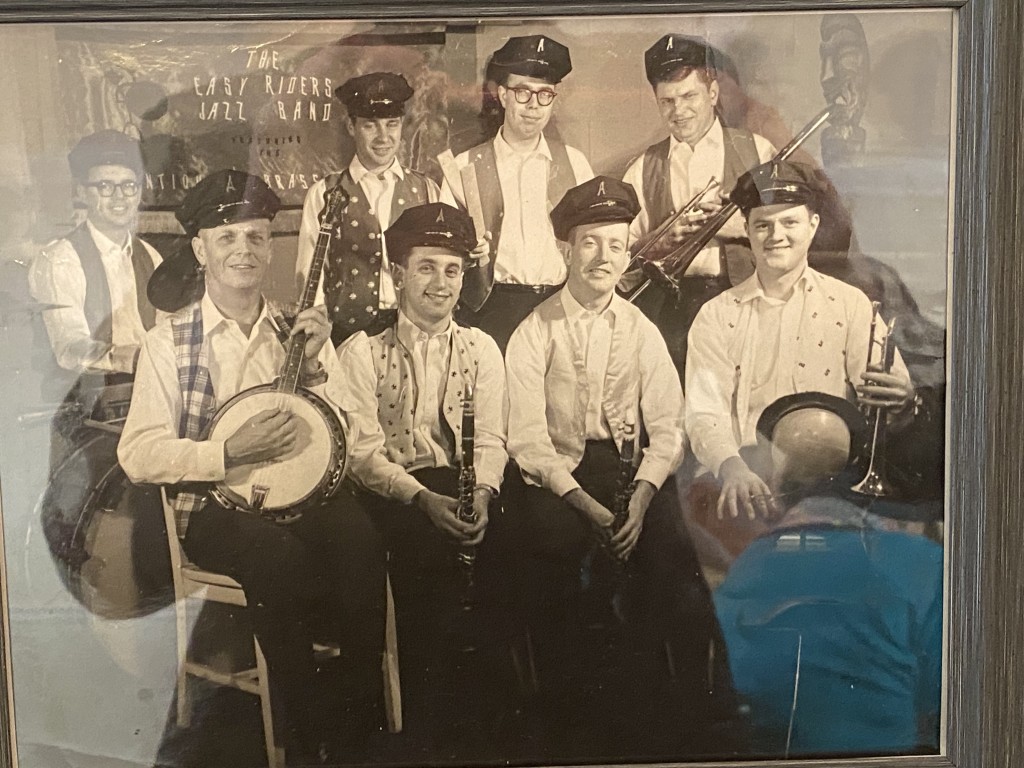 John Clark (reedman leader of the Wolverine Jazz Band): I certainly got to know Noel quite well over the last fifteen years or so – we did a lot of our "Clarinet Plummet" duos at Bill's Seafood. . . part of our schtick was him yelling out in the middle of my solo "I taught him everything he knows—he still knows nothing!"
Bob Draga: There's not a lot of great clarinet players and [Noel] was a DAMN good one!! As a matter of fact, my wife Diane [N.B. Olympics gymnastic coach] used his recordings of "Willie the Weeper" and "Battle Hymn of the Republic" as floor music for her gymnasts, 'cause she really liked his playing and the music was very adaptable for gymnasts.
Art Hovey (tubist/bassist with Galvanized Jazz Band): One of Noel's talents was his ability to become kindred spirits with others. He could fit in with an incredibly wide range of styles. Bunk Johnson, Louis Prima, the Firehouse Five, Benny Goodman, whatever. George Lewis, Sammy Rimington, Kenny Davern and Bob Draga all loved working with him, as did George Masso, Nick Carella, Maxine Sullivan, B.B.Hinds and the Blue Mooners; the list is endless. Red Lehr introduced him to Gene Pokorny, the Chicago Symphony tuba man, and they became best buddies. Most musicians fit into one pigeon-hole or another, but Noel could fit in with all of them.
Steve Lilley: Noel and I played together in the St. Louis Rivermen for about 17 years. He pushed me. He played with volcanic energy and brilliant inventiveness. We would start a chase chorus and he would warn me, "I'm going to get TRICKY!" And he would! We would trade 4's, 2's and 1's at breakneck speed. it was like surfing on the edge of a hurricane.
Ray Templin: Noel was always musically inventive and a joy to be with personally. And, there was always some decent scotch!
Charlie Freeman (pianist, Bearcat Jazz Band): The thing that most comes to mind when I think of Noel is all those times he set the tempo and told the drummer to "take no prisoners!" We used to call that "tempo di Kaletsky."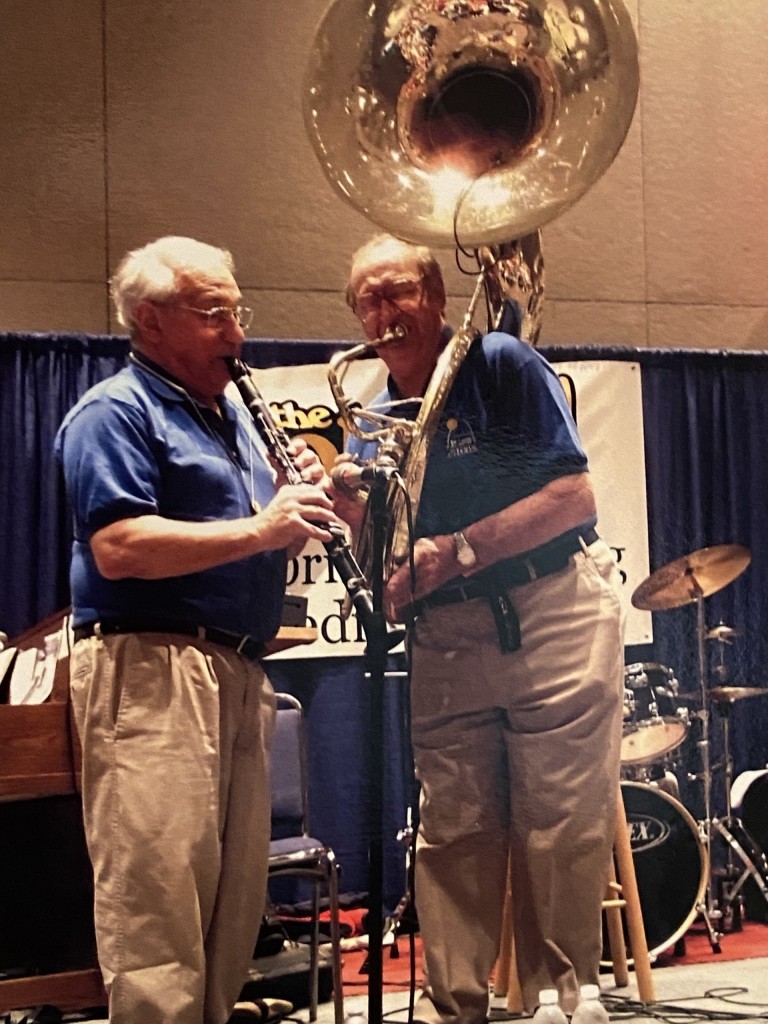 One night at the Millpond, Butch Butterworth was fretting about whether he should have brought the horses in because of a 40% chance of rain. Noel replied, so just bring in 40% of the horses!
Fred Vigorito: I met Noel in 1964.  My Mom answered an ad in the paper for a New Orleans Jazz trumpet player to join the Easy Riders Jazz Band.  Noel drove me there. I got the job and for 59 years Noel played by my side, making me look good, in the Easy Riders Band then in the Galvanized Jazz Band.  Noel's musical knowledge and incredible energy and stamina made him second to none in the Jazz world. He was truly a Jazz treasure, and I'm missing him terribly.
On a lighter note, I picked Noel up in my Honda motorcycle in 1965, and we drove to the Newport Folk Festival.  Never saw a single act, but had a great time on the beach when Noel borrowed a guitar from a teenager who couldn't play, and had the entire beach singing along.  I think there was some scotch involved also!
Hundreds of videos on YouTube capture Noel's artistry and are a testament to the joy he spread. Thank you Noel, for all that you brought to us.