The Carousel Bar inside the Hotel Monteleone in the two hundred block of Royal Street is the only revolving bar in New Orleans. Installed on September 3rd, 1949, the 25 seat circular bar turns on 2,000 large steel rollers powered by a ¼ horsepower (190W) motor.
With one revolution every 15 minutes, a patron has an excellent chance of viewing every corner of the opulently decorated room. An adjoining room includes booths and tables with nightly live entertainment. Lena Prima and her band had many recent performances there, and currently you can hear Shannon Powell, Nayo Jones, and Richard Scott's Twisty River Band in addition to other jazz vocalists and bands.
In its early beginnings, the Carousel Piano Bar and Lounge was a small room alongside the Swan Room, a nightclub where celebrities such as Liberace had evening performances. The (Assunto's Original) Dukes of Dixieland also played in the Hotel in the 1960s. The currently named DUKES of Dixieland took over Louis Prima's spot on the 17th floor in 1974 as Dukes' Place. Often these musicians would join others in the Carousel Bar for a nightcap after the show. Pete Fountain's Half-Fast Walking Club always stopped by during their Mardi Gras Parade route for a thirst quenching libation.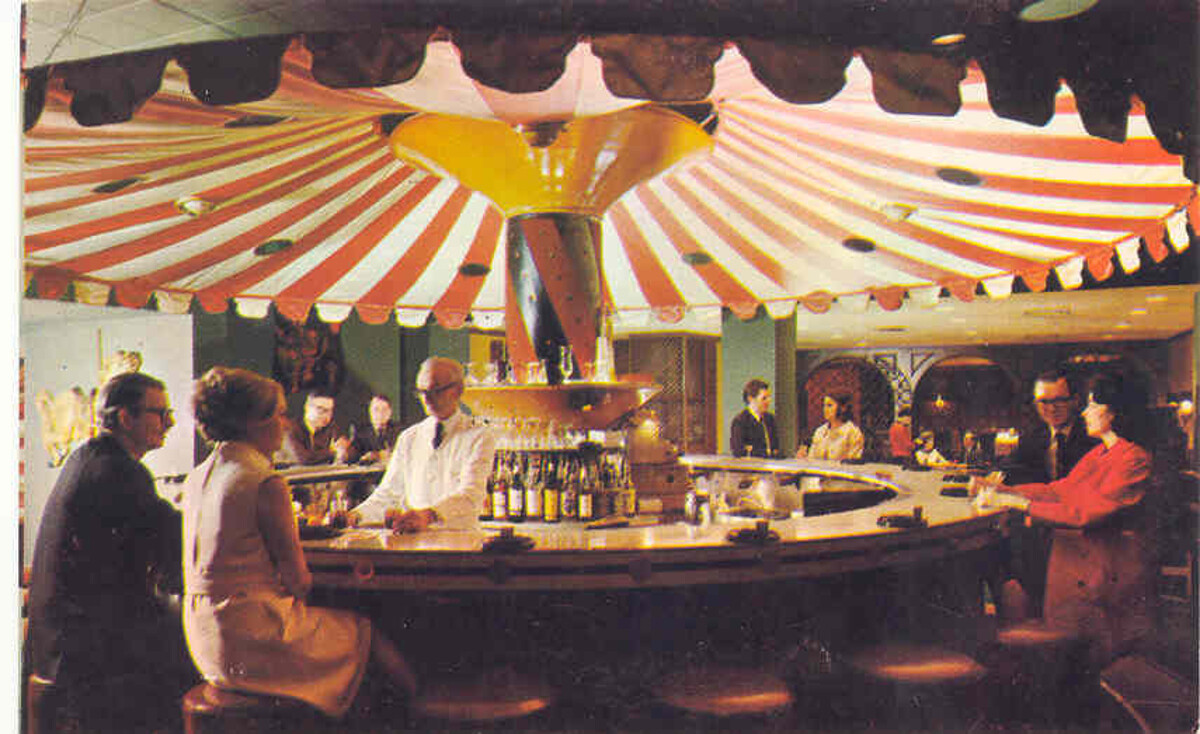 In 1992, the current carousel top was added and fiber optics installed in the ceiling to create the appearance of stars in the night sky. In 2011, the Hotel began an extensive renovation and expanded into the adjacent area adding the Criollo Restaurant and utilizing another non-revolving bar for service. The wall facing Royal Street has many windows and is the perfect spot to people watch. It is directly across from Mr. B's, one of the famous Brennan family owned restaurants.
The history of this unique bar includes many famous authors who have enjoyed drinks and mentioned the place in their works of American literature: Tennessee Williams (The Rose Tattoo and Orpheus Descending), Rebecca Wells (Divine Secrets of the Ya-Ya Sisterhood and Little Altars Everywhere), Stephen Ambrose (Band of Brothers), Richard Ford (A Piece of My Heart), Eudora Welty (A Curtain of Green), Gerald Clarke (Capote: A Biography), Erle Stanley Gardner (Owls Don't Blink), Ernest Hemingway (Night Before Battle), and Harry Stephen Keller (The Voice of the Seven Sparrows).
Truman Capote often lovingly and jokingly stated that he "was born at the Monteleone" as his mother was a guest there during her pregnancy. Ernest Hemingway, Tennessee Williams, William Faulkner, Anne Rice, Stephen Ambrose, and John Grisham all stayed there when visiting New Orleans. It is one of only three hotels in the nation considered a literary landmark. A first edition of William Faulkner's Mosquitoes is displayed in the lobby.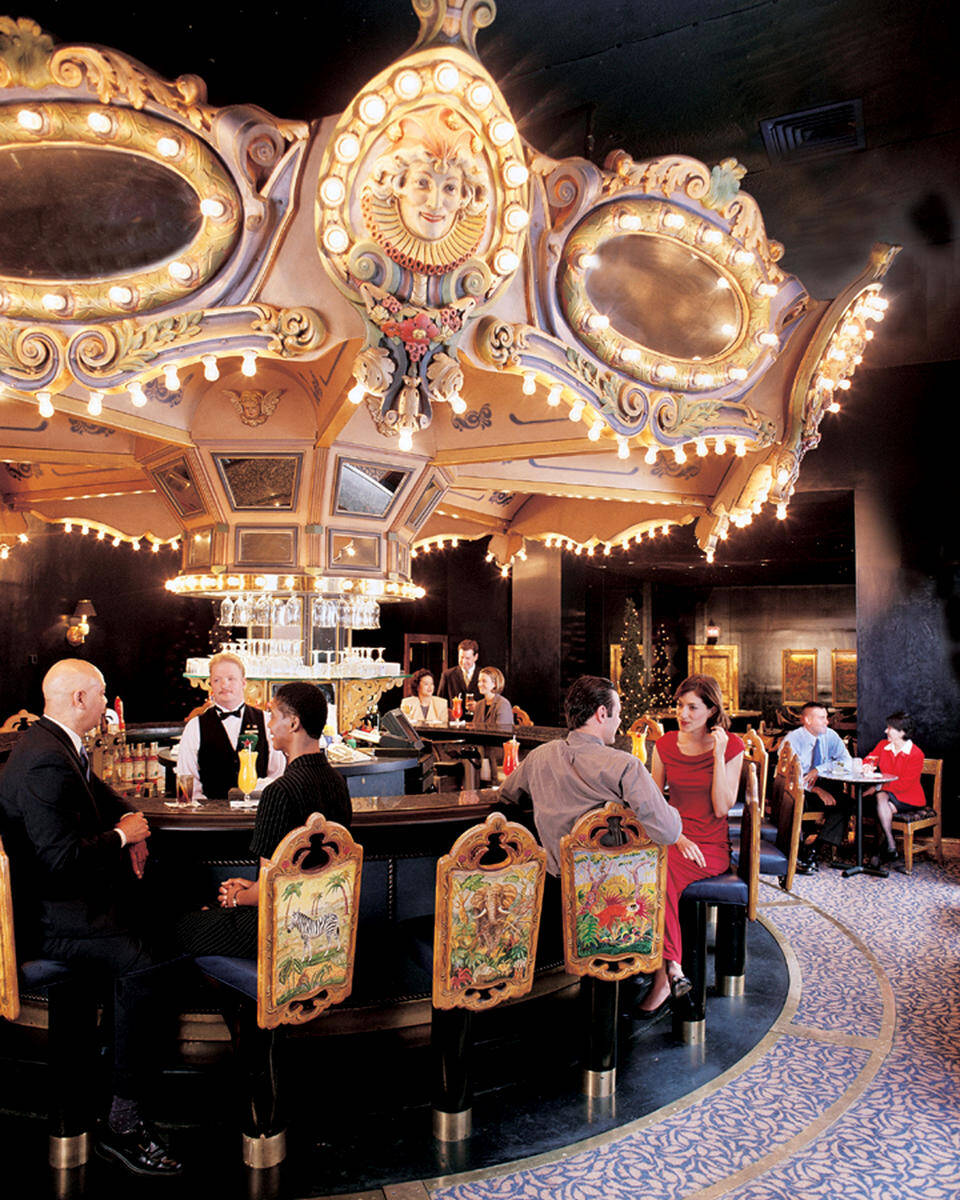 Many of the Hotel suites are named for these famous writers. The Monteleone was built in 1886 (named the Commercial, it had 64 rooms adjacent to a smaller hotel that was purchased by Antonio Monteleone) and is the only high-rise building in the interior French Quarter. In 1954 the original building was demolished to add more rooms and a ballroom. In 1964 additional expansions increased the room number and provided additional amenities including the Sky Terrace and rooftop swimming pool. It is still family owned and operated and it is a member of the Historic Hotels of America. The current president is William A. Monteleone, Jr., with the New Hotel Monteleone LLC that now oversees the daily operations.
The 570 newly refurbished rooms/suites and 25 meeting/reception rooms certainly provide something for everyone. With two award-winning restaurants, heated rooftop pool, and fully appointed spa, this destination resort is iconic in its French Quarter style of hospitality and customer service.
Two famous cocktails were invented by Carousel bartenders and though several recipes contained variations of the proportions, the ingredients were the same:
Vieux Carre Cocktail: 2 dashes Peychaud's bitters, 2 dashes Angostura bitters, 1 barspoon Benedictine, 1 oz Rye Whiskey, 1 oz Cognac, 1 oz Sweet Vermouth; stir, strain and serve with a lemon twist.
The Goody: 1 oz each of dark rum, light rum, Orgeat (a sweet syrup made from almonds, sugar and rose water or orange flower water), and pineapple juice; 2 oz orange juice; mix well, serve in a tall glass over ice.
A cocktail honoring author Eudora Welty is Eudora's Purple Hat, made with citrus vodka, egg white, lemon juice, crème de violet, and raspberry liquor.
The 1949 opening remarks as noted in the local Times-Picayune had this to report: "Spectacular is the word for the murals, painted in fluorescent colors of glittering scarlet, lemon, black and gold, and amusing circus scenes on a background of soft horizon blue…the corner lounges are upholstered in crimson, the center pole is gold striped with black…everything heightened the overall mood of gayety and fun. That's what people come in for, that's why they all want to get on the Carousel Bar." The bar revolves slowly while the bartenders stand in the center. This beautiful bar was truly the pride and joy of Frank Monteleone, the president of the Hotel at that time.
There are many celebrity sightings at the Carousel Bar considering the abundance of musicians, actors and entertainers who are in the Quarter for various concerts and film or television productions. Rod Stewart, Paul Simon, Dennis Quaid, Nicolas Cage, Quentin Tarantino, Stephen Baldwin, Michael Jordan, Greg Allman, and Sally Struthers were all mentioned in recent press releases for the hotel.
September will be a month full of anniversary events. Be sure to check out the Monteleone Hotel and Carousel Bar websites for the daily offerings and a chance to win an overnight stay or a spin on the carousel with a complimentary cocktail in hand!