Nights at the Turntable August 2017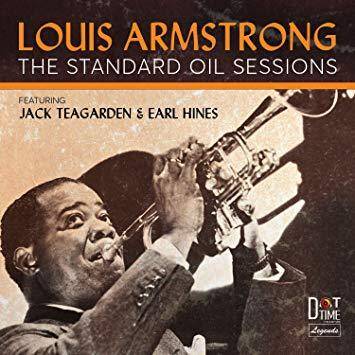 SOME "NEW" SATCH
Louis Armstrong amassed a large collection of tapes in his lifetime which are now stored at the Louis Armstrong House Museum. While some of the tapes are of his records, his storytelling, and events of interest that had been televised, there are also many previously unreleased performances that will hopefully be made available someday.
Dot Time Records has an agreement to release four CDs of material of which The Standard Oil Sessions is the first.
The Standard School Broadcasts in San Francisco was an educational radio series hosted by guitarist-singer Clancy Hayes and Jack Cahill that featured music from various regions of the United States. On Jan. 20, 1950, Louis Armstrong, Jack Teagarden and Earl Hines joined Hayes, local clarinetist Lyle Johnson and an unknown bassist and drummer to perform "The Musical Story Of New Orleans." While there is a bit of chit-chat by Hayes and Cahill,
The Standard Oil Sessions mostly consists of nine full-length songs (plus two rehearsal takes of "Do You Know What It Means To Miss New Orleans") by the pianoless sextet. Five of the songs, one of which had been edited, were previously out on a bootleg record but otherwise the music was never available before. The chances are good that this program, which was supposed to be just 15 minutes but is actually 44 minutes long without counting the rehearsals, was never aired.
Teagarden gets to sing on "Basin Street Blues," Hines is showcased on "Boogie Woogie On St. Louis Blues," there are hot instrumental versions of "Muskrat Ramble," "Struttin' With Some Barbeque," "Panama," and "Way Down Yonder In New Orleans," Satch takes the vocals on "Lazy River" and "Back O'Town Blues," and he and Teagarden share "Do You Know What It Means To Miss New Orleans." Armstrong's trumpet solos are often intriguing, hinting at his set choruses of the mid-1950s but still with plenty of spontaneity. Clarinetist Johnson, who apparently never otherwise recorded, sounds a little nervous but does fine.
All in all, it is great to have some "new" Louis Armstrong.
The Standard Oil Sessions (Dot Time DT 8005, 11 selections, TT = 52:10) www.dottimerecords.com
A LARGE BATCH OF BLUES PIANO
The British JSP label's four-CD set  –Head Rag Hop Piano Blues 1925-1960 is overflowing with classic performances. Compiled by Neil Slaven who also wrote the liner notes, the 101 selections, with one exception (Otis Spann's "Otis In The Dark" from 1960), actually date from 1925-52. 40 are from 1925-29, 42 were recorded during the 1930s and 18 are from 1940-52.
Blues pianists differed from blues guitarists in that, unless they had a steady engagement, they had problems with the condition of their instruments that they found at jobs, and they were obviously never street musicians. At clubs and bars, the pianists were generally expected to function as one-man bands, as entertainers, and usually as singers.
Head Rag Hop – Piano Blues is filled with colorful recordings from a wide variety of pianists, ranging from the primitive to the sophisticated. While some major names are represented (including Hersal Thomas, Meade Lux Lewis, Cow Cow Davenport, Pine Top Smith, Speckled Red, Roosevelt Sykes, Peetie Wheatstraw, Little Brother Montgomery, Walter Davis, Leroy Carr, Memphis Slim, Cripple Clarence Lofton, Albert Ammons, Champion Jack Dupree, Jimmy Yancey, Big Maceo, Amos Milburn, and Sunnyland Slim), many of the recordings are from pianists who only recorded a handful of sessions or even just one song in their lifetime. Everyone should have the opportunity to hear Will Ezell, Montana Taylor, Charles Avery ("Dearborn Street Breakdown"), Wesley Wallace ("No. 29"), Jim Clarke ("Fat Fanny Stomp"), and Jabo Williams.
Ranging from solo pianists (with or without a vocal) to small combos, these recordings are of consistent high quality. While one could argue for the inclusion of some other selections (I think George W. Thomas' groundbreaking "The Rocks" from Feb. 1923 should have led off the package), there is no debate that there is an awful lot of great music to be heard during the five hours of this set. Even listeners who are strictly early jazz fans will find much to enjoy in this collection of slow blues, fast stomps, and boogie-woogie records.
Head Rag Hop – Piano Blues 1925-1960 (JSP 77196, 101 selections, TT = 4:57:46) www.jsprecords.com
GEORGE LEWIS AT THE BEGINNING
Clarinetist George Lewis, who would become one of the most popular of New Orleans jazzmen in the 1950s when he toured the world, was a complete unknown outside of New Orleans in 1943. Although he had been musically active since at least the 1920s, his only previous recordings were two historic but so-so sessions with trumpeter Bunk Johnson in 1942. While Bunk had moved up North, Lewis was still in the Crescent City when William Russell recorded him during May 15-16, 1943 with his New Orleans Stompers.
The two-CD set The Complete Climax Recording Sessions has five songs from a rehearsal and all 20 performances (including nine alternate takes) made during the planned session. Lewis, trombonist Jim Robinson, trumpeter Kid Howard (who was absent for the rehearsal), banjoist Lawrence Marrero, bassist Chester Zardis (his place during the rehearsal was taken by Sidney Brown on tuba), and drummer Edgar Mosely form a spirited if occasionally erratic group.
George Lewis' is easily recognizable and his high notes (particularly during the rehearsal) are quite impressive. Jim Robinson is his usual reliable self while Kid Howard is both colorful and a bit inconsistent, never sounding boring!
The pianoless rhythm section is monotonous in spots but keeps the momentum flowing. Among the songs performed by this ensemble-oriented group are "Climax Rag," "Careless Love," "Dauphine Street Blues," "Milenberg Joys," and "Fidgety Feet."
George Lewis would not record again for over a year. The clarinetist, Robinson and Marrero would form the nucleus of Bunk Johnson's band during 1944-46 and, after a few years in obscurity, would (along with Howard) reunite in Lewis' 1950s band. This very spirited reissue shows how they sounded at the start. It is a must for George Lewis fans.
The Complete Climax Recording Sessions (American Music AMCD 100/101, 25 selections, TT = 98:20) www.jazzology.com
JIM TURNER REMEMBERS JOHNNY GUARNIERI
While few think of him that way, Johnny Guarnieri (1917-85) was one of the top stride pianists for decades. He had his highest visibility in the late 1930s/40s when he worked with Artie Shaw (including playing harpsichord with Shaw's Gramercy Five), Benny Goodman, and with small swing combos. He recorded with Lester Young, displayed his ability to closely imitate other pianists (most notably Count Basie and Fats Waller), and had a minor hit with "Gliss Me Again" (featuring bassist-hummer Slam Stewart). Guarnieri spent much of his last three decades in obscurity, teaching and playing solo piano in the Los Angeles area.
Jim Turner is a brilliant pianist perhaps best known for his associations with Jim Cullum, the Great Pacific Jazz Band, and his own solo albums. After having the opportunity to see Guarnieri play in a Los Angeles piano bar, they became friends and Turner even produced some of his later records.
On Magic Fingers, Turner performs 14 of Johnny Guarnieri's compositions plus three other songs that the pianist enjoyed playing. Since none of Guarnieri's songs ever came close to catching on, most of these tunes had never been recorded or even performed by anyone other than their composer. It is a delight hearing Jim Turner revive such pieces as "The Turner Shout" (a James P. Johnson-type stride piece dedicated to him), the sophisticated "Amigo Simpatico" (which could have come from Willie "the Lion" Smith), the charming "Sandra," a delightful "Magic Fingers Rag," "The Pasadena Shout," and "The Dazzler" (which has clarinetist Ron Hockett making the group a duo).
The three non-Guarnieri pieces, a reinterpretation of "The Minute Waltz" that is worthy of Donald Lambert, Lucky Roberts' "Nothin'," and an inventive "Take Me Out To The Ballgame," are also among the many memorable performances on this highly recommended project. I am sure that Johnny Guarnieri would be pleased.
Magic Fingers (Solo Art SACD-172, 17 selections, TT = 54:29) www.jazzology.com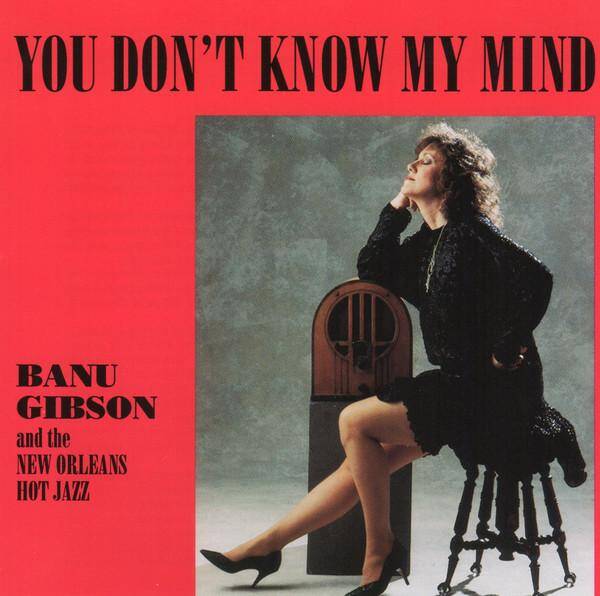 JAZZ CLASSIC OF THE MONTH
When Banu Gibson formed her New Orleans Hot Jazz group on April 1, 1981 and began gigging with the sextet in the Crescent City, she helped to revitalize the classic jazz scene. Blessed with an attractive voice and the ability to always swing, Banu took great care in assembling a high quality repertoire, inventive frameworks, and arrangements (usually by her musical director David Boeddinghaus), and superb sidemen (who she always featured) to create joyful versions of vintage gems. She became a favorite at classic jazz festivals including the late lamented Sweet and Hot Festival in Los Angeles.
Banu recorded three classic albums with her group during 1988-90: Let Yourself Go, Livin' In A Great Big Way, and her definitive set, You Don't Know My Mind. The latter CD features concise and passionate solos from cornetist/trumpeter Charles Fardella, trombonist David Sager, Tom Fischer on clarinet, tenor and alto, and pianist Boeddinghaus, along with heated support from bassist James Singleton and either Hal Smith or John Gill on drums. As is apparent from the first chorus of the opener "I've Got My Fingers Crossed," this would be a difficult singer and group to improve upon.
Along with a few from the 1920s, many of the songs date from the '30s. Banu's singing perfectly conveys the timeless lyrics without sounding at all dated. Her instrumentalists sometimes recall Fats Waller's Rhythm with each of the soloists taking full advantage of every moment they have in the spotlight, even when it is just eight bars.
Among the highpoints are "He Ain't Got Rhythm," "The Way You Look Tonight," "Ol' Pappy," "Truckin'," and the assertive title cut, but all 16 songs are memorable in their own way.
You Don't Know My Mind, one of the finest classic jazz albums of the late 80's/early '90s, is Banu Gibson at her best.
You Don't Know My Mind (Swing Out 104, 16 selections, TT = 49:39) www.banugibson.com 
---
In every issue of The Syncopated Times, this monthly column features reviews of CDs by classic jazz, 1920s and '30s, New Orleans Jazz, Swing and Dixieland artists, covering both vintage greats and some of today's top musicians. Be sure to send a copy of your CDs to Scott Yanow, P.O. Box 1220, Lake Hughes, CA 93532 if you wish to have your recordings reviewed. If you are a musician and need liner notes, bios or press releases, feel free to drop me a line at [email protected] In addition, CHOPS, a series of 50 Jazz Trivia Quizzes totaling 1,000 multiple-choice and true/false questions covering all eras of jazz, is available from me as a PDF for $25 via Pay Pal at the same E-mail address.
---
Online Only
For Online Only Access without delivery of the print paper sign up below.
Subscription Options
---
Print Edition
 If you'd like the PRINT EDITION, (12 monthly issues) use the following PayPal link. After your payment is complete you will be allowed to create an online account. You will receive the next mailed copy, usually shipping around the 22nd of the month. See a PDF Sample Here.