Nights at the Turntable November 2018
TOM HOOK'S UNUSUAL DREAM PROJECT
Tom Hook is best known as a fluent and good-humored stride pianist and singer. In his career he was a founding member of the New Red Onion Jazz Babies, worked with Bill Allred's Good Time Jazz band, was an important part of the Black Dog Jazz Band, spent time as a stage performer, and also played with rock groups in addition to being a fixture in New Orleans.
When Rachel Domber of Arbors Records offered him the chance to make his dream album, Hook put together a continually surprising CD called 62. He gathered together a four-piece rhythm section that includes guitarist Danny Caron, bassist Bobby Durham, and drummer Ed Metz, plus a five-piece horn section, five strings, and five female vocalists. While he plays piano, the emphasis is on Hook's vocals and his wide range of musical tastes, most of which focuses on early 1960s pop music; thus the CD's title. Hook's singing includes two collaborations ("Buona Sera" and "That Old Black Magic") with Cristina Perez that find them coming close to sounding like Louis Prima and Keely Smith, and songs associated with Tom Waits, Big Joe Turner, and Frank Sinatra ("Come Fly With Me"). Other numbers include "Bounce Me Brother With A Solid Four" with a female vocal trio emulating the Andrews Sisters, "At The Swing Cat's Ball" (which gives four of the horn players short solos), Percy Mayfield's "My Jug And I," the odd spoken word piece "If I Hear A Sound," and the closing "Here's To Life."
While I wish there had been more jazz on 62, this is an intriguing effort that casts fresh light on Tom Hook's musical talents.
62 (Arbors ARCD 19643, 13 selections, TT = 52:32) www.arborsrecords.com
---
JIMMY DORSEY'S SWEET SIDE
A major jazz clarinetist and alto-saxophonist in the 1920s, Jimmy Dorsey co-led the Dorsey Brothers Orchestra with younger brother Tommy during 1934-35 until a blowup resulted in them splitting up and heading different orchestras. While Tommy Dorsey soon found success, it took Jimmy until the early 1940s before his band started really catching on. Ironically, it was not the leader's playing or the jazz titles but the selections on which Bob Eberly and Helen O'Connell shared the vocals that made the Jimmy Dorsey Orchestra into a commercial success.
While there have been CD and LP collections emphasizing the jazz titles recorded by JD during his big band years, the five-CD Jimmy Dorsey Hits Collection 1935-57 is something much different. The 106 titles, most of which are from 1938-47, are the recordings that made it onto the charts. While some of these selections are still remembered today (particularly the Eberly-O'Connell collaborations), many are long forgotten and have rarely been reissued since they first came out.
Bob Eberly, who was a much stronger singer than his brother Ray Eberle (who worked with Glenn Miller), is the lone vocalist on 52 of the selections, most of which are dance music (other than the leader's brief solos) rather than hard-swinging jazz. Helen O'Connell, who was just as popular as Eberly and would have a more viable career after leaving Dorsey, is surprisingly the solo singer on just nine songs. Kay Weber, Ray McKinley, Don Matteson, and June Richmond have one vocal apiece from the early days while Kitty Kallen (who succeeded O'Connell by 1943), Gladys Tell, Teddy Walters, Jean Cromwell, Dee Parker, Bob Carroll, Bill Lawrence, Claire Hogan, and Charlie Teagarden sing on some of the later performances.
There are only ten instrumentals on this set: the rambunctious satire of sweet bands "What's The Reason I'm Not Pleasin' You," "John Silver," "Perfidia," "Turn Left," "Jersey Bounce," "Sorgum Switch," "Holiday For Strings," Dorsey's 1957 hit "So Rare," and two other numbers recorded shortly after the altoist's death ("June Night" and "Jay Dee's Boogie Woogie"). From the jazz standpoint, Ray McKinley's feature on "The Love Bug Will Bite You," "John Silver," and three songs from the Dixieland-oriented Original Dorseyland Jazz Band of 1950 ("Johnson Rag," "Charlie My Boy" and "Rag Mop") are of greatest interest. Best remembered are the memorable Eberly-O'Connell hits ("Amapola," "Green Eyes," and "Tangerine") and the Eberly-Kallen duets on "Star Eyes" and "Besame Mucho."
The Jimmy Dorsey Collection is most highly recommended to those who enjoy solid dance music from the swing era and Bob Eberly's singing.
The Jimmy Dorsey Collection (Acrobat ACFCD 7511, 106 selections, TT = 5:20:48) www. mvdb2b.com)
---
BRITISH JAM SESSIONS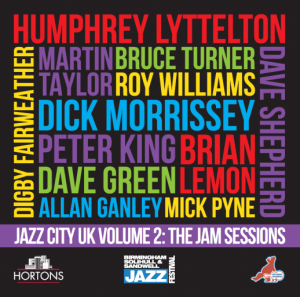 Trumpeter Humphrey Lyttelton, who led one of the top British 1920s-inspired trad bands of 1949-55, was given a lot of heat and criticism from his fans when he shifted his music towards mainstream swing in the mid-1950s. He ignored the detractors and played in that direction during the remainder of his career while not entirely neglecting his roots, particularly in his own trumpet solos.
Jazz City UK: Volume 2: The Jam Sessions has swing-oriented jam sessions from Mar. 11, 1987 and Aug. 12, 1984. The three numbers from the later session find Lyttleton leading an all-star nonet that includes many of his sidemen through "Carolina Diner" (which utilizes the chord changes of "Dinah"). Lyttleton is showcased in a duet with pianist Brian Lemon on "If I Could Be With You" and Martin Taylor takes an unaccompanied guitar solo on "Cherokee" which he plays in a couple of different tempos.
The bulk of this CD has bands led by Lyttleton and trumpeter Digby Fairweather in 1984. Lyttleton's unit (an octet with trombonist Roy Cummins, clarinetist Dave Sheppard, and Dick Morrissey on tenor) romps on "Frankie And Johnny" and "Crazy Rhythm." The latter has Fairweather's group joining Lyttleton on the final two ensembles which are quite rousing. Fairweather's own octet (with altoist Bruce Turner) is featured on an uptempo version of "Blues My Naughty Sweetie Gives To Me," and a sextet with Turner and Morrissey stretches out on "Honeysuckle Rose." In addition, the two full bands (they shared the same rhythm section) with their eight horns digs into "The Hucklebuck" and "Jumpin' At The Woodside."
Plenty of fireworks occur during these often-exuberant performances, with only Lyttleton's "If I Could Be With You" being a ballad, and the musicians and the audience clearly had a great time.
Jazz City UK: Volume 2: The Jam Sessions (Big Bear CD57, 9 selections, TT = 70:34) www.bigbearmusic.com
---
TWO OF THE TOP BRITISH CLARINETISTS ARE REMEMBERED
In the 1950s and '60s, Monty Sunshine (1928-2010) and Terry Lightfoot (1935-2013) were household names in the world of British trad, playing in styles inspired by George Lewis and the best New Orleans clarinetists while finding their own way in the music. The Lake label, in their large and valuable catalog, has reissued many of their finest recordings including the two sets covered in this article.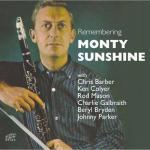 Monty Sunshine, was a steady and consistent member of the Chris Barber band during 1953-60. After he was showcased on what became a million selling record of Sidney Bechet's "Petite Fleur" in 1959, he became a star. Sunshine led his own New Orleans style combos for decades and had occasional reunions with Barber. The two-CD set Remembering Monty Sunshine is comprised of 39 performances, 13 of which were previously unreleased including the opener, a hot quartet version of "Wild Cat Blues" from 1958. While there are three numbers with Barber (one from 1955 and two from a reunion date in 1984) and one with Ken Colyer in 1953 (before the band became Barber's), the bulk of the twofer features Sunshine's groups from 1953-54 (units that he just led in the recording studios), 1961-62, 1965, and 1968. Best-known among the sidemen are trumpeter Rod Mason, guitarist Diz Disley, pianist Johnny Parker, and singer Beryl Bryden. The five numbers from 1962 have Sunshine leading a 12-piece group that includes tenor-saxophonist Danny Moss and baritonist Joe Temperley. While not the best setting for the clarinetist, the numbers reissued in this set are considered the most freewheeling from the session.
Remembering Monty Sunshine is a fine overview of the clarinetist's post-Barber work and serves as an excellent introduction to his playing.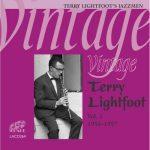 Terry Lightfoot led one of the most popular trad bands of the early 1960s, having hits with "True Love," "King Kong," and "Tavern In The Town." However Vintage Terry Lightfoot Vol. 1 1956-1957 dates from before that period, consisting of most of Lightfoot's earliest recordings. A fluent clarinetist who could play both New Orleans jazz and hot swing, Lightfoot is featured at the head of pianoless quintets that also include Colin Smith or Sonny Morris on trumpet, John Hunt or John Bennett on trombone, and (in Oct. 1957) a drummer named Ginger Baker! A decade before he became a major force with Cream, Baker was part of the British trad scene and, although he is not featured on the two jazz renditions of Christmas songs, it is quite novel having him be on the session.
Ranging from "Lady Be Good" and "When You're Smiling" to his own "Good Time Swing" and "Winter Wonderland," Vintage Terry Lightfoot Vol. 1 will certainly satisfy fans of hot jazz.
Remembering Monty Sunshine (Lake LACD 344, 39 selections, TT = 2:32:27) www.fellside.com
Vintage Terry Lightfoot, Vol. 1 (Lake LACD 264, 19 selections, TT = 74:31) www.fellside.com
---
JAZZ CLASSIC OF THE MONTH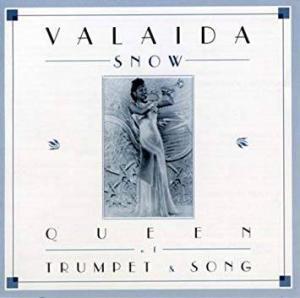 Valaida Snow (1904-56) was a unique performer. Virtually the only female to become a superior swing trumpeter in the 1930s (she was preceded by Dolly Jones in the 1920s), Snow was an exciting performer who also sang and danced. Originally part of a family that worked in show business, she also played clarinet, saxophones, banjo, mandolin, violin, accordion, cello, bass, and even harp although not on records. Louis Armstrong was among her fans as early as 1928 as was Earl Hines.
A world traveler, during 1926-29 she visited China, India, and Singapore as part of Jack Carter's Serenaders. Snow appeared in shows in the U.S. and then spent the second half of the 1930s and the early '40s performing throughout Europe and the Far East. Arrested in Copenhagen under mysterious circumstances (she said that she was in a Nazi prison camp but she may have actually been arrested for theft and possession of drugs), Snow was released in a prisoner exchange in 1942, returning to the U.S. While she never regained her former fame, she continued working (mostly as a singer) up until her death in 1956.
There were other talented female jazz musicians during the 1930s and '40s but very few horn players had opportunities to record. Fortunately Snow was an exception in Europe. The two-CD set Queen Of Trumpet & Song has all of her recordings from 1935-40, 41 selections recorded in London, Paris, Sweden, and Denmark that really show what a talent she was. Snow's singing is excellent, displaying swinging phrasing, some fine scat-singing, and the ability to put across a ballad. But it is her trumpet playing that often takes honors. On such numbers as her hit "High Hat, Trumpet And Rhythm," (which Bria Skonberg recently revived), "I Can't Dance," "Sing You Sinners," "Some Of These Days," "Nagasaki," "Tiger Rag," and "St. Louis Blues" she shows that she ranked high among trumpeters of the 1930s.
And for those who want the complete Valaida Snow, the out-of-print CD 1940-1953 (Classics 1343) has all of the rest of her recordings as a leader, with just two duplicates from the Queen of Trumpet & Song set.
Queen Of Trumpet & Song (DRG 8455, 41 selections, TT = 74:31) www.drgrecords.com 
---
In every issue of the Syncopated Times, Nights At The Turntable features reviews of CDs by classic jazz, 1920s and '30s, New Orleans Jazz, Swing, and Dixieland artists, covering both vintage greats and some of today's top musicians. Be sure to send a copy of your CDs to Scott Yanow, P.O. Box 1220, Lake Hughes, CA 93532 if you wish to have your recordings reviewed. If you are a musician and need liner notes, bios or press releases, feel free to drop me a line at [email protected]
---
Online Only
For Online Only Access without delivery of the print paper sign up below.
Subscription Options
---
Print Edition
 If you'd like the PRINT EDITION, (12 monthly issues) use the following PayPal link. After your payment is complete you will be allowed to create an online account. You will receive the next mailed copy, usually shipping around the 22nd of the month. See a PDF Sample Here.