For my inaugural column, I've decided to begin by showcasing two instrumental recordings that, despite the title of the first album, are suitable listening for a cold winter's evening at home.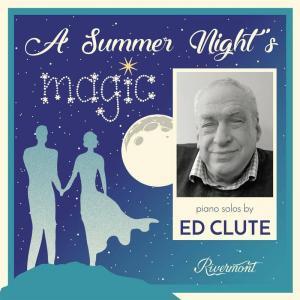 A Summer Night's Magic, on Rivermont Records, is a set of piano solos by blind virtuoso Ed Clute, performed at his home in Watkins Glen, New York, on his own Mason & Hamlin grand piano. The biographical portion of the liner notes were adapted from a profile of Ed that appeared in the first issue of The Syncopated Times in February 2016. In those notes, we learn that Ed Clute was a child prodigy—but this disc is more a testament to a prodigious lifelong dedication to the art of making music.
Clute ventured as far afield as France pursuing his craft. He received formal training and expert mentorship into his fourth decade; his extensive classical studies and his formidable technique audibly inform his jazz playing. After fifty years of public performance, he continues to sit in with well-known bands and maintains an active calendar as a soloist. He is always seeking opportunities to share his music with new audiences.
Judging by his performance on this album, his eatery gigs must be much more than mere dinner accompaniment. I auditioned this CD at the volume of a piano being played a few feet away, and there were times that—had I been in a restaurant—I'd have dropped my fork. Though perfectly enjoyable as a well-chosen ambient pick, this album holds up to repeated and intent listening.
Clute's stride style, influenced by and in the tradition of Frankie Carle, has an ensemble quality. Twenty-two tracks, most shy of three minutes, explore material both familiar and obscure; the cumulative effect is one of delight.
According to the Producer's Note by Bryan Wright of Rivermont Records, these selections were not planned—and many were called by Wright at the recording session, allowing Clute to put his remarkable memory on display.
This album starts off slowly and builds. Once Ed Clute has brought you into his groove he gives it a little swing. Standout tracks are "Time on my Hands," "A Garden in the Rain," and "Just Friends."
A Summer Night's Magic is available through rivermontrecords.com.
While we're considering instrumental albums, Jerry Krahn's New Orleans Parlor String Band has released a six-song promo CD that I very much enjoyed. With this disc, Jerry is reviving a local string tradition influential to the development of early jazz. This style of band—featuring Spanish and steel guitars, mandolin, and string bass—was popular in New Orleans during the first years of the 20th century. Stringed instruments were more affordable than brass—and the sound produced was agreeable as indoor listening. String bands were welcomed into the homes of the well-heeled and wealthy as well as the bordellos of Storyville. As Krahn insists, this is "not Gypsy, not jug, and certainly not bluegrass."
Krahn's most direct influence is the legendary Six and Seven-Eighths String Band, which played in New Orleans from 1912 into the 1960s, by which time all the musicians had settled down as middle and upper-class professionals in various fields but continued to play for pleasure and to preserve the tradition.
Jerry Krahn's New Orleans Parlor String Band may be enjoyed in person at the upcoming Jazz Bash by the Bay in Monterey, California. The CD is the next best thing to having them play in your own parlor.
The disc is available for a small fee directly from Jerry Krahn. You may get in touch with him via email at krahnp@bellsouth.net.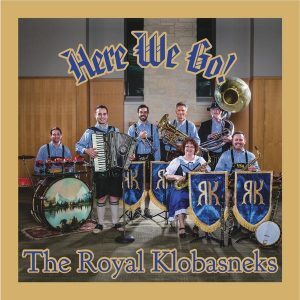 In anticipation of reviewing Here We Go! I found myself excitedly in line at the Pulaski Meat Market, a landmark institution anchoring a quiet corner of my residential neighborhood. The Pulaski has been in operation for 70 years, with much of its labor force imported from the old country: its young counter girls all speak Polish as a first language. Slovak myself, this was the establishment which supplied my childhood with traditional foods. (Ukrainian nuns were also involved.)
The same excitement about tradition that had my basket full of babka drove Dallas native Matt Tolentino to organize The Royal Klobasneks. Their debut CD isn't just about young people goofing on the music or another "Beer Barrel Polka" record. These are real artists capturing a very specific Bohemian sound. Tolentino has revived classic arrangements and created some charts with deference to the style. His delight shines through. This is joyful music, as good for the heart as these golumpkies will be bad for my waistline.
If you're wondering how a review of a polka record has found its way into The Syncopated Times, here's your answer: The Royal Klobasneks are only one of jazz musician Matt Tolentino's several bands and projects. This gifted young multi-instrumentalist was profiled in TST back in April 2016. I have at hand a CD titled The Frank Skinner Project on which Tolentino, through his 18-piece dance orchestra The Singapore Slingers, highlights the contributions of the man who literally wrote the book—or at least a book—about arranging popular music for dance bands.
Matt Tolentino brings a rare investigative vigor to all of his endeavors. Sometimes it pays to follow a musician into his side projects to see what has caught his attention. Listening back to the Slingers CD I'm hearing a bit more um-pah than would normally be apparent on a jazz record.
Both Here We Go! and The Frank Skinner Project are available on the Jazzador Records label through matttolentino.com.
Cornell student (and up and coming phenom) Colin Hancock has released Wild Jazz, his first album with the band he formed to commemorate the centennial of recorded jazz. He gathered The Original Cornell Syncopators from the student musicians at Cornell; at a concert in February 2017 they performed a re-creation of the Original Dixieland Jazz Band's first recording session. It was so well received that they went on to appear at festivals and other venues as the year progressed, playing charts dug up or arranged by Mr. Hancock.
For anyone who has had the good fortune to follow Colin Hancock on YouTube, this quick success is hardly surprising. While still in high school he organized a group of uniquely talented students, as well as a few elder statesmen of jazz, to imagine what a Buddy Bolden recording session would have sounded like. They gathered around original equipment and cut their own wax cylinders of the event. A mini-documentary of the session may be seen via YouTube on the SemperRecords channel.
Also available on that YouTube channel is a collection of recordings by Mr. Hancock that must be heard to be believed. Using overdubbing and his uncanny ear he has re-created or imagined dozens of hot jazz recordings with extreme fidelity to the originals—and playing every instrument himself. They are so good they should be released as an album. Not simply as a novelty, either—the cuts hold up on their own as great jazz.
True to form, The Original Cornell Syncopators recorded Wild Jazz on a single microphone set up in Cornell's Lincoln Hall. The band was positioned accordingly, in formations ranging from five members (on the ODJB version of "Indiana") to a full 12-piece band on five of the 17 tracks. The resulting sound is fantastic: historically faithful to the one-mic recording techniques used during the 1920s, but clear as day. The band's youth becomes evident only on the two vocal tracks, which are lovely—and, since the earliest jazz records were often made by musicians in their late teens and early 20s, their youth itself is historically accurate.
In honor of Colin Hancock's Texas origins the album is named for the theme song (circa 1925) of the Austin-based Jimmy Joy band. A number of other tracks, many with new Colin Hancock arrangements, show a similar depth of scholarship. My favorite track on Wild Jazz illustrates this point: "Who Can Your Regular Be Blues," says Hancock in a personal note, was "inspired by the Arcadian Serenaders version."
Thirteen young musicians appear on this album. I look forward to seeing where all this talent leads in the next few years. Colin Hancock has the unique and essential quality of infecting everyone around him with the early jazz bug.
Wild Jazz, a non-profit student project on Electric Buffalo records, is available as a download through Bandcamp at the suggested price of eight dollars.
---
This is what our print edition feels like. If you want good news to read with your morning coffee, order a print subscription. You'll get full online access to our archives, web extras, and our next issue will arrive at your door. Online only access to all of our original material is also available! Support Hot Jazz Journalism- Subscribe
Subscription Options
---
Or get the Print Edition with Online Access. To get the print edition of The Syncopated Times use this Paypal link. After you pay you will be issued a coupon for free online access.