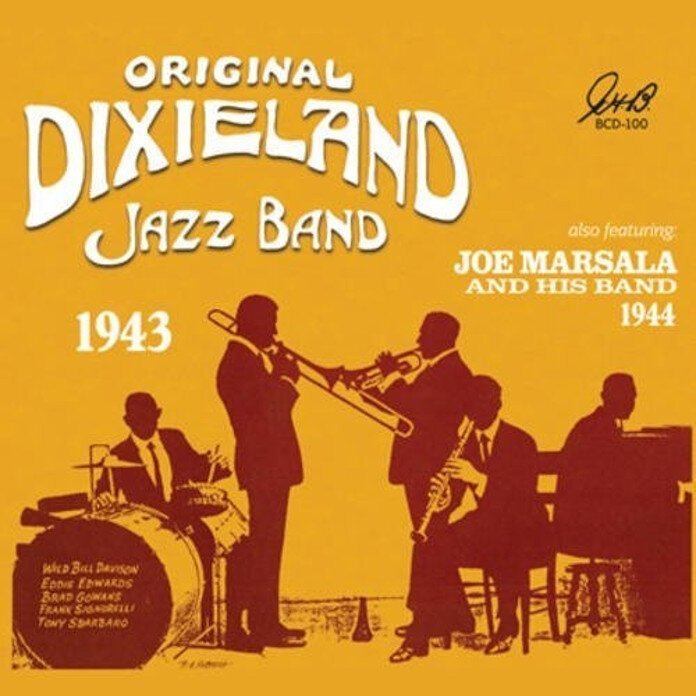 In 1917 the Original Dixieland Jazz Band (comprised of cornetist Nick LaRocca, trombonist Eddie Edwards, clarinetist Larry Shields, pianist Henry Ragas, and drummer Tony Sbarbaro) was the first jazz group to record.
The band, which always seemed to suffer from personality conflicts, broke up in 1923. LaRocca and Shields retired, J. Russell Robinson (who succeeded the late Ragas in 1919) became a full-time songwriter, Edwards had some low-profile jobs (including recording with Lou Gold in 1926-27, two numbers with Brad Gowans in 1927, and the Coon-Sanders Orchestra in 1932), and only Sbarbaro continued as a full-time performer although entirely off records.
In 1936 cornetist-leader Nick LaRocca managed to reunite the ODJB for radio appearances, new recordings and an appearance in a March Of Time newsreel. The reunion only lasted until 1938 when LaRocca went back into retirement. After recording in 1938 with a group billed as "The Original Dixieland Jazz Band" that included trumpeter Sharkey Bonano, pianist Frank Signorelli, and Sbarbaro, Shields also dropped out of music.
In 1943, dancer-choreographer Katherine Dunham organized a Broadway show, "The Tropical Revue," that sought to tell the history of jazz. Clarinetist Brad Gowans (who was actually best known for his valve trombone playing) was a long-time fan of the ODJB and he led an Original Dixieland Jazz Band recreation group in the show that included Edwards, Sbarbaro, Signorelli, and cornetist Bobby Hackett. While that unit recorded three numbers on December 30, 1943, the same band with Wild Bill Davison in Hackett's place made a set of radio transcriptions on December 3. The latter forms the first half of the recent GHB reissue Original Dixieland Jazz Band 1943/Joe Marsala 1944.
The ten titles and six alternate takes from the ODJB set are intriguing for several reasons. It is one of the best showcases ever for trombonist Eddie Edwards and one gets to really hear what Tony Sbarbaro could do in a well recorded setting. While having a different tone than Shields, Gowans does an excellent job of reproducing his phrases.
Most interesting of all is hearing Davison in this restrictive context. While Gowans is often in the spotlight and there are occasional piano solos, Wild Bill is only heard in the ensembles where he was expected to play the melody. Davison, as usual, puts plenty of personality into his playing and, by the last selection "Original Dixieland One Step," he comes close to cutting loose a few times.
The final act for Eddie Edwards and the ODJB was when a similar group with the same frontline but a different rhythm section other than Sbarbaro recorded 12 titles for the Commodore label during 1945-46. The trombonist retired soon after that last recording.
The second half of this disc is unusual for who it does not include. Joe Marsala, a very good swing and trad clarinetist, usually featured his wife harpist Adele Girard in his bands where she invariably stole the show with her superb jazz playing. However Girard is absent on Marsala's set of radio transcriptions from February 28, 1944.
The clarinetist utilizes a conventional sextet that includes trumpeter Billy Butterfield, trombonist Lou McGarity, pianist Dick Cary, guitarist Eddie Condon, bassist Bob Haggart, and drummer George Wettling. They perform eight songs (along with two alternate takes) of straightforward Dixieland. McGarity is in particularly fine form although each of the horn players and Cary has plenty of excellent solos on such songs as "Panama," "Weary Blues," and "Wolverine Blues."
Original Dixieland Jazz Band 1943/Joe Marsala 1944 (GHB BCD-100, 26 selections, TT = 71:48) www.jazzology.com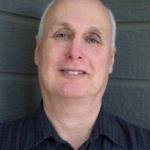 Since 1975 Scott Yanow has been a regular reviewer of albums in many jazz styles. He has written for many jazz and arts magazines, including JazzTimes, Jazziz, Down Beat, Cadence, CODA, and the Los Angeles Jazz Scene, and was the jazz editor for Record Review. He has written an in-depth biography on Dizzy Gillespie for AllMusic.com. He has authored 11 books on jazz, over 900 liner notes for CDs and over 20,000 reviews of jazz recordings.
Yanow was a contributor to and co-editor of the third edition of the All Music Guide to Jazz. He continues to write for Downbeat, Jazziz, the Los Angeles Jazz Scene, the Jazz Rag, the New York City Jazz Record and other publications.