Starting the summer back in Arizona, the May meeting of the Arizona Classic Jazz Society in Chandler, Arizona, featured Cheryl Thurston's annual birthday party celebration with Evan Dain (bs), Dan Reed (tp), Elliot Ventimiglia (reeds), Greg Varlotta (tb), Roy Calhoun (dr), and Richard Bogen (gtr/bj).
Having seen Cheryl at the Maison Bourbon in New Orleans last month, (see the June 2022 issue of The Syncopated Times) it was fun to see her on her own turf entertaining the audience with lots of music and birthday cupcakes! Cheryl also leads the many jammers who attend and provides constant music throughout the afternoon. Jammers included Diana Perez, Sharon Tataren (V), Richard Bogen, now on drums, Marj Scooros (wash), Paul Green (tuba), and Steve Means (cl).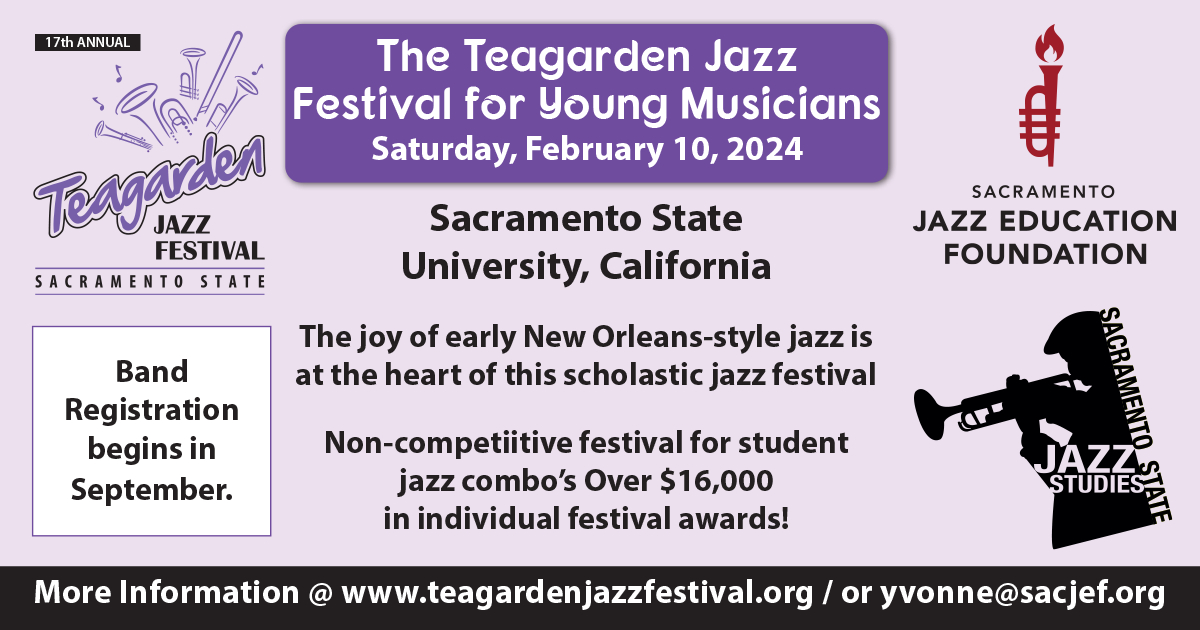 This last meeting of the season was well attended as many locals head out to cooler destinations for the summer. Cheryl, as leader, also adds vocals and pocket trumpet expertise to her sets and always enjoys every minute of her stage persona as does the audience!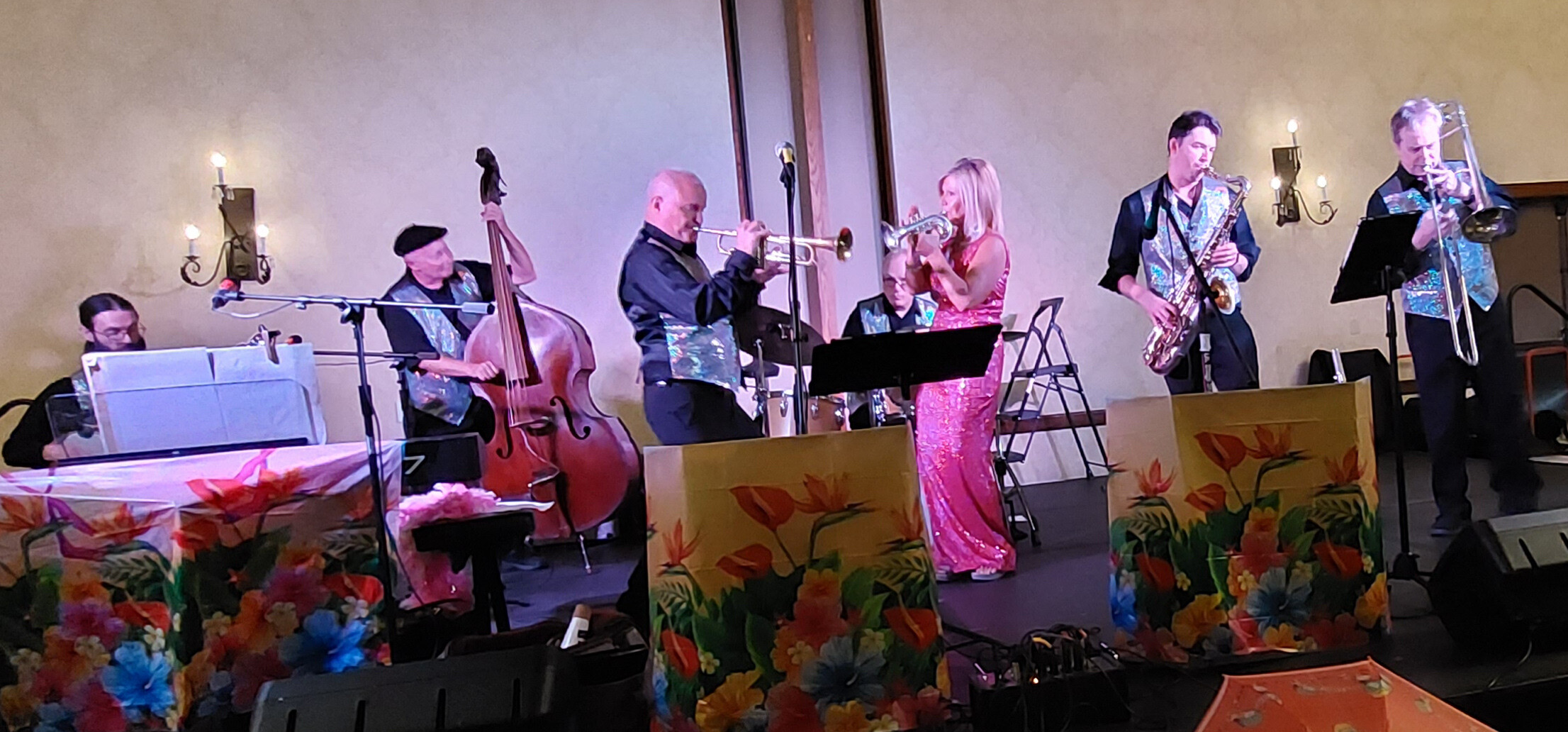 The music scene is definitely heating up in Tucson and several locally owned restaurants are adding the draw of live music to its nightly offerings. Under the umbrella of jazz, the local duos, trios, and quartets are gaining momentum and providing a much needed boost to the pleasures of early dining. It has given new meaning to the phrase "happy hour." Tucson has always had its country/western venues/bars with plenty of room for dancing but the restaurants have not had much entertainment made available to its diners; a piano or guitar in the background was considered enough. Perhaps after spending many months with only our family members or housemates in close proximity, the idea of dining while being musically entertained is refreshing!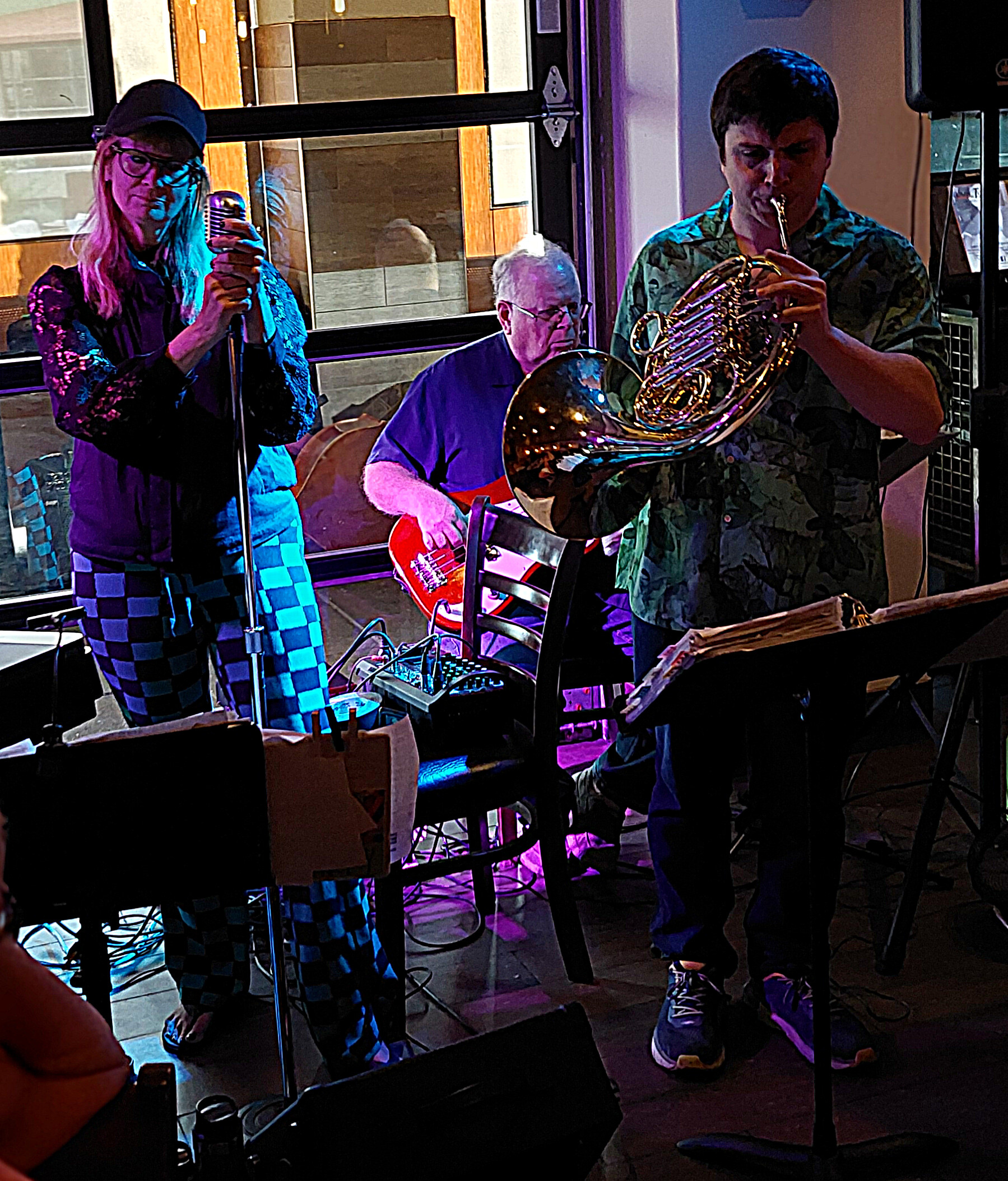 Local vocalist, Sheryl Ann McKinley, is averaging about 7+ gigs a month at various local restaurants. She puts together an additional 2-4 musicians and the band plays some standards and covers several genres of music. All are recognizable tunes and well known arrangements with sometimes unusual instruments. Her band at the local Caffe' Torino included Jonathan Eldridge II (p), Max Goldschmid (reeds/brass), and Jack Wood (bass/gtr). Max played a total of five instruments: alto/tenor sax, piano, trumpet and a French horn!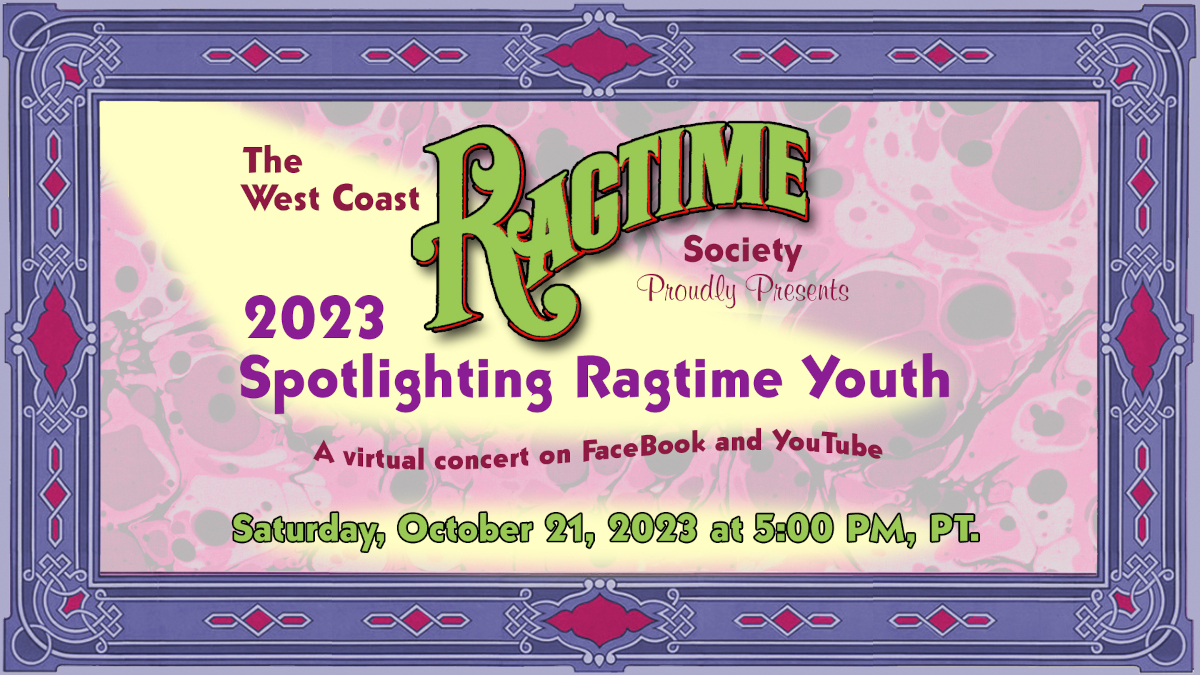 The University of Arizona has a distinguished music department—The Fred Fox School of Music—and the Tucson Jazz Institute Ellington Band has won numerous awards/honors during its existence. Our local scene is thriving and I am glad it is entertaining the public not only in a ticketed concert atmosphere attended by those who already revere the genre, but in the local food establishments that are showing they appreciate live music! I often hear a member in the audience comment how delightful it is to hear such good music in a casual and welcoming environment. Let's keep the music scene alive and well!
The following night we went to the Century Room at the Hotel Congress downtown. This 100-year-old building offers a blast from the past while enjoying the present. The large outdoor patio (where we saw Louis Prima, Jr. last year) had a contemporary band on its stage while the newly remodeled Century Room at the west end of the Hotel epitomizes the 1920s era of the jazz club.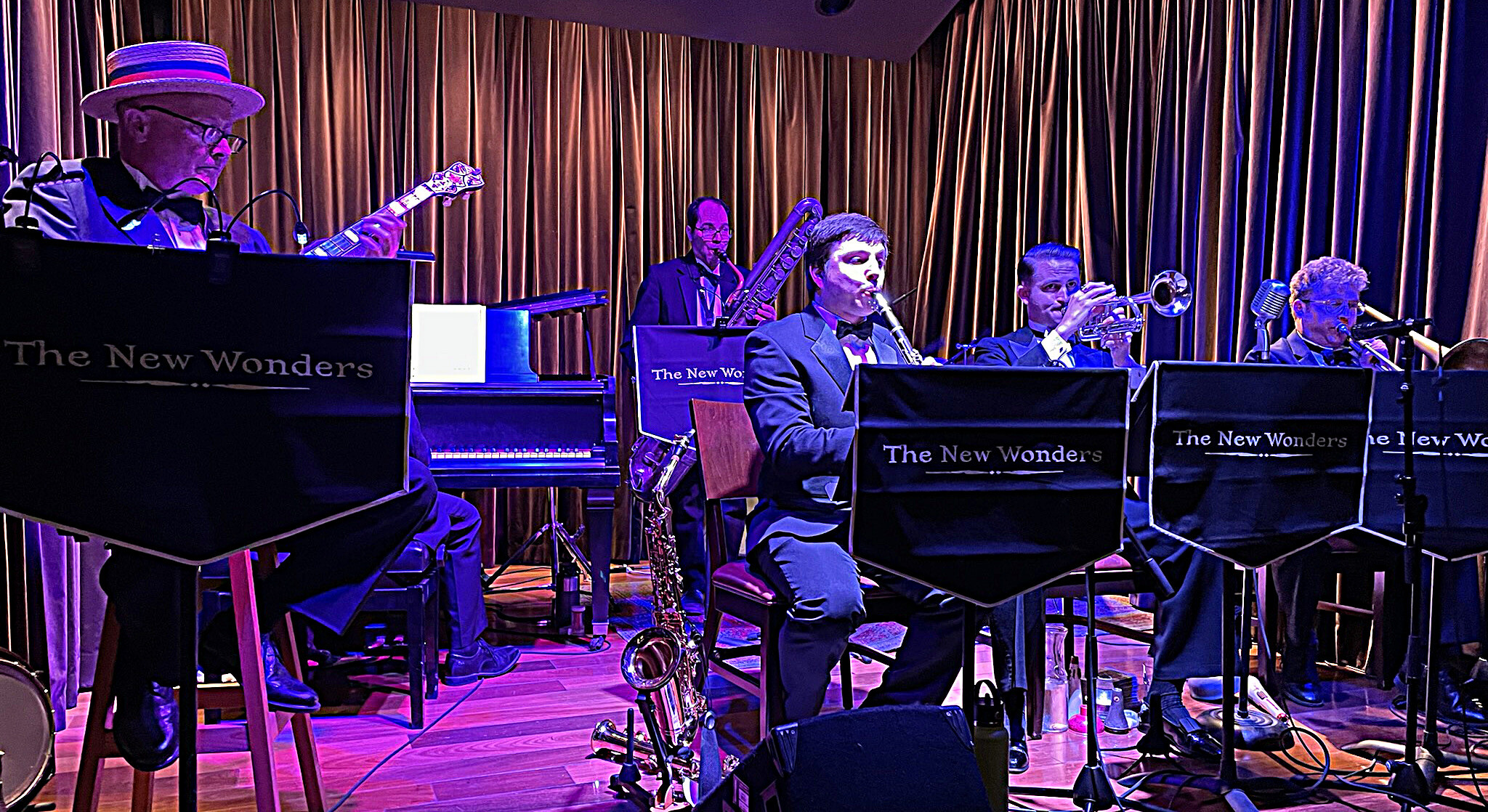 Arthur Vint (dr), native Tucsonan and member of the Wildcat Jazz Band, has returned to his home town after 15 years in the New York area. He is bringing with him an association with many New York talents and his employment at the famous Village Vanguard gives him a notable insight into the workings of an authentic jazz club. He is managing the new venue which just opened only four months ago and he has obtained a professorship with the University. He is enjoying direct access to the professionals already on the circuit and instructing and educating those on their way.
So, I was more than thrilled to find out Mike Davis, trumpeter extraordinaire, was booked for a weekend gig at the Century Room. Arthur and Mike both attended graduate classes at the Manhattan School of Music.
We just saw Mike at Jazz Fest heading an Armstrong tribute with Charlie Halloran (tb) and Dennis Lichtman (cl), (see my June report from New Orleans Jazz Fest). I couldn't believe he would be here just a few miles away! Mike gave some background information on each selection and used his mutes to advantageously mimic the era, focusing on the 1920s for this set.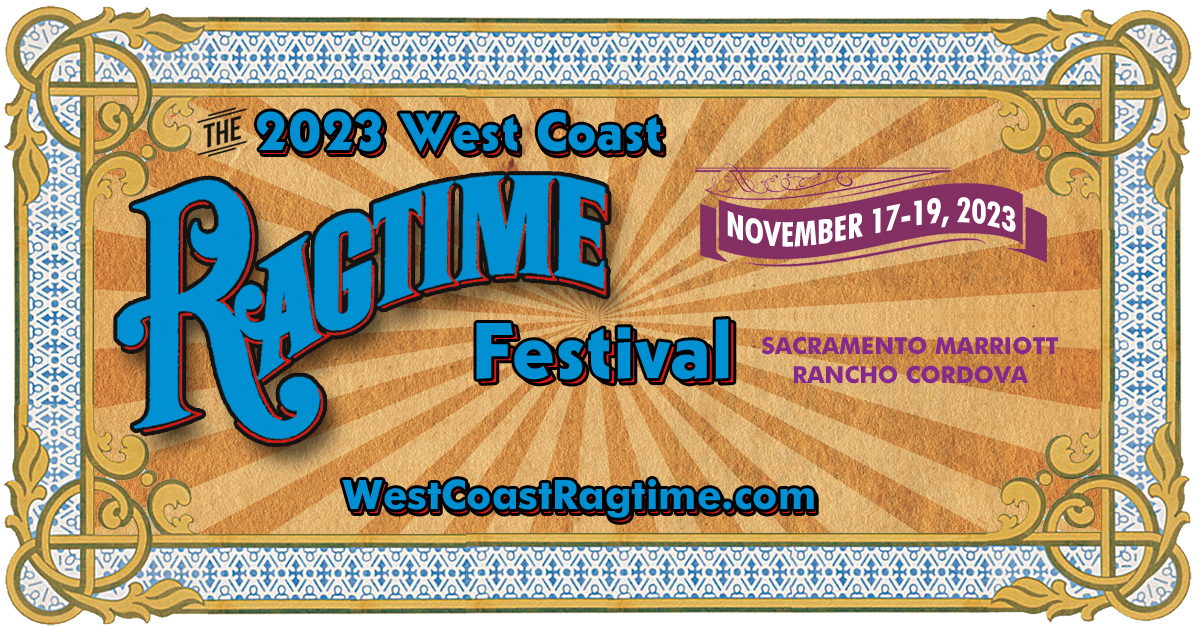 The Century Room's elevated stage has a floor to ceiling gold-draped background with a beautiful bar along the side of the narrow interior. Vinyl record album covers grace the edges of the high walls and display the tunes that are emanating from the updated sound system: Ellington, Fitzgerald, Armstrong, Basie, to name just a few.
As leader, Mike brought with him Sam Chess (tb) from New York and the rest of the band included Wildcat Jazz Band members, Rob Boone (p), Marco Rosano (bass sx), Arthur Vint (dr), and Evan Dain (bj) while Max Goldschmid played an additional two instruments, clarinet and soprano sax. That was seven instruments I saw and heard that young man play in 24 hours! A local vocalist now living in New York, Robbie Lee, sang a few tunes with phrasing reminiscent of Armstrong while incorporating a few scat verses and appropriate facial expressions. Maybe he will return "home" more often now that a true jazz club has opened in our city.