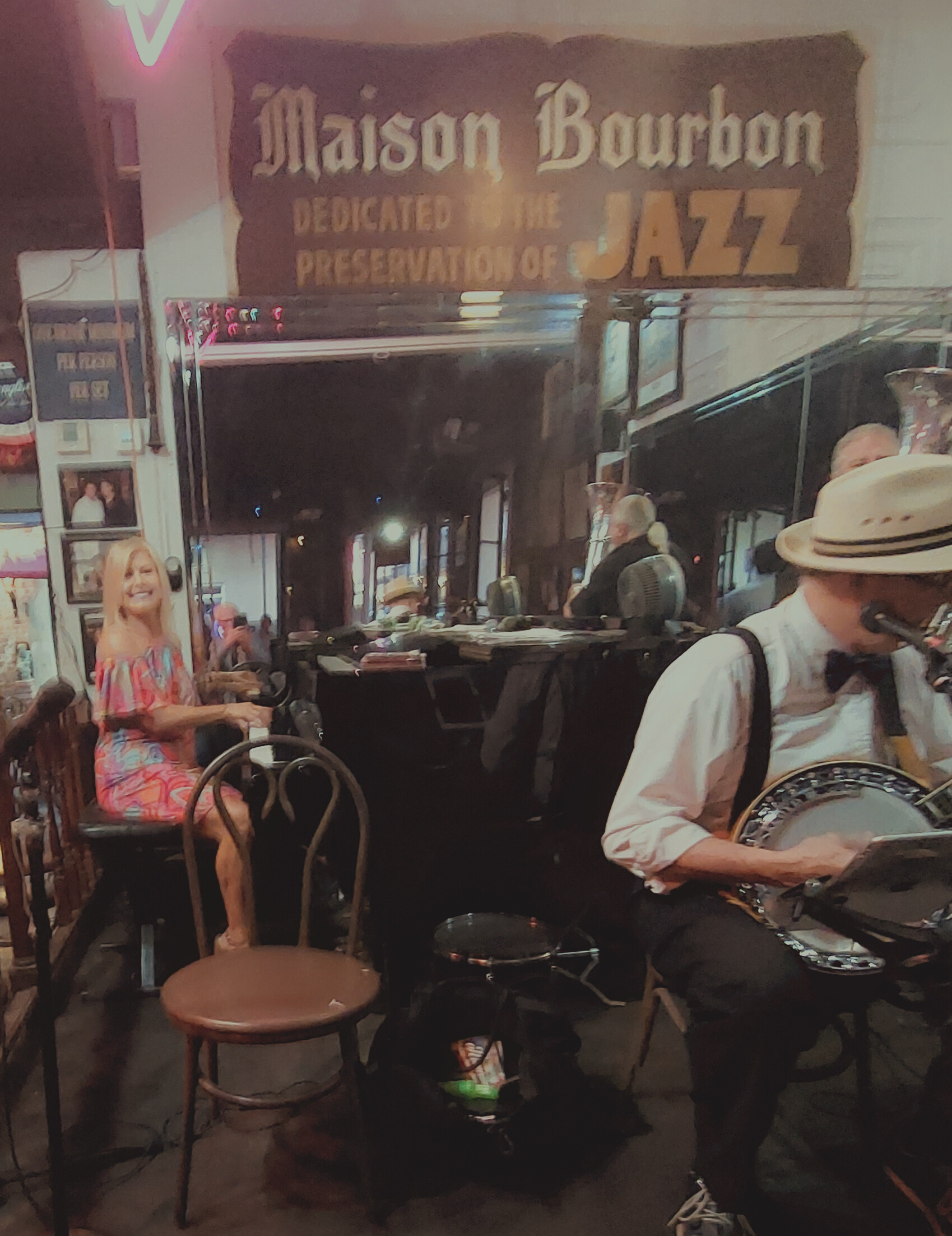 The long awaited New Orleans Jazz & Heritage Festival did take place beginning April 29th through May 8th and delivered all that was promised! We arrived a few days earlier to enjoy some calm before the "storm" both literally and figuratively. First stop at the Maison Bourbon to meet up with Dave Ruffner (tb), Danny Rubio (tuba), Josh "Jams" Marotta (dr) and Lee Floyd (bj) with their special guest Cheryl Thurston (p). Cheryl is very active with the Arizona Classic Jazz Society and attended the earlier French Quarter Festival. It was fun to see her in a different environment and enjoy her enthusiasm as a great kick-off to our visit. Next stop was Fritzel's to catch Tom Fischer (cl), Simon Lott (dr), Chuck Brackman (bs), Jamil Sharif (tp) and Leslie Martin (p) to complete the rousing start to our two week adventure.
The following day we were strolling down St. Peter to be stopped by our friend from Belgium, Norbert Susemihl (tp). We had not seen him for three years and he was going to be busking with John Joyce (bs) (see Joe Bebco's column reviewing the two new CDs for John Joyce and the Secret Six in the May, 2022 issue of this paper) at the corner in about an hour. We got back to the hotel and stowed the items we bought at Rouses' Market and went to meet up with them and Ryan Sullivan (bj) Kyle Ohlson (cl) and Jacky Blaire (gtr). The weather was perfect and the music sweet! Back to Fritzel's for a few hours with Richard Scott (p) and an evening at The Palm Court with Lars Edegran (p), Robert Harris (tb), James Evans (reeds), Gregg Stafford (tp), Mitchell Player (bs), Shannon Powell (dr) and Jolynda Chapman (v).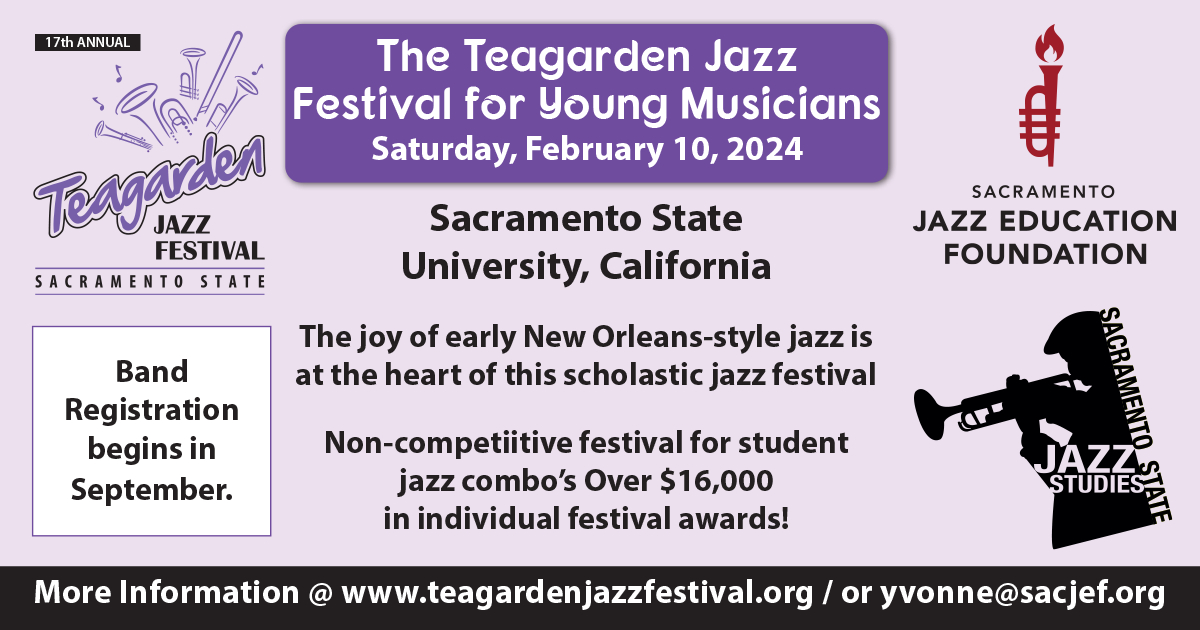 That was just the first of nine wonderful evenings at The Palm Court which included the following musicians: Duke Heitger, Will Smith, Mark Braud and Clive Wilson (TP); Ronell Johnson, Craig Klein, Freddie Lonzo and Haruka Kikuchi (TB); Barnaby Gold, Shawn King, Joey Lastie, Aron Lambert and Pete Siers (DR); Mari Watanabe, Steve Pistorius, Meghan Swartz and Kris Tokarski (P); Sammy Rimington, Connor Stewart, Louis Ford and Tommy Sancton (REEDS); James Singleton, Ed Wise, Kerry Lewis and Nobu Ozaki (BS); and Seva Venet (BJ). Both Yolanda Robinson and Thais Clark lent their vocal styles on a few numbers too.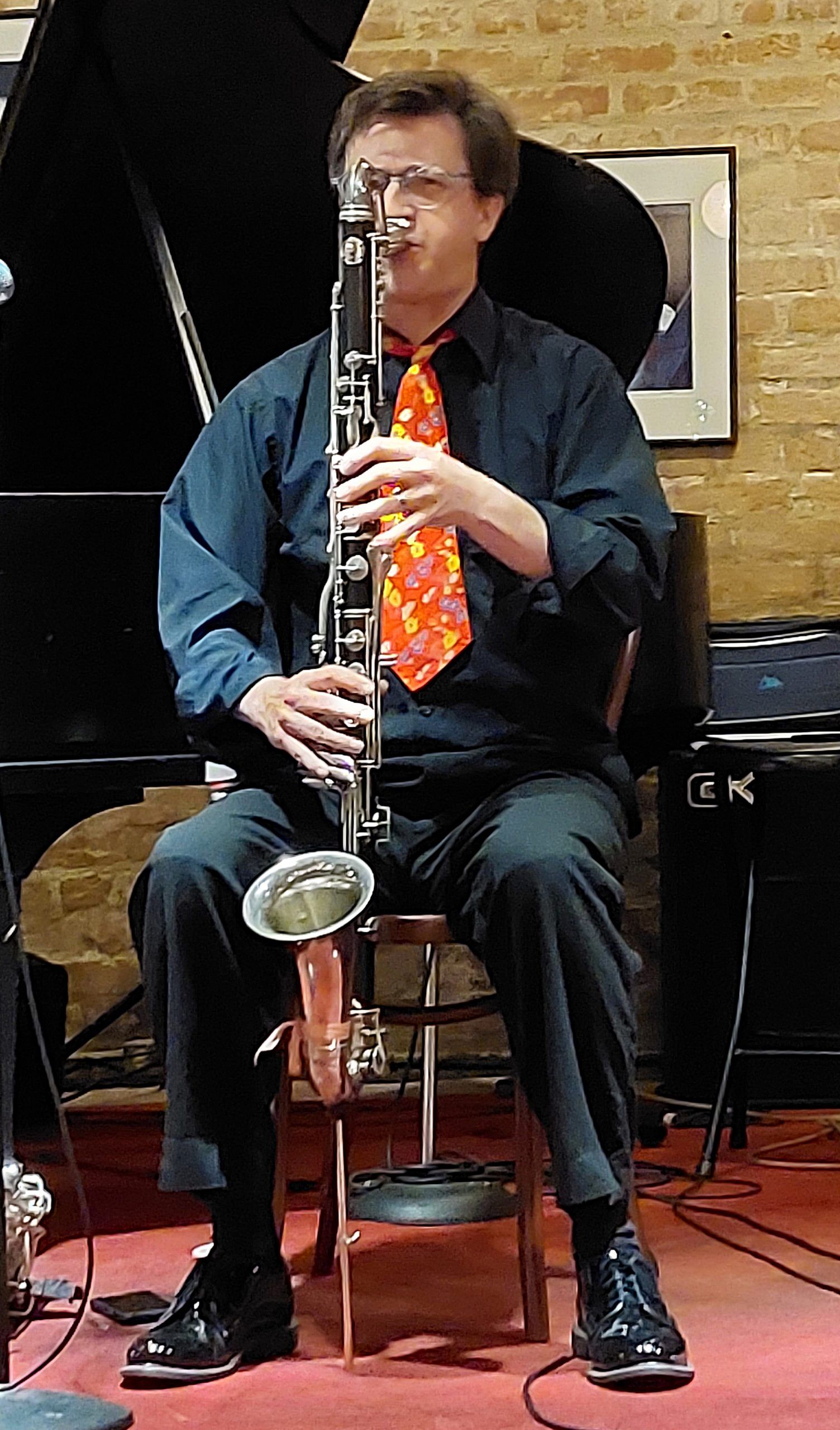 Sammy Rimington celebrated his 80th birthday one evening and was never stronger in his performances. His journey from England after a three year hiatus was well received and he enjoyed the presence of his two daughters (one from France celebrating her 50th birthday) and three grandsons in a true family reunion. Tommy Sancton's three year absence was also noted and he related some wonderful stories about his relationships with many Preservation Hall musicians during his youth in New Orleans. (See his book, Song for my Fathers) Although he is back living in France, I hope it won't be another three years before we hear either of them again.
James Evans brought his bass clarinet one evening and it is a formidable instrument. Its deep tones add just the right mood to a particular song and James knows when to insert them.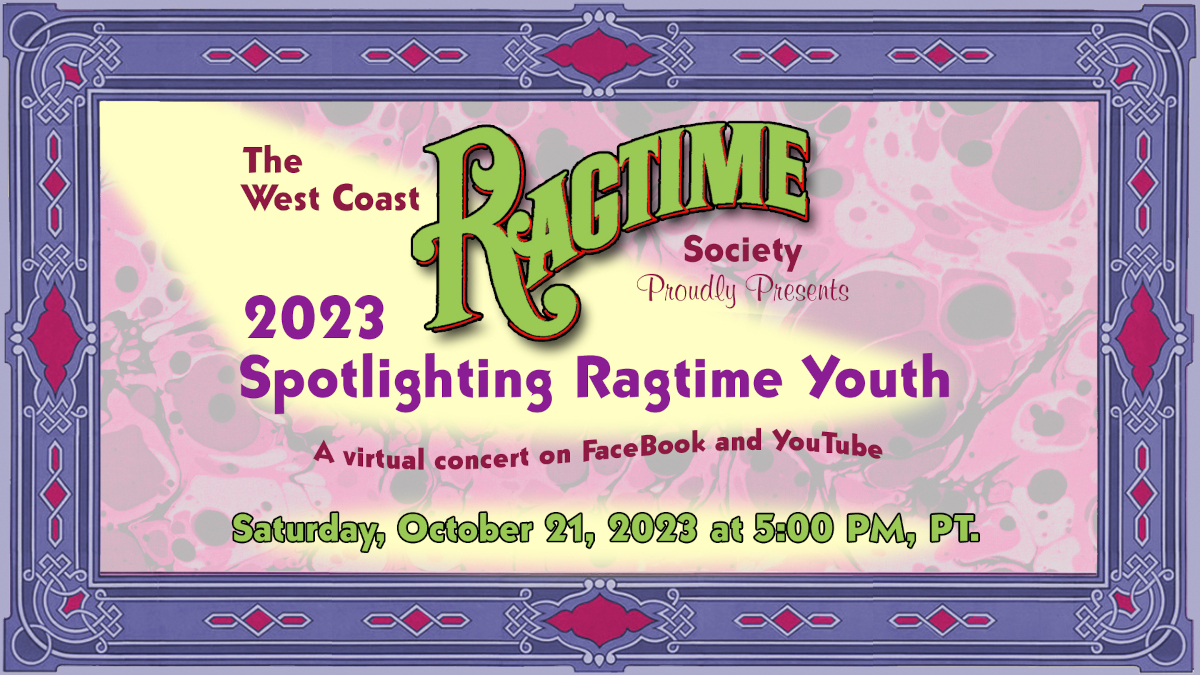 Fritzel's had an afternoon session with Doyle Cooper (tp), Josh "Jams" Marotta (dr) and Yoshitaka "Z2" Tsuji (p). What a trio and great combination! Z2 just had a CD review by Dave Doyle in the May, 2022 issue of this paper and he is an energetic and entertaining musician to watch. Dave noted that Z2 was playing at almost 300 notes per minute and I saw him do it! It would be fun to see both Z2 and Richard Scott on a "dueling pianos" gig and enjoy the exhaustion of just watching them with 20 flying fingers on 176 keys! The winner would be anyone lucky enough to be in the audience!
Another Fritzel's evening had Kevin Clark (tp) Chris Sharkey (bs) Joe Kennedy (p), Tom Fischer (cl) and Bryan Besse (dr). Their CD #5 will be in the recording stages over the next few weeks and I am looking forward to another fabulous compilation of the many "musicians of Fritzel's" bands.
The Bourbon "O" in the Bourbon Orleans Hotel has several bands in the weekend evenings and Deano Assunto's group—The Assunto Dukes—have the Friday night slot. Ryan Burrage (cl), Jim Syoen (tuba), Charlie Fardella (tp), L.G. Sullivan (dr) and Zachary Wiggins (p) played many New Orleans' standards. I was glad to see Charlie back from his multi-year visit to St. John's in the Virgin Islands enjoying his daughter and grandson. Also glad that New Orleans has called him back "home" and I look forward to seeing him around the Quarter on our next visit.
Mahogany Hall Jazz on Chartres has music every night and some earlier evening gigs. We saw Gerald French (dr) with Richard Moten (bs), Andrew Baham (tp), Roderick Paulin (cl) and Larry Sieberth (p) for the Monday night set. Many of our favorite musicians play there and owner Kate Wimmer Fulton always has a great musical line-up. It is considered an "Absinthe Bar with Burlesque" so there is indeed something for everyone. With music until midnight and 1:30 AM Friday and Saturday, you can stop in for a late libation with some terrific music "on the side."
Tommy Sancton's New Orleans Legacy Band was one of the first to kick-off the Jazz Fest at the Economy Hall Tent. With Clive Wilson (tp), Ronell Johnson (tb), Richard Moten (bs), Lars Edegran (p) and Shannon Powell (dr) following the iconic Paulin Brother Brass Band our enthusiasm was energized.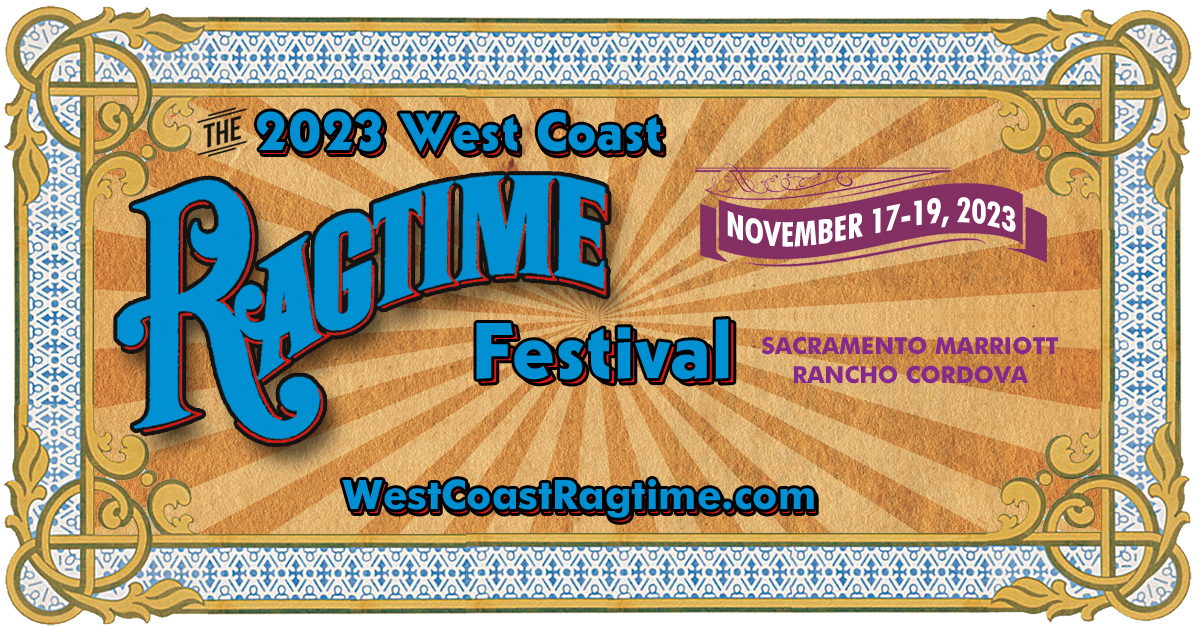 Jamil Sharif (tp) and his group performed a tribute to Jabbo Smith, a revered New Orleans trumpeter considered 2nd only to Louis Armstrong in the 1920-'30s. James Evans (reeds), Don Vappie (bj), Mitchell Player (bs), Louis Ford (reeds), Herlin Riley (dr), David Boeddinghaus (p) and Michael White (cl) became the "Rhythm Aces" and Jamil gave us a timeline of Jabbo's contributions to the early jazz scene.
Doreen Ketchens (cl) is well known as a street performer and has been a Jazz Fest staple for many years now. Her husband Lawrence (tuba) and now-grown-up daughter Dorian (dr) are always revered performers. Doreen also announced that both she and Lawrence will be receiving their doctorates this month so deserve extra congratulations for their efforts.
Clive Wilson's New Orleans Serenaders with Kris Tokarski (p), Tom Saunders (bs), Seva Venet (bj), Hal Smith (dr), Charlie Halloran (tb) and Tommy Sancton (cl) began Day 2 of Fest followed by the Palm Court Jazz Band with Gregg Stafford (tp), Lars Edegran (p), Sammy Rimington (cl), Robert Harris (tb), Shannon Powell (dr) and Mitchell Player (bs).
Tim Laughlin (cl) brought Duke Heitger (tp), Charlie Halloran (tb), Kris Tokarski (p), James Singleton (bs) and Hal Smith (dr) to the stage for a few of Tim's original pieces that he introduced almost 20 years ago! I always enjoy Tim's playing and selections—what memories!
Barbara Shorts, Jolynda Chapman and Meschiya Lake did an outstanding tribute to Bessie Smith. The vocalists were in top form and the band with Mark Braud (tp), Freddie Lonzo (tb), James Evans (cl), Lars Edegran (p), Mitchell Player (bs), Don Vappie (bj) and Herlin Riley (dr) captured the spirit and bawdy presence of the "Empress of the Blues."
Gregg Stafford's Jazz Hounds had Bruce Brackman (cl), Tyler Thompson (bs), Mari Watanabe (p), Detroit Brooks and Seva Venet (gtr/bj) and Benny Amon (dr) give us some traditional arrangements with many outstanding solos.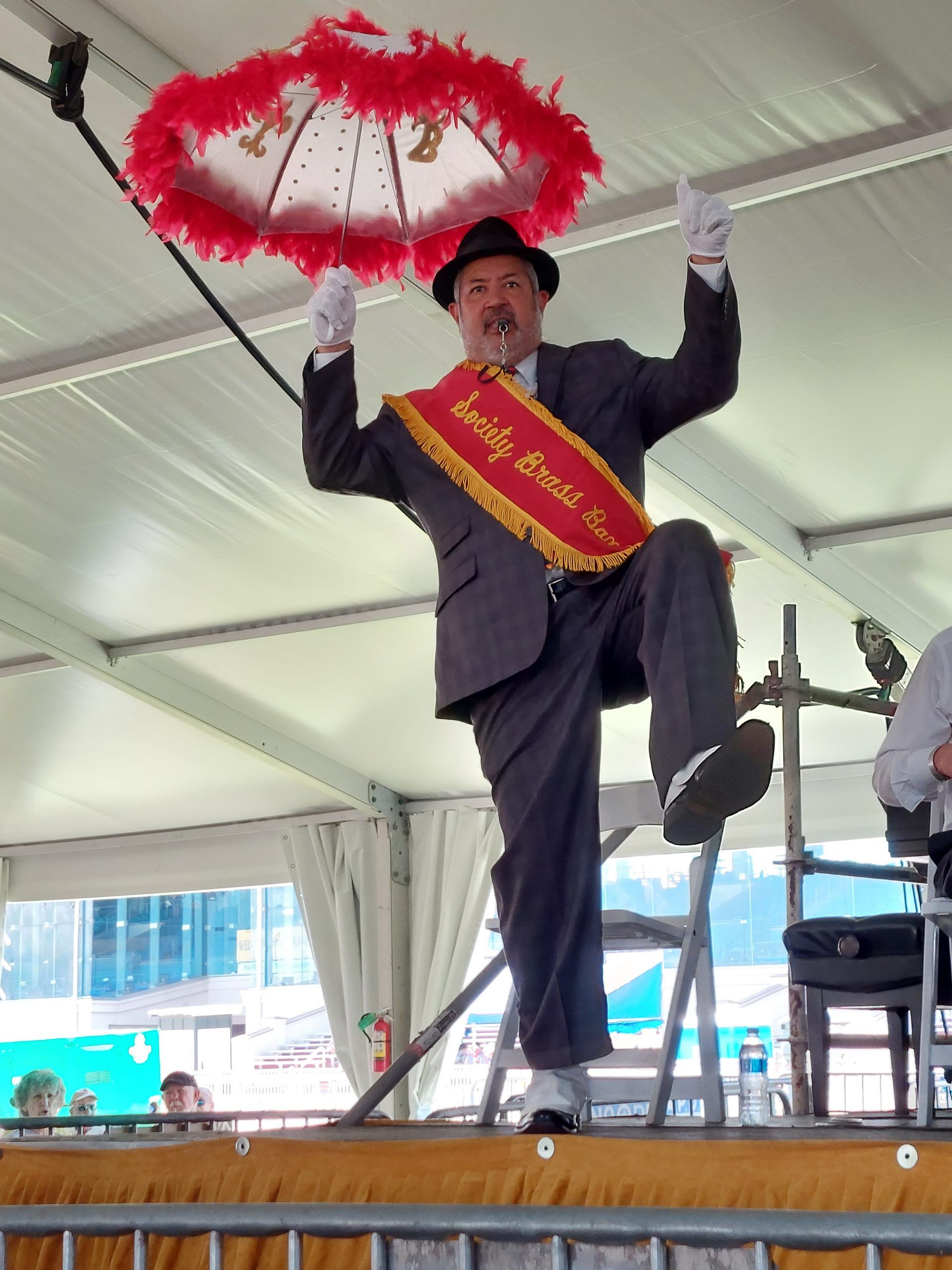 The Louisiana Repertory Jazz Ensemble always reminds us of how gentle some of the bands of the prior eras could be and one can imagine a room full of waltzing patrons. The Treme Brass Band reminds us of how the strolling brass bands dominated the parades and called for marching second liners and buckjumping steppers—a fun contrast. Of course no parade is without its Grand Marshall and their followers. One of the highlights of being in the Economy Hall Tent is the Social Aid & Pleasure Clubs strutting through the tent with their elaborate costumes and encouraging audience participation in their marches!
Michael White, Sammy Rimington and Tommy Sancton did an exquisite tribute to George Lewis that was very moving and touching. All three clarinetists knew the most famous of the Preservation Hall clarinetists and related a few personal stories.
Leroy Jones and New Orleans' Finest had a beautiful set and Andrew Hall's Society Brass Band began the 2nd weekend of Fest. DinosAurchestra is a fun group with Reid Poole (tp), Miles Lyons (tb), Simon Lott (dr), Oliver Bonie (cl) and Nobu Ozaki (bs). These musicians all play with several other groups and got together to enjoy additional time with each other. They were fun to watch and played some lesser known standards.
Louis Ford (reeds) and His New Orleans Flairs with Jamil Sharif (tp), Joey Lastie (dr), Kerry Lewis (bs), Mari Watanabe (p) and Richard Anderson (tb) had a strong set. Louis will be at the Evergreen Jazz Festival (finally!) this July 29th-31st, so you can look forward to more of the New Orleans sound in the Rockies.
Banu Gibson, ever the consummate entertainer, brought Tom Fischer (cl), Ben Polcer (tp), Charlie Halloran (tb), Hal Smith (dr), David Boeddinghaus (p) and Kerry Lewis (bs) as her band and always enjoys giving a bit of history to the songs she selects. Banu runs the New Orleans Traditional Jazz Camp that will be held next month and as long time supporters of the Camp, Banu gave me a shout out during the performance. As a member of the Krewe of Muses, she honored me with a Mardi Gras ddecorated low-heeled shoe, a symbol of that Krewe, to cherish forever! One of our dancer friends, Greg Shelton from Roanoke, also received a decorated shoe from the Krewe and Banu (what rhyming!) for his donations.
Doyle Cooper (tp) and his Jazz Band were up next and Doyle is a graduate of the Jazz Camp! His mom, Leslie Cooper, is in cahoots with Banu on all things Jazz Camp and joined her son on stage for a few numbers. It was so gratifying to see Doyle (who has become a very accomplished trumpeter and vocalist) sing a duet with his equally talented mom! That is what Jazz Fest and Jazz Camp are all about!
Joey Lastie's New Orleans Sound had everyone on their feet again and the Grand Marshall led another group of marchers through the Tent.
Charlie Halloran (tb) had a Louis Armstrong tribute and I wondered who he would tap for the trumpet duty. I was pleasantly surprised to see Mike Davis (he has been front-page profiled in this paper) with Dennis Lichtman (cl). Both artists are now out of New York. We saw Mike Davis with the Fat Babies in Lacey, WA, in 2016 and Dennis was here for Fest several years ago. It was a real treat to see them together for an incredible front line. Hal Smith (dr), Nobu Ozaki (bs) and David Boeddinghaus (p) kept the rhythm section humming.
Steve Pistorius (p) did a tribute to the New Orleans Rhythm Kings (NORK) and gave us some insight to this earlier band. With Joe Goldberg (cl), Duke Heitger (tp), Alex Belhaj (bj), Benny Amon (dr), Tyler Thompson (bs) and Mike Davis (now on trombone). Only getting into a few of the band's storied repertoire, Steve made us wish for more NORK!!!
Wendell Brunious' All Stars introduced his wife Caroline Brunious, an accomplished clarinetist. With Mike Lemmler (p), Richard Moten (bs), Freddie Lonzo (tb) and Shannon Powell (dr), the sextet gave an outstanding performance.
Seva Venet's Celebration of New Orleans Banjo took us back almost 200 years to emphasize the influence of the instrument in traditional New Orleans music. Hunter Burgamy and Detroit Brooks provided the banjo "trio" along with Mari Watanabe (p), Gregg Stafford (tp), Michael White (cl), Kerry Lewis (bs) and Shannon Powell (dr). Seva gave us some insight on the history of the 4-string and 6-string banjo with some old tunes popular in the earlier times.
Michael White took to the stage again for his Original Liberty Jazz Band set with guest vocalist Thais Clark and trombonist Maynard Chatters. Thais always brings a powerful dynamic to the set and in this one did her version of "Sugar Blues"—it was a roof-raiser!
Topsy Chapman and Solid Harmony with Yolanda Robinson and Jolynda Chapman, the mother-daughter trio, also featured Yolanda's son, Caleb Windsay. We saw Caleb at a Fest maybe 8-10 years ago when he was just learning the trombone. To see him now as a working musician and vocalist was such fun. The musical families of New Orleans groom their children to not only appreciate the music but to play it, sing it, dance it, and celebrate it. Caleb has his own "sound" with other bands but on stage with his grandmother, mother, and aunt, he was very proud and awfully good!
Preservation Hall Brass Band with Mark Braud (tp), Kevin Louis (tp), Roderick Paulin (cl), Glen Finister Andrews (dr) and Richard Anderson (tb) gave it their all as one of the last brass bands to hit the stage.
Lena Prima with Tim Fahey (gtr), Thad Scott (sax), Josh Paxton (p), Mike Fulton (tp), Marty Peters (reeds) and Justin Pardue (tb) did a few of their own numbers and incorporated the much beloved songs of her father, Louis Prima. Of course they had to do Sing, Sing, Sing and a few Italian numbers too. Unfortunately I did not get the name of the drummer and can only commend him for his interpretation of the most famous drum solo ever written!
The New Orleans Ragtime Orchestra with Lars Edegran (p) started the final day of Fest with a nod back to a gentler era. Matt Rhody (vln), Tom Fischer (cl), Jamil Sharif (tp), Charlie Halloran (tb), Mitchell Player (bs) and Benny Amon (dr) jazzed up a few ragtime hits and played beautifully.
Charlie Gabriel & Friends had the 89 year old reed player bouncing and smiling throughout the set. Kevin Louis (tp), Craig Klein (tb), Glen Finister Andrews (dr), Meghan Swartz (p), Joshua Starkman (gtr) and Ben Jaffe (bs) were Charlie's muses for the set and he couldn't have been happier! Charlie's new CD "89" attests to his love of the genre and his musical abilities as well; he is a much loved musician.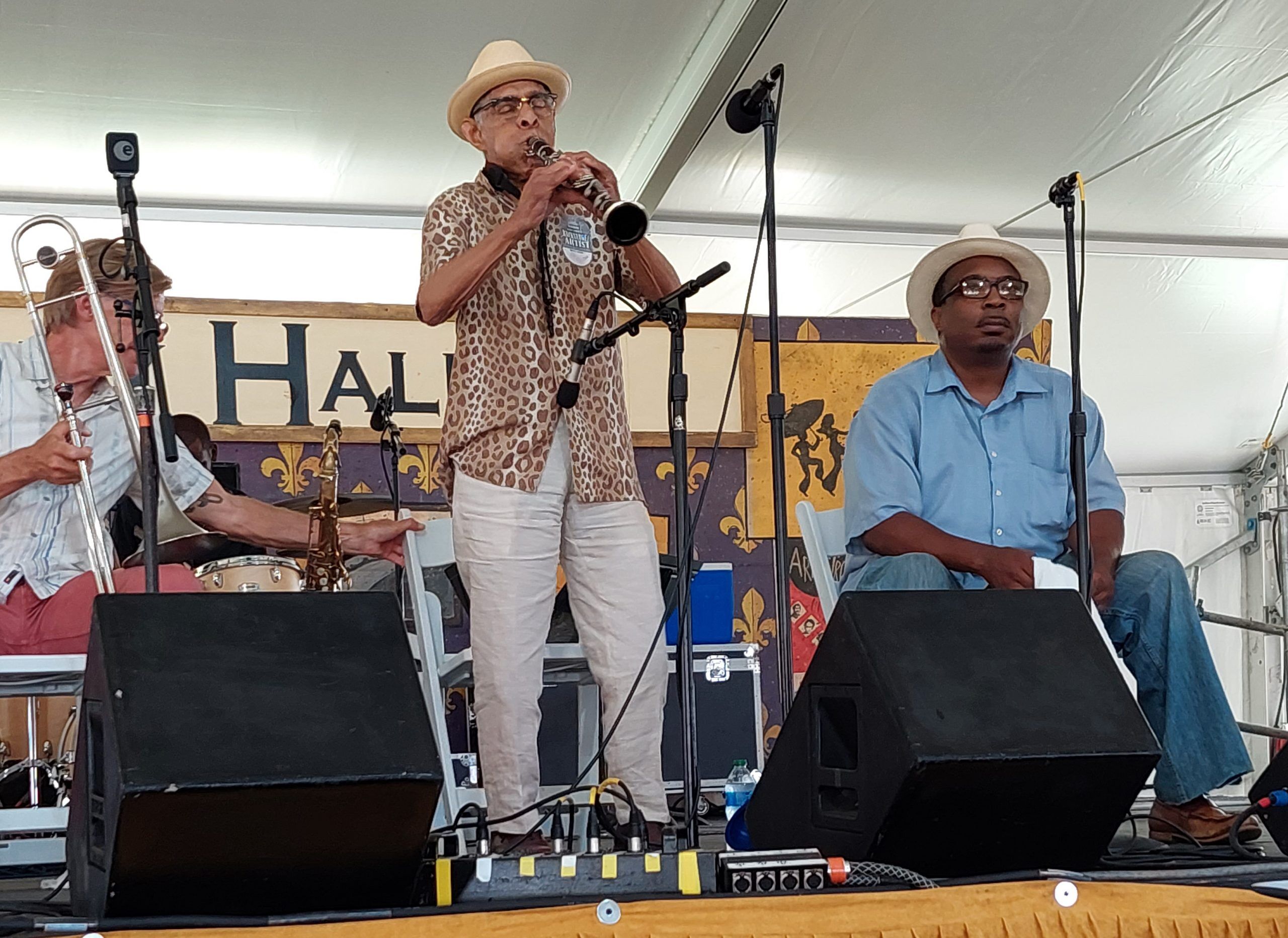 Mark Braud's Jazz Giants included Meghan Swartz (p), Aron Lambert (dr), Kerry Lewis (bs), Freddie Lonzo (tb), Tom Fischer (reeds) and Sammy Rimington (cl). Mark is also a strong vocalist and even when he forgets the lyrics (you had to be there) he makes up for it in many other ways! A member of New Orleans' musical families on both sides, Mark is a true representation of the New Orleans sound.
With 13 venues (5 tented) each with 4-6 acts per day for 7 days, the Jazz and Heritage Festival is a tsunami of musical talents and genres. Jazz, Blues, Gospel, Traditional (Economy Hall), Zydeco, Brass Bands, Mardi Gras Indians and International Entertainers (on two separate huge outdoor stages) create the echoes, while lots of food booths, artists' displays, clothes, posters, crafts and cultural experiences fill the Fairgrounds thoroughbred racetrack with sights and sounds of music, laughter and awe. It is soul-inspiring.
With Fest over, our last evening let us wander over to Fritzel's once more to see Richard Scott (p), Catie Rodgers (tp), Bryan Besse (dr) and Ben Fox (bs). Catie is another graduate of the Traditional Jazz Camp and is now with several bands including Lena Prima's! This year she will be taking on the responsibility of overseeing the student attendees of the Camp and she will be able to encourage their development in the music industry.
Then over to Maison Bourbon again to see Dave Ruffner (tb), Danny Rubio (tuba) , Josh "Jams" Marotta (dr) and veteran musician John Gill (bj). John was one of the first musicians I saw at the San Diego Jazz Festival in the early 90s and he sang a song for me from one of his albums from his Silver Leaf Jazz Band era – "Border of the Quarter"; It was one of the first contemporary, traditional CDs I purchased. I was as intrigued by its lyrics then as I am now: Maybe it's just me but I'm in love with all I see there, music oozing out of every door—it's like my heaven made to order, the Border of the Quarter, lordy, nothing like I never seen before!