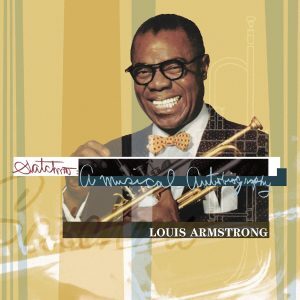 did some of his most innovative trumpet playing and singing during the 1925-32 period while continuing to grow in power and depth throughout the 1940s and '50s. In 1956-57, he revisited some of the highpoints of his early years on Satchmo: A Musical Autobiography, which was originally a four-Lp set and was reissued as three CDs.
This was an inspired project. Armstrong verbally introduces most of the pieces and then works his magic on the music. While his All-Stars of the time (with trombonist Trummy Young and clarinetist Edmond Hall) are on most of the selections, other guests are added along the way particularly for the big band sides. With Bob Haggart and Sy Oliver contributing the arrangements, one gets to hear Louis Armstrong on material drawn from his days with King Oliver (Yank Lawson gets to play as second trumpeter), his work with the classic blues singers of the 1920s (Velma Middleton takes the vocals), some Hot Five and Hot Seven classics (with guitarist George Barnes), and many of his early big band titles.
Purists will prefer the original versions but Armstrong's playing is quite outstanding throughout these later performances. It is particularly rewarding hearing him in the mid-1950s performing songs that were no longer in his repertoire including "Mandy, Make Up Your Mind," "Cornet Chop Suey," "When You're Smiling," "Body and Soul," "Memories Of You," and "Them There Eyes." The CD reissue adds seven selections from 1947-54 to the original program to fill in some of the missing gems.
This is glorious music that was one of the highpoints of Louis Armstrong in the 1950s.
Satchmo: A Musical Autobiography (Verve 314 543 822-2, 50 selections, TT = 3:14:42)