When it comes to creating famous quotes that are destined to be repeated generation after generation, Brian Holland says his father was no Mark Twain. However, he left Brian with two wise sayings that he'll always remember: "Don't put that fork in the toaster!" and "Nothing can stand in the way of a good idea when it's supported by good people."
Brian Holland says that latter observation is embodied in his new business venture. Stomptime Productions (aka Stomptime Musical Adventures) is the brainchild of former bowling buddies—Holland and Ashu Kukreja—who felt their combined experience and acumen in their respective fields would pair nicely to "provide people unique musical opportunities for luxury travel."
Says Holland, "Yes, our first champagne pop will be on a Musical Cruise. Jazz cruises aren't really anything new, but ours is because we added the additional element of Ragtime Music. We felt there was simply too much awesome toe-tapping music floating around from the turn of the last century for any of it to be excluded. So we went out and hired the best Jazz musicians and Ragtime musicians we know, and will be presenting them in spotlight performances; as well as, in jazz party style, dances, informative and intimate talks, jam sessions, and other settings soon to be announced."
Stomptime has contracted to sail with Celebrity Cruises, a line which offers "world class extravagance that continues to win people's choice awards—eight years running as Travel Weekly's Reader's Choice Award for 'Best Cruise Line in Europe,' and ten consecutive years as their 'Best Premium Cruise Line.'" Says Brian Holland, "We insisted on the best value we could find for anyone wanting to travel with us, so everyone can rest assured their hard-earned money will be well spent."
Stomptime's inaugural cruise will be a 7-day adventure, April 27 through May 4, 2019. They'll sail on the Celebrity Equinox through the Eastern Caribbean—leaving from Miami, Florida, and visiting San Juan, Puerto Rico; Charlotte Amalie, St. Thomas; Punta Cana, Dominican Republic; Nassau, Bahamas, and returning to Miami, Florida. During the cruise, our guests will be treated to performances by the very best Ragtime and Traditional Jazz musicians working today.
The roster of stellar musicians who have signed on for the inaugural cruise include: Paolo Alderighi, piano; Evan Arntzen, reeds; Clint Baker, trumpet/cornet; Jeff Barnhart, piano; Pat Bergeson, guitar/harmonica; Marc Caparone, trumpet/cornet; Danny Coots, drums; Frederick Hodges, piano; Brian Holland, piano; Nate Ketner, reeds; Carl Sonny Leyland, piano; Richard Maley, drums; Steve Pikal, upright bass; Andy Reiss, guitar; Sam Rocha, upright bass; and Stephanie Trick, piano, with featured performances by BIG B.A.D. Rhythm and the Holland-Coots Jazz Quintet.
Space is limited to 250 guests, and with cabin space limited Holland suggests booking as soon as possible; a 20% deposit will hold your reservation. Cruise prices start at $1549.
Says Brian Holland, "We're pulling out all the stops for our inaugural adventure—contact us now to secure your spot!"
Telephone Stomptime at (469) 227-0260, email [email protected], or visit their site online at www.stomptime.com.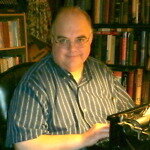 Andy Senior is the Publisher of The Syncopated Times and on occasion he still gets out a Radiola! podcast for our listening pleasure.