Bringing Sophisticated, Cosmopolitan Swing to The Back Room Speakeasy in NYC
For the past four years, Svetlana & The Delancey Five have been recreating a magical, cosmopolitan world that time forgot with their Monday night residency at swanky Norfolk Street speakeasy, The Back Room. Singer/bandleader Svetlana Shmulyian has fearsome chops, but she uses them very subtly, and her band follows suit. In a demimonde full of cookie-cutter swing jazz bands, she stands out with an approach that on one hand is completely trad yet is also completely individualistic, a sophisticated, globally-inspired take on a revered American sound. And it's as romantic as you could possibly want: lots of couples make it a date with this band.
The night I heard them, the band was on top of their game, everybody seeming to be in a good-naturedly conspiratorial mood. Trumpeter Mike Sailors' rat-a-tat solo against tenor saxophonist Michael Hashim's more balmy lines on a deeply bluesy take of "It Don't Mean a Thing If It Ain't Got That Swing" set the tone immediately.
The bandleader then joined them, decked out in a simple but striking black evening dress, heels, and a big pearl necklace. Midway through the set, she left the band by themselves to play a blues while she made the rounds of the room, schmoozing and catching up with a circle of admirers that numbers as many women as men. It was as if this was 1952 and she was the mob moll in charge of the joint, teasing and toying with the shady dudes who made the secluded spot a favorite place for their own conspiracies, reputedly for many decades.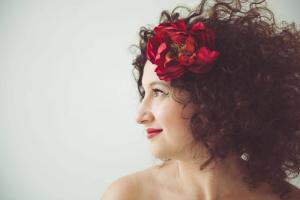 Shmulyian's delivery is charmingly precise: there's a distinctive Russian erudition and craftsmanship to how she constructs a phrase. While you can tell that she's immersed herself in Ella Fitzgerald, and Billie Holiday, and Sarah Vaughan, she doesn't sound much like any of them.
Shmulyian's voice is extraordinarily mutable; she can be misty on one number, and then disarmingly direct and crystalline as she was on her first one, a vividly uneasy swing through "But Not For Me." She saved her vibrato for the very lowest and highest notes she'd hit all night, with a Powerglide fluidity, and made it look effortless.
Rather than scatting, Shmulyian keeps her improvisations within the lyrics, matching her interpretation to their mood, as she did with the coy melismas of the jauntily shuffling bounce after that. Likewise, she reached for the rafters with some blissful leaps to the top of the scale and then hung on for dear life throughout a pretty sizzling, uptempo take of "Blue Skies" over pianist Ben Paterson's gritty, clenched-teeth phrasing underpinned by bassist Scott Ritchie (whose credits reputedly include Lady Gaga) and Freddy Cole's drummer Henry Conerway III.
The low-key ballad after that gave the dancers a chance to get cozy with a slow drag, but also gave Shmulyian a launching pad to show off her forceful, poignant low register. Then she closed the set with a triumphantly smoky take of "Exactly Like You" that put k.d.lang's to shame.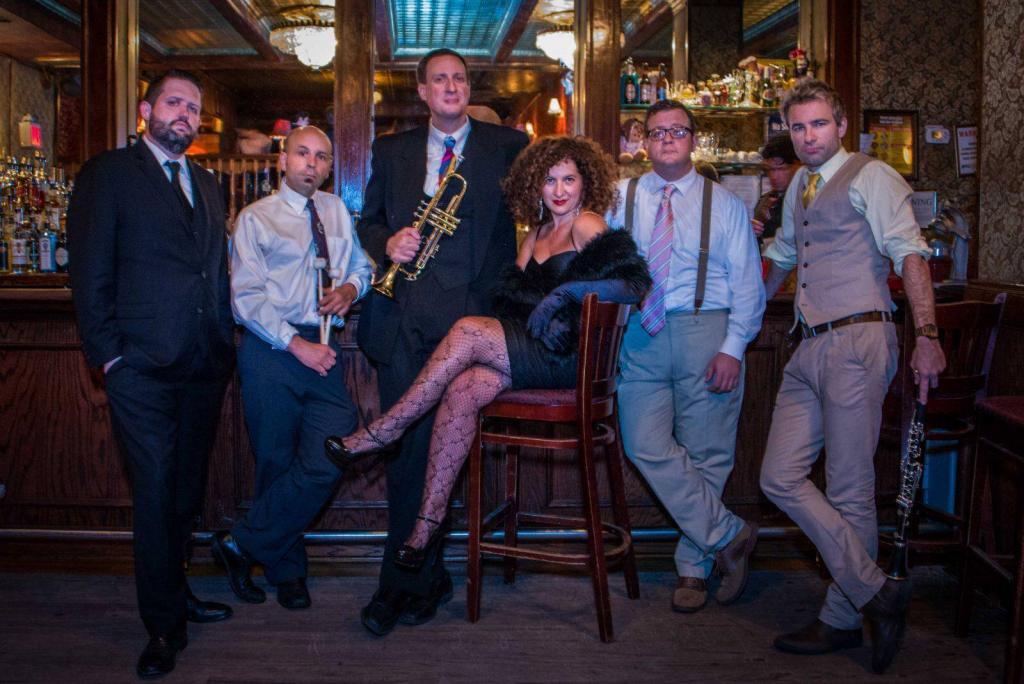 The Back Room is located at 102 Norfolk St on the Lower East Side and the Back Room Speakeasy show is free and open to public and takes place every Monday from 9pm to 12:30am (unless otherwise specified on www.facebook.com/delanceyfive). The Speakeasy password changes daily and can be found on the band's facebook page.
---
This piece was adapted from the original article by Alan Young published in Lucid Culture / NY Music Daily on June 21, 2016, and used with Mr. Young's permission.