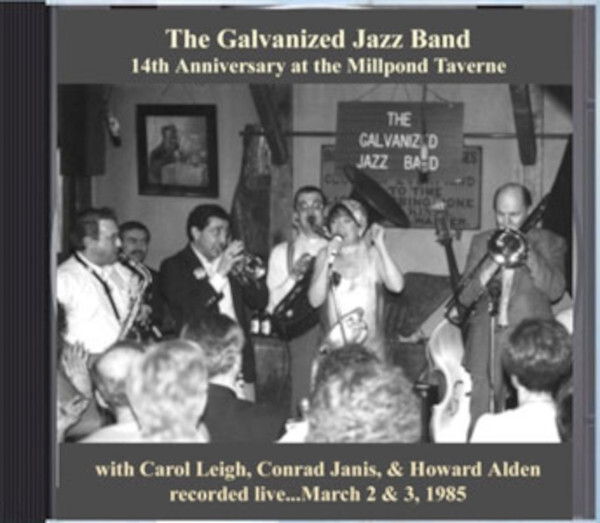 The Galvanized Jazz Band was formed in Connecticut in 1971. From the start, the core of the hot jazz group was cornetist Fred Vigorito, Noel Kaletsky (succeeded by Russ Whitman in the 1990s) on clarinet and tenor, pianist Bill Sinclair, Art Hovey on tuba and bass, and drummer Bob Bequillard. Along the way several musicians have filled the trombone and banjo chairs. After 55 years, the band is still very much active.
14th Anniversary at the Millpond Taverne reissues a spirited live session from 1985 that was only previously available on cassette (with two songs being issued for the first time). Vigorito, 98888Kaletsky, Sinclair, Hovey and Bequillard are joined by three notable guests: trombonist Conrad Janis, a young Howard Alden on guitar and banjo, and singer Carol Leigh. While Alden has his spots (interacting with clarinetist Kaletsky on "Avalon") and Ms. Leigh rouses the crowd during such numbers as "Just A Little While To Stay Here" and Bessie Smith's "Trombone Cholly," Janis makes the biggest impression among the guests. In fact, his percussive and emotional playing throughout this CD ranks with his best on record.
With Fred Vigorito and Noel Kaletsky contributing many heated solos and joining Janis in the exciting ensembles, this is a CD that will delight those who love extroverted and high-quality Dixieland. Highlights include "Milenburg Joys," "That Dada Strain," "Riverboat Shuffle" and "Clarinet Marmalade."
14th Anniversary at the Millpond Taverne (GJB 3/85, 14 selections, TT = 77:53) www.galvanizedjazz.com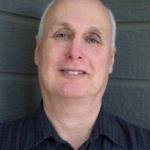 Since 1975 Scott Yanow has been a regular reviewer of albums in many jazz styles. He has written for many jazz and arts magazines, including JazzTimes, Jazziz, Down Beat, Cadence, CODA, and the Los Angeles Jazz Scene, and was the jazz editor for Record Review. He has written an in-depth biography on Dizzy Gillespie for AllMusic.com. He has authored 11 books on jazz, over 900 liner notes for CDs and over 20,000 reviews of jazz recordings.
Yanow was a contributor to and co-editor of the third edition of the All Music Guide to Jazz. He continues to write for Downbeat, Jazziz, the Los Angeles Jazz Scene, the Jazz Rag, the New York City Jazz Record and other publications.