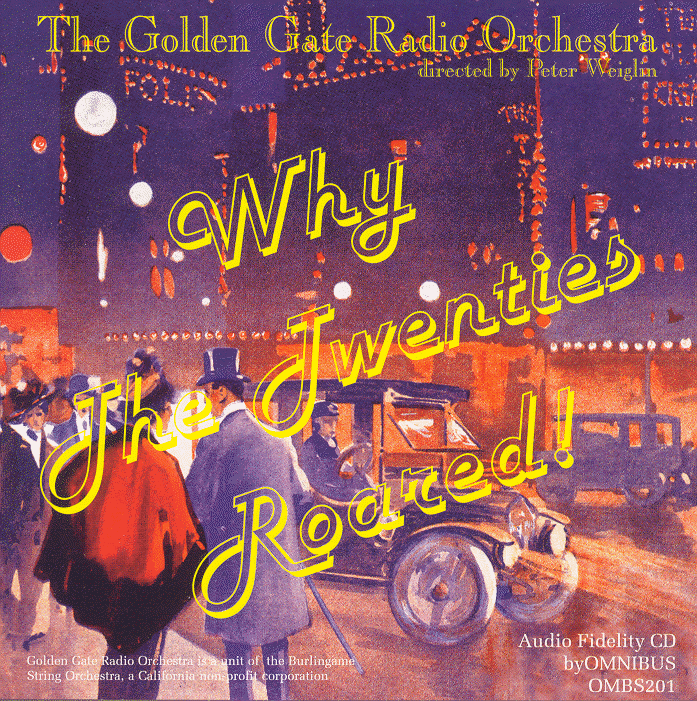 As the director of The Golden Gate Radio Orchestra, Peter Weiglin, says in his eloquent liner notes, "When Radio swept the nation, beginning in the 1920s, some of the old theatre orchestras were transformed by network and station managements into the musical voice of the nation."  This sets the tone for this recording, for as we close our eyes we are transported back to the time when radio orchestras played those wonderful melodies that roared through that magical decade.
This is not music of the ragtime era; it is some of the music that emerged from the ragtime era and ragtime's syncopated stamp is embedded in almost every piece.  This is dance music, so you can roll back the rug with confidence.  It's also music for listening, in case you'd rather sip a nightcap under the dimmed lights.  And it serves as a reminder that the output of new memorable melodies has dwindled in recent years.
The GGRO is a full-sized dance orchestra, sporting 19 pieces and several vocalists.  The selections are from big-name composers, such as Irving Berlin, George Greshwin, Bud DeSylva, Lew Pollock, Duke Ellington, Fats Waller and many others.  The sound is rich and full and the tunes will have you humming long after the last cut has died away.  Sadly, I noted a number of muddy measures, which may be distressing to the serious listener but will not concern any dancers, for the rhythm is solid.
This is a good first effort by The Golden Gate Radio Orchestra.  They claim they have over 8,000 charts in their collection, so if they can tighten their sound just a little bit,  their next effort will be a great one.
Why The Twenties Roared!
The Golden Gate Radio Orchestra
Omnibus OMBS 201
Cornfed! / Miss Annabelle Lee* / Can't We Be Friends? / Birth of the Blues* / Black Bottom / Button Up Your Overcoat* / Ain't Misbehavin' / Hard-Hearted Hannah* / Monkey Doodle-Doo / Someone to Watch Over Me* / East St. Louis Toodle-o / Toot  Toot Tootsie* / Charleston / Can't Help Lovin' Dat Man of Mine* / Back in Your Own Back Yard* / Mississippi Mud / Sweet Georgia Brown* / Varsity Drag. (*Vocal)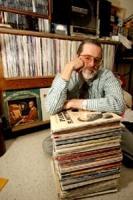 Jack has embraced ragtime as an avocation, starting with folio and record collecting, beginning composition in 1979, hosting a weekly radio program on a Denver area public radio station since 1980, writing articles and reviews for ragtime publications, and performing and lecturing at various festivals in Missouri, California and Colorado. He was a co-founder of the Rocky Mountain Ragtime Festival in Boulder, CO and served as its president from 1992-2005. These album reviews, originally published on Ragtimers.org, are being archived on Syncopatedtimes.com