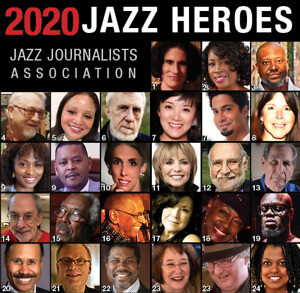 The Jazz Journalists Association has recognized 27 "activists, advocates, altruists, aiders and abettors of jazz" from 23 cities as its 2020 Jazz Heroes. The list includes presenters, educators, administrators of non-profits, faces of grass-roots community organizations, writers, broadcasters, and performers, "each of them devoted to spreading the message that creative improvised music has positive benefits for individuals and societies at large."
Representing jazz organizations and venues: Gene Dobbs Bradford, Jazz St. Louis; Harriet Choice, Jazz Institute, Chicago; Lonnie & Ocie Davis, JazzArts, Charlotte; Matthew Garrison & Fortuna Sung, ShapeShifter Lab, Booklyn; Sean Jones, Baltimore Jazz Collective and president-elect, Jazz Educators Network; Terri Pontremoli, Tri-City JazzFest, Cleveland; Deanna Relyea, Kerrytown Concert House, Ann Arbor, Michigan; Sunny Sumter, D.C. JazzFest, Washington; Leah Tucker, Alabama Jazz Hall of Fame, Birmingham; and Dr. Ronald Weber, South Florida Jazz, Fort Lauderdale.
Dedicated to presenting and promoting jazz in their communities are Roberta Alloway, New York City; Susan Cohen Brink, Capital Region, N.Y.; Albert Coleman, Indianapolis; Billy Mitchell, Los Angeles; Jan& Mark Pudlow, Tallahassee; and Ron Steen, Portland, Oregon.
From the media world of writers and broadcasters: Richard Hadlock, San Francisco; Patty Peterson, Minneapolis; Norman Provizer, Denver; and Gwen Redding, Atlanta.
Jazz education advocates on the list are Ron Blake, Boston; Jay Thomas, Seattle; and Anthony Tidd, Philadelphia. Representing the Hartford, Connecticut, area is 75-year-old Ed Krech, who in addition to holding down a full-time job as a computer programmer, owned and operated a record store for the past 50 years that served as a source of information and inspiration for generations of jazz fans and students from the Jackie McLean Institute of Jazz at the Hartt School of Music and also provided a venue for emerging artists to showcase their craft and gain experience performing in front of live audiences.