The unique music project known as the Sant Andreu Jazz Band, with its worldwide reputation as a wellspring of astonishing talent among its pre-teen and teenage jazz musicians, recently celebrated its landmark 10th annual Jazzing Fest (or simply, Jazzing) in Barcelona. Attendees from across Europe, the US, and elsewhere celebrated the rich history of the SAJB (founded by Joan Chamorro in 2006) and the decade-long festival, amid a steady stream of performances for three days in September. Among the several special musical guests were longtime favorites—and, one could say, honorary members of the SAJB family—American tenor sax giants Scott Hamilton and Joel Frahm.
Jazzing has become perhaps the most effective event to spotlight not only the SAJB itself, but to also present other big bands, smaller combos, and individual vocalists and musicians from various locales who may not yet be familiar to those who follow the SAJB with considerable passion. The very first Jazzing featured ten guest big bands; last year's event offered the project's first themed festival, i.e., that of classic Brazilian music (especially bossa nova, of course). This year, it was back to an eclectic program that acknowledged a number of jazz styles, while adhering to a foundation of traditional jazz, with a packed schedule of six concerts each day.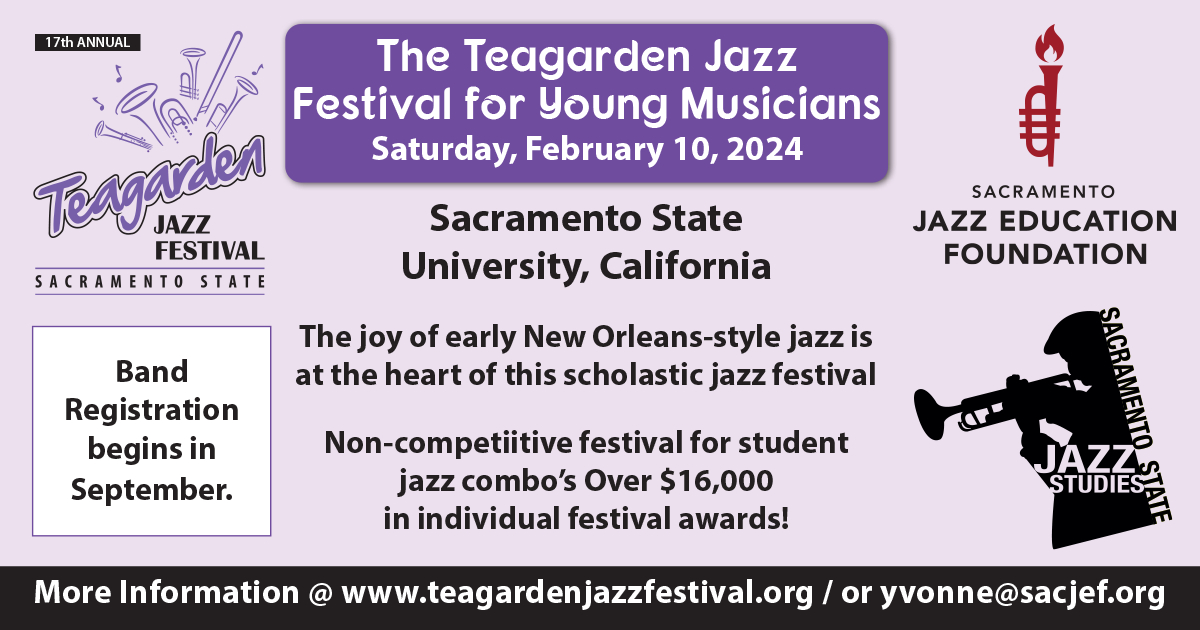 In its early years, the festival was held at the Sant Andreu Teatre, through 2017. Since 2018, its home has been at Fabra i Coats, a former textile factory converted by the City of Barcelona into a culture and arts center. As Chamorro explains his motivation in creating Jazzing, "The original idea was to bring our project to the people of our district. It was to have a fixed day a year to play with the Sant Andreu Jazz Band in the Sant Andreu District, and to do it in the company of other groups and musicians. I also thought that it was a way to bring jazz to people who were not used to listening to it. Doing concerts during the day, in some squares, on the street, for dancers, with swing music, in a couple of places like the Colombia bar."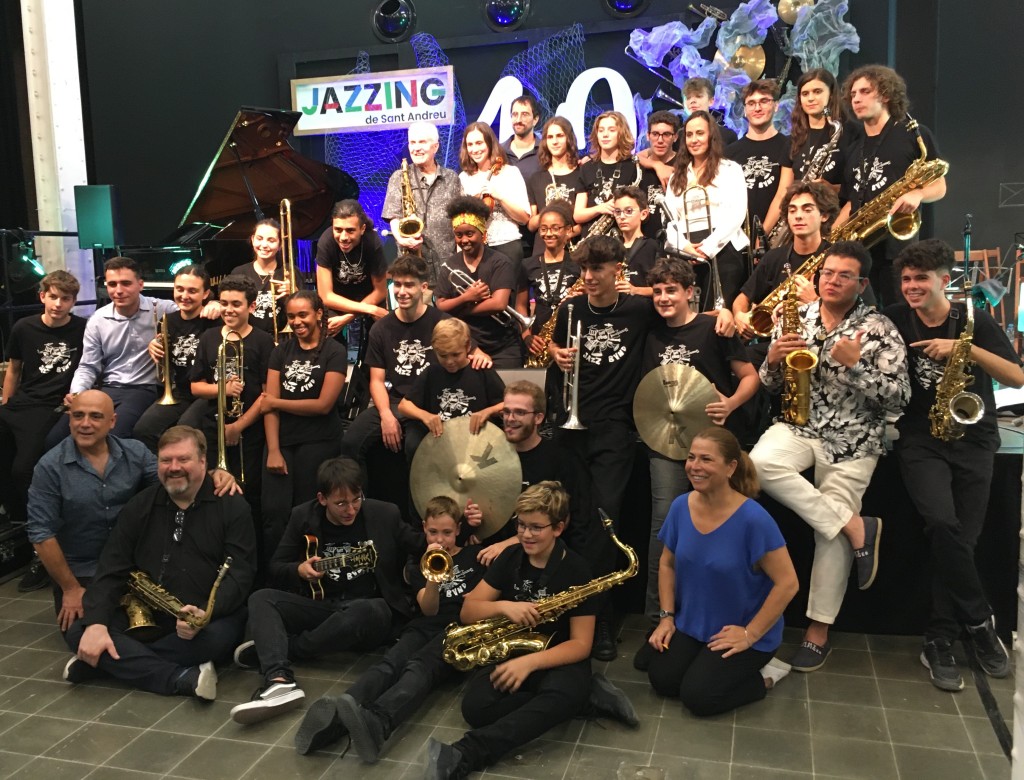 In addition to the concerts themselves, another major component of Jazzing for the past five years has been the Education Stage, a series of master classes held in an adjacent building at Fabra i Coats, in which Chamorro leads musicians who wish to rehearse a handful of big band standards to be performed at a concert on the final day of the festival. Here, it's possible to see the cogs in the teaching mechanism he employs to produce a surprisingly polished result after just a few sessions with his Jazzing students. As is his technique, Chamorro begins by playing a recording of an instrumental jazz standard, then asks the class (who had already received the sheet music) to sing the excerpt to themselves out loud, then play the same phrase on their instruments. The special guest musicians each year also take part to explain their personal ways of learning and playing, and take questions as they do so.
The Education Stage was the idea of SAJB manager Blaca Gallo.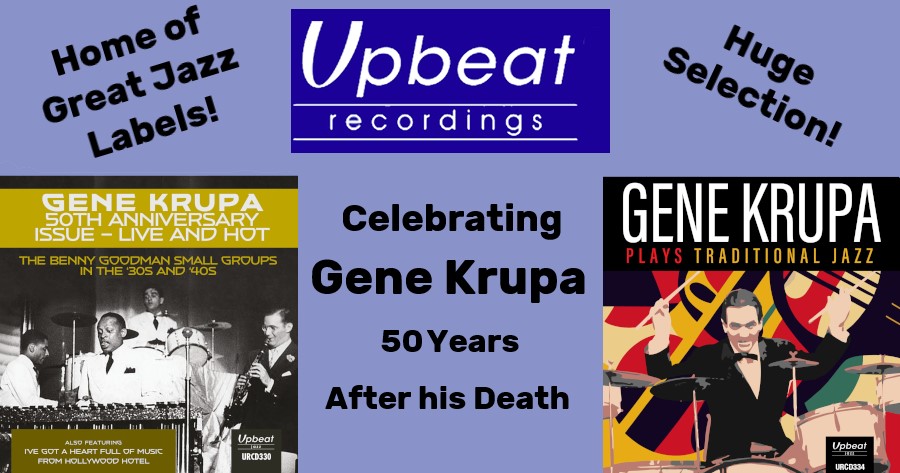 "The jazz education stage was Blanca's idea," Chamorro says, "and it was the result of the demand we had to explain my methodology and my way of working with children, to achieve the results that could be heard and seen on the internet. Blanca thought that people from all over the world would come interested in our work. I have personally gone to several countries to show my way of working with young musicians. Making the Jazz Education Stage was a way to centralize that demand and interest in our project."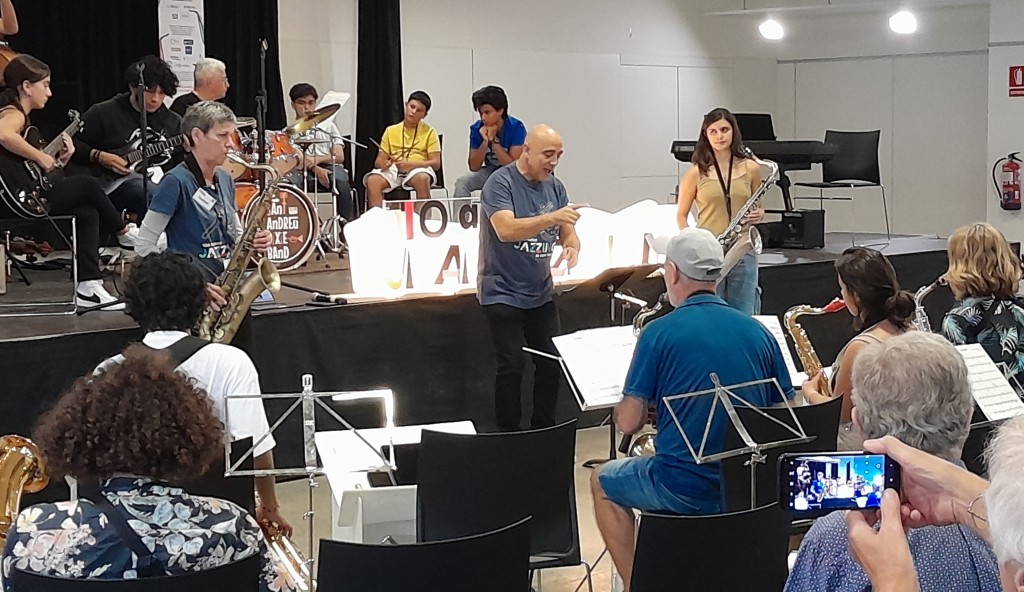 The official description promises "three days of master classes, jam sessions, talks, coexistence with the participating artists of the Jazzing Festival and the members of the Sant Andreu, its director Joan Chamorro, and the participants coming from all over, where you will be one/ beside. Live it and enjoy it, it's impressive! Aimed at children from nine years old, young people, musicians, teachers, directors, and music lovers."
The classes do indeed deliver on all points.
Joel Frahm joined the masterclass on the first day, as Chamorro announced that this is Frahm's 40th year playing sax. Frahm recounted to the class that his biggest inspiration as a teenager was hearing a recording of the Miles Davis Quintet with John Coltrane. "I think that was the moment I fell in love with jazz." He also offered advice to the aspiring musicians in the room. When it comes to playing a solo, he said, "You don't have to play everything you know. Just pick one thing."
Like many of the American professionals who have made the trans-Atlantic trip to visit and play with the SAJB through the years, Frahm's first guest appearance, in 2015, came from a suggestion by Andrea Motis. Andrea, the superb singer/trumpeter who gained her international fame as Chamorro's protégé while she was still a teenager in the SAJB, had immersed herself so fully in jazz—via classic recordings, YouTube videos, and by displaying an uncanny mastery and understanding of her instruments (including saxophone) and of jazz as a genre—that her opinions and suggestions always caught Chamorro's ear for serious consideration.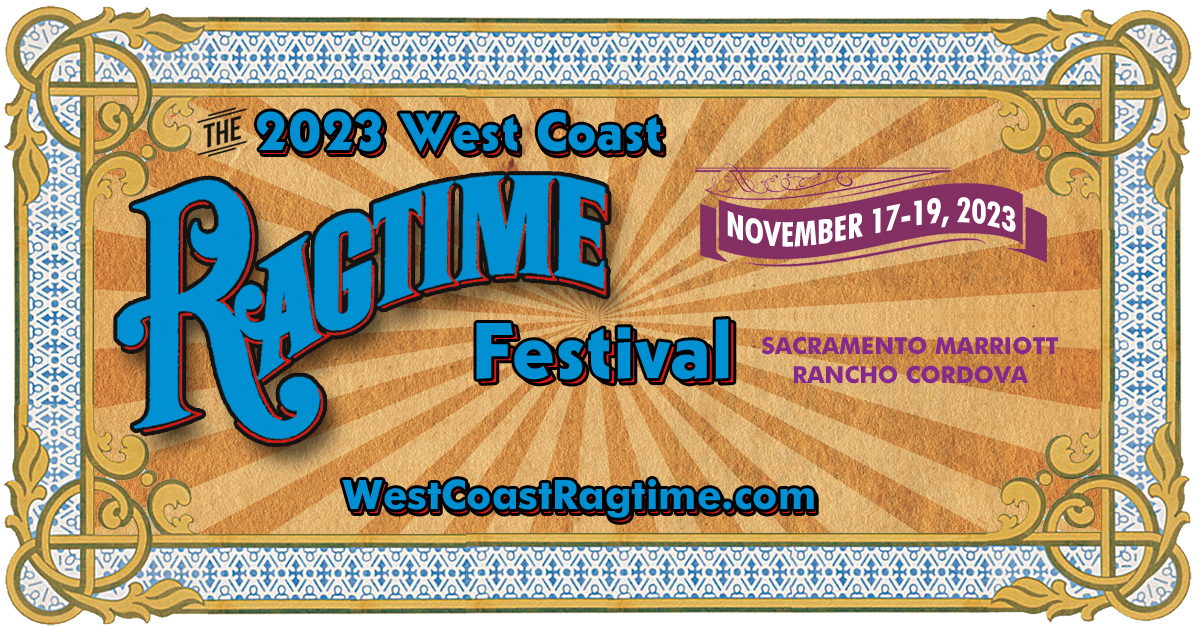 "Andrea saw me on YouTube," Frahm explains, "and approached Joan, suggesting that they bring me over to play. I was in Manhattan on a break at a gig when my cell phone rang. It was Joan, inviting me to play with his youth band. I had not heard of them, and had no expectations." Once he witnessed the band for himself, "I was blown away immediately, and realized very quickly that something special was going on." Frahm's memorable appearance with the SAJB at Barcelona's ornate Palau de Musica in November of 2015 is available to see on YouTube.
"Joan to me is the best jazz youth educator in the world," he says, "having an ensemble of adolescent musicians—I've never seen someone instill such a sense of joy in kids that age." As to Chamorro's teaching methods, "his teaching never seems 'mean' to me. Intense, but coming from love."
As Chamorro explains, "Jazz is not just music for adults, nor is it music for experts. It's a popular music genre with many variations, colors, nuances, and so on."
The first of the evening one-hour concerts brought us the Halli Galli Quartet, consisting of Elia Bastida and Christoph Mallinger on violin, Marta Roma on cello, and newest member Carla Motis on guitar. This is a special ensemble among SAJB aficionados, for a few reasons. Elia and new Halli Galli member Carla were longtime SAJB members and well-loved by the fans. When this quartet's original guitarist Pablo Lopez moved to France, Carla was the natural choice to replace him, being as she's already "family." And Mallinger is the partner of Andrea Motis, so, it's very much a family affair.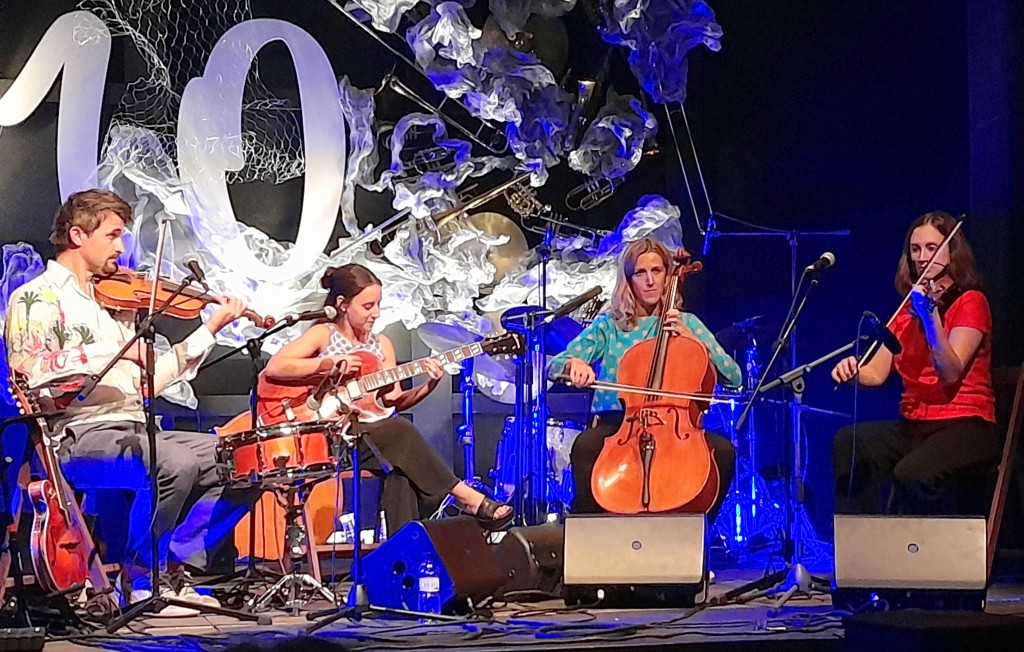 As to their music, the Halli Galli quartet has carved a unique niche for themselves with quirky, humorous arrangements of well-known swing numbers, with frequent European touches recalling the classic recordings of Stephane Grappelli (one of Elia's musical heroes) and Django Rhinehart. The group's performance on this night included unexpected touches, laughs, and, of course, superb musicianship that kept the audience on their toes throughout. Numbers included "Minor Swing," "Smile," "Love For Sale," and "Caravan," with the group having enormous fun. Elia in particular blew the audience away with her skills on violin, sax, vocals, and even a bit of dancing. She has been looking increasingly relaxed onstage with each passing year.
After sets by the Cedro-UP Big Band and guest trombonist extraordinaire Alba Pujals, the great Scott Hamilton took the stage, to front a quartet including pianist/arranger Joan Monné (who has created and continues to write many of the SAJB's most memorable arrangements), Joan Chamorro on bass, and another SAJB alumnus, Arnau Julia, on drums.
Hamilton found himself playing with Benny Goodman's band as a twenty-something in the late 1970s, and has had an enviable career, recording over 75 albums under his own name, and playing venues big and small with a Who's Who of the greatest jazz musicians in history. He first played with the SAJB back in 2013 and has since become an immensely important fixture in the project's history, recording and performing with them in various combinations of the big band and smaller combos on many occasions. At Jazzing, the audience got what they expected—smooth, swinging, virtually effortless jazz from the 50-year veteran, who feels quite at home with his Barcelona friends and colleagues. One unexpected selection in his set, wonderfully rendered, was the lesser known but achingly beautiful ballad by Antonio Carlos Jobim, "Anos Durados (Looks Like December)".
Joel Frahm's quartet followed Hamilton's set (retaining pianist Joan Monné). Frahm, nicknamed "The Beast" by his musical contemporaries, due to the virtuosity of his playing (he claims he hadn't heard of the nickname before our interview), can always be relied upon to provide considerable punch and amazing runs with his solos, without ever driving them off the rails, so to speak, as some saxophone players are prone to do. He played a swinging, largely improvised set.
The evening culminated in the much-anticipated Tenor Summit, with Hamilton and Frahm sharing center stage with former top SAJB musicians Joan Marti and Marcal Perramon on saxes. The result was an immensely satisfying set, giving the veteran masters and the younger new professionals Marti and Perramon plenty of opportunities to shine.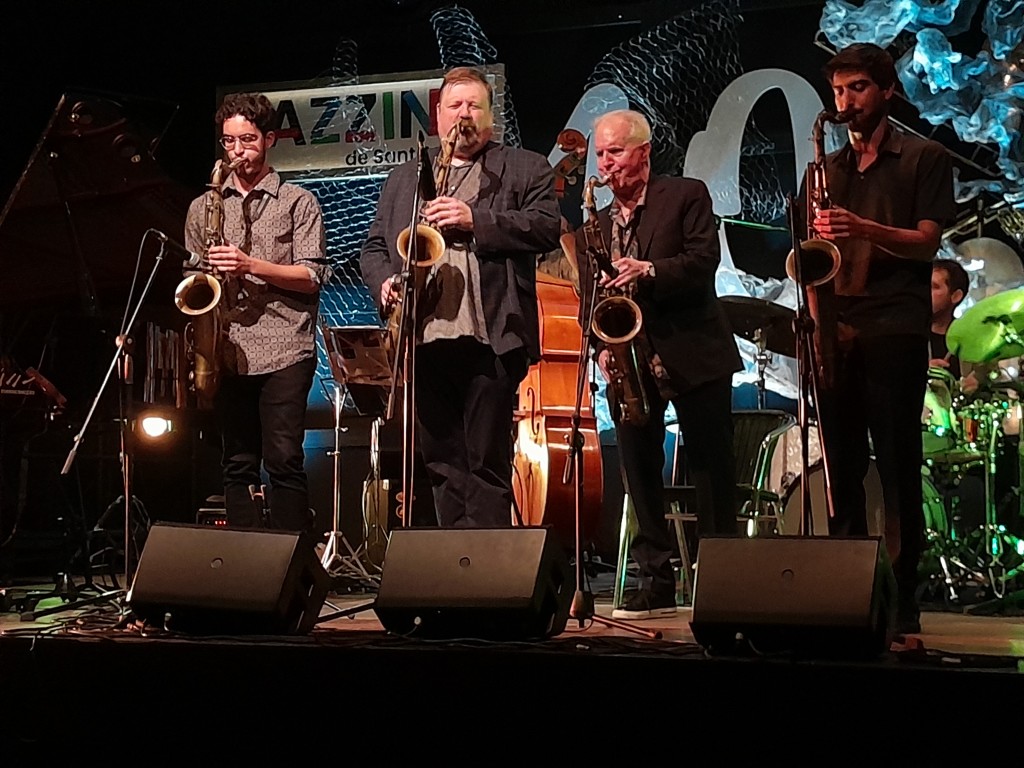 And that was just the first day.
Day 2 began with another Education Stage class, with Scott Hamilton taking part to share his own experiences and considerable wisdom as a jazz veteran. Later, the duo of Tommaso Porfeta (saxophones) and Stefano Profeta (bass) gave an intimate performance on the main building's lobby stage. Back in the main auditorium, Fredi's Jazz Band, a big band from nearby Matadepera, indulged in swing and other genres.
Saxophonist Victor de Diego and his quartet followed on the small stage, with the music of the legendary John Coltrane.
The evening's line-up of concerts began with the great pianist Ignasi Terraza, an essential figure in the SAJB's history, especially as part of the Andrea Motis quintet. Joining him were drummer Esteve Pi (also of Andrea's quintet), Horacio Fumero on bass, and singer Pepa Niebla. While Niebla's vocals on each selection may have dominated, giving Terraza few opportunities to display his remarkably inventive playing, he would return the next day for an instrumental set with his own trio.
One of the many highly anticipated sets in the Jazzing program this year, "Elia Bastida Meets Scott Hamilton," followed, and didn't disappoint. Named for the album they released in 2021, the two musicians have developed a somewhat unlikely close musical collaboration (when their schedules have allowed), between her expressive violin and his smooth, compelling tenor sax. The results of their recordings and live performances have delighted audiences since his first gigs with the SAJB in 2013. Again, Elia was especially inspired for the set, taking songs like "My One and Only Love" to new heights, with the creativity and extraordinary virtuosity that has placed her among the greatest jazz violinists in the world.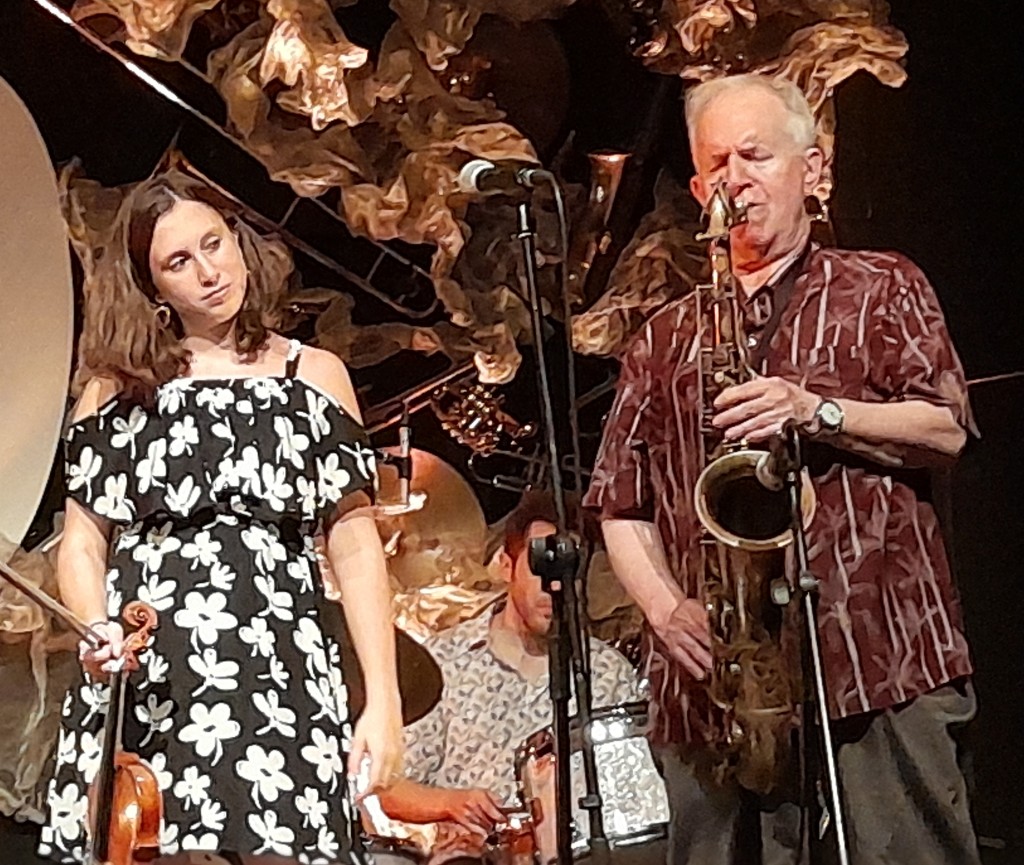 One of the many side projects Chamorro has created, an outgrowth of the five concerts celebrating the SAJB's 15th anniversary in 2021, is the Sant Andreu Reunion Band, consisting of both former and current SAJB musicians performing a typically wide range of numbers from swing to bossa nova to bebop, with and without vocals. It's this mix of individuals who have, and still are, benefitting from Chamorro's leadership and encouragement that helps them meld so naturally as a polished, experienced ensemble. They've learned side-by-side as students, and know quite well their teacher's methods, likes, dislikes, and musical ideas.
Hamilton agrees that the SAJB provides the most solid of foundations for its aspiring jazz musicians. "No, doubt! No doubt," he's quick to say. "The best. Absolutely the best. The'll have much less trouble than a lot of other people. They could play anything. They're gonna be all over the world, and they'll always have this as their family that they can come back to. Even now I see a lot of the ones that I've known are up in Amsterdam and Rotterdam studying, some are in New York…and that's the way it's supposed to be."
The SAJB Reunion Band's set included alumnus Edu Ferrer singing "That's Life" (he has been performing his own Sinatra tribute program of late), and a surprising version of the kids song "Old MacDonald," sung with tongue-tripping, lightning speed by current SAJB trombonist Perot Rigau—who has only recently been easing into his other role as a vocalist—and his bandmate, saxophonist/singer Koldo Munné. Their wild duet closed the set and brought the house down.
That concert was followed by a rousing jam session, bringing Hamilton and Frahm back to the stage to take part, along with some of the youngest and newest members of the band. Whatever nerves the kids may have felt as they played among the masters did not impede their soloing.
The third and final day began with the final Education stage class, during which Chamorro advised the students, "Build a repertoire of songs you learn. When you go to a jam session, and are asked what song you want to play, never say, 'I don't know.' You'll be able to say, 'I want to play this song.' This is your moment."
Later, the results of the Education Stage played out at the Jazzing Big Band concert, comprising of those who had taken part in the masterclasses, and making for a very crowded stage. Songs included "Moanin" and "I'm Confessin'."
The Imagine Jazz Orchestra followed with its concert. The IJO was founded two years ago by Joan Chamorro as part of the non-profit Mayeusis Foundation in Galicia, Spain, which promotes the education of art, music, dance and theatre as means of personal expression. While his day-to-day overseeing of the SAJB does not allow Chamorro to devote as much time to the Imagine orchestra, he employs the same teaching method that has earned him his widespread reputation among music educators and band directors around the world.
Another former SAJB member, trumpeter Joan Mar Sauqué, has been busy building his own career via recordings and live gigs. As one of the band's lead trumpeters during his time with the project, he returned to Jazzing this year leading a quintet and playing the music of legendary trumpeter Fats Navarro, on the 100th anniversary of the bebop innovator's birth.
Saxophonist and composer Gerry Lopez later led the Jazzin' Fribourg Orchestra, a band of twenty young musicians based in Fribourg, Switzerland. Lopez had also taken part in other concerts throughout the week.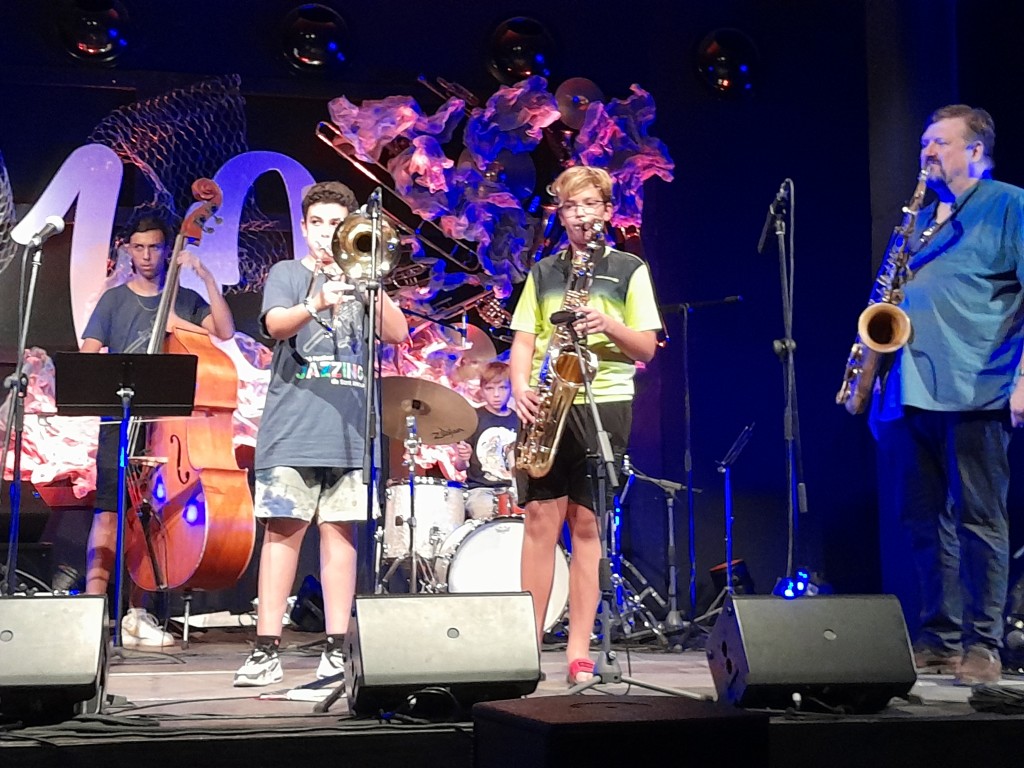 The grand finale concert starred the main attraction, the Sant Andreu Jazz Band, with the festival's guests contributing their talents. It was here that the individual members of the big band were given the opportunity to truly shine.
The concert kicked off with the classic Jimmy Giuffre swing number "Four Brothers," followed by Alba Pujals and Gerry Lopez in their respective guest spots.
Claudia Rostey, who turned 20 just after Jazzing, is one of the SAJB's trombonists and the current band's outstanding vocalist, singing "Just One of Those Things," and "I Cried For You," like a seasoned pro. Other vocals included Edu Ferrer's renditions of "My One and Only Love," and Koldo Munne singing "Don't Rain on My Parade."
Elia Bastida and Scott Hamilton returned for "Lady Be Good," with Joel Frahm and Gerry Lopez joining them for the final numbers. An anniversary cake with lit candles, presented to Chamorro onstage to commemorate the ten years of Jazzing, topped off the evening, and the festival.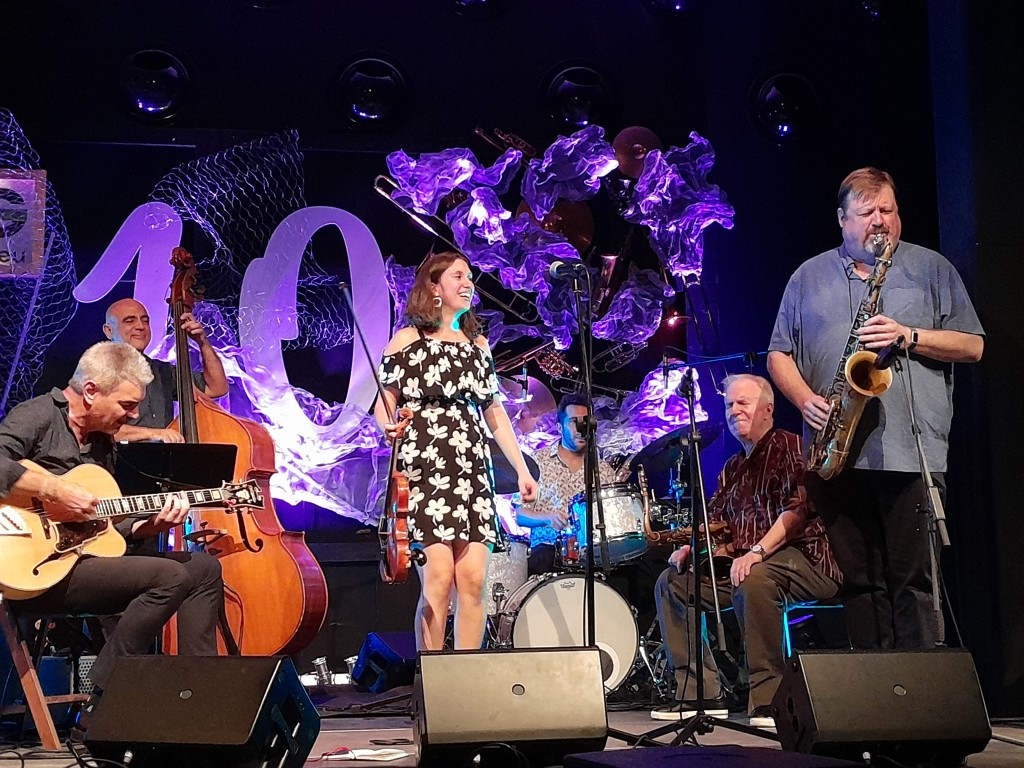 By now you may have detected that there is something special about Jazzing, in that while it is a carefully organized and smoothly presented music festival, it's also a casual, open, and very family friendly event. Visitors are welcome to sit in on rehearsals and sound checks and can stroll the grounds of Fabra i Coats and stop to say hello to SAJB musicians and whoever else they might run into. The concept of "family" is not just a metaphor; the parents of many of the current musicians pitch in as volunteers by running the sales tables where CDs and T-shirts are sold, and wherever else a helping hand might be needed. And, as we've already mentioned, several former band members who have since launched their professional careers often return to Jazzing to accept Chamorro's invitation to take part as guests. Andrea Motis, Rita Payes, Eva Fernandez, and the aforementioned Joan Marti, Marcal Perramon, and Joan Mar Sauque, are among those who have returned to the nest, as it were, for both a bit of nostalgia and for an opportunity to promote their current projects.
As Hamilton says, "Joan's very smart about musicians…he's always been close with the Spanish musicians, they all like him a lot. But's made [American] friends—before me, there was a whole slew of guys I know who had already been over here, really good jazz musicians. He's drawn people from all different areas of jazz."
He says Chamorro's method of teaching is also spot-on. "He's very smart that way because that's how it's done. That's how it's always been done. That's how I learned. You have to take the song that you want, and reduce it to little pieces, and sit there and get the little pieces, and pretty soon you've got the whole thing…you've internalized it, which is a lot different than somebody giving it to you on a piece of paper. Once you've internalized a piece of music theory, it's inside you. It's there forever. And that's how these kids can be so good."
Despite the steady stream of music and joy that can so easily envelop a visitor at Jazzing, there is also a deep concern about its future. The festival—indeed the SAJB itself—is struggling to survive. Since its inception in 2006, the project has been a non-profit entity, without government funding, and Chamorro has never charged the students nor their families for the endless hours of rehearsals, touring, recording sessions, or for the dozens of CDs they have recorded. Funding has come from concert ticket sales, CD sales, and YouTube views of the band's 1,000+ videos. The 2020 pandemic necessitated virtually all SAJB activities to cease, striking a harmful blow from which the project is still recovering.
Earlier this year, Chamorro addressed the worrisome situation on his website: "The recordings, the arrangements, the edition of the CDs, the photographic reports, the travel for the concerts, the participation of the soloists of international level, suppose a considerable cost. To which must be added the maintenance of the space and the instruments, music stands, and various accessories necessary for the normal functioning of the band. Not to mention the management costs of the non-musical aspects, and all the dedication on my part as director (classes, rehearsals, research of themes, programmes in the different concerts, work on the CDs, etc.) and as the person who makes the organisational decisions."
Brainstorming has been ongoing to help find further ways to keep this astonishing musical project alive and thriving. Any individual who appreciates and enjoys the top-notch classic jazz the SAJB's young musicians play is welcome to send a contribution of any amount to the band's PayPal account.
Chamorro explains, "Funding from private, corporate and institutional contributions has enabled us to finance the different editions of Jazzing (especially the institutional ones) and the production of some of the albums…This is why we feel the need to open the door to possible collaborations, both personal and institutional, through donations."
He added, "I have always believed that it has been a miracle to be able to do what we have been doing for 17 years, without any kind of help, except for the contributions of some passionate fans of our project and the various calls for crowdfunding via Verkami. In the text of our first CD, Jazzing 1, I wrote that the Sant Andreu Jazz Band was a miracle. Now, a few years later, I still think so, and with even more reason…"
With endless dedication, a bottomless heart, and help from supporters from both near and far, Chamorro and the SAJB family will hopefully continue to enrich the lives of young musicians and jazz fans around the world via the invaluable art form known as jazz.
A link for making a contribution to the SAJB's PayPal account, large or small, can be found (with English translation available) on Chamorro's sprawling web site, Sant Andreu Jazz Band (joanchamorro.com).