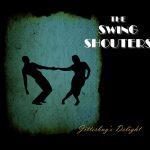 The Swing Shouters of Tours, France, grew out of the relationship between a dance school, a studio, and an association called Swing and Shout. You can see them at Lindy Exchanges around Europe and occasionally in the States. They may appear in sizes from trio to big band but the core of the group is a quintet consisting of Sylvain Roudier, reeds; Benoist Pasquier, trombone; David Ménager, guitar; Carl Cordelier, bass; and Alban Aupert, drums. That is the formation they keep for their 2017 album Jitterbug's Delight.
The record consists of creative arrangements of swing era numbers like Artie Shaw's "One Night Stand," and Billy Strayhorn's "Johnny Come lately." Fans of the small group sound will not be disappointed. The trumpet work on my favorite track, "Dinah," is impressive. "Blue Drag" is given an extended two-version presentation that drifts away from Hot Club or even Swing into a more contemplative Mainstream feel.
They bring on a piano, second sax, and trumpet to fill out the sound on their simultaneously released A Tribute to Johnny Hodges. They refer to this formation as their "Little Band." The seven tracks are all from Duke Ellington or Hodges who played with Ellington for most of forty years, defining the sound of his saxophone section. Good, if sparing, use of the piano is made on "Mood Indigo," the full horn section is most effectively engaged on "Squatty Roo," on "Good Queen Bess" they do most nicely what they set out to do: pay tribute to the Hodges sound without being copycats.
These two albums inform each other. Jitterbug's Delight has more than anything else an Ellington feel. The Hodges tribute is more joyfully played. Both have gems, but that's where the bands
heart was.
This review was part of a larger column in our August 2018 issue.