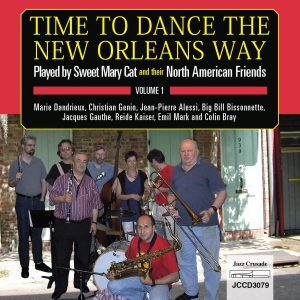 All of the New Orleans jazz pioneers stressed that the music they played was for dancing, not just for listening. The group on this CD have taken that to heart and "Time to Dance …" is aptly included in the title of the disc. They have clearly been listening to the foremost New Orleans bands of the 1940s through the1970s, such as those of Bunk Johnson, the Humphreys, Sweet Emma Barrett, et al.
Sweet Mary Cat is not as well known as other European bands, perhaps, but it is a fine one and deserves wider recognition. As the band's web site informs us, its name was derived as follows: "Sweet," a nod to New Orleans piano player Sweet Emma Barrett; "Mary" to the leader, Marie Dandrieux; and "Cat" to the original banjo player, Catherine Gerdil. The band can range in size from a quartet to an octet, and what we have here is a trio from the usual lineup—only Dandrieux, her husband Christian Genin, and Jean-Pierre Alessi being from the Sweet Mary Cat band—but they meld extremely well with the others, the "American Friends": Gauthé from New Orleans (originally from France), Bissonnette and Mark from Connecticut, and Kaiser and Bray from Canada. The last named three have played many times together as members of the rhythm section of the band led by Bissonnette, the Easy Riders Jazz Band.
In keeping with the album's title, all of the selections are played at danceable tempi. And just as the New Orleans bands did, Sweet Mary Cat plays for all varieties of dance: in the playlist one can find a waltz, a samba (actually played as a rumba), a polka (or schottische or one-step), a jitterbug, as well as foxtrots, both slow and medium. This is not music to simply sit-and-listen to, but rather to roll-back-the-carpet and put-on-one's-dancing-shoes to. From the opening, seldom heard, I'm with You Where You Are to the closing, pulse-quickening boogie woogie of J-P's Boogie, the CD seductively entices us to get up and "cut a rug," even though it was recorded in a studio rather than at a dance in a dancehall.
That is not to say that we will not be rewarded by remaining seated. These musicians are well-versed in creating the New Orleans sound, and it is a treat to hear the harmonies the ensemble can deliver behind whoever is playing lead, whoever is keeping the melody to the fore, just as Jelly Roll urged. The leader's drumming is quite restrained, very tasteful, never overwhelming. Her solo on Put on Your Old Grey Bonnet shows her command of New Orleans style drumming with nice pressed rolls. The brass make good use of mutes, witness the muted trombone lead in on Three Little Words, muted trumpet taking the bridge, followed by muted trumpet taking the lead with tenor sax on bridge. To complement these combinations, the string bass is bowed behind them. Many such moments can be found in other tracks.
There are one or two small surprises which add to the "sweetness." While one might have expected a vocal on C'est Si Bon to be taken by Ms. Dandrieux, instead there is no vocal on that track, but she takes one—and very nicely—on the following track, After the Ball. Rather than the usual waltz time signature one expects for After the Ball, after a drum roll-off the piece is played as a march, for a schottische or polka or perhaps a one-step. Finally, the stop time that is engaged on Put on Your Old Grey Bonnet is to be relished. And throughout the performance, the band has a firm grasp of dynamics, none of the musicians trying to upstage any other, all working together with the variations of volume which can add to the excitement, even on the boisterous J-P's Boogie where the band comes down to a very quiet level before rising for the out chorus..
A timely—and very enjoyable—reminder that New Orleans music was meant to be danced to, this reissue by Upbeat of the CD that first appeared on Jazz Crusade is available again at the Upbeat web site www.upbeat.co.uk as well as from on-line sites such as www.prestomusic.com
Time to Dance with Sweet Mary Cat & Their North American Friends
Jazz Crusade JCCD3079 Playing time: 68m. 19s.
Recorded at Audiophile Studios, New Orleans, LA, on Apr. 15, 2002.
Tracks
1. I'm with You Where You Are
2. My Little Girl
3. C'est Si Bon
4. After the Ball
5. Laughing Samba
6. I Get the Blues When It Rains
7. Girl of My Dreams
8. Put on Your Old Grey Bonnet
9. When My Dreamboat Comes Home
10. Three Little Words
11. J-P's Boogie
Personnel
Marie Dandrieux – Drums, leader, vocal (track 4)
Christian Genin – Trumpet
Jean-Pierre Alessi – Reeds
Jacques Gauthé – Reeds
Big Bill Bissonnette – Trombone, vocal (track 2)
Reide Kaiser – Piano
Emil Mark – Banjo, vocal (track 6)
Colin Bray – String bass