In the German language, it is common to find compound nouns. They certainly would be useful in describing Galen. The only possible way to capture him is to invent a word like, "Musician-Pianist-Conductor-Self Taught Composer-Ragtime Historian-Archivist-Preservationist-Researcher-Silent Film Buff-Prodigy-Organizer Extraordinaire of Festivals-Revivalist-Cultural Critic-Comedian-Announcer-Writer of Liner Notes1-General Factotum-for-anything-from-the-era-of-1890-to-1930." Even that doesn't fully describe him nor all his activities.
I first met Galen in 1991 at the Scott Joplin Festival in Sedalia, Missouri, and have been incessantly astounded by his boundless energy and dedication to bringing both ragtime and the general culture of the era to the attention of the general public. He organized the New England Ragtime Festival in 1993 and 1994, and from the perspective of having participated, my opinion is that it was one of the most exceptional and diverse festivals I've ever seen or known about. He was constantly trying to experiment and make it more interesting, rather than just having one person after another play the conventional ragtime repertoire on an out-of-tune piano.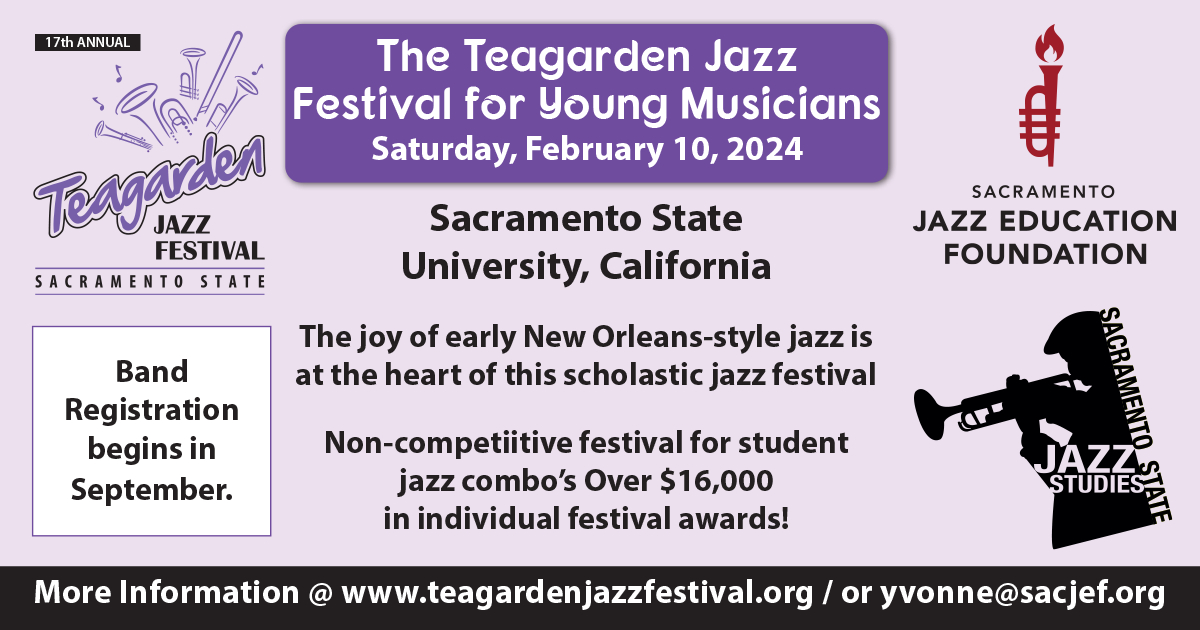 Those of us who are fortunate enough to know him well, are privileged to experience not only his expertise in so many fields, but also his delightful sense of humor. There has been more than one occasion where I have found myself helplessly laughing at his ingenious impersonations or his witticisms.
Galen organized ragtime dances and a ragtime orchestra before almost anyone else had, and he even arranged for The Palm Leaf Ragtime Orchestra, which he conducted, to do some recordings on an original cylinder recording machine using real cylinders. Great fun!
It may be this adventuresomeness of spirit that has unfortunately resulted in Galen never quite getting the recognition that he deserves, in my opinion. Because he is so incredibly busy, I was very grateful that he took a little time out of his schedule to let me know about his activities—activities which could fill several lifetimes, not just one.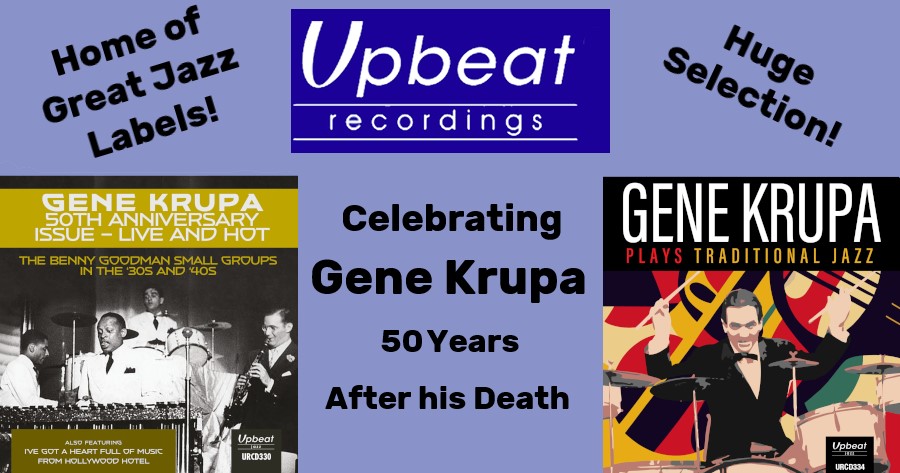 Matthew de Lacey Davidson: You are originally from New England, so how did you wind up in Los Angeles? I believe you told me that you went there to study film make-up and that one of your childhood heroes was Jack Pierce who did the makeup for Boris Karloff in Frankenstein, but I wanted to hear it from "the horse's mouth," as it were. Which school did you go to?
Galen Wilkes: I moved to Los Angeles to continue film studies. A friend's daughter was going to Hollywood to a film school and she recommended it, so I went also. Makeup was part of the curriculum. You studied all aspects. It turned out that the makeup instructor was Harry Thomas, Jack Pierce's assistant at Universal. That was pretty thrilling. Harry taught me all the techniques and we were also good friends. I taught as well.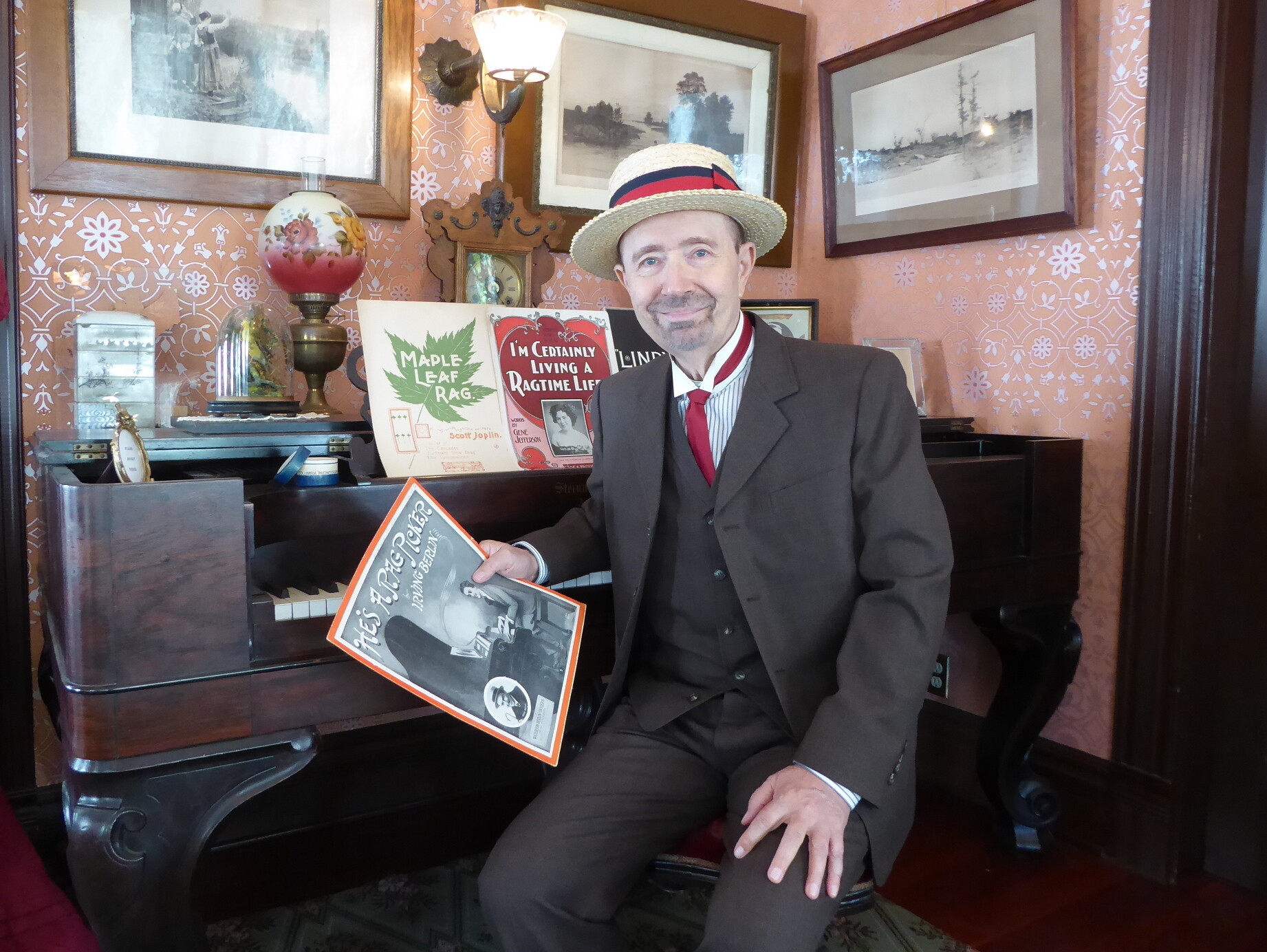 How did you become interested in ragtime?
There's sort of two answers for that. The movie The Sting catapulted Scott Joplin's music to fame in 1973 and beyond, and that's when I jumped on board. Sad to say, that's not a very original story! Previous to that, going back to when I was a toddler—yes, I was two or three years old and remember it well—my father's friend and co-worker Jack Whitaker had a player piano and he'd play it for us when we visited. That was pretty exciting! He and my father were both engineers, and Jack had connected the player to his vacuum placed in the basement, where it couldn't be heard. The vacuum ran the player piano by itself. It was all pretty magical. So a seed was planted at that time with the music and technology of an earlier era. My father also had many piano records, which included honky-tonk with some ragtime.
Did your interest in early 20th century history develop simultaneously?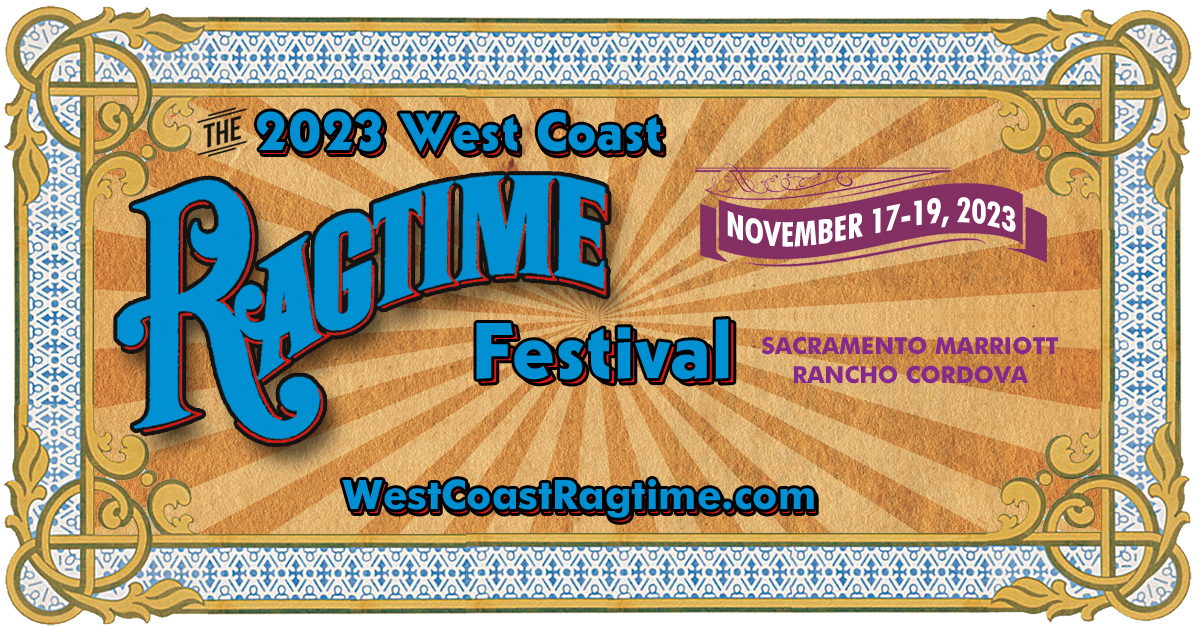 Sort of. It happened over time. I became more and more interested in what else surrounded this music and era. I find many facets to the late 19th and early 20th centuries completely fascinating. There is much in the way of aesthetics and things to enjoy. I'm very much a preservationist. I see it all linked together, and this is where I do most of my work entertaining and educating. I provide fundraisers too to help organizations raise money.
How did you become interested in silent film?
In the early 1970s a revival of silent film took off just before ragtime did. My first exposure to it was on public television and a series called The Silent Years. It was totally riveting to me. Another world. The music accompaniment to the films was another attraction as well. I soon discovered through a high school friend that you could buy these films. That seemed incredible. How could you own them?! So I began buying silent films, and soon after, producing my own film series around my area.
Did the culture of the early 1900s inspire your interest in Ragtime or vice-versa?
No, ragtime came first. And silent films actually came before that.
Did you study piano or music composition, or is your approach intuitive?
I took piano lessons when I was a kid. Those were pretty typical. There were a few other courses in college, but I never studied composition. I just started to do it. One of the most difficult things to do is to know how to notate your scores. With syncopation this can get complicated. I struggled for a long time. I had to teach myself all of this.
Early rags are often reflected in your works, for example, Jelly Roll Morton in "The Oyster Shimmy," Joseph Lamb in "Whippoorwill Hollow" and early folk rags in "The Creeks of Missouri." Is this conscious pastiche on your part or an intuitive approach? Jeff Barnhart really seemed to get the spirit of the first piece I mentioned.
My interest in ragtime covers all the bases, so that is how I write as well. I've written cakewalks, folk rags, classic rags, novelty piano, stride, and in styles of other composers. I just see it as creating new repertoire with older forms and styles. Sort of like a chef who likes using vintage recipes. My piano works are done consciously but I would not refer to them as a pastiche. I try to create a unified whole.
How did you become interested in E. Harry Kelly, composer of Peaceful Henry? How did you come to meet his descendants, and how were they helpful to you in your research?
I was not researching E. Harry Kelly. What I did know I had learned from Dennis Pash, who knew Kelly's widow. Dennis is an important ragtimer and a treasure trove of information. He met the current owners of Kelly's house and learning about Kelly they applied to get landmark status for the house. I contributed to this by researching all the recordings of his hit, Peaceful Henry. It was an impressive list and helped get the house on the register of historic landmarks. Dennis' group, The Etcetera String Band, was invited to play in Kelly's house for a historic home tour and I was asked to play with them. Kelly's relatives just showed up. They took the tour seeing that Harry's house was part of it. I think I met three of his relatives that day. I've been fortunate to meet many relatives of other ragtime composers as well. It was a thrill to be playing in their own house!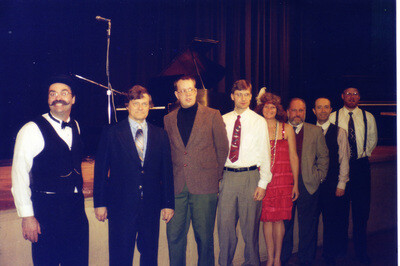 How long did the New England Ragtime Festival last? What are your fondest memories of it?
That lasted two years. I had booked a third year but could not get help to run it so it was cancelled. One of my fondest memories was Pat Conn giving a talk about her father, Joe Lamb. Pat had never done this before and I had asked her to. She finally agreed and this seemed to have opened a door for her to talk at other festivals as well. Her grandson played some Lamb rags as part of her seminar, so it was a pretty special family affair. We're running out of these valuable connections. Soon there will be no personal recollections. It will be a disconnected past.
Where did you organize silent film screenings in the 1970s? Who played the piano? Did that stimulate your interest in early 20th century piano music and ragtime?
These were mainly at libraries and also at Conn College in New London [Connecticut]. The first series I did I used recorded scores I had from other silent films. Soon after, Jeanne McPartland played piano for all of my shows and for my friend and collector Leon Calanquin, whose daughter went to the film school I mentioned earlier. Jeanne had played in Rhode Island in the 1920s. People loved her. Many came just to hear the live piano. I had her talk before shows so people could hear about her experiences. I also added Harold Pavey to the group who had acted in silent films as a kid. He knew many of the old actors and stars such as Rudolph Valentino. He also spoke before our shows. It was a pretty exciting group. There is overlap with ragtime and silent film accompaniment and the two revivals soon were running parallel to each other. A nostalgia craze was often spoken of. I remember a lot of early sound films being rereleased in theaters also. That really was a great time in the 1970s. It had a big impact on me, which never left.
How long did you have a radio show in Los Angeles? Who were some of your guests? What are some of the most memorable moments? Did James Scott's nephew, Don, and Scott Joplin's niece, Donita, give you any interesting insights into their famous relatives?
My show in Los Angeles ran for seven years, almost to the day, from 1980 to 1987. Jazz musician Bob Ringwald wanted me on the air here, so he made it happen. Actress Molly is his daughter. It was my second radio series, the first one was done in New York in the 1970s. I hosted that one from 1976-1978 and it continued in reruns when I left college. I had many guests here in L.A. There is a lot of talent to draw from out here. The ragtime revival had a big following in CA. Some of my guests were Dick Zimmerman, Ian Whitcomb, Bill Coffman who ran the Old Town Music Hall—another venue for ragtime, Hal Isbitz, David Roberts, Jo Ann Castle, Jim Turner, Judy Carmichael. Dennis Pash was on a number of times and presented some fantastic shows. Don and Donita didn't have any insights on their famous relatives as I recall, they either didn't know them or barely knew them, but they did speak about the family and gave us some background on them.
Can you tell me a little about your experiences with Rudi Blesh? He seems to have had quite a career.
Rudi I met through Max Morath. In fact, when Max was around Rudi was often close by as well. Rudi would go up to Max's office to use his typewriter. He was a very productive guy. He wrote books, hosted a radio show, produced records and music folios. He gave us a lot. The interesting thing about his involvement with ragtime was that he had no interest in it at the beginning. That was Harriet Janis' idea. Rudi was into jazz at that time and dismissed the idea of researching ragtime! It's laughable. But she talked him into it and he agreed only if she worked with him on it. Rudi always gets the credit for turning an eye to that era but it really belongs to Harriet.
Were you involved with Bill Coffman's ragtime concerts? Did you meet or have anything to do with ragtime composer Robin Frost?
I was. I did do some solo piano in ragtime concerts there and also concerts with my orchestra. I did see Robin at concerts there as well. He was terrific. Very talented. I never did have any association with him, however. He lived in Ojai, so he was never around.
Did you ever meet relatives of Percy Wenrich (composer of "Put on Your Old Grey Bonnet"—I have a 78-rpm record of this!) in Joplin, Missouri?
I did visit Joplin, but I never met any relatives of Percy's. I don't think he and Dolly had any children and I'm not aware of other relatives they may have had. I did know two people who knew Percy and Dolly.
How well did you know Andrew Fielding? He did some extraordinary transcriptions which I've used.
Andrew and I were friends when he used to live here in L.A. We'd often meet where someone was playing at a jazz club, or something like that. He was part of a ragtime concert I produced in 1984. He was an excellent pianist. I really admired him. He was a very pleasant guy. I even wrote a rag for him back then – Raggedy Andy. In fact, he wrote a rag for me, as well. Do you know he is the son of the famed jazz trumpeter, Zeke Zarchy? Talk about a legacy!
I did not know that! When did you organize the Palm Leaf Ragtime orchestra for the first time? Did you create the arrangements? If not, were they "stock" arrangements? When did you record them using a cylinder recording device? How did you find the cylinder recording device? How many cylinders were recorded? How did you decide on the repertoire for the recordings?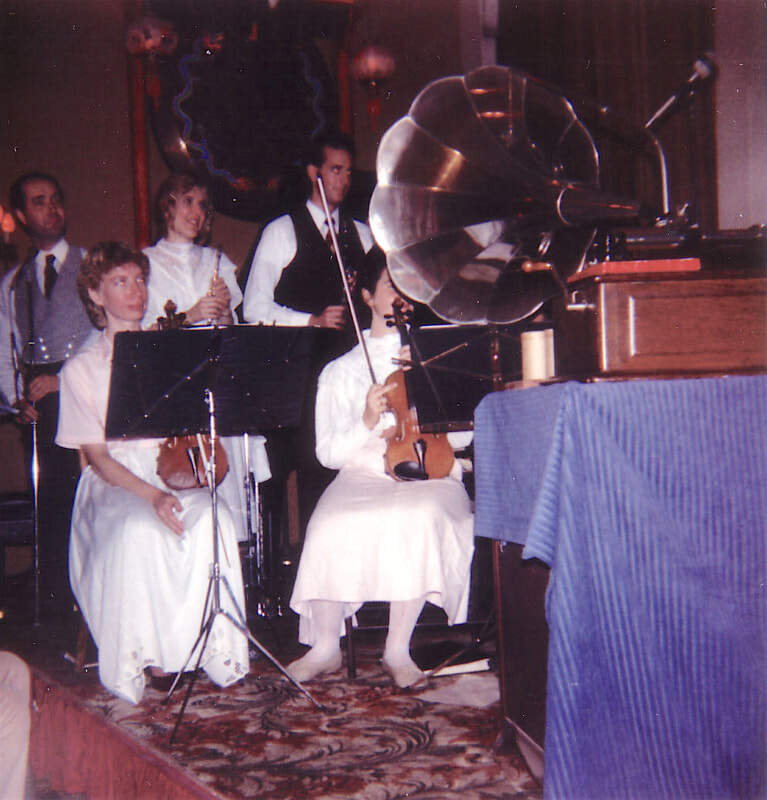 In the mid 1980s I began to develop ideas about producing aspects of ragtime that were ignored, unknown, or forgotten…most people were sitting and listening to someone play piano rags and it was so limited. It was all about the piano rag. It was now concert music. All these other aspects were missing. I thought an orchestra would be a good idea and many parts of ragtime history could be revived and enjoyed again. I felt there were all kinds of things people didn't know about or would find fascinating. One of my focuses was going to be on ragtime dancing. I wanted to have a ragtime ball, revive the dances, have lessons, and even have a cakewalk contest. In 1985 I began looking for musicians to be in the group.
Most of the arrangements we played were stock arrangements. I did write quite a few, however, to add material to the repertoire that no one else would have. We recorded wax cylinders in 1989.2 My friend, Bruce Trummel, proposed the idea. He had the equipment and blank wax cylinders for recording. I believe we recorded eight cylinders, including a test. I chose pieces I thought would work well with acoustic recording (no electricity, just a stylus and wax!) Another friend and period devotee, Jim Wilke, made the announcements. We played without repeats to get them in under the 2-minute time limit of wax cylinders.
Did you ever interview Bob Mitchell, the silent film organist, or just watch him perform? And Rosa Rio? It's extraordinary to watch her accompany the Buster Keaton silent film The Playhouse on your website.
Yes, I did. Bob was also a friend. He was very well-spoken. I interviewed Rosa, too. I flew to Florida and spent most of a week there recording her. Another sensational person! I had the best time with her and her husband.
How did you find all these amazing people? It's like you were a human search engine before the digital ones existed. What sort of methods did you use to track people/information down?
Prominent people were visible, and traceable, so I contacted them. Sometimes they led me to others. Some I found through research. Quite often they came to me. Purely by serendipity. TWICE, students of Theron C. Bennet's3 showed up at an event where I was playing piano. and I happened to play St. Louis Tickle!1 What are the odds of THAT? Don Scott showed up at a Maple Leaf Club meeting one day. Peter Van Spall called me out of the blue one day. How did he know ME?? Harry Tobias walked into where I worked one day. Much of it was dumb luck!
I think you're being a little modest, there, Galen! How did you come by your interests in nickelodeons and magic lanterns? Where did you find your cylinder phonograph and lantern?
First let me clarify "nickelodeon"—a term most people get wrong. It's not the network and not a coin-operated instrument which plays music. It refers to the original meaning of the word—five cent theater.
Nickelodeons tie in with silent film and with ragtime. Ragtime piano was in its heyday then and the illustrated song was all the rage—another major attraction now forgotten—which brought ragtime songs to the public in the theaters. Slides were projected on the screen while a singer performed the song, plugging it. They sold the sheet music in the nickelodeon. It was a huge attraction then, second only to the movies being run.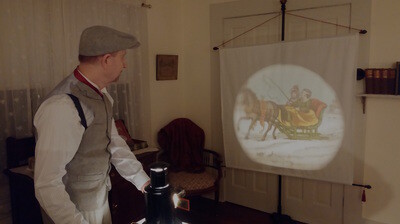 The magic lantern preceded the movies but put screen entertainment in place literally centuries before. This was another aspect of history and entertainment I thought would appeal to people. So much of our own heritage we know little of. My phonographs (cylinder) I got thru a dealer. He also does repairs so I can trust what he sells.
I have two magic lanterns. One is from the late 1920s and accommodates the later standard sized slides used in theaters, I got that from a collector. The other is a home lantern from the 1870s. It takes smaller slides used in a parlor. I made adaptors so very small slides can also be used. It came in the original box, with instructions and candle! A friend helped me electrify it, ca. 1880s. I got it in an online auction.
How long have you been doing lectures like those you have done at the Pasadena Museum of History?
Well, I've been doing seminars at ragtime festivals since the 1980s, so it's really an extension of that sort of thing. I just developed more presentations over the years. I look for things I find interesting and unusual, or that present an accurate look at things people have gotten wrong.
It's hard to imagine a more diverse ragtime career than yours. What are the highlights for you? Most memorable moments? If you won a million dollars, how would you use it to further your musical, research, and historical interests?
It has been diverse, indeed. I have my hands in many pies. I see things that are linked, things that are unknown, forgotten, and I turn them into something. I am part preservationist, part scholar and part showman. I love entertaining people and educating them. Usually at the same time.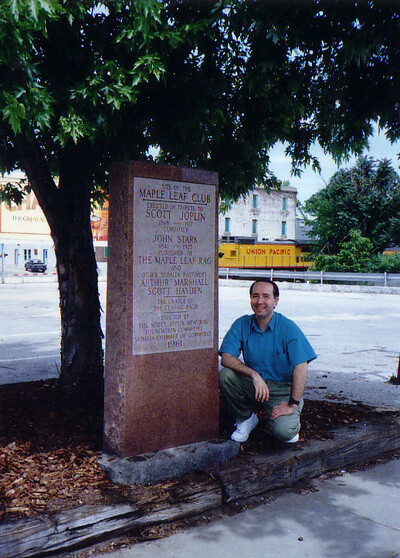 Highlights for me were meeting, talking, or corresponding with a few of the original composers or players who were still living, especially those born in the 19th Century. People like Grace LeBoy, Abe Olman, Harry Tobias; plus later people from the Novelty Piano and early jazz age—Pauline Alpert, Vee Lawnhurst, Henry Lange. And of course, there was Joe Lamb's widow, Amelia, and his son, Joe Lamb, Jr. Also important to me has been traveling to the sites where some of the history took place. Cities and towns through out Missouri for instance, Sedalia, St. Louis, Kansas City, Columbia, Carthage, Joplin…plus places in other states.
Also, helping to mark the graves of some of the composers. The most memorable might be spending time with Walter Bauer, who was active well into his nineties. He was a banjoist and string player who was born at the end of the 19th century and had been a student of Fred Bacon's and Samuel Siegel's. He was also an actor as a youth, appearing on stage and in silent movies. He also played in vaudeville and recorded for Victor and Columbia. He lived outside of Hartford and was still teaching, playing, directing his banjo band, arranging, and composing! He was writing rags up to the end. Every year when I'd visit, he'd show me his latest works! One of his students, Jim Tyler, played banjo in Max Morath's Original Rag Quartet. On top of all of this, he cooked dinner for guests all the time! This was an extraordinary man!
More wonderful memories are (two of) of the Tobias brothers: Harry and Henry. Two old-time Jewish, Tin Pan Alley songwriters. Harry went back to the 19th century also. Get the two together and you had a show! Stories and songs, "And then I wrote…" They were really funny. it was just great. With their brother Charlie, the three of them turned out a lot of hits and standards! I love the story where at one event Bing Crosby went to use the men's room and Harry followed him in to pitch his latest song!
Abe Olman was something else. And also tragic for me. The man had unbelievable energy in his nineties. I think he was the oldest person I had encountered, in regard to his birth, having been born in the 1880s. We had set up a date to do an interview and then he promptly died right after that. I never got to interview him! So devastating.
Pauline Alpert and I would talk on the phone. She was quite gregarious and told me a lot about her life. She was indeed a fantastic pianist! One of my favorite quotes from her is, "I was my own inspiration." We should all be so lucky!
Vee Lawnhurst was another wonderful pianist, and person, that I became friends with, through correspondence. I was introduced to her by Muriel Pollock's stepson, Ted. We wrote for many years. I had the great pleasure of sending tapes of her old recordings to her which completely bowled her over. She would be absolutely thrilled whenever I did this. I remember when I sent her the duet of Dizzy Fingers she did with Muriel Pollock, she wrote back and said, "Wow, we were good!" It was funny, and an honest response!
Come to think of it, I composed Novelty Piano solos for the both of them. I wrote Puppy on the Piano for Pauline, and Horsefeathers for Vee. Of all the people I contacted, I was closest with Vee. She was very appreciative of my interest and so pleased with recordings I would send. She said it made her later years so enjoyable. One of the things I treasure from her were cartoons and drawings she would sometimes put on her cards or letters to me.
With all of these original people now gone, we have lost personal recollections and stories from that era. That's something to mourn. These were people who lived it. If it wasn't documented, it's been lost.
Interesting you bring up money. I AM looking for this kind of money. Several million. My plan is to have a large Victorian for establishing an archive, library, and research center—a place to preserve collections, plus performance venues, a theater for producing events, and a hangout club. I have a fair amount of materials which would make a good foundation to build on; not massive, but diverse: interviews, letters, books, music, recordings, photos, films, videos, research notes, and most of all a passion for it.
*** *** *** *** ***
Let's hope that Galen realizes this last project. He was one of the few people during the ragtime revival of the 1970s and 1980s that made the effort to collect all this extraordinary information and these amazing memories before it all became lost or forgotten.
---
Galen's website and contact information – www.galenwilkes.com
---
1) Galen has written extensive liner notes for albums released by both Pearl and Basta Records.
2) tinyurl.com/wilkeswaxcylinder