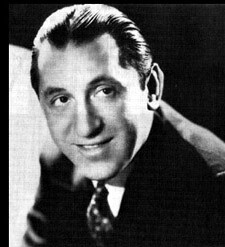 Drummer
Abe Lyman
, born Abraham Simon in Chicago (August 4, 1897 – October 23, 1957), led an orchestra that was successful at the Ambassador Hotel in Los Angeles. Records made in the 1920s for the Brunswick-Balke-Collender Company were very popular, and Lyman continued to make records into the 1940s. His ensemble recorded numbers that were tastefully arranged for dancing but it occasionally played "hot" arrangements, such as "Shake That Thing," which was cut as Brunswick 3069 on February 1, 1926.
He began his record career with Brunswick in July 1923, his dance orchestra being perhaps the first to make records on the West Coast. Page 66 of the December 1923 issue of Metronome states that when "the Brunswick Recording Expedition made its first trip to the coast to record…, the first stop in Los Angeles netted the record people sixteen numbers recorded by Abe Lyman's aggregation, and every one of the sixteen numbers recorded was pronounced perfect."
Recorded performances from 1923 include "Honey Babe" (2563), "California Blues" (2530), and "Bugle Call Rag" (2481). Orchestra members changed, but they included cornetist Ray Lopez (this New Orleans musician had played with early "jass" bands and was given some credit on sheet music for the popular "Livery Stable Blues"), violinist John Schonberger (he co-wrote the popular song "Whispering"), and pianist Gus Arnheim (in 1928 he formed his own orchestra). Violinist Charles Kaley provided nearly all vocals during record sessions until he left in mid-1926.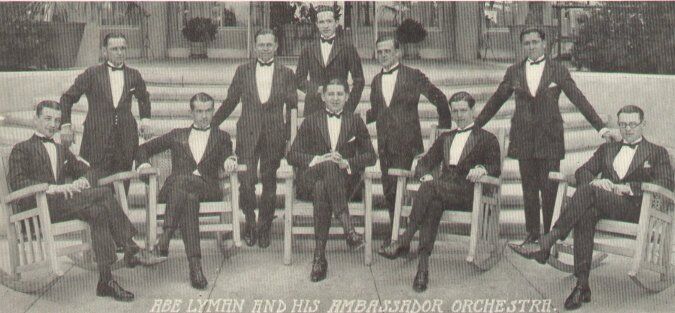 Page 111 of the September 1923 issue of Talking Machine World identifies Abe Lyman's California Ambassador Orchestra as "Los Angeles' most famous popular musical organization." It states, "The orchestra was recently signed up exclusively by the Brunswick organization, and immediately upon the consummation of the deal the Brunswick Co. established a temporary recording laboratory in Los Angeles for the sole purpose of recording newly acquired talent. The recording for Brunswick was done under the supervision of Sinker Darby [William Sinkler Darby], chief of the Brunswick Co.'s recording division, and Walter "Gus" Haenschen [Haenschen, also known as Carl Fenton], head of the recording department. Both of these men…came all the way from New York and spent five weeks in preparing and recording the Ambassador Orchestra."
The article also discusses the orchestra's beginnings: "Abe Lyman's California Ambassador Orchestra has attained much popularity since the opening of the Cocoanut Grove Hotel in May, 1922…and before coming to this city the orchestra was well known in Chicago, having played in the Colonial and Arsonia Café in that city. Prior to this engagement the organization appeared in vaudeville with Gilda Gray, of 'Ziegfeld Follies.'"
Page 66 of the December 1923 issue of Metronome states, "A year ago, when Abe Frank, the well-known hotel man, was placed in charge of the Ambassador Hotel in Los Angeles, he made every effort to secure the best possible music for the now famous Cocoanut Grove ballroom that is today the Mecca of all filmdom…Abe Lyman, then playing with a seven piece orchestra at the Ship Cafe in Los Angeles, was chosen, and, increasing his personnel to twelve men, he and his band have for eighteen months been making things hum there."
Around June 1925 Charlie Chaplin conducted the orchestra as it recorded "Sing A Song" and "With You, Dear, In Bombay," two songs composed by Chaplin with help from Lyman and Arnheim. Page 74 of the July 1925 issue of Talking Machine World reports, "The Brunswick recording staff was in Los Angeles recently when Mr. Chaplin was busy with his new production, 'The Gold Rush,' and arranged an interview with the star which resulted in the famous comedian's assumptions of a new role, that of recording director. He selected Abe Lyman's California Orchestra…to do the playing and he himself took the baton in hand before the horn to direct the recording of his own compositions….He also make his debut as a phonograph recording artist in the 'Bombay' selection, where he plays a violin solo in conjunction with the orchestra recording."
The orchestra toured widely. Page 64 of the August 1924 issue of Talking Machine World notes the orchestra's recent engagements in New York City and Atlantic City. Page 162 of the August 1925 issue of the trade journal states that the orchestra "recently started on a five-week tour of the vaudeville theatres in the West, playing the Orpheum circuit."
Lyman was also a composer. Songs which he co-wrote by 1923 include "Peggy Dear," "Apple Sauce," and "I Cried For You." For Brunswick in 1923 he recorded his own "Before You Go" (2504) and in 1926 his "Mary Lou" (3135). "Mandalay," written by Lyman with Earl Burtnett and Gus Arnheim, was popular in 1924, and Lyman was the first of many to record it, on May 28, 1924 (2631). "What Can I Say After I Say I'm Sorry?" was written with Walter Donaldson and cut by Lyman's group in February 1926 (3069). "Did You Mean It?" was written with Phil Baker and Sid Silvers. Introduced by Marion Harris in the Broadway show A Night In Spain, it was recorded by Lyman in 1927 (3648).
His orchestra performed in the 1930 Warner Brothers film Hold Everything and later was in other films. Opening credits for a series of black- and-white Merrie Melodies cartoons released in the early 1930s state "with Abe Lyman's Brunswick Recording Orchestra." He moved from California to New York City by 1933 and led his orchestra in the radio network series Waltz Time. By 1937 he led it on the popular Your Hit Parade. He remained with Brunswick until 1936, then worked for Decca, and finally made Bluebird records for RCA Victor. He died in Beverly Hills, California.
By Tim Gracyk from the book The Encyclopedia of Popular American Recording Pioneers 1895 -1925. If you would like to order a copy of this book, visit his website.


| | | |
| --- | --- | --- |
| Title | Director | Year |
| Hold Everything | Roy Del Ruth | 1930 |
| Paramount on Parade |   | 1930 |
| Good News | Nick Grinde & Edgar J. McGregor | 1930 |
| Madam Satan | Cecil B. DeMille | 1930 |
| Pardon My Gun | Robert De Lacey | 1930 |
| Rambling 'Round Radio Row #1 | Jerry Wald | 1932 |
| Mr. Broadway | Edgar G. Ulmer & Johnnie Walker | 1933 |
| Broadway Through a Keyhole | Lowell Sherman | 1933 |
| I Wished on the Moon | Dave Fleischer | 1935 |
| Sweet Surrender | Monte Brice | 1935 |