In the autumn of 1965, I had the great pleasure of hearing by letter from the man who in the late 1920s was billed as "The Jazzologist Supreme",
Boyd Senter
(November 30, 1898 – June 10, 1982) . Some mutual friends had told him of my researches into jazz recordings, and he responded generously and with meticulous attention to detail regarding his own recording career.
Born on a farm in Nebraska on November 30, 1898, he decided he wanted to be a musician after encountering the Original Dixieland Jazz Band on records, and having had some lessons in the rudiments of piano playing. (Eventually, he became a very acceptable trumpet player, as well as mastering all the saxophones and various horns and the banjo, but it was as a clowning clarinet player that he made his name and fame, internationally, as many of his OKeh records of 1927 and 1928 were issued throughout Europe. One of them, Mobile Blues, was a reject for the American market, but it was issued in England nevertheless. Boyd Senter remembered that session very well: "Tommy Rockwell said he would like me to re-do Mobile Blues as I did on the Paramount label. Well, we generally had a bottle or two, and in three hours we were kind of on our way, even the one engineer. Where the breaks came in the tune, it was so rough, they couldn't release it.")
Boyd Senter's first records were for Orlando B. Marsh's Autograph label, and he claimed they were among the first electric recordings ever made. Some were issued on Pathe and Perfect, some on Paramount, and they sold well ("to this day they still owe me over $4,000 in royalties," said Boyd), but early in 1927 he transferred to OKeh for two years, using first a trio of himself, Eddie Lang on guitar and Jack Russell on piano. Then in 1928 he formed the recording band we hear in this collection, using the Dorsey Brothers, Lang, Russell and either Vic Berton or Stan King on drums, with the little-recognised but fine trumpet player Mickey Bloom. ("He could play a lot like Bix," said Boyd, "and I don't know why he never made it as he should have done.") Boyd Senter had had a touring band earlier than this, a band that included Glenn Miller on trombone, but "to me, he was never the hottest man on trombone." Later on, with Ben Pollack, Miller proved he could play hot with the best of them; it would have been in its early stages of development when Miller was a member of the Boyd Senter Band of 1924, unable to read music or arrange.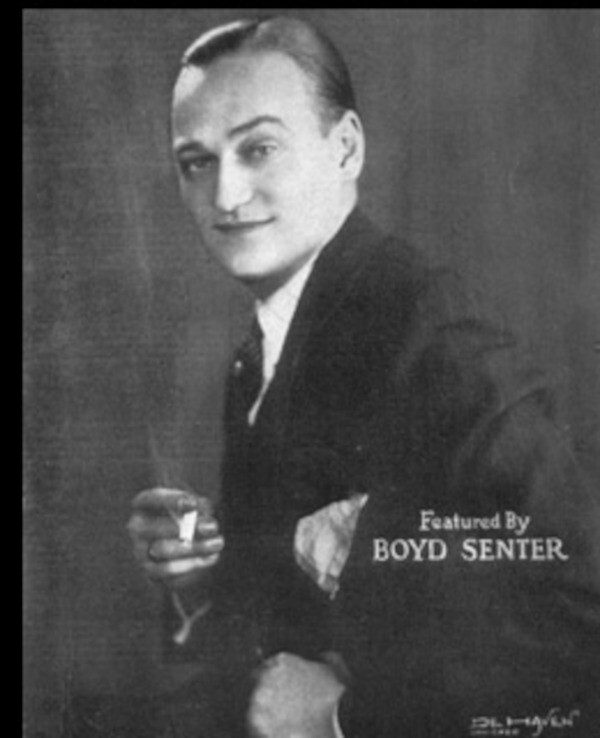 After two years with OKeh, Boyd Senter took his Senterpedes to Victor, for which label he made five sessions, one of them — the last — being in Hollywood, using studio musicians whose names he had almost entirely forgotten. (It is probably Senter's voice that is heard talking to trombonist and singer Ray Stilwell on Give It To Me Right Away). The New York sessions employed several of the top-grade musicians who had worked on the OKeh dates: the Dorsey brothers, or Charlie Butterfield on trombone instead of Tommy Dorsey ("when he came to me he stuttered, and the first thing that came to my mind was — how could he tongue? but he did real good.") The second trumpet on the October and November 1929 sessions was James Migliore, who committed suicide not long afterwards.
On the evidence of the outlandish farmyard impressions and other strange noises produced by Boyd Senter on his jewel-studded clarinet, he certainly did not merit any such title as "The Jazzologist Supreme," but when not indulging in this playing to the gallery who paid to hear it, he can be heard playing some quite acceptable music in the jazz sense. Evidence is on several of his earlier records of his ability as an alto saxophonist and trumpet player, and there is no evidence there of what he admitted was "corn". If the grotesque effects produced by certain highly-respected clarinetists can be accepted, even venerated, by jazz connoisseurs, there seems no logical reason why Boyd Senter's efforts cannot also be accepted. A brilliant cartoonist who makes a living from caricaturing prominent political and sporting figures is no Rembrandt or Botticelli, but his work is undoubtedly as brilliant in its way.
At the time I was in correspondence with him, Boyd Senter was running a business selling saw blades, grits and polishes, drills and fishing tackle in Mio, Michigan. Eventually, I lost touch with him and have no date of his death (editor's note: Sentor died in June of 1982 in Oscoda, Michigan). His friendship and tireless interest in my probing into his past work remain as evidence of his good nature.— by Brian Rust (from the liner notes of Boyd Senter Jazzologist Supreme 1928 – 1930)
If you would like to order the Timeless Records' CD of Boyd Senter Jazzologist Supreme 1928 – 1930 you can do so direct from Timeless Records.


Title

Recording Date

Recording Location

Company

Bad Habits


(Boyd Senter / Mel Stitzel)

3-20-1928
New York, New York
Okeh
40755-B
Bucktown Blues


(Boyd Senter)

4-1924
Chicago, Illinois
Perfect
14466
Autograph
un-numbered


520

Fat Mamma Blues


(Boyd Senter)

10-1924
New York, New York
Paramount
20364-A
Banner
1633
Gin Houn' Blues


(Boyd Senter)

10-1924
New York, New York
Paramount
20364-B
Banner
1633
New St. Louis Blues


(W.C. Handy)

3-20-1928
New York, New York
Okeh
40755-A
Mobile Blues


(Fred Rose / Albert Short)

1924
New York, New York
Paramount
20341-B
Ralfella
4-1924
Chicago, Illinois
Autograph
un-numbered


521