When Eubie Blake and Noble Sissle's Shuffle Along made its Broadway debut in 1921, it ran for an amazing 504 performances and launched the careers of Josephine Baker, Adelaide Hall, Florence Mills, Fredi Washington and Paul Robeson, and became such a hit that it caused "curtain time traffic jams" on New York City's West 63rd Street.
Now a vividly re-imagined revival—Shuffle Along: Or the Making of the Musical Sensation of 1921 and All that Followed—is drawing rave reviews and appreciative audiences at the 1,009-seat Music Box Theatre which, coincidentally, also debuted in 1921 at 239 W. 45th St.
Having opened April 28, the adaptation by director George C. Wolfe has already been nominated for 10 Tony Awards.
Its production notes describe the story and the musical's impact on the Gotham's Great White Way: "New York City was still in the throes of the Depression of 1920. And despite being celebrated vaudeville performers, Miller and Lyles and Sissle and Blake had never performed on Broadway, much less written a musical. But with an infectious jazz score and exuberant dancing, Shuffle Along [which contained the hit "I'm Just Wild About Harry"] ignited not just Broadway but all of New York City. George Gershwin, Fanny Brice, Al Jolson, Langston Hughes, and famed critic George Jean Nathan were among the many fans who repeatedly flocked to West 63rd Street to see a cast which – during its run of 504 performances – featured such incipient luminaries as Josephine Baker, Paul Robeson, Florence Mills, Fredi Washington, and Adelaide Hall. Because of Shuffle Along, Uptown and Downtown met and became one."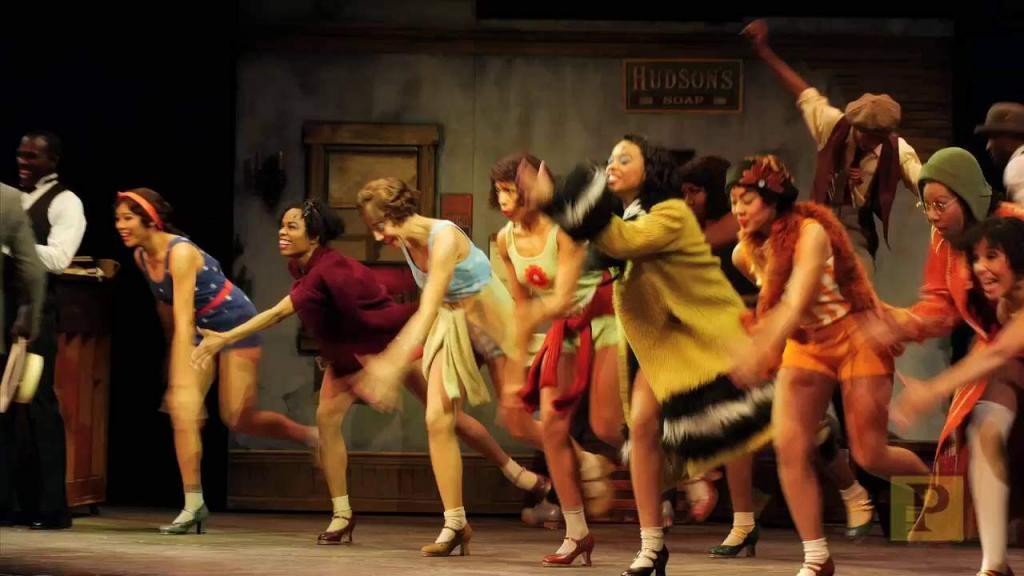 In its "now playing" column, The New Yorker praises Wolfe for "mounting one show-stopper after another in the razzle-dazzle history lesson, choreographed with panache by Savion Glover…[White's] stagecraft is insurmountable, and the syncopated thrill of the original speaks, sings, and taps for itself."
New York Times critic Ben Brantley pointed out that "The Broadway of the 1920s had no doubt seen similarly plotted shows. What made this one unusual was that its cast and, more startlingly, entire creative team were black. What made it a bona fide hit was the jaw-dropping virtuosity of its singing and dancing.
"Which is also what makes the reincarnated Shuffle Along one of the season's essential tickets. As staged by Mr. Wolfe and Mr. Glover—and interpreted by stars who include Brian Stokes Mitchell, Billy Porter and the incomparable Audra McDonald—routines first performed nearly a century ago come across as defiantly fresh…
"It's fun watching the standard 'I'm Just Wild About Harry' transformed from a staid waltz into a piping-hot show-stopper, or hearing a (possibly apocryphal) musical tale of musical theft, perpetrated by one George Gershwin…But Ms. McDonald is a one-woman time machine deluxe, who translates the precise stylistic quirks of a bygone era into a melting immediacy."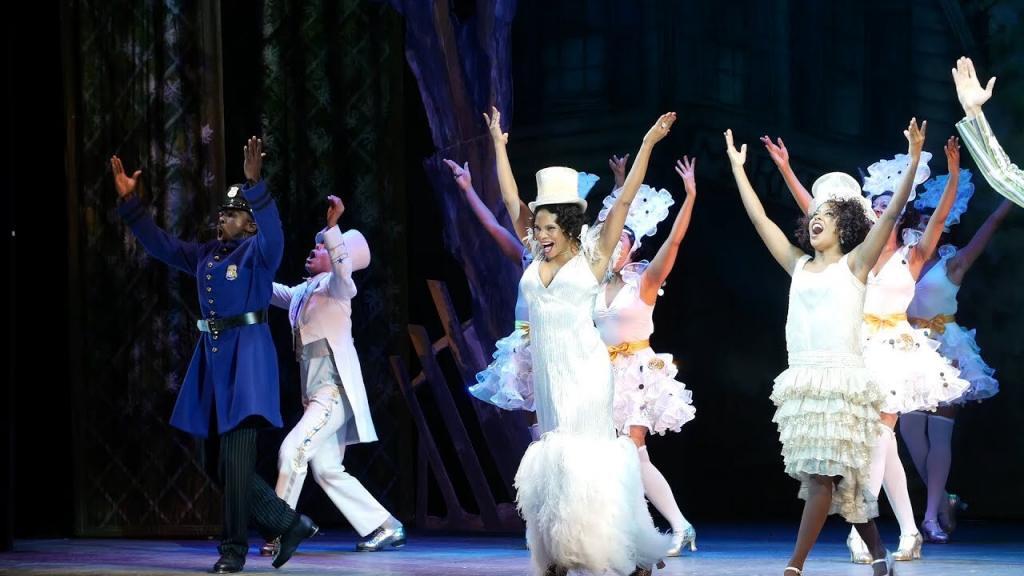 The Daily News reviewer, Joe Dziemianowicz, agrees:
"Jazzy tunes like the aching 'Low Down Blues' are threaded throughout. When the cast is singing and tearing up the floor with choreographer Savion Glover's muscular and thrilling tap-dancing it's pure unmitigated heaven…
"Six-time Tony winner Audra McDonald delivers her patented magic in the role of Lottie Gee, a Jazz Era star with a silver voice and acid tongue. McDonald is funnier, friskier and more light-footed than ever. Sexier too, in scenes with Dixon, at his dreamiest as the married Blake. Gee and the composer had a hot affair that, with these two, sizzles once again. McDonald is taking a leave from the show this summer to do Lady Day at Emerson's Bar and Grill in London."
According to the show's website, McDonald will head to England on July 25.
The Wall Street Journal's writer, the esteemed biographer and musicologist Terry Teachout, found Act 1 sensationally entertaining. But was disappointed by a ponderous Act 2:
"[Wolfe] tried to cram two different but related shows onto the same stage, one of them a flashy, more or less traditional musical-with-a-message and the other a sober-sided play-with-songs about a little-known but nonetheless important episode in the history of black culture in America. The problem is that the first act, in which the emphasis is placed almost exclusively on the production numbers, is so viscerally entertaining that you can't help but feel disappointed when the dancing stops and the talking starts especially since the talking, while undeniably interesting, is for the most part undramatic, even bookish, and far too much time is spent explaining what happened to the makers of Shuffle Along after it closed. (It doesn't help that, except for Blake, most of them spent the rest of their lives trying and failing to rival its success.) As a result, the entire second half feels like an epilogue, an hour-long dying fall, and by the time it's over, the sense of letdown is palpable throughout the theater."
---
Also Read: Sissle & Blake's Original Shuffle Along Pieced Together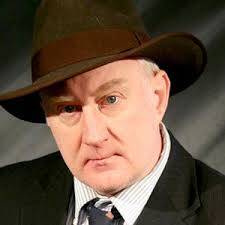 Russ Tarby is based in Syracuse NY and has written about jazz for The Syncopated Times, The Syracuse New Times, The Jazz Appreciation Society of Syracuse (JASS) JazzFax Newsletter, and several other publications.