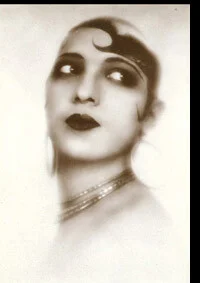 Josephine Baker
(June 3, 1906 – April 12, 1975) was born in St. Louis, Missouri. When she was thirteen she dropped out of school left home and got married but the marriage only lasted a few months before it ended.
Josephine started performing as a street musician in St. Louis and soon graduated to performing on the T.O.B.A. vaudeville circuit. In 1922 she landed a small part as a comedy chorus girl in the touring company of Sissle and Blake's musical revue "Shuffle Along".
Josephine went over well in her small role in the revue and came to the attention of Sissle and Blake. They wrote a special part for her in their 1924 production of "Chocolate Dandies". During this time period Josephine became the steady girl friend of Eubie Blake.
French producers came to New York looking to cast an all-black musical revue in Paris. They saw Josephine performing at the Plantation club and offered her a part in their production La Revue Negré. In 1925 she went to Paris to appear in in the show.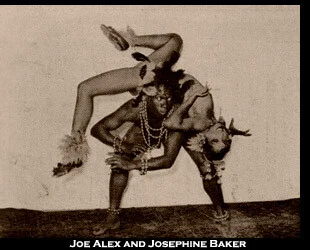 The show opened on October 2, 1925 in Paris at the Théâtre Champs-Elysées. Josephine had two numbers in La Revue Negré. In the first routine she danced a frantic version of the Charleston while accompanied by a jazz band that featured Sidney Bechet. Her second routine was the closing number of the show was called "Danse de Sauvage". It was an erotic dance that she performed with the male dancer named Joe Alex. This dance was the hit of the show and proved to be the role that would launch Josephine towards stardom in Europe.
The La Revue Negré began a tour of Europe but Josephine left the show in Berlin and returned to France, where she was offered a starring role at the famous Folies Bergère. In the show Josephine performed a dance that combined both comedy and eroticism were she wore only a skirt fashioned to look like bananas and comically crossed her eyes.
The show was a big hit and Josephine became a major star in France based on this her performances at the Folies Bergère. In 1926 Josephine made her first recordings in Paris and opened her own night club called Chez Josephine at 39 rue Fontaine in the 9th Arondissement in Paris.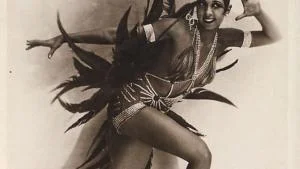 Josephine's star continued to rise in the 1930s and she became one of the biggest stars in France. In 1936 she returned to America to to star in Ziegfeld's Follies but the show was a flop and Baker broke her contract and returned to Paris disgusted with the racism that she was subjected to while in New York.
During World War II Josephine stayed in France and joined the French Air Force working with the Red Cross and performing for French and Belgian troops. During the Nazi occupation of France Josephine heroically stayed in Paris and was a member of the French Resistance.
Josephine continued to perform in the 1950s and 1960s until she suffered a heart attack in 1964. After her heart attack Josephine slowed down and only performed a more few times before her death in 1975
Title

Recording Date

Recording Location

Company

Always


(Irving Berlin)

1-1927
Paris, France
Odeon
49224
Bam Bam Bamy Shore


(Mort Dixon / Ray Henderson)

10-1926
Paris, France
Odeon
49175
Brown Eyes Why Are You Blue?


(George Meyer / Al Bryan)

10-25-1926
Paris, France
Odeon
49181
Dinah


(Sam M. Lewis / Joe Young / Harry Akst)

10-1926
Paris, France
Odeon
49172
I Love Dancing


(Spencer Williams)

1-1927
Paris, France
Odeon
166040
I Love My Baby


(Green / Warren)

1-1927
Paris, France
Odeon
49225
I've Found A New Baby


(Jack Palmer / Spencer Williams)

1-1927
Paris, France
Odeon
49226
I Want To Yodel


(Spencer Williams)

10-1926
Paris, France
Odeon
49180
I Wonder Where My Baby Is Tonight


(Walter Donaldson)

10-1926
Paris, France
Odeon
49174
Les Mots D'Amour


(Henri Varna / Pierr Paul)

11-1932
Paris, France
Columbia
DF-1070
Les Mots D'Amour


(Henri Varna / Pierr Paul)

3-1933
Paris, France
Columbia
DF-1192
Lonesome Lovesick Blues


(Spencer Williams)

1-1927
Paris, France
Odeon
166040
Madiana


(Maiotte Almaby)

3-1933
Paris, France
Columbia
DF-1192
Columbia
DB-1175
Ram-Pam-Pam


(J.H. Tranchant / A. de Vita)

11-1932
Paris, France
Columbia
DF-1071
Sans Amour


(Alex Farel / Charles Borel Clerc)

11-1932
Paris, France
Columbia
DF-1071
Sans Amour


(Alex Farel / Charles Borel Clerc)

2-1933
Paris, France
Columbia
DF-1980
Si J'etais Blanche


(Henri Varna / L. Lelievre / L. Falk)

11-1932
Paris, France
Columbia
DF-1071
Si J'etais Blanche


(Henri Varna / L. Lelievre / L. Falk)

2-1933
Paris, France
Columbia
DF-1980
Columbia
DB-1175
Skeedle Um


(Spencer Williams)

1-1927
Paris, France
Odeon
49227
Sleepy Time Gal


(Egan / Whitting)

10-1926
Paris, France
Odeon
49173
That Certain Feeling


(George Gershwin / Ira Gershwin)

10-1926
Paris, France
Odeon
49171
Who?


(Jerome Kern)

10-1926
Paris, France
Odeon
49170
You Are The Only One For Me


(Monaco / Green)

10-25-1926
Paris, France
Odeon
49181
| | |
| --- | --- |
| Artist | Instrument |
| Georges Chauvet | Tenor Saxophone |
| Jacques Fray | Piano |
| Roger Jeanjean | Clarinet |
| Victor Just | Trombone |
| Oliver | Drums |
| Jean Petit | Piano |
| Angelo Rinaldi | Banjo |
| Henry Saliès | Trumpet |
| | | |
| --- | --- | --- |
| Title | Director | Year |
| La Sirène des tropiques | Mario Nalpas, Henri Étiévant | 1927 |
| Zouzou | Marc Allégret | 1934 |
| Princesse Tam Tam | Edmond T. Gréville | 1935 |
| Moulin Rouge | André Hugon | 1940 |
| Moulin Rouge | Yves Mirande | 1941 |
| Fausse alerte | Jacques de Baroncelli | 1945 |
| An jedem Finger zehn | Erik Ode | 1954 |
| Carosello del varietà | Aldo Bonaldi, Aldo Quinti | 1955 |
Jazz Cleopatra; Josephine Baker In Her Time, by Phyllis Rose, Doubleday, 1989
Naked At The Feast; The Biography Of Josephine Baker, by Lynn Haney, Robson Book, 1981
Josephine, by Josephine Baker and Jo Bouillon, Translated by Mariana Fitzpatrick, 1976
In Search of Josephine Baker, by John Kirkby Abraham
Josephine Baker by Patrick Hammond and Bryan O'Connor
The Josephine Baker Story by Ean Wood