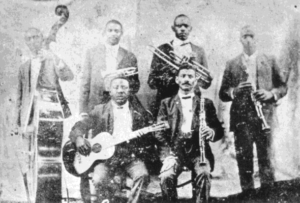 Buddy Bolden
The year was 1887. Buddy Bolden moved into a shotgun double, that signature New Orleans residence, he was ten years old.  Located at 2309 First Street it was two blocks from a parade route. Within hearing distance of the cities best marching bands. His church was down the street offering a different kind of music. Bolden would take in both practicing his cornet out on the stoop of the house because his playing was to powerful to be cramped up in doors. Music was everywhere in his neighborhood. The same Central City neighborhood that produced King Oliver and Kid Ory. He absorbed it all and what came out of his horn changed the way the instrument was played forever. Many say that Bolden, and his popular band, were the progenitors of Jazz. He continued to live in the house until he was institutionalized by his mother in 1906.
The House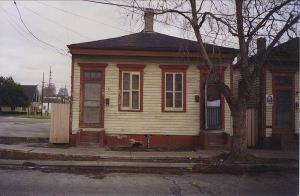 The small unassuming house was lived in as recently as the years following Hurricane Katrina as can be seen in this picture. Then in 2008 it was purchased by a church wishing to expand their parking lot and a long saga began.
The Greater St. Stephen Full Gospel Baptist Church was unaware of the significance of the property at the time of purchase. When preservationists alerted them of its historic nature they started to make plans to restore and utilize the structure. But within a few months a fire damaged the main church building, and the congregation, dislocated across town, has yet to rebuild.
The Bolden house fell by the wayside. It's been boarded up and white washed, stripped of it's outdoor electric panels and left to sit in the damp New Orleans air. Citations for neglect were received in 2011 and 2014. A citation for "Demolition By Neglect" was issued this year. A hearing with the city on that charge is still pending.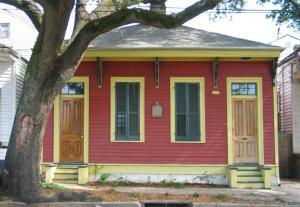 Preserving History
Efforts have been made to save the building, which received landmark designation in 1978. The Preservation Resource Center (PRC) lists the building as one of it's top priorities. They've saved other famous homes in the city by purchasing and rehabbing them to be sold to investors in the residential market. Kid Ory's house was a crack den slated for demolition when the PRC rehabbed it.
At some point around 2014 the PRC attempted to connect the church with a buyer for the property and was rebuffed.  A representative of the church stated at the time that "We plan to bring the Bolden house back into commerce, and we are exploring how to document the influence of spiritual music and the music of Buddy Bolden's day. We want to honor it. And we're going to do it by doing more than putting a plaque on the home."
Four years later nothing has been done. The church recently submitted plans to turn their fire damaged building into a community center. A group of preservationists attempted to convince City Hall to compel the church to include rehab of the Bolden home in it's plans. So far nothing has happened.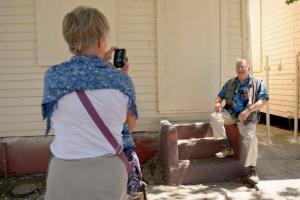 What To Do
The city can prevent the church from tearing the building down but as long as it is boarded and sealed there is little else they can do. Some believe the neglect is intentional. That the "Demolition by Neglect" they were recently cited for is the church's plan.
Busloads of tourists visit this boarded up house. What message about New Orleans are they taking home with them? The City used eminent domain to destroy Louis Armstrong's childhood home to build city hall. His birthplace was demolished for a court building. Most of the old Storyville district is now parking lot. New Orleans does not have a good record of preserving its past. The money to restore this abandoned structure is already waiting or easily found. Saving what could be called the birthplace of jazz should be a priority for the city government. They should use eminent domain if necessary.
Related: Colin Hancock: Bolden and Beyond
---
---
This is what our print edition feels like. If you want good news to read with your morning coffee, order a print subscription. You'll get full online access to our archives, web extras, and our next issue will arrive at your door. Online only access to all of our original material is also available! Support Hot Jazz Journalism- Subscribe
Subscription Options
---
Or get the Print Edition with Online Access. To get the print edition of The Syncopated Times use this Paypal link. After you pay you will be issued a coupon for free online access.