Checking on the status of the few festivals scheduled to take place during the remaining months of 2020 is akin to reading the final chapters of Agatha Christie's classic mystery, And Then There Were None. The Sun Valley Jazz & Music Festival (October 14-18) is only the latest to announce cancellation of their event for 2020.
The Historic Sutter Creek Ragtime Festival is happening. According to Festival Director Stevens Price, writing just before we send the paper to press: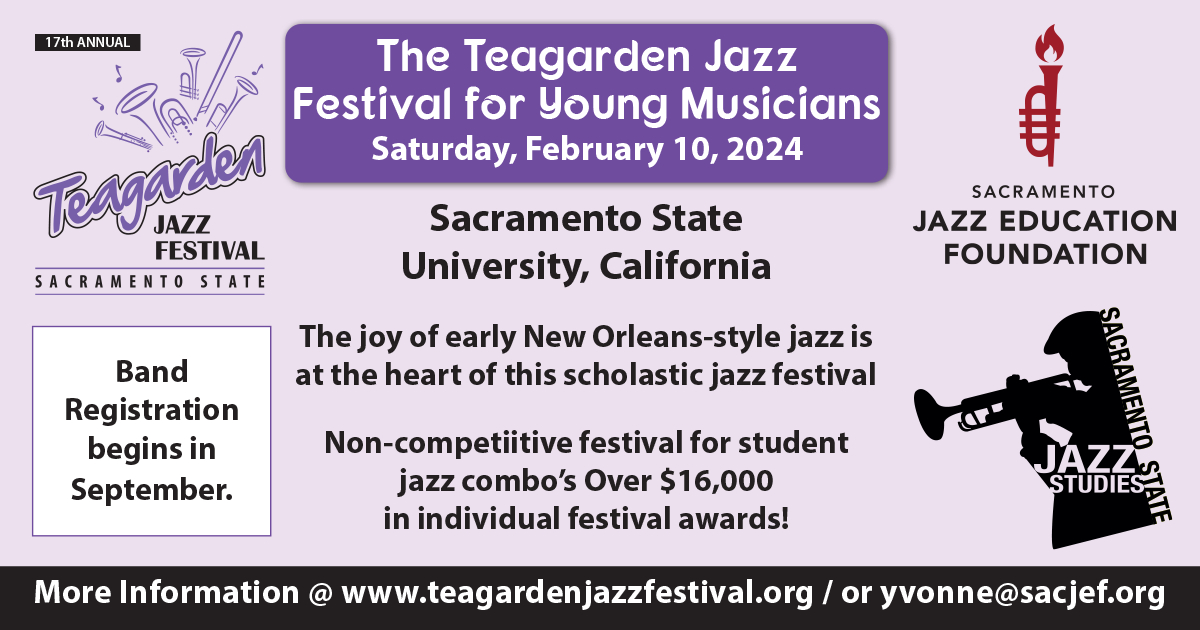 "We are going to have a one-day festival on Saturday, August 15, at the Hillel Sutter in downtown Sutter Creek. With two pianos at the venue, music from 10-5, a break for dinner, and mini concert from 7-8:30. There is a 30-person maximum occupancy in the banquet room so we will be a small festival. We will have custom masks and will have T-shirts available.
"Performers are Paul Orsi, Michael Chisholm, Elliott Adams, Anthony Sarginson, Julia Riley, and Stevens Price.
"Our theme this year: 'A Ragtime Pandemic.'"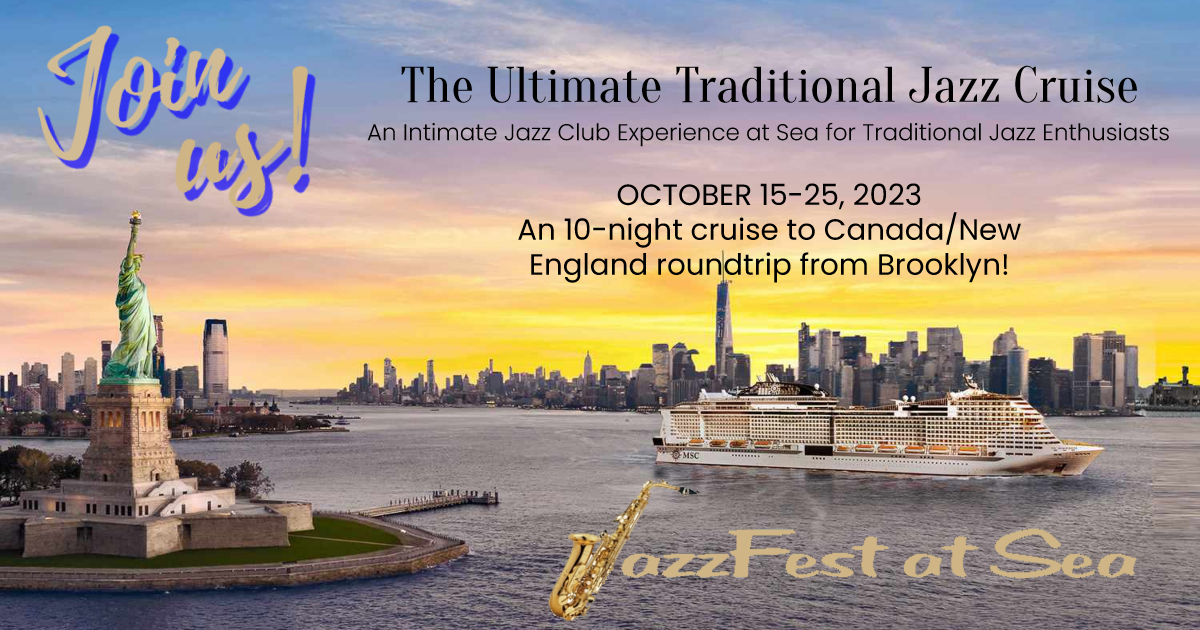 Two other festivals in the West are still hopeful of being able to present live music performed by live musicians before entertainment-starved fans before the end of the year.
Responding to our inquiry, Arizona Classic Jazz Festival director Helen Daley replied, "We're still planning on the Festival November 5-8 at the San Marcus Resort in Chandler. I have the playing schedule ready, and it will be released soon. We will follow any and all legal regulations. I am prepared with masks, hand sanitizer, wipes for equipment, and gloves for those wanting to dance. There are enough gloves to wear only once so nothing can be transferred from one dancer to the next. The hotel is still accepting reservations.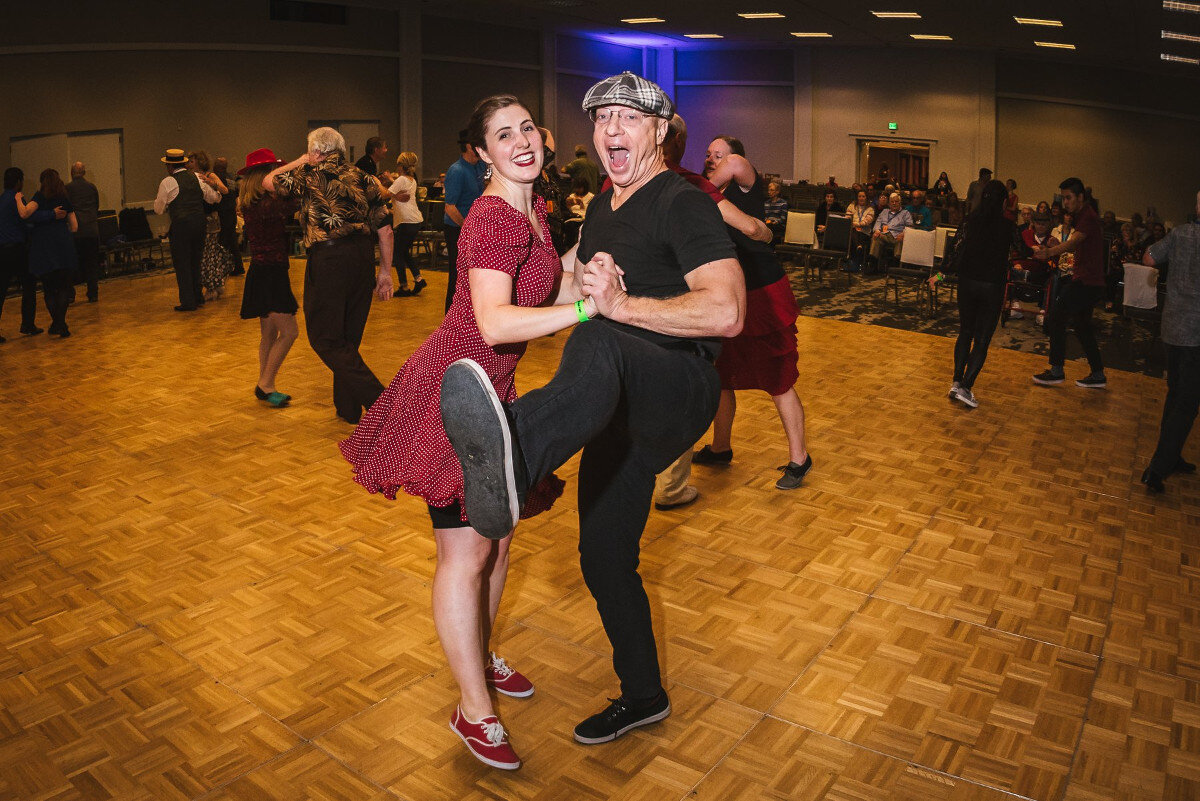 "Actual sales are a little lower than normal, but our cutoff date for the rise in price is August 15. A lot of interest has been expressed through emails and phone calls. We are still receiving co-sponsorship donations."
AFCDJS vice president Bob Solsbak stated that "all options are being weighed regarding the Thanksgiving weekend festival in San Diego November 25-29," and a decision is expected to be made on or before September 1, based on the Town & Country Hotel's plans/rules as well as up-to-date CDC guidelines and state mandates.
Sun Valley Statement
In notifying musicians and patrons, co-directors Carol and Jeff Loehr wrote, "So it has finally happened. It is with heavy hearts we write to tell you that on July 17th, we were informed that our annual October Sun Valley Jazz & Music Festival will not be possible this year.
"We wish this was not the case, and we know you feel the same way. Like all of you, we have been holding our breath waiting to know if the music was going to happen this year. While this did not come as a huge surprise, we had hoped that we might be able to at least put on a small private sponsor party. Even that is not possible in light of the current Covid activity in the state of Idaho.
"Obviously the festival has incurred the normal expenses since last October with purchased airline tickets which we hope can be changed, phone bills, website stuff, brochures and mailings, new dates on our street banners, advertising and on and on and on. This will present a challenging situation moving forward, so we will be reevaluating what the future looks like for 2021. Just know that we still want to continue doing what we all love."
"Devastating Effect" of Pandemic
As with so many industries, the impact of the pandemic has had a devastating effect on the entertainment industry and the individual musician. A New Yorker decried, "Broadway is closed until 2021. Cirque du Soleil is filing for bankruptcy and has cut 3,500+ jobs. Feld Entertainment laid off 90% of its workforce permanently. Cruise ship entertainers are out of work. There are no concerts or touring productions.
Performing arts organizations of all kinds—choirs, theaters, orchestras, dance companies—are all trying to figure out how to keep going and employ anyone they can in the field. With 12 million people employed in the United States, this $38 billion per year industry cannot reopen until mass gatherings can once again be held."
The impact on jazz clubs and venues is being replayed in every U.S. major city and was candidly illustrated when Spike Wilner, partner and manager of two New York City clubs, wrote early in the lockdown:
"Both Smalls and Mezzrow have been closed for 100 days. All my staff has been laid off. Our medical insurance policy has been cancelled. Key members of my highly competent and experienced staff have permanently left the city and the country. The PPP loan we got from the government has now been completely spent, and not only are we now further in debt, but scrambling for resources.
"The landlords have been unrelenting in demanding rent for months. Our insurance company is claiming that Covid is exempt from our claim for loss of income from disasters, regardless of the fact that we specifically insured against that. Mezzrow's is a mess, uncleaned and abandoned for months."
Smalls is now open on a limited basis.
Evan Christopher reports, "Presently, in New Orleans, we can perform live music in public by acquiring a special event permit. The max is 100 people with one security detail per 50 people, and our music can technically only be as loud as a vacuum cleaner."
Responding to those who feel that wearing a mask infringes on their personal rights, one musician responded, "We are helplessly watching our industry crumble before our eyes because the country is doing so poorly at reducing the spread. It is incomprehensible that some people don't take this virus seriously, and that by their actions, are putting lives—including their own—in danger. This is VERY PERSONAL for us. I can only say 'Thank you for keeping me unemployed!'"
The National Association of Music Merchants plans to go forward with its annual trade show at Anaheim, California January 21-24, 2021. A letter to its 1,500 exhibitors stated:
"Some have suggested we sit out January and wait until 2022 when the picture will be clearer. However, the majority have shared the importance of getting the trade together to help the industry recover and rebuild. We are working with federal, state, and local health agencies and have retained a medical doctor on our planning team to ensure that we take every possible precaution and follow all known best-practices for social distancing, hygiene, and enhanced facility cleaning. We believe that an industry that comes together to face adversity head-on will be more resilient in the face of the many challenges ahead."
Attendance at the 2020 NAMM show was 115,000.
New Economics of the Music Industry
Even before the disruption of the Pandemic, the economics of the music industry have radically changed over the past two decades. Ever since the Internet became a reality along with the latest developments in web technology, music could be shared for free. Young people, in particular, have essentially stopped paying for music since the 1990s. Many pundits thought this would be the demise of the music industry, but the industry has defied all odds, and under normal circumstances, continued to find new ways to monetize their product.
Here are some examples to give us non-techies an idea of what is happening in the industry:
• Streaming: Music streaming has become the norm. Consumers have access to free songs through apps like Spotify, but have to contend with advertisements, or can pay $10 a month to listen to their favorite music ad-free.
• Product Placement: Music videos have also become an important part of the revenue strategy. Producers often tie up with brands and promote their products in the videos.
• YouTube Monetization: The success or failure of a song is now gauged by the number of YouTube views and provide creators ways to monetize their content.
• Licensing: Although not a sizable source of revenue, composers can license their songs to corporations to use in advertisements.
• Touring: While music can be downloaded for free, there are still a considerable number of music enthusiasts who will pay money to see and hear their favorite artists perform live.
• Merchandising: Money can be made by the sale of merchandise like clothing or other items worn by the artists when performing.
• Royalties: Finally, artists and music producers are entitled to royalties if their music is played on music channels like VH1 and MTV or the radio.
The bottom line is that while few people pay to buy music in the 21st century, there is still money to be made in new and various ways to compensate for the loss of revenue from the sale of audio cassettes and CDs.