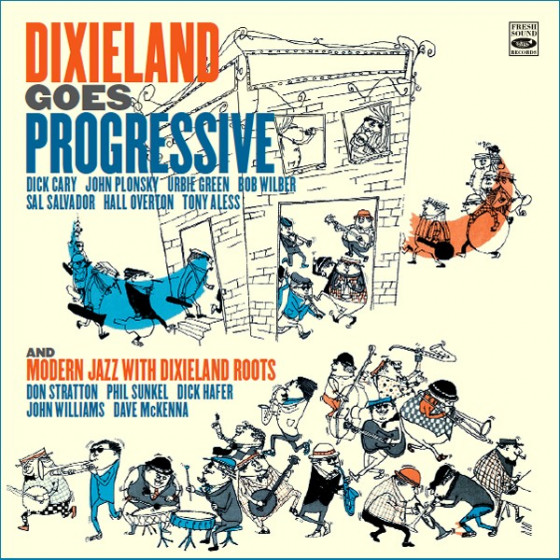 With the popularity of Dixieland throughout the 1950s, there were occasional attempts to "update" the music and place the repertoire in a different setting. A CD from the Fresh Sound label combines together the music from two former 1950s LPs titled Dixieland Goes Progressive and Modern Jazz With Dixieland Roots.
The former set is split between two bands and arrangers. Dick Cary, who was the original pianist with the Louis Armstrong All-Stars, worked with Eddie Condon and had plenty of experience in Dixieland, often tried to move the music forward in his arrangements. Utilizing a nonet that includes clarinetist Bob Wilber, trombonist Urbie Green, and a variety of modernists, he makes such songs as "Mahogany Hall Stomp," "Muskrat Ramble," and an eccentric "That's A Plenty" sound as if they were written for the cool jazz scene of the 1950s. The music shifts back and forth between conventional solos and adventurous written-out ensembles. Trumpeter John Plonsky leads a similar octet on modernized versions of such songs as "Royal Garden Blues," "High Society," and "Way Down Yonder In New Orleans," while taking "The Saints" in a more traditional manner.
The Modern Jazz With Dixieland Roots also has two groups but with more of an emphasis on jammed ensembles although closer to the style of Gerry Mulligan and Chet Baker than to Louis Armstrong. Trumpeter Don Stratton heads a quintet with tenor-saxophonist Dick Hafer through cool (rather than hot) versions of "Black Bottom," "Sunday," and three other songs. Trumpeter Phil Sunkel's date has him with a quintet that also includes Stratton on second trumpet and pianist Dave McKenna. They come up with some interesting variations to "Charleston," "Royal Garden Blues," "Yesterdays," and a couple of swinging originals.
"Progressive Dixieland" never caught on, but 60 years later the music still contains colorful surprises.
Dixieland Goes Progressive and Modern Jazz With Dixieland Roots (Fresh Sound FSR-950, 22 selections, TT = 68:35) www.freshsoundrecords.com