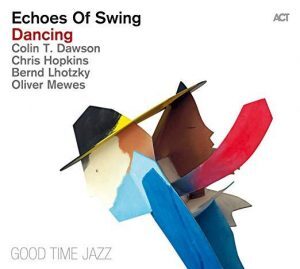 Echoes of Swing is a European quartet comprised of Colin T. Dawson on trumpet and occasional vocals, altoist Chris Hopkins, pianist Bernd Lhotzky and drummer Oliver Mewes. Its music ranges from swing that hints at the John Kirby Sextet (with Dawson and Hopkins influenced by Charlie Shavers and Russell Procope) and the flavor of New Orleans jazz to 1950s cool-toned West Coast jazz and bits of freer moments.
Their recent CD Dancing is filled with some surprising levity, effortless switches between styles, colorful originals (including a tribute to Willie "The Lion" Smith) and radical reworkings of such songs as "Charleston" (which is turned into a waltz), "All You Want To Do Is Dance," "Moonlight Serenade," and "Original Dixieland One Step."
Although the group would benefit from the inclusion of a string bass (the use of the bass drum really does not compensate) and the handful of vocals are forgettable, Lhotzky's versatile piano playing (which sometimes finds him breaking into heated stride) and the solos and interplay of the two horns make this a spirited, inventive and worthy release.
Dancing (ACT 9103, 16 selections, TT = 61:36) www.actmusic.com