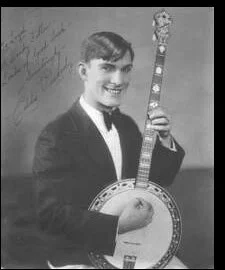 Eddie Peabody
(February 19, 1902 – November 7, 1970), the "King of the banjo", was not only a superb banjoist but also a great showman who really defined how plectrum banjo could be played "chord melody" style. He reached national fame in America during the mid 1920's by recording for many companies and offered them a cheap way of producing a record by playing melody, initially alone with a singer and later with piano accompaniment and singing himself . Eddie started to develop his unique solo technique as early as 1920, soon after he left the U.S. Navy submarine service. Although known as a solo artist, he also toured with his pal banjo playing Jimmy Maisel and during the mid 1920's conducted and performed with his own band. Popular songs of the day were very good for the banjo repertoire, "Ain't she sweet?", "Ice cream, you scream!", "Bye, bye blackbird", etc, are all standards now in the American song book.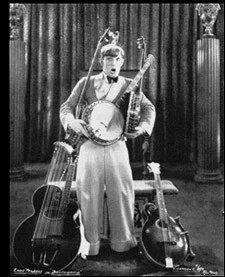 Eddie was among the very first artists in 1927 to record with the "new" medium of film with sound, known as "talkies", and he made several movie shorts, initially for Vitaphone, for general cinema distribution including "Banjomania", "Syncopating Sensation", "Banjoland", "Eddie Peabody's College Chums" (with Hal Kemp's Collegians Orchestra) "Strum Fun" and "Peabody's Banjo School". The effect of this new form of entertainment was dramatic and Eddie's popularity rapidly spread from coast to coast. His appearances on radio programmes over WJZ in New York and subsequently the NBC network took his performances to every home with a radio coast to coast and he performed nightly at the famous singer Rudy Vallee's nightclub, the "Villa Vallee" whilst in the city.
He visited England from 1929 until 1931 and again from 1937 until 1939, making several recordings whilst there for the Columbia and Decca companies. During his trips to England he helped to promote the banjo by visiting BMG clubs (Banjo, Mandolin and Guitar clubs) which were very active in the years up to the Second World War. He consequently toured across Europe before returning to the USA shortly before the outbreak of the Second World War. In 1941, when the U.S.A entered the war, Eddie became a morale / entertainments officer for the U.S. Navy. He already held the rank of commander and he was subsequently engaged to play shows in conflict areas to bring the servicemen "a touch of home".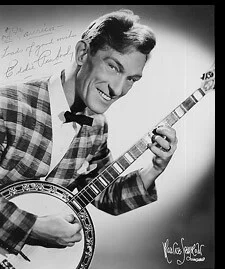 When the war was finished, Eddie went about restarting his concert career. Most of the Vaudeville halls had closed down and musical tastes had changed dramatically. However, in 1948, "I'm looking over a four leafed clover", a hit from the 1920's, was resurrected by the Art Mooney Orchestra and it became a runaway hit, creating interest in both nostalgic music and the banjo. DOT records capitalised on this by signing Eddie and he made over half a dozen albums for them up until the early 1960's even producing albums of how to play the banjo. He kept employed for the rest of his life by taking his act into the many cabaret / supper clubs that were popular at the time. Eddie actively promoted the banjo and remained in the entertainment business all of his life and it must be remembered that in the days before Earl Scruggs and bluegrass music, the banjo was synonymous with Eddie Peabody. His very last concert was in 1970 at a supper club called "The Lookout House", where he suffered a stroke during his act. He passed away the next morning in hospital, leaving a musical legacy that plectrum banjo players still cherish today.
Submitted and prepared by Sean Moyses. See www.SeanMoyses.com . Recording details researched from the book "The Banjo On Record" by Lotz and Heier. Further recommended reading "The Eddie Peabody Story", by Lowell H. Schreyer.

| | |
| --- | --- |
| Eddie Peabody and his Band | Eddie Peabody and his Dance Orchestra |

Title

Recording Date

Recording Location

Company

At Sundown


(Walter Donaldson)

6-6-1927
New York, New York
Banner
6042
Oriole
973
Apex
8628
Regal
8367
Domino
4005
Starr
10260,
Leonora
10260


7302

Baby Face


(Benny Davis / Harry Akst)

7-13-1926
New York, New York
Banner
1822
Regal
8141
Domino
3804


6710

Bam, Bam, Bammy Shore


(Mort Dixon / Ray Henderson)

10-26-1925
New York, New York
Banner
1647
Domino
3618
Regal
9953


6262

Beale Street Blues


(W.C. Handy)

10-14-1925
New York, New York
Banner
1646
Domino
3617
REgal
9952
Blaze Away
10-31-1931
London, England
Columbia
DB-661
Columbia
FB-1951
Columbia
DO-584
Regal
G-24351


CA-12141-1

Brown Eyes Why Are You Blue


(Alfred Bryan / George W. Meyer)

10-12-1925
New York, New York
Banner
1625
Domino
3596
Bye, Bye Blackbird
Vocal refrian by Billy Jones


(Mort Dixon / Ray Henderson)

10-1926
New York, New York
Banner
1808
Regal
8111
Domino
3779


6695-4

Bye, Bye Blues


(Hamm / Bennett / Lown / Grey)

10-16-1930
New York, New York
Banner
869
Oriole
2120
Regal
10175


10139

Carry Me Back To Old Virginny


(Stephen Foster)

3-6-1925
New York, New York
Gennett
5683
Gennett
3031
Gennett
3864


9385-A

Cecilia


(Herman Ruby / Dave Dreyer)

8-19-1925
New York, New York
Imperial
1535
Banner
1590
Regal
9890
Domino
3561
Silvertone
2560


6129

Charleston Mad
(Lovie Austin)
11-21-1925
New York, New York
Banner
1665
Domino
3635
Regal
9971
National Music Lovers
1137
Collegiate


(Nat Bonx / Moe Jaffe)

6-23-1925
New York, New York
Imperial
1493
Banner
1572
Regal
9872


6062

Deed I Do


(Walter Hirsch / Fred Rose)

12-1926
New York, New York
Banner
1900
Domino
3871
Regal
8216-A


6971

For My Sweatheart


(Gus Kahn / Walter Donaldson)

12-1926
New York, New York
Banner
1900
Domino
3871
Regal
8216-A


6972

Hallelujah


(Robin / Grey)

6-1927
New York, New York
Banner
944


7300

Happy Highways
11-15-1929
New York, New York
Banner
9161
Oriole
1807
Ida, Sweet As Apple Cider


(Eddie Leonard)

6-6-1927
New York, New York
Banner
6017
Oriole
944
Regal
8367
Domino
4005


7301

If I Had A Talking Picture Of You


(Buddy De Sylva / Lew Brown / Ray Henderson)

11-20-1929
New York, New York
Banner
0580
Regal
8920
Domino
4475


9188-3

I Love My Baby


(Bud Green / Harry Warren)

1-1926
New York, New York
Banner
1718
Domino
3689


6415

I'm Coming Virginia


(Will Marion Cook / Donald Heywood)

6-7-1927
New York, New York
Victor
20839


39226-3

I Miss My Swiss
(My Swiss Miss Misses Me)
Vocal chorus by Arthur Fields


(Abel Baer / L. Wolfe Gilbert)

8-10-1925
New York, New York
Banner
1590
Imperial
1512
Regal
9890
Domino
561
Apex
8396
Silvertone
2560
Starr
2560


6128-1

I'm Sitting On Top Of The World


(Sam M. Lewis / Joseph Young)

12-21-1925
New York, New York
Banner
1682
Domino
3653


6352

Indian Love Call


(Harbach / Hammerstein / Friml)

11-20-1931
London, England
Columbia
DB-812
Columbia
FB-2100
Columbia
DO-744
Columbia
DW-4681


CA-12200-1

Indian Dawn Minnetonka


(Roos / Zamecnik)

3-6-1925
New York, New York
Gennett
5688


G09387

I Wonder Where My Baby Is Tonight


(Gus Kahn / Walter Donaldson)

11-26-1925
New York, New York
Banner
1664-B


6302-1

Just A Crazy Song
10-31-1931
London, England
Columbia
DB-702
Columbia
DO-617


CA-12142-1

Lambeth Walk
6-29-1938
London, England
Decca
F-6729
Decca
X-1583


DR-2774-1

La Paloma


(Yradier)

12-10-1931
London, England
Columbia
DB-930
Columbia
FB-1738
Columbia
DO-884


1931CA-12267-1

Londonderry Aire
12-10-1931
London, England
Columbia
DB-769
Columbia
DO-700


CA-12269-1

Loveable And Sweet


(Oscar Levant / Sidney Clare)

11-15-1929
New York, New York
Banner
0553
Cameo
0153
Imperial
2213
Imperial
1690
Domino
4463
Regal
8808
Romeo
1172


9146

Lucia Di Lammermoor-Sextette
11-20-1931
London, England
Columbia
DB-719
Columbia
DO-646


CA-12193-1

Mary Lou


(Lyman / Waggner / Robinson)

1926
New York, New York
Regal
8195-A
Me And My Shadow


(Rose / Jolson / Dreyer)

5-13-1927
Los Angeles, California
Victor
20699-A


39234

Many Happy Returns Of The Day


(Al Dubin / Joseph Burke)

10-31-1931
London, England
Columbia
DB-661
Columbia
DO-584


CA-12143-1

Mary Lou


(Abe Lyman / George Waggner)

10-1926
New York, New York
Banner
1880
Domino
3851


6892

Melody in F
12-10-1931
London, England
Columbia
DB-769
Columbia
FB-1951
Columbia
DO-700
Regal
G-24351


CA-12266-1

Never Too Busy For You
10-16-1930
New York, New York
Banner
869
Oriole
2120
Regal
10175


10140

Oh Boy, What A Girl!


(Green / Bessinger / Wright)

10-12-1925
New York, New York
Banner
162S
Regal
9928
Apex
8424
Domino
3596
Starr
10083
Leonora
10083


6226-1

Oh Say, Can I See You Tonight?
Vocal chorus by Arthur Fields
6-24-1925
New York, New York
Banner
1573Domino
35436


6064

Old Timer's Medley
8-10-1925
New York, New York
Banner
2117
Imperial
1492
Domino
694 0142
Regal 9891
Apex
8405
Olympic
1438
Silvertone
2561
Starr 10068
Leonora
10068


6127-2

Paddlin' Madelin' Home
10-27-1925
New York, New York
Imperial
1535
Banner
1642
Domino
3618
Regal
9953
Silvertone
2699
Oriole
515
Painting The Clouds With Sunshine


(Al Dubin / Joseph Burke)

10-22-1929
New York, New York
Pathe
21214
Perfect
11287
Imperial
1740
Poet And Peasent Overture


(Franz von Suppe)

10-12-1925
New York, New York
Regal
9929
Piccolo Pete


(Phil Baxter)

11-15-1929
New York, New York
Cameo
0152
Imperial
2213
Imperial
1689
Domino
4463
Regal 8908
Romeo
1174
Rhapsody In Blue


(George Gershwin)

12-10-1931
London, England
Columbia
DB-812
Columbia
FB-1738
Columbia
DO-744
San 'N' Blue


(Henry Davis / Harry Akst)

6-9-1927
New York, New York
Victor
20699-B
Sextet From Lucia


(Gaetano Donizetti)

12-10-1931
London, England
Columbia
DB-930
Columbia
DO-884
Columbia
DW-4681


CA-12268-1

Show Me The Way To Go Home


(Irving King)

11-26-1925
New York, New York
Banner
1664-A


6301-2

Some Of These Days


(Shelton Brooks)

11-20-1931
London, England
Columbia
DB-713
Columbia
FB-1987
Columbia
DO-834
Oriole
1744


CA-12198-2

Some Of These Days


(Shelton Brooks)

8-10-1925
New York, New York
Banner
6042
Oriole
973
Regal
8344
Domino
3983
Silvertone
1544


CA-12198-2

Southern Medley
8-10-1925
New York, New York
Banner
2117
Imperial
1492
Domino
1492


6126-3

Spanish Shawl


(Elmer Schoebel / Billy Meyer)

12-22-1925
New York, New York
Banner
1734
Domino
3705


6353

St. Louis Blues


(W.C. Handy)

10-14-1925
New York, New York
Banner
1646
Domino
3617
Regal
9952
St. Louis Blues


(W.C. Handy)

5-13-1927
New York, New York
Victor
20698
St. Louis Blues


(W.C. Handy)

11-20-1931
London, England
Columbia
DB-713
Columbia
FB-1987
Columbia
DO-834


CA-12196-1

Strike Up The Band


(George Gershwin)

7-9-1938
London, England
Decca
F-6752


DR-2793-1

Sweet Child


(Al Lewis / Richard Whiting)

1-1926
New York, New York
Banner
1718
Domino
3689


6415

Sweet Thing


(Williams / Kahn / Verges)

1926
New York, New York
Regal
8195-B
Sweet Man


(Roy Turk / Maceo Pinkard)

11-21-1925
New York, New York
Banner
1665
Domino
3635
Regal
9971
National
Music
Lovers
1137
Sweet Thing


(Gus Kahn / Joseph Williams)

10-1926
New York, New York
Banner
1880
Domino
3851


6893

That Certain Party


(Gus Kahn / Walter Donaldson)

1-1926
New York, New York
Banner
1702
Domino
3672


6416-2

That Tumble Down Shack In Athlone


(Richard W. Pascoe / Monte Carlo / Alma M. Sanders)

3-3-1925
New York, New York
Gennett
5683
Gennett
3864


9375-A

The Doll Dance


(Nacio Herb Brown)

5-13-1927
Los Angeles, California
Victor
20698


CA-12141-1

Then I'll Be Happy


(Cliff Friend / Lew Brown)

12-21-1925
New York, New York
Banner
1682
Domino
3653
Regal
9989


6351

This Is The Day Of Days
10-31-1931
London, England
Columbia
DB-702
Columbia
DO-617


CA-12144-1

Tiptoe Through The Tulips


(Al Dubin / Joseph Burke)

10-22-1929
New York, New York
Pathe
21214
Perfect
11287
Imperial
1739
Banner
6565
Oriole
1745
Regal
8886
Cameo
9316
Lincoln
3340
Romeo
1148
Vocalion
500
Broadcast
W 635
Kristall
S071
Cristal
5060
Angelus
3172
Banner
6564
Oriole
1744
Domino
4437
Regal
8886
Cameo
9317
Lincoln
3341
Romeo
1149
Apex
41054
Crown
81239
Vocalion
500
Angelus
3171


9074-5

Ukulele Lady


(Gus Kahn / Richard Whiting)

6-23-1925
New York, New York
Imperial
1493
Banner
1572
Regal
9872
Silvertone
2558
Apex 8379
Domino
3544
Starr
10045
Leonora
10045


6061

Valencia
Vocal refrain by Billy Jones


(Jose Padilla / Clifford Grey)

7-1926
New York, New York
Banner
1808
Regal
8111
Domino
3779


6694-1

Where'd Ya Get Those Eyes?


(Walter Donaldson)

7-13-1926
New York, New York
Banner
1822
Regal
8141
Domino
3804


6063

Who?


(Jerome Kern / Otto Harbach)

1-1926
New York, New York
Banner
1702
Domino
3672


6417-3

Yellow Dog Blues


(W.C. Handy)

12-22-1925
New York, New York
Banner
1734
Domino
3705


6353

Yes Sir! That's My Baby


(Gus Kahn / Walter Donaldson)

6-3-1925
New York, New York
Imperial
1512
Banner
1573
Regal
9873
Domino
3543
Silvertone
2559
Brunswick
1573


6063

You Don't Like It – Not Much


(Ned Miller / Art Kahn / C.Cohn)

6-9-1927
New York, New York
Victor
20839


39235-3
| | | |
| --- | --- | --- |
| Title | Director | Year |
| Banjomania | Vitaphone | 1927 |
| Syncopating Sensation | Vitaphone | 1928 |
| Banjoland | Vitaphone | 1928 |
| Shoestring Follies | Vitaphone | ? |
| Eddie Peabody's College Chums | Adolph Zukor | 1929 |
| Hollywood On Parade | | 1932 |
| The Lemon Drop Kid | Marshall Neilan | 1934 |
| Pirate Party on Catalina Isle | Alexander Van Horn | 1935 |
| Hula Heaven | Leslie M. Roush | 1937 |
| Rainbow's End | Roy Mack | 1938 |
| Strum Fun | William Forest Crouch | 1943 |
| Eddie Peabody and Sonny Burke's Orchestra | Will Cowan | 1951 |