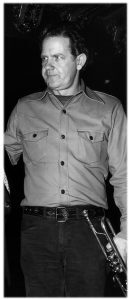 EVERETT "EV" FAREY, 88, April 4, Novato CA. In the 50's he was co-leader of the Bay City Jazz Band, led the Golden State Jazz Band and played with the Port City Jazz Band, the Gold Coast Jazz Band, and many others. He recorded on Turk Murphy's album Dancing Jazz as well as with Bob Helm's Riverside Roustabouts. A 2012 release of material recorded in 1955 finds him with the Jim Leigh El Dorado Jazz Band.
He was an accomplished and influential trumpeter bringing a relaxed style influenced by Lamar Wright of the Bennie Moten Band. He was featured in The Trumpet Kings: The Players who Shaped the Sound of Jazz Trumpet (2001) edited by Scott Yanow. He frequently played at Burp Hollow, a San Francisco center of Dixieland into the mid 60's and was a key player in the Bay Area revival.
Ev continued to contribute to the Dixieland scene into his 80's performing over the years with various groups including Canal Street, Bob Helm's Jazz Cardinals, Jelly Roll Jazz Band, Monterey Bay Stompers and Port City Jazz Band. He traveled the world to festivals and was admired for both his playing and his good cheer.
He was predeceased in 2008 by his wife Margaret, a native of England whom he met while stationed there after the war. She served as a hostess at Earthquake McGoon's, home of the Turk Murphy Jazz Band, and made sure the Farey home was always welcoming to anyone who came through the door.
Also read: Ev Farey saved my life.