"A seamy hole in the wall on Broadway — the booming entertainment strip of North Beach— this joint was near the bottom of the long list of jazz rooms flourishing in San Francisco around 1960."
Clarinet player Bill Carter, 2014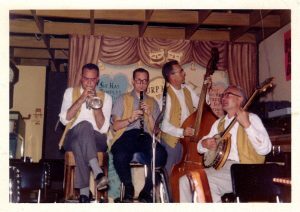 Here is the tale of a colorful jazz nightclub and low dive. Musicians cringe when reminded of the name Burp Hollow. They remember the bad pay and tiny stage, watered-down booze and unsavory club owner — a wheel chair-bound former Mafioso. The venue is recalled ruefully for its ridiculous four-by-six-foot dance floor and the confusing "Bob Mielke Bearcats Dixie Jazz" sign on the wall regardless of who was playing. But the insistent sound of lively Dixieland jazz was a magnet to the nighttime sidewalk foot traffic on Broadway near Columbus in the crowded entertainment district of North Beach.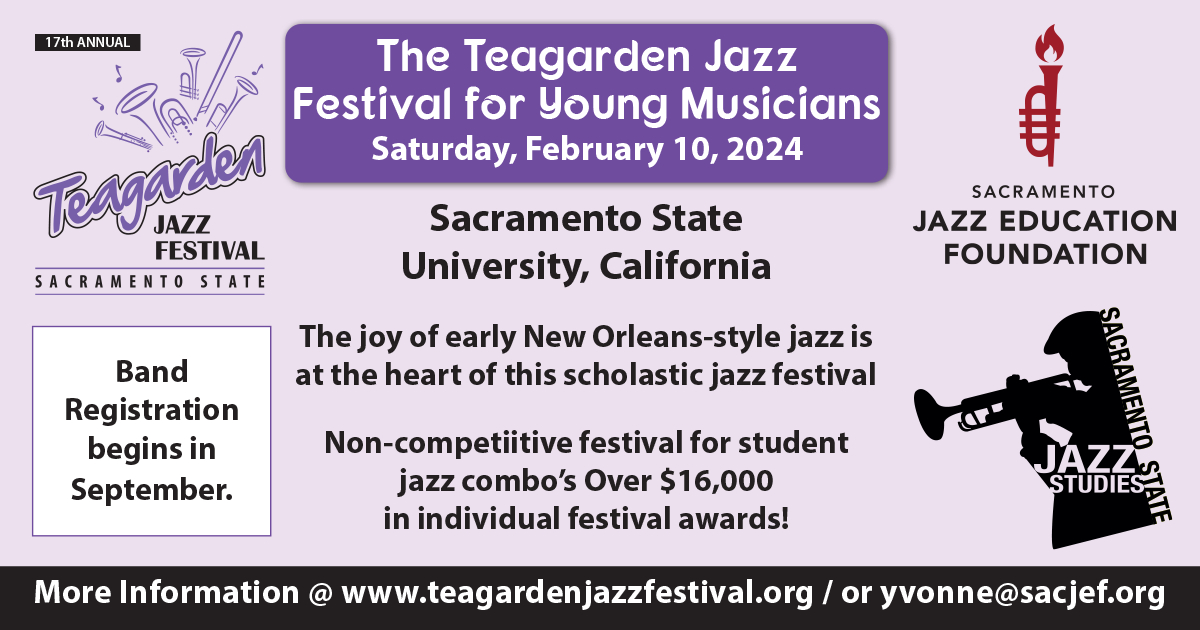 Burp Hollow might have passed quietly into colorful San Francisco legend if not for the discovery of photos and audiotapes preserving performances by bright talents of the Frisco Jazz Revival, fortified by the recollections of musicians and fans. The strongly contrasting Revival jazz styles heard in the recovered audio featured below is distributed along a two-beat vs. four-beat axis. This tale of infamy is corroborated by musicians Bob Mielke and Ted Butterman. 
Runkle's Review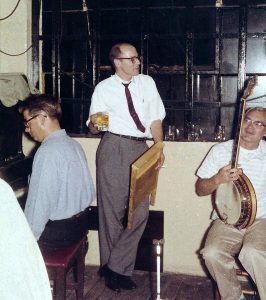 In a self-published 1978 monograph, Bay Area Jazz Clubs of the Fifties, jazz super fan and washboard player Brett Runkle put Burp Hollow in the category of "beer-and-peanuts joints." This was a triple entendre. Free peanuts encouraged beverage consumption. Musicians were paid only a few bucks, or "peanuts." And free beer for the musicians was a major component of their compensation. Runkle described clubs that were "pitched to college kids or singles in their early twenties" with "sawdust on the floors and Greek letters on the walls."
Besides beer and wine, the club sold hard liquor, though the cocktails were highly suspect and notoriously weak. "The Burp could stretch one bottle of booze over about 200 drinks, so it was smart to order beer," advised Runkle.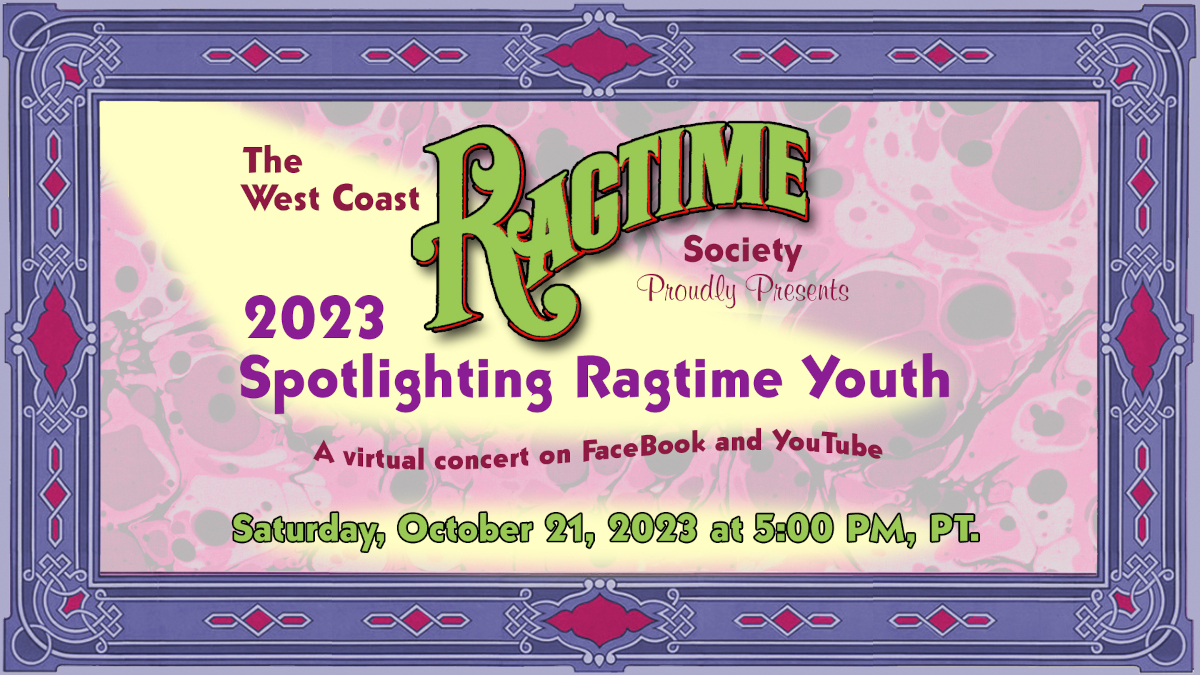 The meanest of dives, Burp Hollow had a singular appeal: the music. Yet the accounts of Runkle and others suggests a memorable slice-of-life zest: "They hired The Bearcats, various Oxtot combinations and also Le Sharpton's group. Almost everybody worked or sat-in there in the next eight or ten years."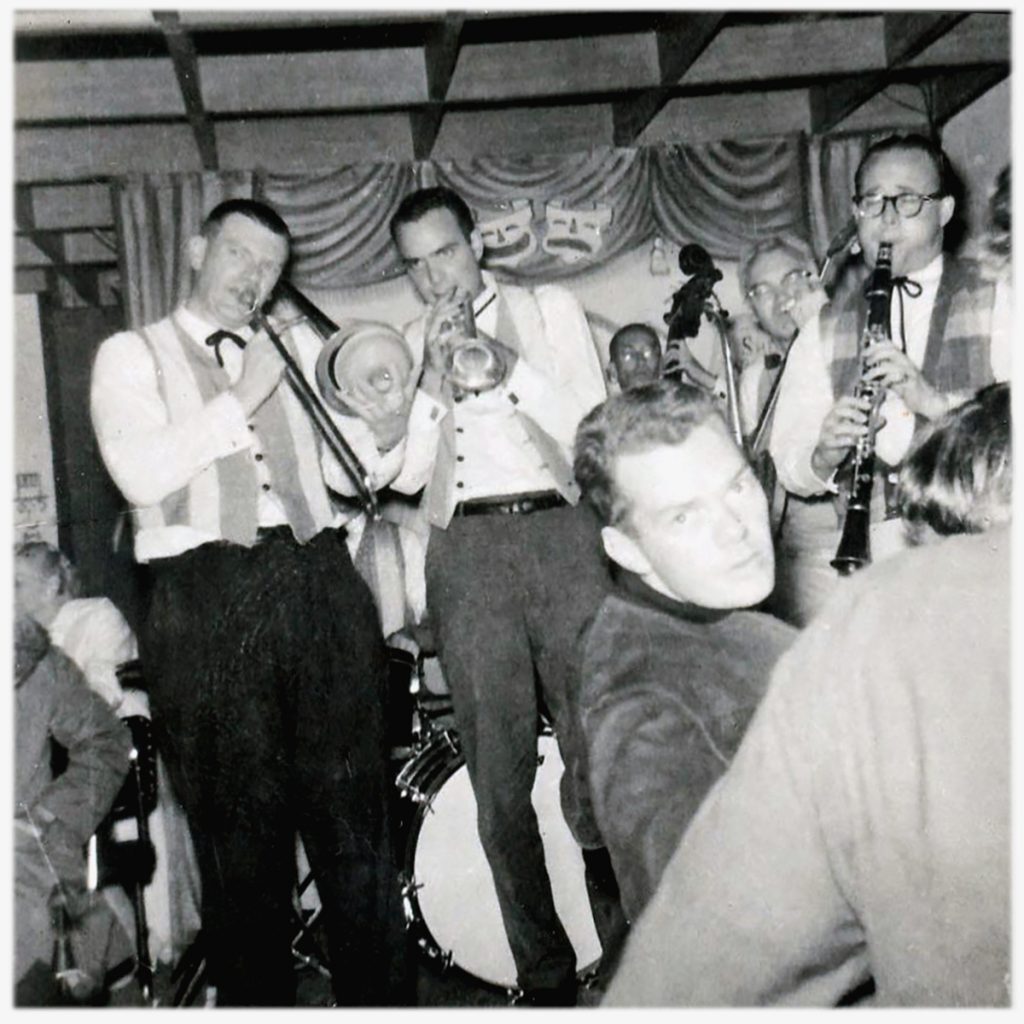 The Infamous Manikin
The most vivid feature of the venue was an attractive feminine decoy positioned quite visibly at the bar. "I remember the first time I played there," writes trumpeter Ted Butterman, "I saw this gorgeous girl sitting on the first stool as you walked in." Reports Runkle: "A gorgeous manikin sat at a barstool as a come-on for male tourists. A hard-bitten jazz hound once bought it a drink. (Very embarrassing!)."
Recalling the jaunty figure, horn player Ev Farey chuckled: "She was actually pretty, a lifelike manikin. . . . her legs were crossed and she's sitting reading the paper. And she fooled a lot of people. You stand on the stage and you can see her. Guys would come in, turn and start to say something and then realized . . . She was wearing a cap, a hat. It was pointed I seem to remember. She was pretty funny."
Millio Militti, Baby!
Nearly as infamous was club owner, Millio Militti. Musicians found him cheap, bossy and untrustworthy. "I do remember his being a little gruff," says Butterman and Oxtot's union contract for performing up to four nights per week stipulated the band be paid "nightly."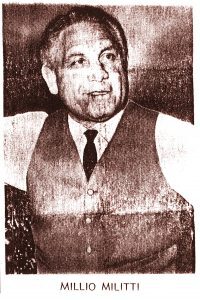 Interviewed for a San Francisco newspaper in 1965, the flamboyant Sicilian-American claimed to have been a contender for the welterweight boxing title in the 1930s. But the story that he was, "hit by a bullet in an accident that left him paralyzed" didn't quite add up. "Baby, there's a bad page in everyone's life, and that was mine."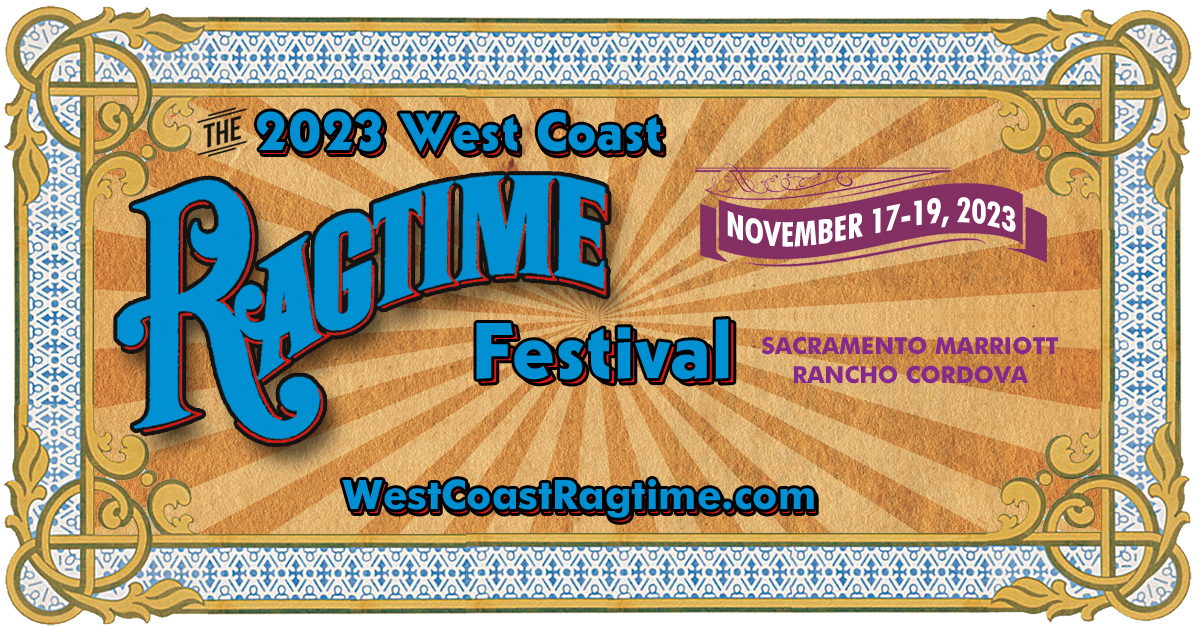 Apparently, the shooting was related to his former mafia activities in the Midwest. Fleeing to the Coast, he managed to put together and operate Burp Hollow with the help of close family and friends for nearly a decade. There was a persistent rumor that he kept a firearm under the blanket that was always on his lap.
Militti explained the manikin. Sure, she was a draw for single male convention-goers, merely a conversation starter for making friends. When the reporter commented on his tending bar in a wheelchair he retorted, "That's right, baby, and I can move pretty fast. That place is my life, and people are beautiful."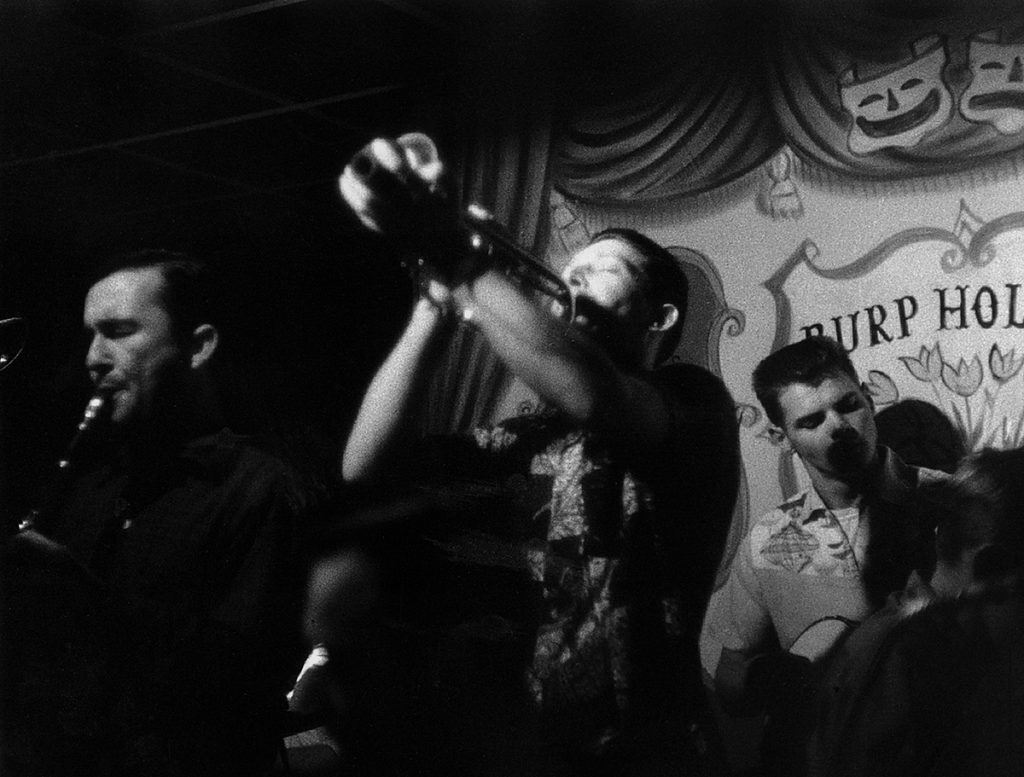 Battle of the Bands: Two-beat vs. Four-beat Style
Of course, it's silly to propose this as a battle of the bands. Many of these cats knew and worked together in both styles for years. Yet there is truth to the notion of a Frisco vs. East Bay musical split.
In general, San Francisco musicians preferred two-beat rhythms with tuba and banjo. By contrast, the East Bay and Berkeley crowd favored a New Orleans Revival four-beat rhythm driven by string bass mixed with jazz elements from Kansas City, Harlem and mainstream Swing.
As cornet player Ev Farey put it, "The East Bay was a real hotbed of four-beat jazz at that time. The San Francisco people were largely two-beat." But the dichotomy went deeper: "Most of those [East Bay people] were playing music for a living and were constantly on the go. Not all of them but a lot of them. People like myself, and most of us on the [San Francisco] side, were all working for a living and squeezing in music where it was possible."
After Lu Watters' Yerba Buena Jazz Band disbanded in 1950, several Traditional Jazz ensembles emerged in the Bay Area to keep the two-beat jazz style alive. Among them were Bay City Jazz Band  (co-led by Ev Farey) and Great Pacific Jazz Band. Ensembles like these carried forward the romping Yerba Buena spirit in a continuing wave for decades, though often lacking the two-cornet lineup.
Original Inferior Jazz Band
San Francisco-based Original Inferior Jazz Band (1953-64) played the stompy tuba and banjo format that was wildly popular in San Francisco from 1940 to '50. Loud, brash and salty, the band played at Burp Hollow from 1958-64. They had excellent soloists, a raucous sense of fun, good ensemble spirit and powerful dynamics steeped in Jazz of the 1920s interpreted Watters-style. They made no commercial records and no photographs have surfaced.
This was one of several ensembles created by cornet player and bandleader Frank Goulette in the Yerba Buena mold. Emulating Yerba Buena they utilized two banjos. Their self-effacing name likely referred to an early New Orleans jazz ensemble – the Original Superior Jazz Band.
While 'The Burp' was a medium sized club (according to Runkle) it had a tiny stage and smaller dance floor. This seven- or eight-piece lineup must have been a tight squeeze, and LOUD in the Yerba Buena tradition. Unfortunately, this recovered archaeological audio simply cannot transmit the huge crescendos and dynamic acoustic force generated by a band of this size and level of commitment.
Original Superior Jass Band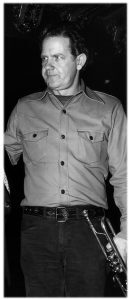 An occasional variant of this same band called itself Original Superior Jass Band. Subbing for Goulette on this session was cornet player Ev Farey 
(1929-2018) who demonstrates good taste and skill in both solo and ensemble passages. The band steps lively through "South," a staple of the Traditional Jazz repertoire. Despite an awkward ending, the charming group vocal of "Bill Bailey" could not be omitted.
Everyone shines on a grand rendition of "Black and Blue." It demonstrates why trombone player Bill Bardin (1929-2011) — comfortable in either two-beat or four-beat style — was held in awe by his contemporaries. John Boland, a Johnny Dodds-inspired clarinetist, shines on "Cakewalkin' Babies" which despite being incomplete contains a crackerjack horn duet.
For a portion of this session cornet player Ernie Carson sat-in adding a second horn. "Come Back Sweet Papa" is a nicely voiced tribute to their spiritual and musical inspirations, King Oliver's Creole Jazz Band of 1922-23 (via the Yerba Buena Jazz Band).  Staying in two-horn mode, they push full–throttle through "Snake Rag."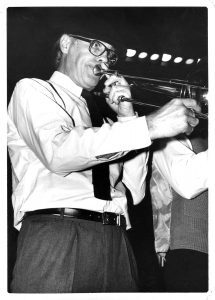 Original Superior Jass Band
Burp Hollow, San Francisco 9/62:
(What Did I Do to Be So) Black and Blue 
Cakewalkin' Babies (from Home) 
Dick Oxtot's Stompers, 1959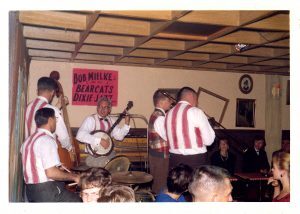 The ubiquitous Dick Oxtot (1918-2001) was an excellent gig getter, bandleader and vocalist who played banjo, cornet and bass (tuba and string bass). He was heard all over the greater San Francisco Bay Area leading bands, sitting-in or anywhere Bob Mielke and The Bearcats deployed. In the early days before the early-1970s, the names of his bands were fluid — the Polecats, Oxtot's Stompers or sometimes the Golden Gate Stompers – as was the constantly shifting lineup of his groups.
"Uncle Dick" (aka "The Silver Fox") also ran sessions several nights a week at The Bagatelle over on Polk Street, featuring Louisiana-born African American clarinet players Frank "Big Boy" Goudie or Clem Raymond on Sunday afternoons. Oxtot ran a Folk Music harmony trio successful enough to have appeared at the hungry i nightclub a few steps away and could also be found sitting-in at Pier 23 jam sessions on the nearby waterfront
In contrast to the stomping Frisco two-beat sound, this lineup was essentially Bob Mielke and The Bearcats with their swinging four-beat rhythm orientation. Yet, more than simply The Bearcats under Oxtot's leadership. Oxtot's group possessed a chemistry of its own — thanks in part to having Bill Erickson, rather than P.T. Stanton, on trumpet. Still, the Oxtot band retained the basic Bearcats formula, mixing New Orleans ensemble parts with Kansas City-style riffing, riding on a swinging four-beat rhythm structure.
The classic Bearcats rhythm element was provided by Oxtot (banjo), Pete Allen (string bass) and drummer Max Leavitt. Mielke had only a supporting role in this group, despite owner Militti's ongoing intentional misuse of his name.
Clarinetist Bill Napier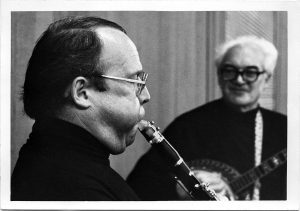 If there was a star of this ensemble clarinet player Bill Napier (1926-2003) filled the role. He's given generous solo time on almost every tune, making eloquent statements in a range of moods. Bill was a brilliant hot jazz musician whose influences included reed players Jimmy Dorsey, Jimmie Noone and New Orleans natives Barney Bigard, Omer Simeon and Albert Nicholas.
Napier was among the finest clarinetists produced by the Frisco revival, playing imaginative parts with vivid tone colors. His surprisingly delicate and risky improvisations teetered on the precipice of disaster yet never failed. Owlish and self-contained, he was close with these musicians for more than half a century.
Bill Erickson Leading on Horn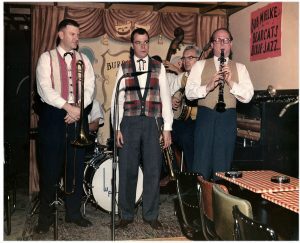 The lead horn of Bill Erickson (1929-1967) shaped this loosely structured group. He offered clear direction in his own hard-to-categorize trumpet style. Bill was neither selfish nor shy, didn't show off, paired up for riffs behind the soloists and supported the ensemble. He loved 'trading fours' (two or more musicians swapping solos every four bars) which is vividly demonstrated in "The Love Nest."
Trumpet playing was only a fragment of Erickson's manifold musical gifts. He was best-known as a local piano player leading combos and jam sessions on both sides of San Francisco Bay, most notably a couple nights a week at Pier 23 on the nearby Frisco waterfront and at the Monkey Inn in Berkeley. Yet Bill was also a comprehensive musician, multi-instrumentalist, arranger and composer who some called "Willie the Master."
Erickson's shocking suicide in 1967 and lack of a recorded legacy combined to quickly dissolve the memory of this local genius. This 1959 performance may be the only surviving example of his trumpet playing after the 78-rpm era.
"Back in Your Own Back Yard" illustrates Bill's clean trumpet technique and declarative execution. The drummer was most likely Max Leavitt – and though he was not usually part of this posse, it's probably Max singing the laconic "Blues Jumped A Rabbit." Louis Armstrong introduced the gentle "Song of the Islands" to jazz in 1930, though Erickson's interpretation owes more to Bix Beiderbecke.
These were basically pretty simple head arrangements — a series of solos with lively ensemble ride-out choruses. Yet for instance, "Original Dixieland One-Step" shows structure in the skillful voicing of the horns and riffing behind the soloists which was characteristic of the Berkeley ensembles.
Dick Oxtot Stompers, Burp Hollow, San Francisco 1959
Erickson, Napier, Mielke, Oxtot, Allen, Marchant
Tiger Rag (incomplete) 
The Oxtot Stompers Quartet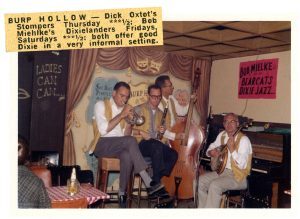 This sweet quartet version of Oxtot's Stompers features trumpeter Ted Butterman and clarinetist Bunky Colman. Filling out the combo was the killer two-man rhythm section of Pete Allen and Dick Oxtot that could swing any ensemble without need of drums or piano.
A bright young talent, Bunky Colman was the first-chair clarinet player in Bob Mielke's Bearcats Jazz Band. He created a distinctive personal sound incorporating elements of New Orleans, Chicago, and Swing clarinet styles. Not long after these sessions, he left professional music to become a physician (but returned often as a welcome guest).
Briefly on the Frisco jazz scene, Ted Butterman had a fluid cornet style and was a brilliant jazz musician and improviser. For a while he was a card-carrying member of the Mielke-Oxtot gang. But Ted soon moved back to his native Chicago where he enjoyed a long music career, including more than three decades leading the Chicago Cubs Dixieland Band.
Colman, and especially Ted Butterman, were uncanny at trading 'fours' — swapping musical phrases every few bars. Captured like lightning-in-a-bottle, the effervescent variations of "Should I?" demonstrate their clairvoyant flow when trading 'fours,' 'twos' and even 'ones' until the cows come home. Sung by Oxtot, "Bully of the Town" was one of many songs he adapted from the rural string band tradition to jazz.
Oxtot Stompers Four Burp Hollow, San Francisco c. 1959
Butterman, Colman, Oxtot, Allen
China Boy – Oxtot Stompers Four 
Make Me a Pallet on The Floor – Oxtot Stompers Four 
Bully of the Town – Oxtot Stompers Four 
Should I? – Oxtot Stompers Four

North Beach Babylon and Jazz Ecosystem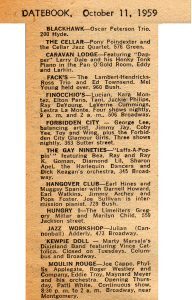 From 1956 to '66 a generation of jazz musicians in and around San Francisco were intensively engaged in reviving, reinventing and advancing America's most original art form. By about 1960, the entertainment establishments in North Beach made it a prosperous world-class destination attracting jet-set tourists, beatniks and hustlers.
Across Broadway from The Burp, Carol Doda's Condor Club introduced Topless dancing. Finocchio's down the street featured female impersonators. At the hungry i, unconventional comedians Mort Sahl and Lenny Bruce were injecting sharp social commentary into their acts. Beat poetry, Blues and Folk music flourished in the coffee houses and hipster bars.
Nearby were several now-famous venues offering Classic Jazz: Club Hangover, Earthquake McGoon's, On the Levee and Pier 23. Noted Farey: "I counted one time. There were a dozen [clubs] within a mile radius of Broadway. Scobey had a club. There was an Italian restaurant right on the corner of Broadway and Kearny, and then it turned into a jazz club. There was the Sail 'N down the street."
The biggest names in jazz appeared at the brand-name North Beach nightclubs — Basin Street West, Copacabana Club, The Blackhawk, The Purple Onion, El Matador or the Macumba. Yet scattered among the headliner clubs was a thriving Revival/Traditional/Dixieland jazz culture. It was sustained by a surplus of excellent musicians, avid fans and dives like Burp Hollow. At the same time in the North Beach district, fresh new voices were emerging in Modern Jazz.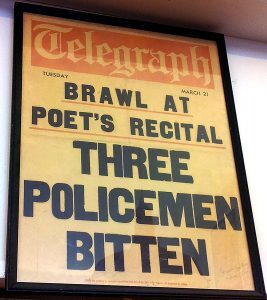 Sustaining a Jazz Habitat
During the late-1960s and into the 1970s Revival Jazz venues in North Beach gave way to strip joints, Topless bars, Comedy clubs — and increasingly, Rock music. The distinctive and formerly popular Frisco Jazz sound became an endangered species, surviving only in niches like Turk Murphy's Earthquake McGoon's club, the 1890's-styled tourist bars, tiny Pier 23 or a few select jobs at the large downtown hotels.
The formation of jazz societies like the New Orleans Jazz Club of Northern California became necessary to sustain a habitat. The proliferation of these organizations cultivated a flowering of jazz festivals, band showcases, monthly dances, jam sessions and youth bands where the music flourished for decades. Fans and musicians easily forgot about Burp Hollow and the beer-and-peanuts joints of its ilk with their sawdust-covered floors.
But thanks to a handful of surviving tapes, photos and recollections we can revisit North Beach circa 1960. There — at a crowded little gingham-topped table, hosted by a shady operator and presided over by a comely manikin — the best of Frisco Jazz was served up with a dubious cocktail at the infamous Burp Hollow.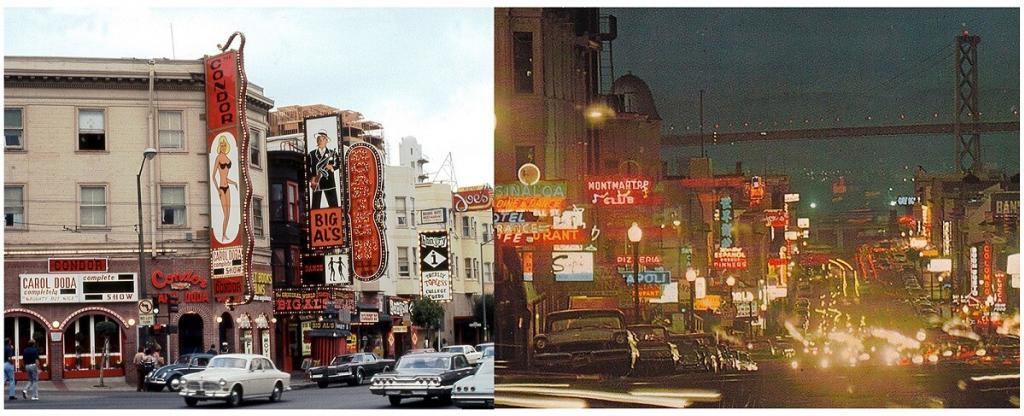 Based on interviews, correspondence or discussions with Ted Butterman and Bob Mielke (who vetted this manuscript), Bill Carter, Ev Farey, Dave Greer and Earl Scheelar who provided memoires, audio or photos. Original Superior recording made by Ed Sprankle. Thanks to Hal Smith for music consultation and assistance.
These exclusive images and performances are destined for preservation at the Stanford Libraries archives in the Dave Radlauer Jazz Collection documenting Bay Area jazz history.
Links:
Burp Hollow tapes on Jazz Rhythm 
Bill Erickson Archive on Jazz Rhythm 
North Beach – Wikipedia