Don't miss the downloadable vintage audio files at the bottom of this article.
---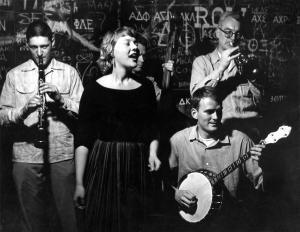 In Berkeley, California the Monkey Inn (1956-66) was central to the second wave of the great Frisco jazz revival. At this popular beer and pizza joint, East Bay musicians played five nights a week. The performers included trombonist Bob Mielke, bandleader and multi-instrumentalist Dick Oxtot, cornet and clarinet player Earl Scheelar, singer Barbara Dane and Bill Erickson, who was a superb but little-known piano player and session leader (featured in part two).
Various bands and ad hoc groups performed including Bob Mielke's bands, Le Sharpton's New Orleans Band and others. Notably, the traditionalist Great Pacific Jazz Band also played the venue through the middle of 1960. Bill Erickson was the default house pianist equally adept at playing solo piano or leading combos.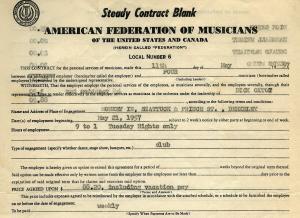 The boisterous tavern opened onto busy Shattuck Avenue through the audibly swinging saloon doors next to the upright piano; Erickson was forced to fend off patrons trying to use it for a trash receptacle. Musician Earl Scheelar relates that when a menacing motorcycle gang once showed up, the musicians packed their instruments and left. The occasional clang of a dinner bell called out food orders.
According to Mielke, the place had sawdust on the floor and could "get a little rough." Bob says it was a hangout for UC Berkeley students and "fraternity guys out on their first beer benders. It got pretty rowdy sometimes." Though observer Dave Greer less charitably called the crowd "a pack of little thugs."
Dick Oxtot (cornet)
An unmatched gig-getter, Oxtot was a professional musician his entire adult life, proffering "Vintage music with Style" on both sides of San Francisco Bay. An excellent singer, he also played good tuba and string bass. It's often forgotten that Dick Oxtot started out playing jazz cornet in the 1940s. But he gradually shifted to banjo for health, aesthetic and professional reasons during the 1950s.
Oxtot continued playing horn occasionally into the early 1960s. He had a straightforward and unadorned manner on cornet with a natural feeling for the Blues. Dick frequently played at the Monkey Inn, though he is not heard on many of these tapes.
Earl Scheelar (cornet, clarinet)
Earl Scheelar is a dedicated proponent of New Orleans music. Few transmit the Blues on cornet or clarinet with greater conviction, passion or eloquence. A self-taught musician, his technique and personal style are distinctive.
Scheelar's Johnny Dodds-inflected New Orleans-via-Southside-Chicago clarinet style provided steady support for any ensemble. His cornet tone was heartbreaking, and he was always ready with a piquant solo or moving chorus of the Blues on either instrument.
Earl often "doubled" on cornet and clarinet, switching between the two in performance. Today Scheelar feels that he was still developing his craft and style on the Monkey Inn tapes. Yet he demonstrated notable potency, balance and clarity switching between the instruments in sessions backed only by Bill Erickson (piano) and Bret Runkle (washboard).
Bret Runkle (washboard)
Bret Runkle was a Dixieland, Traditional and Revival Jazz super-fan. His tasteful washboard playing brought a bright and supportive rhythm element to Berkeley music ensembles. An avid habitué of the local jazz bars and dives, in 1978 he self-published a monograph called "Bay Area Jazz Clubs of the Fifties." Today it's a useful source of stories and data about the nightspots where these bands flourished.
Runkle played washboard briefly with the Great Pacific Jazz Band writing, "In 1960 I jeopardized my amateur standing by working jobs with the Great Pacific once or twice . . . they tried without success to teach me to read music and play drums."

Barbara Dane (vocalist)
Barbara Dane started as a Folk singer. Dick Oxtot first got her in front of Mielke's Bearcats Jazz Band just a few years earlier at the Lark's Club. A lifelong associate of these musicians, she made many albums, toured and sang in nightclubs.
Dane had a volume and intensity sufficient to blend with or lead any ensemble. She recorded with visiting New Orleans clarinetist George Lewis in 1956 and music critic Leonard Feather dubbed her "Bessie Smith in stereo."
Walter Yost (cornet)
Hearing Walter Yost play cornet was a rare treat; he had a lovely sound but was known almost exclusively for his excellent jazz tuba chops. But because it was harder at the time to find good tuba players than good cornetists or trumpeters, Walter was in constant demand to play tuba for the East Bay jazz ensembles of Dick Oxtot, Earl Scheelar, Ted Shafer or P.T. Stanton.
Yost had an appealing cornet style with a light touch. Though he was no Beiderbecke imitator, the influence is unmistakable. His clean, clear bell-like tones are placed with care and little Bixian flourishes that echo the moody genius.
Earl Scheelar suggests that Walt stuck to the tuba in part because he lacked the confidence to play lead horn. But Yost transcended those inhibitions when blowing cornet in supportive circumstances, like the informal atmosphere at Monkey Inn or parties at the local Berkeley Jazz houses.
Bob Mielke (trombone)
Bob Mielke led the popular Berkeley-based Bearcats Jazz Band in the 1950s and '60s. Emerging as one of the most imaginative trombonists of the Frisco revival, Bob kept things interesting by being brave enough to take the unexpected musical pathway. He became the best-known figure of East Bay revival jazz for more than a half century.
Mielke synthesized his own style with elements from Kid Ory's New Orleans tailgate trombone tradition, the Harlem swing of J.C. Higginbotham and vox humana of Ellington's "Tricky Sam" Nanton. His exemplar for playing New Orleans ensemble trombone parts was George Brunis on Muggsy Spanier's 1939 Ragtime Band records.
Le Sharpton (string bass)
Le Sharpton's New Orleans Band played at the Monkey Inn several nights of the week. Lelias "Le" Sharpton played very good string bass and trombone. He worked with Oxtot, Scheelar, and others on both sides of San Francisco Bay. Le also recorded (playing bass) with visiting New Orleans clarinetist George Lewis in 1956.
Sam Charters (banjo, vocal)
Sam Charters eventually became well known for his music research, writing and producing historic Jazz and Blues albums. As a resident of the Bay Area in the late 1950s, he often worked with musicians who played at the Monkey Inn.
Bill Erickson (piano)
For a decade Bill Erickson was a central player in Bay Area Jazz, a catalyst for good times and great music. A brilliant musician with formal musical training, he played excellent piano, very good jazz trumpet and several other instruments. Something of a raconteur and showman, he sang, composed, led combos and was a deft arranger, earning him the nickname "Willie the Master."
Bill was skilled at setting the stage for others to shine. He'd previously worked playing piano for trombone players Kid Ory and Jack Sheedy in San Francisco. He ran the popular jam sessions at Pier 23 on the San Francisco waterfront during the early 1960s. And he was a substitute horn player in Bob Mielke's Bearcats and related ensembles.
Erickson was almost totally undocumented on commercial discs. The Monkey Inn tapes open a window on his rarely-recorded keyboard talent and are among the few surviving examples of his dazzling but hard-to-categorize piano style. Bill's brilliance is undeniable, despite the sad and poorly tuned piano.
Great Pacific Jazz Band
For about six months during 1960, the Great Pacific Jazz Band paid homage to Lu Watters' Yerba Buena Jazz Band at the Monkey Inn. (The YBJB was the definitive sound of the Traditional Jazz Revival from 1940 to 1950). The Great Pacific group was co-led by pianist Robin Wetterau and horn man Charlie Sonnanstine — veterans of the Dayton, Ohio-based Dixieland Rhythm Kings.
Wetterau was clever, handsome, charismatic and influenced by Wally Rose, the former Yerba Buena Jazz Band pianist and noted Ragtime proponent. Unfortunately, the band produced no records or commercial albums.
Robin and Charlie wrote out 200 full-scale arrangements of obscure Traditional Jazz tunes and band originals like "Chelsea On Down" and "Great Pacific Stomp." The charts were subsequently passed around and utilized widely by various bands, especially Ted Shafer's Jelly Roll Jazz Band with some of these same musicians.
In later years, jazz preservationist Joe Spencer became friendly with Charlie and Robin, developing a keen understanding of the band:
"The GPJB never really evolved into its full potential due to a lack of gigs. Robin Wetterau and Charlie Sonnanstine both worked for a piano shop in San Francisco and tried to find gigs. Monkey Inn was probably the steadiest — for several months, but often they only had one cornet.
Following the early Watters mold, Robin and Charlie actually planned from the outset to have two banjos in the band. Possibly reflecting their sense of humor, or poor spelling, the Banjo parts in the arrangements are labeled 'Banji'."
There was vigorous overlap and cross pollination among the musicians of Great Pacific, the famed Bay City Jazz Band, and the Monkey Inn gang. These musicians all had overlapping associations in multiple ensembles and styles of music.
The Legend of Monkey Inn
In the late 1950s and early 1960s, the Monkey Inn was a focal point for traditionalist music in the San Francisco East Bay – an unintimidating gig where emerging talent could gain experience and hone their chops. For decades Mielke, Oxtot, Scheelar, Yost, Dane, and Mielke were the nucleus of an East Bay contingent in the lively second wave of the great San Francisco Jazz revival.
When the Monkey Inn closed in 1966, Rock music was displacing Dixieland at venues catering to college-age music fans. Since 1975, the location has been La Pena Cultural Center – a performance space, restaurant, and Berkeley community resource.
Excepting the Great Pacific ensemble, these musicians built an independent Jazz sound that was not based on the two-beat, two-cornet approach of groups such as the Bay City Jazz Band. At the smoky, rowdy, collegiate Monkey Inn, some of the finest musicians from this branch of the great Frisco Revival fashioned their own interpretation of early New Orleans, Chicago, Kansas City, and Classic Jazz.
---
Article based on interviews, discussions and correspondence with Barbara Dane, Dave Greer, Richard Hadlock, Bob Mielke and Earl Scheelar. Thanks to all for tapes, photos or memories. Warm thanks to Joe Spencer for the Great Pacific Jazz Band audio, images and expertise. Thanks to Hal Smith for music consultation and assistance.
The Monkey Inn photos, audio and Runkle's monograph are from the personal collections of Mielke, Scheelar and Oxtot. Their vast personal libraries of graphics, audio and ephemera are destined for the Stanford Libraries music archive as part of the Dave Radlauer Jazz collection.
Monkey Inn Audio Artifacts
These selections are culled from many hours of audiotapes recorded at the Monkey Inn, mostly by enthusiasts Alvin and Barbara Bryant or using their Ampex tape deck and Telefunken microphones. The tape reels were preserved for decades through the efforts of Bob Mielke, Bill Raynolds, Earl Scheelar and Dick Oxtot.
Oxtot, Scheelar, Sharpton, Charters, Dane c. 1958
Dick Oxtot (cornet), Earl Scheelar (clarinet), Sam Charters (banjo, vocal Eh La Bas), Le Sharpton (string bass), Barbara Dane (vocal)
Earl Scheelar Clarinet and Cornet (doubling) 1/62
Earl Scheelar (cornet, clarinet), Bill Erickson (piano), Bret Runkle (washboard)
Cakewalkin' Babies (From Home)
Yost, Scheelar, Erickson, Runkle (Mielke) 2/3/62
Walter Yost (cornet), Earl Scheelar (clarinet), Bill Erickson (piano), Bret Runkle (washboard).
I Ain't Gonna Give Nobody None of my Jelly Roll
Monkey Inn Set A 2.3.63 complete
Add Bob Mielke (trombone)
You Always Hurt the One You Love
When Erastus Plays his Old Kazoo
Monkey Inn Set B 2.3.63 complete
Great Pacific Jazz Band 1960
This music was taped by Ed Sprankle, who extensively documented this and similar ensembles who never made records. A man of many parts, Ed was a noteworthy amateur jazz recordist, piano-roll enthusiast, record producer, and a good banjo player.
Charlie Sonnastine (1st cornet), Frank Goulette (2nd cornet), Roy Giomi (clarinet), Sanford Neubauer (trombone), Robin Wetterau (piano), Lee Valencia and Tito Patri (banjos), Bill Carpender (tuba), Lloyd Byassee (drums) 4/10/60
Substitute: Phil Howe (clarinet), Walter Yost (2nd cornet) 10/14/60 & 10/20/60
RELATED ARTICLES:
Runkle "Bay Area Jazz Clubs" Berkeley 1978