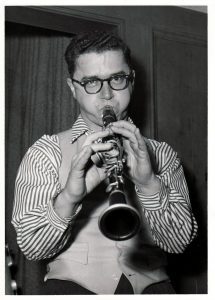 Frank Chace was admired for his expressive clarinet style in a lineage from Chicago jazz of the 1920s and '30s. Little-known but intensely creative, his brilliance is confirmed by fresh a trove of rare tapes presented here. They were collected by drummers Wayne Jones and Hal Smith and provided by Smith who provided them. They are also found at an online audio archive presenting the music and story of Frank Chace.
Recovering a Legacy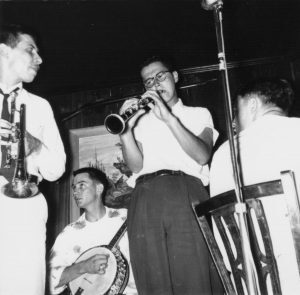 For decades, the persistent rumor of a brilliant Midwestern clarinet player named Frank Chace (1924-2007) circulated among passionate enthusiasts of Dixieland, Traditional and Chicago Jazz. Proving the legend fact are newly available private tapes offering an intimate portrait of Chace in duos, trios, quartets and jazz ensembles. Sampled below are Frank's very few commercial recordings, which were mostly the result of his longstanding association with guitarist, vocalist and bandleader Marty Grosz.
Listening to almost any recording by this gifted musician reveals his deep commitment to the brash, highly expressive sound of early so-called 'white Chicago' jazz clarinetists like Pee Wee Russell and Frank Teschemacher. His secondary inspirations were reed-playing New Orleans originals, like Johnny Dodds, Omer Simeon and Darnell Howard, both active in Chicago during the 1920s and '30s.
The rare music heard here is made available by traditional jazz drummer, writer and researcher Hal Smith (b. 1953) who performed with Frank, produced his last recordings and, shortly after his passing profiled him in print. Hal compiled this collection of tapes – some from traditional jazz drummer Wayne Jones — and provided most of the photographs seen here.
This cache of performances portrays an artist embarked on a deep exploration of his instrument – most of it captured 'free range' at informal jam sessions, music parties and rehearsals. Audio quality of this recovered audio varies widely and is presented for artistic significance, not sound production values. Though every effort has been made to restore these rare artifacts.
The sound quality is very good on the studio recordings like "Lonely Melody" from the 1957 Honoris Causa sessions. On the private tapes Frank's intense creativity is displayed with piano player Don Ewell and Marty Grosz (guitar) on "Keep Your Sunnyside Up" in 1959. "I'm Crazy 'Bout my Baby" is from the late-1960s with pianist Jim Dapogny and drummer Wayne Jones.
Mad Scientist of the Clarinet
Frank Chace may have been the most experimental and individualistic Jazz Revival clarinetist of his generation. Yet his role in a band rarely met the conventional definition of a jazz ensemble clarinet part.
In fact, his nonconformist outlook often limited his job prospects. Richard Hadlock, a jazz musician, multiple reeds player, writer and broadcaster reports: "I have heard story after story to do with Frank's losing out because he wouldn't play 'pretty' or 'straight' or 'traditional' or some other term that meant going outside his own way of making music."
Like his main and most obvious influence Pee Wee Russell (1906-1969), Frank's solo variations follow elliptical, unpredictable paths. At times he drops to an intimate whisper, drawing you close, exploring sounds at the inner limits of his instrument. Or he shouts with the bumptious wails of early Chicago jazz, evoking the searing, unconstrained manner of 1920s clarinetist Frank Teschemacher.
This 1965 session featured Chace in a highly experimental mood accompanied only by John DeFauw delivering tasteful Freddie Green-style rhythm guitar. A dynamic multi-instrumentalist, Defauw was a bright eminence and organizer of Chicago jazz.
I've Got the World on a String
Active Chicago Years
A Chicagoan by birth and habit, Chace was an itinerant musician most of his professional career, drifting around the Midwest and playing in Chicago, New York and elsewhere. He appeared with bands in Toronto, Canada, and Dayton or Columbus, Ohio. Over the years he worked briefly with notable horn players Max Kaminsky, Wild Bill Davison, Muggsy Spanier, Jabbo Smith, and Lee Collins.
Notable performances by Frank Chace in later years included concerts and gigs with the Chicago Footwarmers, pianist Butch Thompson, drummer Hal Smith, and bandleader/guitarist Marty Grosz. Chace joined in a Chicago Jazz Night at the 1986 Newport Jazz Festival with trumpeter Yank Lawson and tenor saxophonist Eddie Miller.
In the Chicago area through the 1960s, Chace was captured on tape in numerous casual, informal and private recordings. The set below encompassing 1959 to '65 features Frank with piano players Jim Dapogny or Don Ewell, guitarists Marty Grosz or John DeFauw, and drummer Wayne Jones. "Lucky Day" is typical of the way Frank produced spiky cascades of acerbic tones in the manner of Frank Teschemacher.
Commercial Recordings with Marty Grosz
Marty Grosz (b. 1930) wrote, "From 1948 on, Frank and I were almost inseparable jazz buddies." Chace worked and played extensively with Grosz, and his few commercial records during the 1950s resulted mostly from their longstanding association. It was a fertile partnership documented by several albums, casual or unissued or sessions, and 78 rpm discs dating back to 1951.
Guitar player, singer and bandleader Grosz is an extraordinary talent and admirer of Fats Waller. A fixture of the Chicago and New York City jazz scenes for nearly half a century, his bands swing like the devil. Few musicians lead their ensembles with greater natural élan. Incidentally, Marty is the son of German expressionist painter George Grosz, who migrated to America from Nazi Germany in 1933, and is a visual artist himself.
Both Chace and Grosz have disparaged their early work. Nonetheless, it often captured the ebullient drive and confidence of early 52nd Street swing combos, like when Chace played clarinet and baritone with Marty Grosz and the Cellar Boys on five delightful 1951 Jolly Roger 78 rpm sides.
Among the notable personnel for these sessions were John Dengler (baritone sax), stride pianist Dick Wellstood and two African-American musicians: drummer Tommy Benford (who worked with Jelly Roll Morton, Coleman Hawkins, and Django Reinhardt) and New Orleans-born African American bassist Pops Foster. Mislabeled "Mart Gross" (also "Beef Gross") and the Cellar Boys, the tracks were subsequently issued on a Pax 10" LP album as Pops Foster's Big Eight.
Shim-Me-Sha Wabble
Marty's tight little ensembles of the 1950s achieved an esprit de swing not unlike the best studio pickup bands of the 1930s. Their commercial recordings show clear admiration for The Rhythmakers session of 1932 that featured the clarinet of Pee Wee Russell and young Fats Waller singing.
The Marty Grosz Honoris Causa Jazz Band
The blended horns in this session captured an authentic flavor of the Jazz age. This session known as the Marty Grosz Honoris Causa Jazz Band with vocals by Marty – was probably rehearsal for what became the Hooray for Bix! Album in 1957.
Ristic Records (1949-72) was a small independent British jazz reissue label that was produced and skillfully remastered by the late John R. T. Davies. He was among the finest modern audio restoration engineers focused on early jazz.
On the Honoris Causa Ristic album, Chace plays some baritone sax; Bob Skiver blows intriguing tenor saxophone lines and piano player Tut Soper shines throughout. Marty sings – both in the Fats Waller manner where appropriate, or sincerely crooning "No Lovers Allowed" in the manner of Red McKenzie – one of his favorite vocalists.
Hooray for Bix: The Beiderbecke Album, 1957
Hooray for Bix! remains the best commercially issued representation of Frank's music on both clarinet and baritone saxophone – still in print. Marty Grosz was age 27 when he led this session.
The project was not intended to imitate the original Bix recordings, but offer fresh interpretations of seldom-performed tunes associated with Beiderbecke. The Honoris Causa moniker was reference to Bud Freeman's Summa Cum Laude group that had waxed tunes related to Bix in 1939-40.
The fine cornet player for the session was Carl Halen. Bob Skiver played tenor sax and some clarinet. Chace played clarinet and baritone sax on "Cryin' All Day." Hal Smith notes:
"'For No Reason At All in 'C'' is an excellent example of the lineage from Bix to Pee Wee to Chace. The song is based on 'I'd Climb the Highest Mountain' — one of Bix's favorite songs. Pee Wee played it frequently and recorded it with Bix in mind. Chace kind of handed it back with his interpretation."
The Original Salty Dogs Jazz Band
On occasion during the 1950s and '60s Frank Chace performed part-time with the two premier Traditional Jazz outfits of the Midwest: the Dixieland Rhythm Kings and The Original Salty Dogs. Their drummer, longtime associate of Chace, Wayne Jones said:
"We were all in awe of Frank and, at the same time, delighted with our good fortune to know him and to have him on our bandstand, wherever it was. You did not dare take your ears off him and I like to think he made us all play better. I believe we all thought of him as superman. Even if he didn't like a tune or what someone in the band was doing, he'd just jump in."
Chace sometimes chose a cutting tone, odd harmonics or leaned into the microphone to be heard distinctly in a full band setting. Especially when he was accompanying the brassy two-beat juggernaut of the Original Salty Dogs band — as heard from this rehearsal in preparation for a performance for the Chicago Historical Society.
Chicago Clarinet Influences
Most profiles rightly point to Pee Wee Russell (1906-1969) as Frank Chace's main stylistic and spiritual influence. Also inspirational were Johnny Dodds and Omer Simeon, Creole African American from New Orleans who were active in Chicago during the 1920s.
But I want to draw attention to Chace's affinity for Frank Teschemacher (1906-1932). Deeply encoded in Frank's technique is the sound of Tesch — the searing, wildly expressive so-called 'white Chicago' clarinet style. He is often heard emulating his spiky melodic lines, astringent tone and daring style. Frank came closer to exemplifying Teschemacher's swaggering intensity than any other jazz clarinet player since.
Chicago Piano Partners: Don Ewell and Jim Dapogny
Frank's extant duos and trios with piano players Don Ewell and Jim Dapogny are a rich trove. Dapogny became a close associate of Chace. Ewell was among the finest classic jazz piano players of the mid-20th century. Both worked frequent gigs with Chace in the 1950s and '60s.
Don Ewell (1916-1983) was a superb piano interpreter and accompanist. He was the perfect foil for Frank's musical meanderings as heard in this 1959 private session with Marty Grosz. Taped at the home of cornet player Bill Priestly in Lake Forest, IL near Chicago, Priestly joined "Yes, We Have No Bananas."
I Can't Believe That You're in Love with Me
Chace played often in various circumstances with the late pianist, bandleader, multi-instrumentalist, and composer Jim Dapogny (1940-2019). They were heard together on Frank's occasional gigs with the Original Salty Dogs and at numerous casuals and jam sessions.
Jim matched Frank's experimental mood often in private recordings made between December 1965 and January 1970 at the Dapogny home in Downers Grove, Illinois. The light touch of drummer Wayne Jones – who was the original source for most of these tapes – is notable in this close-knit trio of gifted artists.
I've Got a Feeling I'm Falling
Berkeley Interludes, 1960s
Surprisingly, some fine Chace performances were recorded in Berkeley, CA. During his occasional visits to the San Francisco Bay Area in the 1960s, Frank made a lasting impression on local musicians. Bandleader and banjo player Dick Oxtot recalled, "an excellent Frank Teschemacher-style clarinetist" in his 1999 memoir, Jazz Scrapbook. He wrote that Chace worked for a high-rolling "card club crowd in Chicago," who "imported him to San Francisco" on occasion.
Chace sparkles in these little-known delights taped at Nod's Taproom in Berkeley – vivid music though the sound quality is poor. It's a special treat hearing Frank 'trading fours' with the other horns on "Isle of Capri." The 1960 session was led by trumpeter Byron Berry with Jerry Butzen (trombone), Bill Erickson (piano) and Dick Oxtot (banjo).
In 1969 Chace was featured again with a sympathetic East Bay ensemble. Says Hal Smith, "Oxtot and Skjelbred were really taken by Frank's playing at this session and they remembered it very well many years later."
Providing an ideal platform for his bold experimentation were Ray Skjelbred (piano), Dick Oxtot (banjo or banjola) and Pete Allen (bass). The combo willingly followed Frank through elliptical variations, intimate improvisations and a sustained, eloquent Blues essay of nearly eight minutes.
Withdrawal and Isolation
Beginning in the late 1970s work became patchy and Frank took a day job with a company producing audio-visual training materials. Though he sounded good at occasional gigs and jams he slowly isolated himself, performing less and less often. His last appearance was the 1997 Chicago Jazz Festival. He soon ceased playing his instrument altogether.
Living in his native Chicago during the 1990s he was often seriously ill; he became depressed reclusive and withdrawn. According to those who knew him, Frank was always introverted and painfully shy in later years. Chace gradually lost interest in music, retired to a solitary existence and died in 2007.
Confirming a Jazz Legend
Marty Grosz hints that the vacuum created by Frank's premature absence prior to his passing may have over-inflated the Chace legend. Yet these recordings – collected and saved by Wayne Jones and Hal Smith — buttress his reputation as a bold, profoundly expressive and experimental clarinetist who followed in the footsteps of Pee Wee Russell, with uncanny echoes of Frank Teschemacher.
No longer an obscure legend, this wildly creative artist is due for reconsideration and recognition. His beguiling variations and expansive individuality continue to move listeners and delight fellow musicians. This musical treasure trove is testament to the unlimited imagination of jazz clarinet player Frank Chace.
Chicago Coda
The tune "Oh! Sister Ain't That Hot" – played here by Chace, Ewell, and Grosz in 1959 – could be called a Chicago Hot Jazz anthem. "Someone to Watch Over Me" with pianist Dapogny reminds us that Frank often used simple ballads to explore deep emotional valleys. "Wrap Your Troubles in Dreams" reprises the 1965 Chace-DeFauw duet.
Horn players Beiderbecke, Berigan and others left us memorable interpretations of "I'm Coming Virginia." Frank's sensitive rendition with Jim Dapogny and Wayne Jones from the late 1960s is haunting.
Thanks to Hal Smith for tapes, photos, insights, editorial and musical consultation and Michael Steinman for photos and assistance. Hal Smith and Richard Hadlock were quoted from 2015 correspondence with the author. Frank Chace is further profiled at the JAZZ RHYTHM website.
These articles were useful sources and describe Chace and his music in varying detail:
Frank Chace: Free Spirit of the Clarinet, Hal Smith, JAZZ RAMBLER May-June & July-Aug. 2008
Frank Chace: 1924-2007, Hal Smith, Just Jazz Magazine, June, 2008
Frank Chace: Chicago Clarinet Ace, Bert Whyatt and Derek Coller, Jazz Journal, Dec. 2008
Frank Chace [Discography], Derek Coller and Bert Whyatt, IAJRC Journal, Vol. 42, #2, June 2009
You Asked for a Picture: Glimpses of Frank Chace, Michael Steinman, JAZZ LIVES, Dec. 2014
It's Got to Be Sweetness, Man, You Dig? Michael Steinman, JAZZ LIVES, March 2015
LINKS: