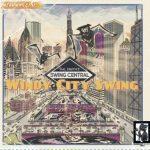 Drummer Hal Smith has been one of the most valuable players in a countless number of settings through the years, from 1920s music and New Orleans jazz to San Francisco revival groups and swing. An unselfish accompanist who adds subtle colors to the ensembles, he is the perfect 1936 drummer, inspired by George Wettling and Dave Tough among others of the era.
Hal Smith's latest group, Swing Central, is a quintet comprised of clarinetist Jonathan Doyle, guitarist Jamey Cummins, pianist Dan Walton and bassist Steve Pikal. Doyle, who sometimes sounds like Pee Wee Russell (particularly on the opening "The Lady's In Love With You"), also in various spots hints at Jimmie Noone and Joe Marsala.
He contributed six originals (most of which are based on common chord changes such as "Bats On A Bridge" which is essentially "I've Found A New Baby"), Cummins brought in one song, and the group also plays some standards and a few obscurities (including Bix and Tram's "For No Reason At All In 'C'"). Cummins is an excellent swing guitarist, Walton contributes some concise solos, and Pikal joins Smith in unselfishly keeping the momentum flowing in the ensembles and behind the lead voices.
This is a fun swing session that is the latest in a long string of winning releases from Hal Smith.
Windy City Swing (Tuxedo Cat 1401, 17 selections, TT = 62:54) www.halsmithmusic.com