We just returned from a great weekend, April 12 to 14, at the 46th Three Rivers Jazz Affair. The festival had a sorrowful start, though. On Thursday as we were finishing up our packing, we received the sad news that Big Earl McKee of the High Sierra Jazz Band had passed away. We were so looking forward to seeing Earl and the band play one last time. After 42 years of performing all over the world, the band had decided to retire. This festival was to be High Sierra's final hurrah together, but with all performers, no matter what, the show must go on. It went on in a great fashion. The old saying is, "This one's for the Gipper;" well, in this case it was for Big Earl.
There were three venues to choose from, eleven bands, and one guest artist. Everyone's favorite guest artist was Bob Draga, always amazing on his clarinet, with funny jokes and stories—you never know what he will say. The school bands were Dixie Dominus and Reedley River Rats, and both were very professional and precise with the tunes they played. Many of the students have been to Jazz Camp. Their performance proves camp is working and we need to keep sending students.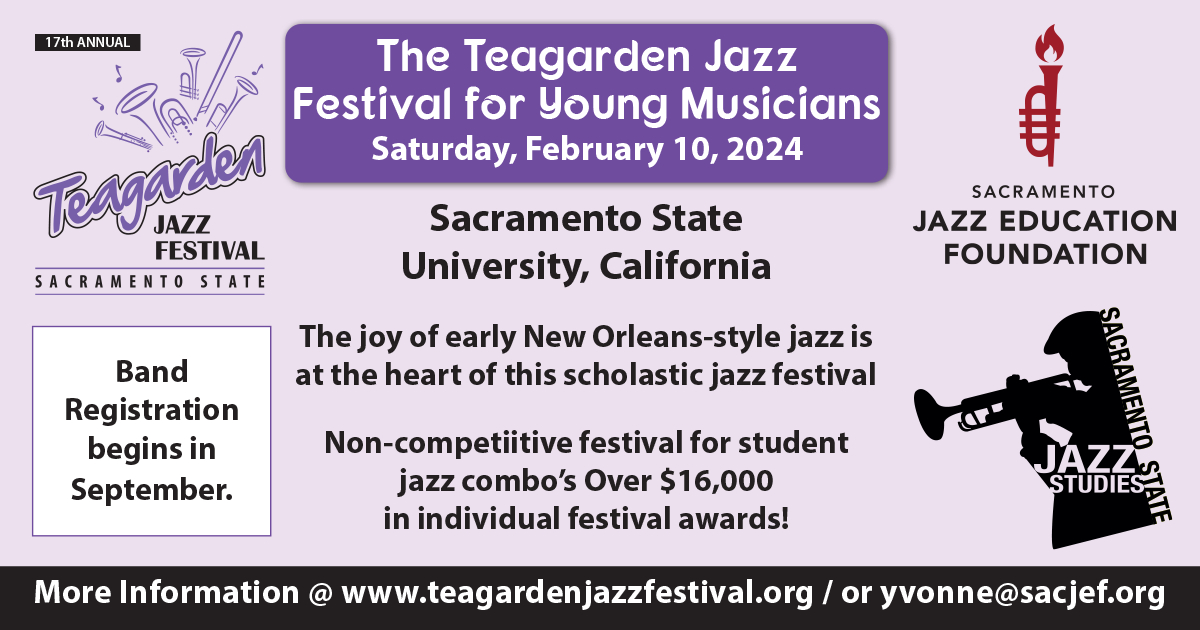 High Street, with their high-energy swing, rock 'n' roll, Motown, and blues, was rocking every venue they performed in, including a gospel set at the First Baptist church. The church was so sweet to put on a lunch of hot dogs and hamburgers for everyone that went to church. The talented Tom Rigney and Flambeau were stomping their way around Three Rivers as Tom's fiddle was singing song after song. Love how he can make it scream, cry, or just drift you to a peaceful place. Blue Street, always a fan favorite with their Dixieland beat, folk songs, and a moving gospel set, pleased the crowd like they invariably do. Bob Schulz's Frisco Jazz Band presented traditional and Dixieland jazz, and the dancers loved it.
Holland–Coots Jazz Quintet played great music and had some funny stories to tell. They played a tune that Jacob Zimmerman and Marc Caparone had never heard before. After listening to it for only a short period, they were able to jump right in and play—no sheet music to read, they just joined in.
The Dave Bennett Quartet played everything from Benny Goodman to Phil Collins and Jerry Lee Lewis, and yes, Dave did stand up on the piano while he kept on playing. Carl Sonny Leyland and Friends are always a joy to listen to. This was the first festival since Cornet Chop Suey lost their piano player, Paul Reid, and they played several songs at different sets in memory of Paul. They now have Richard Zelle on the piano. This was the first festival he has ever been to, and in less than two months he has learned most of the CCS songbook. He is a very talented piano player and has a great voice—I know the songbook will grow with him in the band.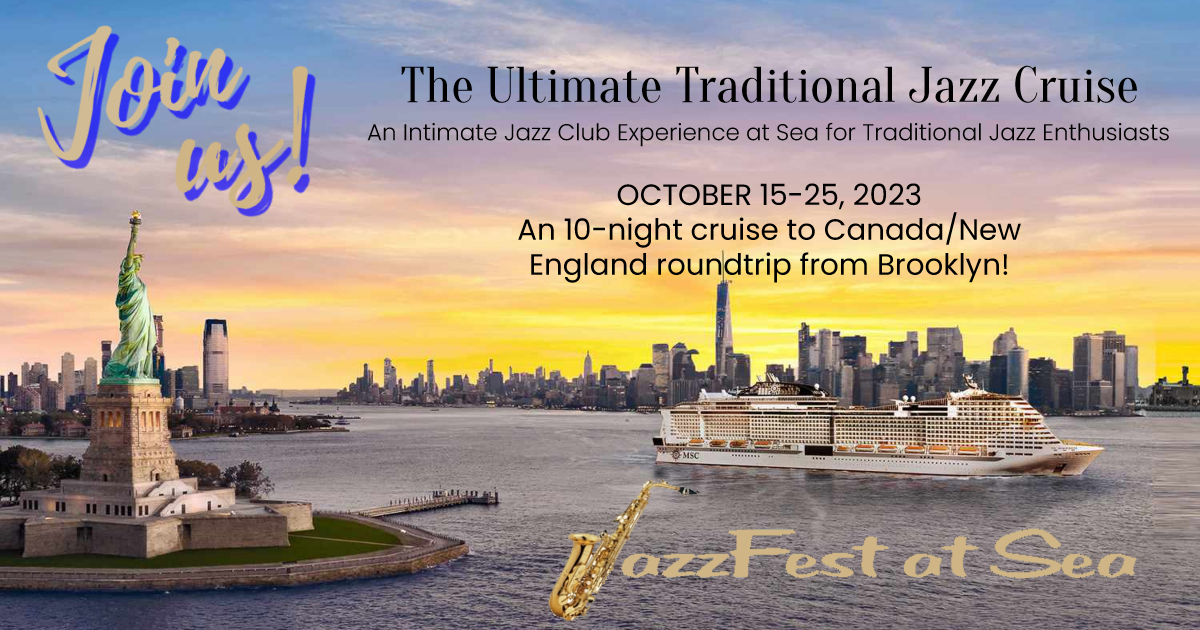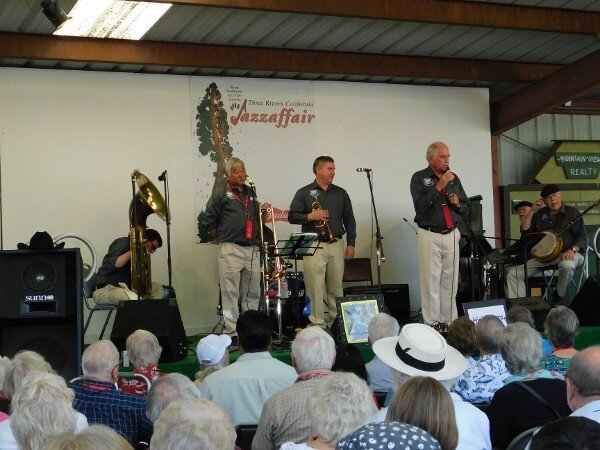 High Sierra played all their sets as wonderfully as they always do, but the last set was extra special. Big Earl's big ole cowboy hat sat up on top of one of the speakers, and a photo of a very young Earl was front and center on the stage with flashing lights. Pieter Meijers related the history of the band, told funny stories, and talked about Earl in between the different songs. The Lions arena was standing-room only. Monterey presented the members of the band with handmade wooden pins in honor of all the years of music they have given us. Norma Baldwin was presented with a gift as a thank you for all her hours of service to the band.
Before you knew it, it was time for High Sierra's final song, but before the band could begin all the other musicians at the festival rushed in front of the stage, turned to the band, and started playing "Until We Meet Again." High Sierra was truly touched, as was the crowd. When the song ended, Pieter announced that Stan and Bruce Huddleston would be retiring to spend time with their families, but the other members of the band would continue to play with some new members. Since the band would never be the same without Big Earl and the Huddleston brothers, High Sierra will end, but Sierra Seven will be performing at the 47th Jazz Affair in Three Rivers, April 17-19, 2020—be sure to save the date. High Sierra then played "Until We Meet Again," with the crowd singing along.
Like all good things must, the festival had come to an end. Susan McIntyre and Sylvia Diaz, along with all the volunteers, had done a wonderful job putting the festival together.