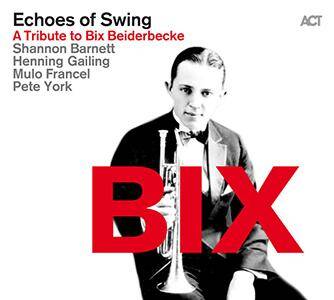 Bix is a unique two-CD tribute to Bix Beiderbecke. The first CD is fourteen tracks of music associated with Bix Beiderbecke. It is performed by Echoes of Swing quartet of musicians: Bernd Lhotzky, piano and music director; Chris Hopkins, alto saxophone; Colin T. Dawson, cornet & trumpet; and Oliver Mewes, drums. That group is supplemented by Shannon Barnett, trombone and vocals; Mulo Francel, c-melody sax and guitar; Pete York, drums, percussion and vocals; and Henning Gailing, double bass. Emile Parisien guests on soprano saxophone on "Jazz Me Blues."
The second CD in this set consists of original music on which Bix performs. These musical numbers were recorded 1927-1928. Some are listed as Bix Beiderbecke and his Gang, Frank Trumbauer and his Orchestra, and Jean Goldkette and his Orchestra.
This unusual CD should appeal to the person just getting acquainted with Bix's music as well as the established Bix fan. The current musicians didn't try precisely to reproduce the music of the 1920s but to give their own interpretations. Liner notes by Bernd Lhotzky, in German and English, are also helpful in appreciating careful effort which went into this production.
Of special interest, I hope, will be the following arrangements by the current group and the Bix renditions: "At the Jazz Band Ball," "I'm Coming Virginia," "Thou Swell," "Singin' the Blues," and "Jazz Me Blues." I will also count trombonist-vocalist Shannon Barnett's "Nix Like Bix" in this category as it is based on "Blue River," a tune which Bix recorded with both the Goldkette Orchestra and with Frank Trumbauer. In Bix's Goldkette version, jazz enthusiasts will note Trumbauer, Joe Venuti, and Eddie Lang among the performers.
The current versions of the tunes are arranged by various members of the group.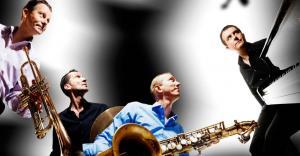 Interview
Bernd Lhotzky and Chris Hopkins kindly answered my queries about the production of this CD. Their answers follow:
Riff a bit on the concept of a duo album. Who thought of it? How long has the idea been extant?
The idea to include a second CD with Bix' original music came from our producer Siegfried (Siggi) Loch. This decision had an enormous influence on our work and was tremendously beneficial to the project. To recreate or copy the originals was something that was out of the question anyway. New ideas and creativity were called for.
From the time you seriously embarked on the project, how long did it take?
It all went fairly quickly. The album was a result of just a few weeks of intensive work.
Tell us how you happened to choose Barnett, Gailing, Francel, and York to supplement your group. Did you have many choices in selecting a C-melody sax artist?
The choice of the other musicians for the project we planned together with Siegfried Loch. Our quartet was supplemented with an extra percussion part as well as drums, which give the recordings an unusual sound. Another great idea from our producer was to get Mulo Francel on C-Melody sax, who adds his personal sound to the horn section. Mulo is very popular here and with good reason.
Presumably, the original Bix material is now in "public domain," so not likely any hassle about copyright and royalties. Correct?
Yes, that's correct.
A comment from Norman: I thought Shannon Barnett's contribution was unique—vocals and trombone. Tell us a little about her. Another comment: I thought Bernd Lhotzky's liner notes as translated by Sebastian Scotney were precise and informative. Good liner notes always enhance the value of a recording.
Shannon's playing is stunning. Tremendous on her instrument and a very expressive singer with a special timbre. Her intonation and time are simply perfect and together with an astounding sight-reading ability, she possesses inexhaustible inventiveness, enormous energy, and great taste. What's very special about Shannon is her versatility.
Estimated total cost for producing this 2 CD album?
I really couldn't tell you how much the production cost. Thankfully we didn't have to take care of that side of it. The whole thing was done lavishly with no compromises and with deep respect for Bix's music. The project was first of all an idea of Siegfried Loch which was very close to his heart—something that he'd been waiting to do for a long time. In this case any commercial considerations played a secondary role.
What other information, which I neglected to ask, would you like our readers to know?
The idea was homage to Bix that is totally different from other tribute projects. Nothing here was copied. We have attempted to present Bix's music and personality from various perspectives and show them in an entirely new light.
---
Echoes of Swing: A Tribute to Bix Beiderbecke – Challenge Records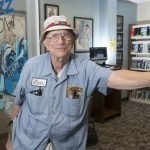 Dr. F. Norman Vickers is a founder of the Jazz Society of Pensacola/Pensacola Jazzfest and a charter member of the Jazz Journalists Association.