Irving Aaronson and his Crusaders
is simply the early name of
Aaronson
's band, which may have existed as early as 1923. Aaronson upgraded their rank to
Commanders
right after their March 8, 1926 session for Edison.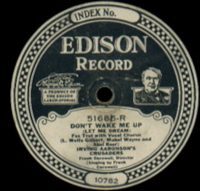 The name changed, but the band remained the basically the same until the Summer of 1928, when trumpeter Mickey Bloom and saxophonist Harold Saliers were replaced by Charlie Trotta and, allegedly, Artie Shaw respectively. Saxophonist Tony Pastor and pianist Chummy MacGregor also joined at this time as pianist and arranger.
These later additions raised the heat on the band considerably, but they are much less well documented on record than the earlier group.The Crusaders Edisons are fairly straightforward dance band sides, and one senses the band is holding back a little, perhaps in deference to the Edison Company's standard tastes, although by 1926 this was no longer necessary.
In the end, it didn't matter, as their one issued record sold poorly and is today one of the scarcest Diamond Discs. But the Edison company, as was their habit, retained all of the takes. Differences between them are very slight, and listening to them is an interesting case study in just how similar takes of a commercial 1920s dance band's records could be to one another. -By Uncle Dave Lewis.

Title

Recording Date

Recording Location

Company

All For You

(It is unclear which take this recording is.)

3-8-1926
New York, New York
Edison
unissued


10870-A

All For You
3-8-1926
New York, New York
Edison
unissued


10870-B

All For You
3-8-1926
New York, New York
Edison
unissued


10870-C

Don't Wake Me Up
(Let Me Dream)
(Singing by Frank Cornwell)


( L. Wolfe Gilbert / Mabel Wayne / Abel Baer)

1-20-1926
New York, New York
Edison
51685 R


10782-A

Don't Wake Me Up
(Let Me Dream)
(Singing by Frank Cornwell)


( L. Wolfe Gilbert / Mabel Wayne / Abel Baer)

1-20-1926
New York, New York
Edison
unissued


10782-B

Goodnight
(I'll See You In The Morning)
3-8-1926
New York, New York
Edison
unissued


10871-A

Goodnight
(I'll See You In The Morning)
3-8-1926
New York, New York
Edison
unissued


10871-B

Goodnight
(I'll See You In The Morning)
3-8-1926
New York, New York
Edison
unissued


10871-C

Goodnight
(I'll See You In The Morning)
3-8-1926
New York, New York
Edison
unissued


10871-D

I Dare Not Love You
(Introducing "Twilight Voices")
(Singing by Frank Cornwell)


(Harry B. Smith / Sigmund Romberg)

1-20-1926
New York, New York
Edison
51685 L


10783-A

I Dare Not Love You
(Introducing "Twilight Voices")
(Singing by Frank Cornwell)


(Harry B. Smith / Sigmund Romberg)

1-20-1926
New York, New York
Edison
unissued


10783-B

I Dare Not Love You
(Introducing "Twilight Voices")
(Singing by Frank Cornwell)


(Harry B. Smith / Sigmund Romberg)

1-20-1926
New York, New York
Edison
unissued


10783-C
| | |
| --- | --- |
| Artist | Instrument |
| Irving Aaronson | Piano, Leader, Vocals |
| Mickey Bloom | Trumpet |
| Sal Cibelli | Violin, Vocals |
| Frank Cornwell | Violin, Vocals |
| Herman Hyde | Alto Saxophone, Violin |
| Stanley Johnson | Drums, Vocals |
| Ralph Napoli | Banjo, Vocals |
| Harold Saliers | Alto Saxophone, Violin, Vocals |
| Phil Saxe | Clarinet, Tenor Saxophone, Alto Saxophone, Violin, Vocals |
| Red Stanley | Trombone, Vocals |
| Jimmy Taylor, Vocals | Trumpet |
| Mack Walker | Bass Brass |