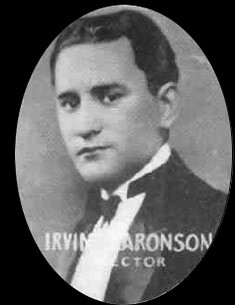 Irving Aaronson
(February 7, 1895 – March 10, 1963) was a silent movie accompanist from childhood, and he may or may not have been related to pianist Jack Aaronson who played with
Sophie Tucker
and 
Ted Lewis
.
In 1921 Aaronson co-wrote the hit "Boo-Hoo-Hoo" with Al Lentz and Harry Link, and by 1923 he was leading his first band, The Crusaders, which recorded for Edison in early 1926.
In March 1926, Aaronson's band began to record for Victor with their name changed to the "Commanders," making semi-hot recordings with a flair for novelty. Some of these early Aaronson records proved very popular, among them "The Pump Song," "I'm Just Wild About Animal Crackers," and "Crazy Words – Crazy Tune."
Aaronson's Commanders played the movie theater circuit along the Eastern Seaboard, mainly in large, urban cinemas, which were built like temples in the 1920s. Visual stimulus and tomfoolery was an important part of their show, and vocalist and reedman Phil Saxe was Aaronson's biggest asset in this respect, a natural comic with a great sense of timing and a gift for vocal characterizations.
The band got its big break when the Commanders appeared "Paris," a 1928 Broadway hit by E. Ray Goetz and Cole Porter. Starring Irene Bordoni, "Paris" ran a respectable 195 performances, and during its run the band financed the making of an early musical short which was ultimately distributed by MGM, however only the audio survives to this film.
Aaronson's Commanders ceased recording for Victor in January 1929; another coupling was made for Brunswick in August 1930, but never issued, a casualty of the company's acquisition by ARC. By the time Aaronson's Commanders recorded for ARC again, three years had passed and the band had been totally re-organized, but alas, now without Phil Saxe.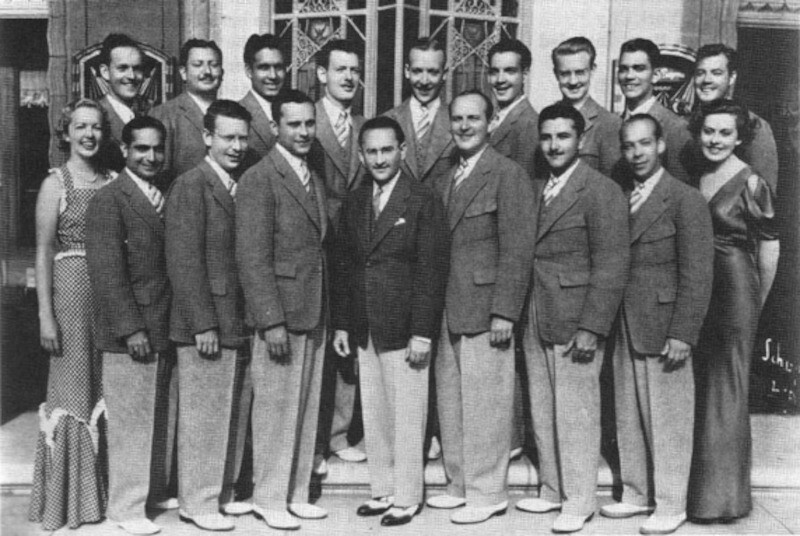 The swing band version of Aaronson's Commanders struggled on for two more years, and even backed up Bing Crosby's last ARC session. But as Benny Goodman's band was packing them in at the Palomar in the LA based homestand largely credited as the touchstone for the swing era, Aaronson's Commanders were appearing for the last time at the Avalon Ballroom at nearby Catalina Island.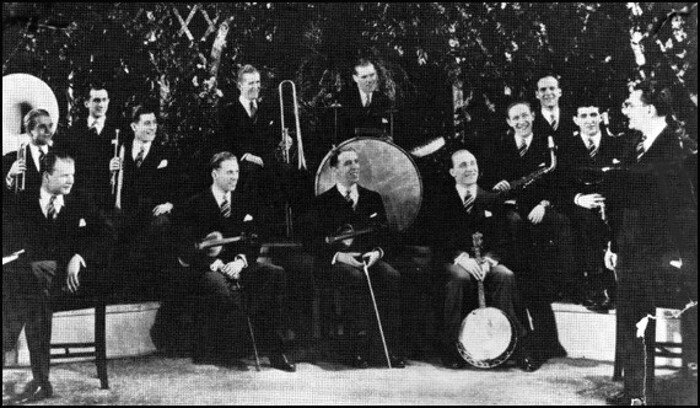 After a year of hard drinking and feeling miserable, Irving Aaronson went to work in the Hollywood studios and became a musical director in Joe Pasternak's unit at MGM, where he worked until his retirement in 1960. Phil Saxe provided the voice of "Mr. Nobody" in the 1933 cartoon "Betty Boop for President," and may have done other things worth noting in entertainment after he left the Commanders.
In terms of jazz, Aaronson's Commanders was most valuable as an incubator for musicians who would become significant, even dominant figures in the Swing Era. Artie Shaw, Tony Pastor and pianist/arranger Chalmers "Chummy" MacGregor all served in the earlier edition of the Commanders, and vocalist Kay Weber and Gene Krupa participated in the "swing" band.
It is difficult to evaluate the later Aaronson group as its ARC records are so scarce, but the Victors often feature excellent, highly difficult arrangements, innovative ensemble choruses and effective, if short, solos. Based on the quality of their recordings, Irving Aaronson and his Commanders were certainly a much better group than the "funny hat band" some commentators, including Artie Shaw, made them out to be. Their recording of "Lets Misbehave" is practically synonymous with the free spirit and high times of the Jazz Age. -by Dave Lewis