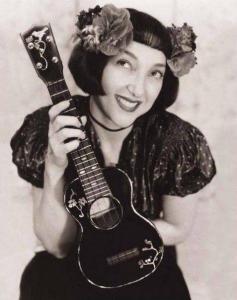 An artist is by definition a misfit and a malcontent: one who, upon finding reality unsatisfactory reaches to make or find meaning through inspired creative effort. Artist, musician, and chanteuse of "obscure, naughty, and lovely tunes" Janet Klein has been "bumping off the curb of my discontent" since childhood. The sights, sounds and drab overtones of a certain place and a certain time (San Bernardino, California in the 1970s) engendered in Janet the sense that "something seemed terribly missing."
That something was a sense of charm and beauty that was once ubiquitous in the design, architecture, and music of the first half of the Twentieth Century and earlier. Janet caught glimpses of the "California Dream" in the Inland Empire: palm tree-lined avenues leading to the last remaining orange groves, old homes and crumbling beauties like the Mission Inn, Riverside, or the Sycamore Inn in Cucamonga. Flashes of some kind of lost world seem to be projected through the old black and white movies; there seemed to be just enough real-world evidence to prove that there really had been elegant hotels, nightclubs, and ballrooms: places to dress formal and to dance like Fred Astaire and Ginger Rogers or dancehalls and beachside pavilions to frolic in style on the cheap.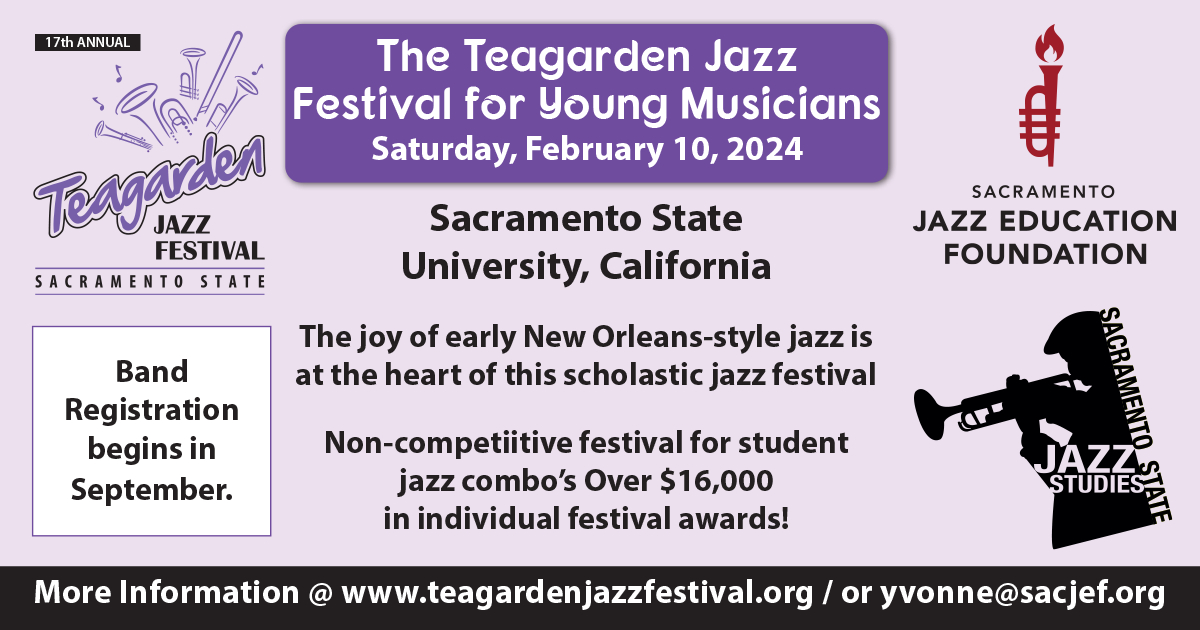 Refuge From Modernity
Janet often found refuge from dreary modernity in her father's art studio and his record collection, which was well-stocked with classical, electronic and world music. Stephen Klein's taste also veered toward avant garde musicians such as Frank Zappa. He did not delve into Country music, or into Opera. (Janet redressed the lack by taking a History of Opera course in college. What most appealed to her were Renaissance and Early Baroque works, such as by Claudio Monteverdi. Later she was able to find parallels between it and 1920s music "There is a transparency to the harmonies in Early Music that reminds me of 1920s band arrangements" she said.)
Talking with older relatives, especially her grandparents, was Janet's window into the past. She delighted in tales of 1930s New York and yearned to superimpose herself there "like Zelig." She was intrigued that her grandfather, Marty Klein, had been a stage magician doing an act called "Ten Minutes With Ten Fingers." She relished spending time with older people in her family. She remembers saying, "Why should I hang out with kids my age? They don't KNOW anything."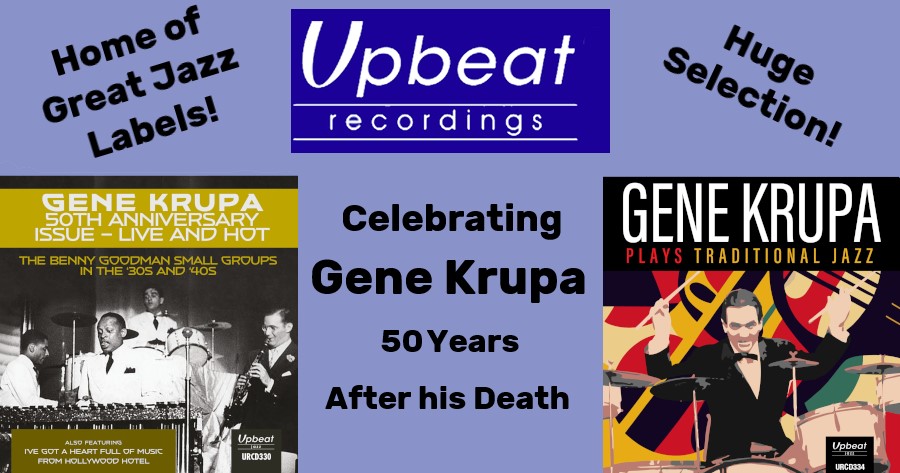 Other than the occasional musical film treasure that would materialize by chance on TV, American music of 1910s, '20s, and '30s seemed to have vanished. Big Band music could be found on a few specialized radio stations. It wasn't until Janet went to college for Art and Design at UCLA that she began to satisfy her musical curiosity, discovering the decidedly not depressing music of the Depression Era and earlier.
Resourcefulness
These days, old music is incredibly easy to find, thanks to websites like YouTube. Before the internet, one had to be resourceful. Janet raided the music library at UCLA, and found additional support using an 800 number connecting her to the California state librarian. There was also the Letter Exchange, which enabled people to correspond on similar interests and provided a "bulletin board" so that comments and queries (and their responses) could be posted to a specific community.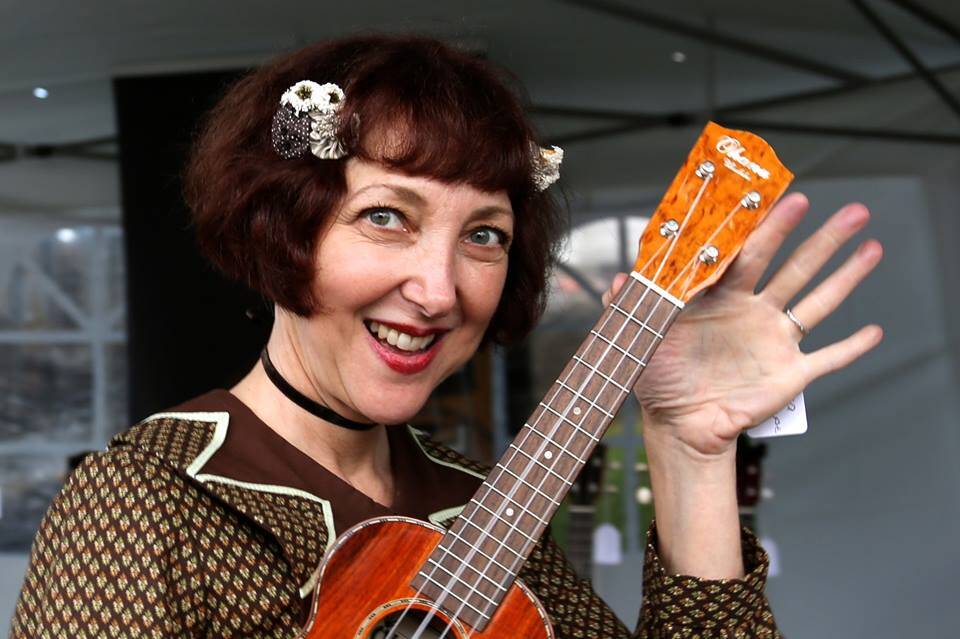 Early on in her quest, Janet discovered Kurt Weill and Lotte Lenya. There was a poignancy (one might say a trenchancy) to the Weimar-era songs, and she found recordings of Weill's own voice particularly appealing: "I love to hear composers sing their own material." She also heard Jazz Age recordings by Josephine Baker and Edith Piaf, and (somewhat later) Ruth Etting and Annette Hanshaw.
As a student of art and graphic design, she was first attracted to the artwork on the covers of old sheet music for their great illustrations and beautiful use of color. Since she knew how to read music (having a background in classical piano) the long-forgotten songs inside revealed themselves to be equally worthy of her attention. She emphatically chose to "think small" at this point, and instead of pounding the keys of a Steinway, she decided a ukulele would be her most appropriate accompaniment.
Despite her natural affinity for the music (and her desire to share her discoveries with audiences), Janet first approached performing in public as a poet reading her own work. She gradually introduced musical elements into her readings, such as a triangle and then the uke, and finally began incorporating songs into her performances.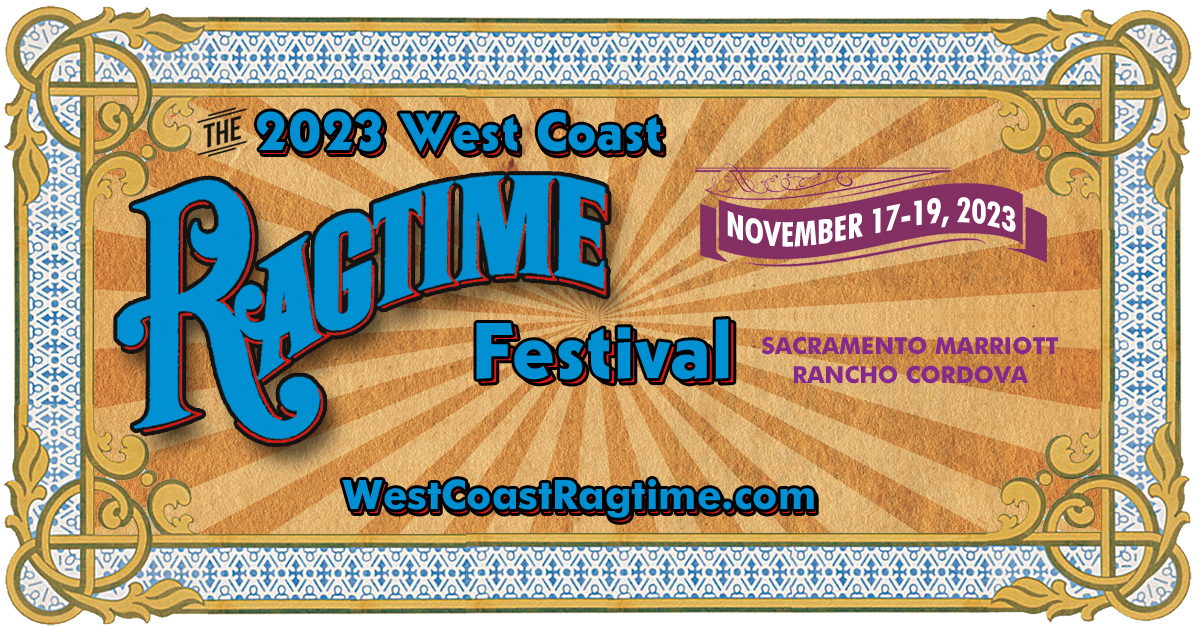 Though her poetry was well received (she has published a chapbook of her poems, When They Kiss I Leave) by 1996 Janet dropped the readings and concentrated entirely on presenting Jazz Age songs. And while it would seem natural for her to do so, she has never written her own music. "Musically, I'm more of a treasure hunter," she said. "It's archaeological. I find so many obscure songs that could or should be classics. I want to go straight to the good stuff and share that. There is so much buried cultural heritage."
Come Into My Parlor
By 1998 she had decided to produce some homemade cassettes for friends and family when she realized that everyone (except her) was using CD players. Her friend from art school (and future husband) Robert Loveless produced her first recording, Come Into My Parlor, as well as providing musical support on mandolin, accordion, and triangle. Janet just happened to meet and enlist LA guitar wizard John Reynolds to offer tasteful and appropriate accompaniment. But mostly it's just Janet and her ukulele.
There's a winning innocence to the sound of Come Into My Parlor, and the ghost of Annette Hanshaw seems to hover in the studio from the first selection (Dorothy Fields and Jimmy McHugh's "In a Great Big Way") onward. The atmosphere of charm and sweetness never dissipates, even as Janet explores decidedly naughty blues numbers as Bo Carter's "Banana in My Fruit Basket." The double entendres are duly noted, but the air of innocent fun is unsullied.
Since Come Into My Parlor was a professional production (requiring a minimum of a thousand copies), Janet took pains to make the CD package and booklet as beautiful as possible. Each one of the eight Janet Klein CDs produced to date is gift-wrapped for the listener in the most sumptuous and clever packaging imaginable.
With Paradise Wobble (2000), Janet introduced her Parlor Boys, a panoply of congenial musicians who all "get it" about Jazz Age music. The arrangements are true to the period without being slavish re-creations of extant recordings, and the added instrumentation enhances the material further. Among the motley array of skilled bandsmen are a Cheap Suit Serenader (Robert Armstrong) and British Invasion rocker and Ragtime revivalist Ian Whitcomb. Other Parlor Boys on Paradise Wobble include Tom Marion, Corey Gemme, Randy Woltz, Benny Brydern, and Brad Kay—all A-list Los Angeles musicians, jazz scholars, and record collectors.
Mining the Strata of Old Music
It has been Janet's mission to "find the musicians and collectors who carve at it with a pick-ax." "It" being the strata of early twentieth century popular music and jazz. Janet's CDs and performances are enriched by the inclusion of dozens of unjustly forgotten gems of essential popular culture. In her musical excavations, Janet has unearthed the obscure and exquisite music of Wilton Crawley ("Put a Flavor to Love"), Robert Cloud ("Jacksonville Blues"), Bennie Moten, and others. "The sounds of musicians and bands working in different parts of the country and playing in regionally distinct styles fascinates me."
"The booklet for her most recent CD It's the Girl! (2015) opens to reveal a life-sized cartoon set designed by Thom Foolery, inspired by a stylized photo Janet found of actress Alberta Vaughn and by the live-action/animation antics of Max Fleischer's creations and Walt Disney and Ub Iwerk's 1920s Alice films. There is a YouTube video of Janet and the Parlor Boys capering on this set to the album's first selection, "Sing to Me," intercut with clips of silent-era Felix the Cat and Mutt and Jeff cartoons. To get just the right visual, Janet designed two costumes for the photographs: one in the style of a 1920s Max Sennett bathing beauty and another à la Ruby Keeler in 42nd Street.
Come Into My Website
Janet's CDs are all available on her website www.janetklein.com–as are her poetry chapbook and her miniature books Love is a Boomerang and Take a Picture of the Moon. There's also the Kleinette Firefly Flapper Banjolele. (The website itself is gorgeous and elaborate, and you'll easily find yourself browsing there for hours.)
Janet and her Parlor Boys are now in their eleventh season playing at the Steve Allen Theater, where they appear on the first Thursday of each month. There are also Janet Klein shows at The Old Town Music Hall in El Segundo and at the newly-restored Clifton's Cafeteria in LA. While Janet has made several appearances in Japan, she hasn't brought her music to England or to Europe—or even to the East Coast. (We're missing out!)
If you haven't heard a Janet Klein CD, or explored her website, or even seen one of her beautifully-produced videos on YouTube, you really are in for a treat. There's a deep reverence in her approach to early twentieth century music and imagery. Her work is integral and organic, borne of a passionate attention to detail that ensures the whole creation is greater and more joyous than the sum of its component parts.
"This is the music that got people through the Depression the last time," says Janet. And I'd reckon that the heartfelt, clever, and bittersweet songs of the Jazz Age as lovingly delivered by their most dedicated curator, Janet Klein, will help see us through the next one.