Longtime pianist-arranger John Sheridan has assumed leadership of the Jim Cullum Jazz Band, which will continue its bi-weekly gigs at San Antonio restaurants as well as the bimonthly Trinity University Skyline Swing Dances sponsored by KRTU Jazz 91.7 and the local Swing Dance Society.
Following his graduation from Capital University in his home town of Columbus, Ohio, Sheridan signed on with the U.S. Navy School of Music and was assigned to be the combo pianist for the Navy Band in Washington, D.C.
"A lot of good things happened to me during those years," he recalled. "I did my first serious arranging. I subbed quite a bit for The Commodores and did some gigs on the Presidential yacht, The Sequoia. It was during President Nixon's first administration. He only used the yacht as a getaway when he needed to prepare for an important speech or summit meeting. But he did let his favorite congressmen and Cabinet members use it for entertaining. I was like a fly on the wall watching a slice of history."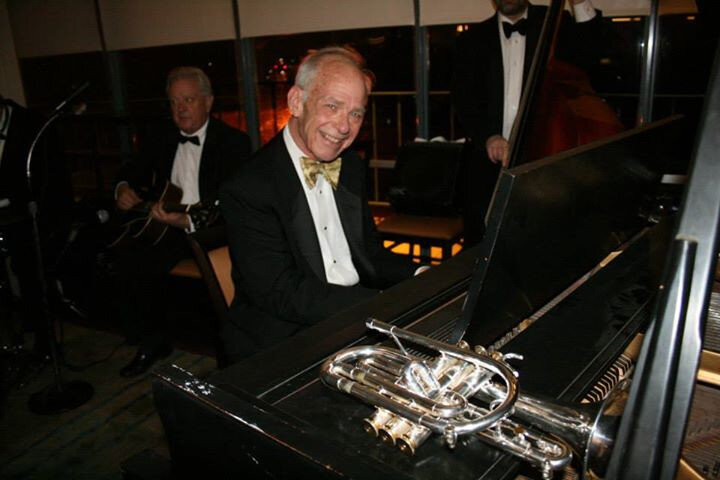 He moved to Dallas in 1972 to work on his Master's degree at North Texas State (now the University of North Texas). He soon had a busy musician-student schedule that included work with Tommy Loy's Upper Dallas Jazz Band.
 Approached by Jim Cullum 
The Tommy Loy band usually played at a place called The Railhead. In 1976, the Cullum band stopped in after playing a gig at a local country club. "They listened to us and then got up and played, and we had a regular battle-of-the-bands," according to John. "Later in the evening, Jim got me off in a corner, bought me a drink and started talking business. He said his pianist was getting along in years and probably would retire in the foreseeable future. He asked if I would be interested when that happened."
That call came in late 1978, and John joined the Cullum band in San Antonio in April of 1979, which he describes as "the best thing that ever happened to me." His predecessor had done all of the band's arrangements, so John easily stepped into that role. It was a demanding schedule with the band playing six nights a week, contributing over 800 arrangements, recording, traveling, and doing the weekly Riverwalk Live on the Landing syndicated programs that were heard on 200 Public Radio International affiliates.
Sheridan's interest in arranging stemmed from hearing Fletcher Henderson's arrangements for the Benny Goodman band. "You most closely identify with the artists you hear first, which is why Fletcher, Teddy Wilson and Jess Stacy still influence my arranging and playing. I don't try to sound like anyone else. Each of us is making a statement within a particular style from different periods. It's all jazz!"
♫ ♫ ♫ ♫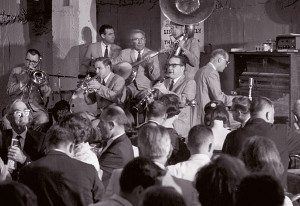 A San Antonio business publication in noting the passing of Jim Cullum Jr. this past August at the age of 77 referred to the late bandleader as "one of the city's greatest ambassadors who played a vital role in transforming the River Walk into an international tourist destination."
In 1963, Jim and his father along with a group of investors established The Landing jazz club in the basement of the Nix Hospital, the first-ever nightclub on the River Walk. After the death of Jim Sr. in 1973, The Landing moved to the river level of the Hyatt Regency Hotel where the Jim Cullum Jazz Band would go on to play six night a week until 2012. Jim was also the first president of what was to become the San Antonio River Walk Association. One of his favorite promotional ideas was to dye the river green on St. Patrick's Day.
♫ ♫ ♫ ♫
Café Bohemia, a jazz club in New York City's Greenwich Village that had its original run from 1955 to 1960, has had a reincarnation in its original location at 15 Barrow Street this past October.
The club initially was made famous when saxophonist Charlie Parker, who lived across the street, offered to play in exchange for free drinks. Unfortunately, Parker died before he began playing there, but the association of his name with Café Bohemia helped draw in other famous musicians including the first Miles Davis Quintet, Cannonball Adderly, Art Blakey, Lester Young, and Oscar Pettiford, who wrote the song "Bohemia After Dark" after the fledgling club.
The club retains the same red look as the cover photograph of Miles Davis' record 'Round About Midnight, which was taken at Café Bohemia in 1956 and had a red tint caused by a red fluorescent light above the bandstand. Also bathed in red are the album covers on the walls, recorded in between 1955 and 1960, and mostly on Blue Note Records.
It might be a basement hole-in-the-wall seating just 50, but guests can listen to top-rate musicians while sipping such drinks as the Jazz Standard Mile, B-Sharp Lemonade, the Mingus Margarita, and the Bold Fashioned. Café Bohemia offers a mix of jazz, blues, bebop and folk throughout the week, with Thursdays dedicated to the Cafe Bohemia Jazz Quartet led by Jon-Erik Kellso.
♫ ♫ ♫ ♫
When Canadian-born tenor sax-clarinetist-vocalist Evan Arntzen now based in New York City invited his longtime companion, Scout Opatut, to join him at the Metropolitan Museum of Art on November 30, it was not to view one of the world greatest collections of fine art. Seems it was where the couple had one of their first dates and was a logical place for Evan to pop the big question. Evan happily reported, "She said YES! We've got wind in our sails, and this boat in on the move! Here's to life together. L'chaim!"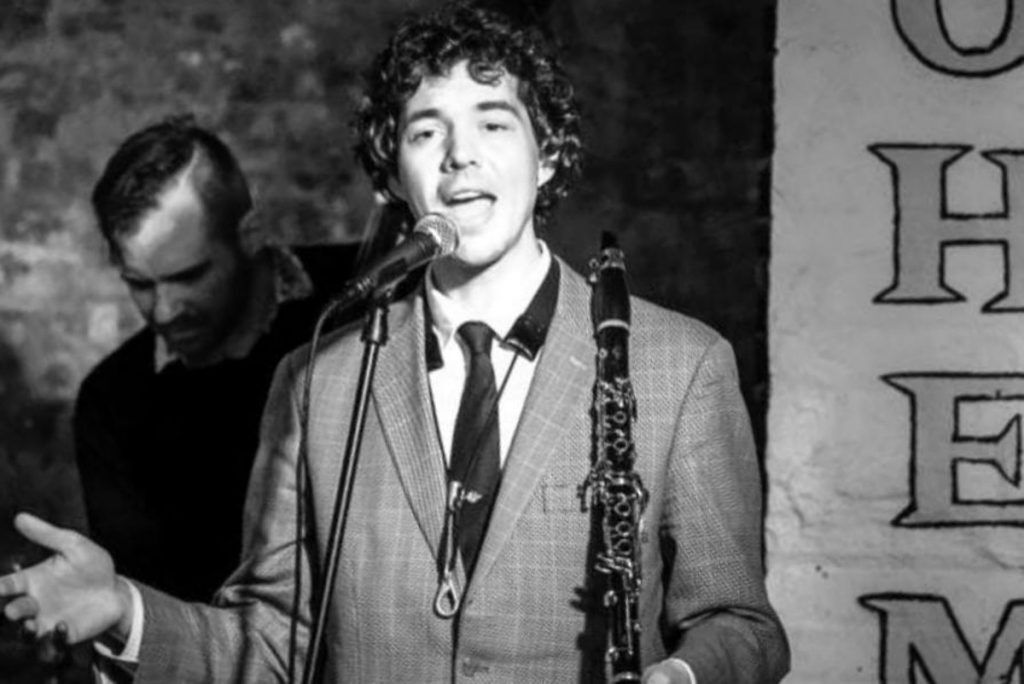 ♫ ♫ ♫ ♫
One of the recipes in Jazz Cooks: Portraits and Recipes of the Greats by Bob Young and Al Stankus is "Millionaire Meatloaf" conjured up by bassist Milt Hinton and trombonist Tyree Glenn while touring with Cab Calloway during a time of segregation.
As the story goes according to Milt, "Since we couldn't eat in many restaurants, especially in the South, Cab bought an electric stove and had a case made for it to travel on the bus with us. Most theaters in those days had kitchens in their basements."
"Tyree and I liked to cook, so we would buy a pound of ground beef, a pound of sausage meat, and a pound of veal, ground up. We mashed it all up, added salt, pepper, powdered garlic, and five or six slice of bread, crumbled up. Then we put in an egg, one large onion, a large green pepper and two sticks of celery, chopped up. We formed it in a loaf and let it cook at 350 degrees for an hour during shows. After our first show, we added a can of tomato puree and let it cook for another half hour."
After the second show, we all had a wonder dinner. And Cab had to get in line just like everybody else. He couldn't go to those restaurants either. Tyree called it 'Millionaire Meatloaf' because it wasn't cheap at all."
♫ ♫ ♫ ♫
The 2020 Jazz Congress will be held in New York City January 13-14 in the Jazz at Lincoln Center Frederick Rose Hall.
♫ ♫ ♫ ♫
Santa's Gift to those on Facebook: "I've been reading your posts all year. That's why I gave each of you a dictionary."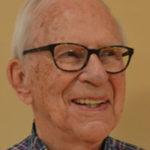 Lew Shaw started writing about music as the publicist for the famous Berkshire Music Barn in the 1960s. He joined the West Coast Rag almost thirty years ago and has been a guiding light to this paper through the two name changes since then as we became The Syncopated Times.  47 of his profiles are collected in Jazz Beat: Notes on Classic Jazz. Volume two, containing profiles from 2013-2016 will be available on Amazon soon. He taps his extensive network of connections and friends throughout the traditional jazz world to bring us his Jazz Jottings column every month.