Carol and Jeff Loehr who have masterminded the Sun Valley Jazz & Music Festival for the past 12 years are expanding into the world of jazz parties by bringing 14 all-star musicians to the Sapphire Room of the Boise Riverside Hotel the weekend of June 3-5. Reservation can be made by calling 877-478-5277, and further details will be announced shortly,
The musician lineup includes Charlie Bertini, Sheri Lynn Colby, Bobby Durham, Yve Evans, Jim Fryer, Tom Hook, Nate Ketner, Bob Leary, Paul Martin, Ed Metz, Terry Myers, Sam Rocha, Greg Varlotta and Jason Wanner.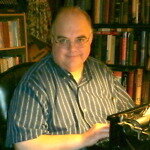 Andy Senior is the Publisher of The Syncopated Times and on occasion he still gets out a Radiola! podcast for our listening pleasure.