Suncoast Jazz Festival director Joan Dragon has had a long and varied worklife, in and outside the music world. Having never attended this festival, I confess she was not known to me, but her friend and TST subscriber Betty Comora felt she was owed some ink. Here is the result, in Joan's words. She took the specific questions I asked and worked them into her narrative; hence, you will not see the usual Q. and A. that usually populate my interviews.
To be honest, I have been reluctant to do this interview since I feel that the level of my musicianship cannot compare to that of the many fine banjo players with whom I have worked. A few masters who quickly come to mind are: Ron Bill, Gim Burton, Ron Beisel, Bob Price, Mike Gentry, Barry Foulon, Ed Cuneo, and Michel Lavigniac. And, of course, this list would not be complete without Joel Schiavone, the mastermind behind the concept of Your Father's Mustache, who was able to combine banjo playing, beer, and peanuts with family fun and all-out entertainment. Ultimately, my forte had much more to do with production and letting the other musicians take center stage.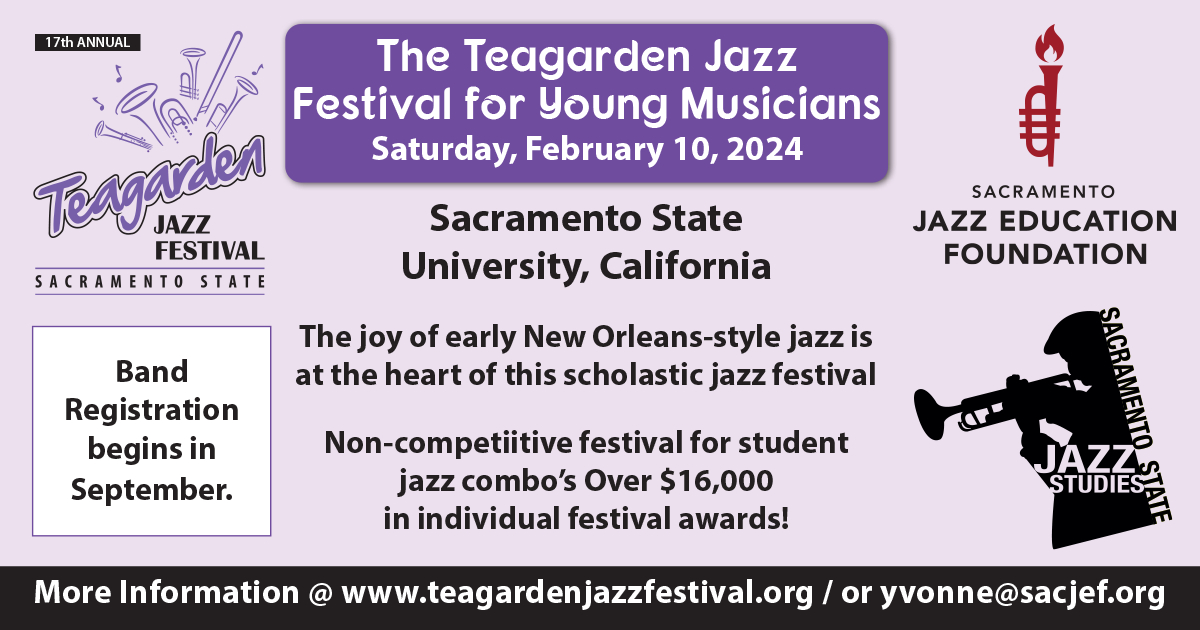 Inspiration has come to me in many forms throughout my life. One of my earliest memories that stands out is when my dad and I took the train into New York City to hear a jazz band with Bunk Johnson. Bunk bought me a lemonade. I was just a little girl, but I was hooked!
Inspiration also came from my musical family. My grandmother, Minnie Bell Adney, was an accomplished voice and classical piano teacher, and she actually opened the first music conservatory in Victoria, British Columbia, in the early 1900s, and then went on to pursue her career in New Brunswick, Canada. My father, Glenn Adney, continued the musical tradition and started a jazz band known as "Glenn Adney and the Purple Jackets" in Montreal while he was a student at McGill University. My mother, Margaret Robertshaw Adney, played the organ at church on Sundays. So, you could say that musical notes run in my genes.
Then, while living in southern California as a young mother, we frequently went to Mickey Finn's Warehouse. Wow! This was a different type of jazz experience—it was crazy fun and entertaining! It was also what inspired me to buy my first banjo.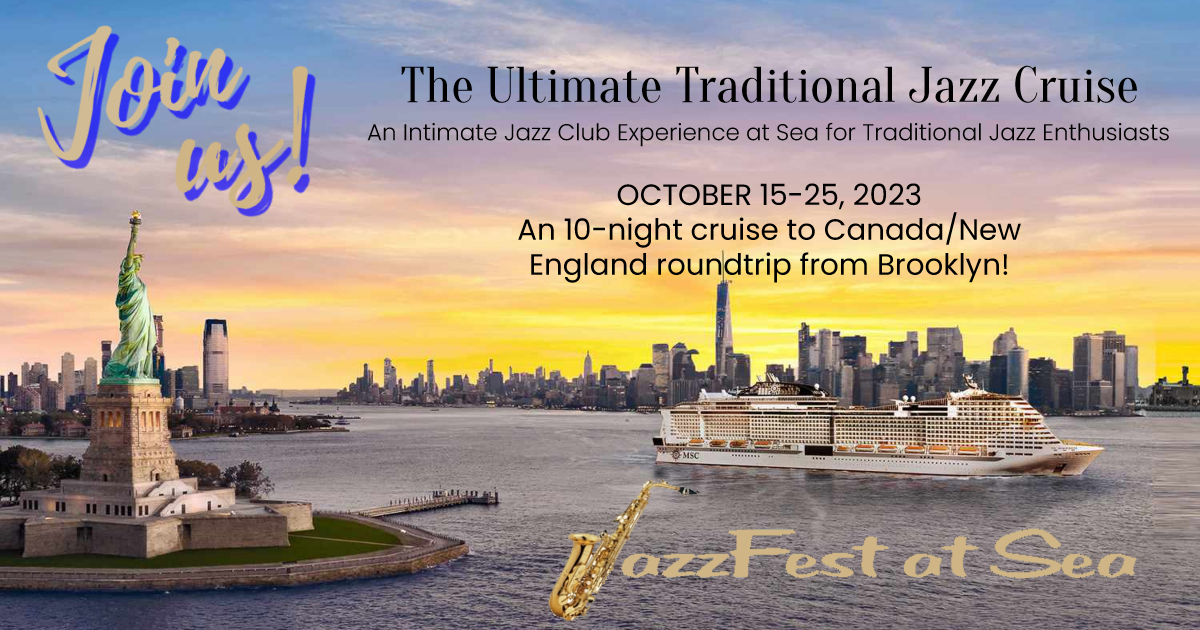 My dad was a stride piano player, so when we moved back home to New Jersey, accompanying him on the banjo renewed my interest, which led to many evenings together "woodshedding" all the old tunes. I had a good ear, and I found it easy to learn the oldies like "Bye Bye Blackbird," et al. The musical patterns just clicked for me as many songs follow the same chord progressions.
Joel Schiavone of "Your Father's Mustache" fame gave me my first break. By nature, I am a shy person, and looking back on it, I am really not too sure how I mustered up the courage to walk in to YFM one night in the Village [Greenwich Village] with my banjo. But I did. There was a small cubby under the stage where Joel told me to sit and play along with the band until I felt comfortable enough to go up on stage. Then, after that first night, Joel simply said, "Get on stage!", so I sat with Gim Burton, Ron Beisel, and the others. As mentioned, I was able to play by ear, so, as a side player, I picked up the tunes fairly quickly by following along with the others. I am very lucky that they were all welcoming and patient with me.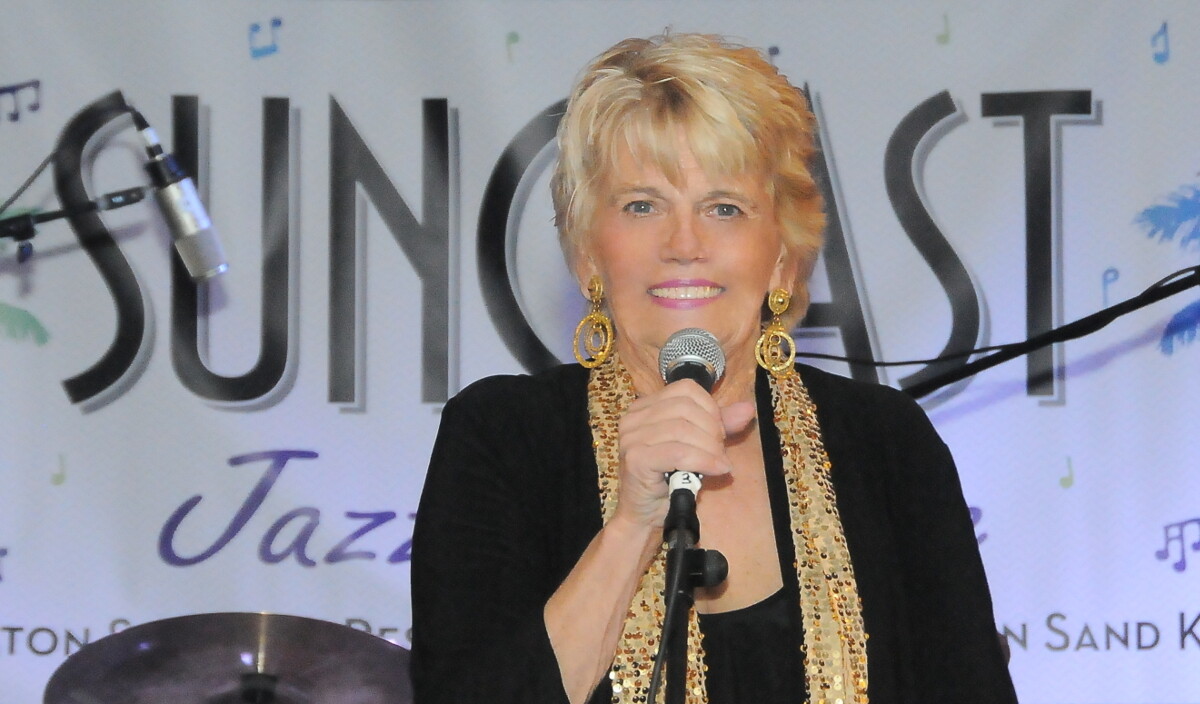 With YFM over the next few years, I travelled from NYC to Cape Cod, then on to open the Chicago club, then back to Cape Cod, finally on to the Boston club. In Boston, we were the local favorites of the Mayor's office for all sorts of crazy outside jobs, playing:
·in the State House at 2 am to keep the legislators awake during a long night,
·at Fenway Park, where we were chased off the top of the Red Sox dugout, and
·at countless citywide events, including the "Summerthing" neighborhood summer concerts.
Some of Your Father's Mustache crazy antics can also be seen here in performances by the contingent from New Orleans.
It was also during these years that "Your Father's Mustache" began doing warmups for the Ed Sullivan Show, and some of us had the exciting opportunity to be featured on the actual TV broadcast, accompanied by our dancing waiters! Here is a video that, while a bit damaged, will allow you to see that performance.
For the most part, I was a sideman; however, eventually, I did go on to lead bands for "Your Father's Mustache" over a period of years. I also worked at many of the traditional venues such as Disney, Shakey's Pizza, and then went on to book bands for events, both in the Boston area and here in Florida.
From Boston, we decided to go out to the Phoenix area to play in a club called Nick Fink's where an old friend, David Gannett, was playing tuba. That was going well until we found that the owner had neglected to pay some federal taxes, so it was time to move on.
I was married to Art Dragon, a trombone player, at the time, and he landed a job at Disneyland with the Pearly Band. As that gig looked as permanent as anything ever looks to a musician, we moved out to California. I also got a job at Disney, primarily playing nights in the Horseshoe Saloon in a show led by Sonny Helmer called "The Class of '27," an old-time extravaganza that featured Banu Gibson, who was a comedic flapper girl and vocalist.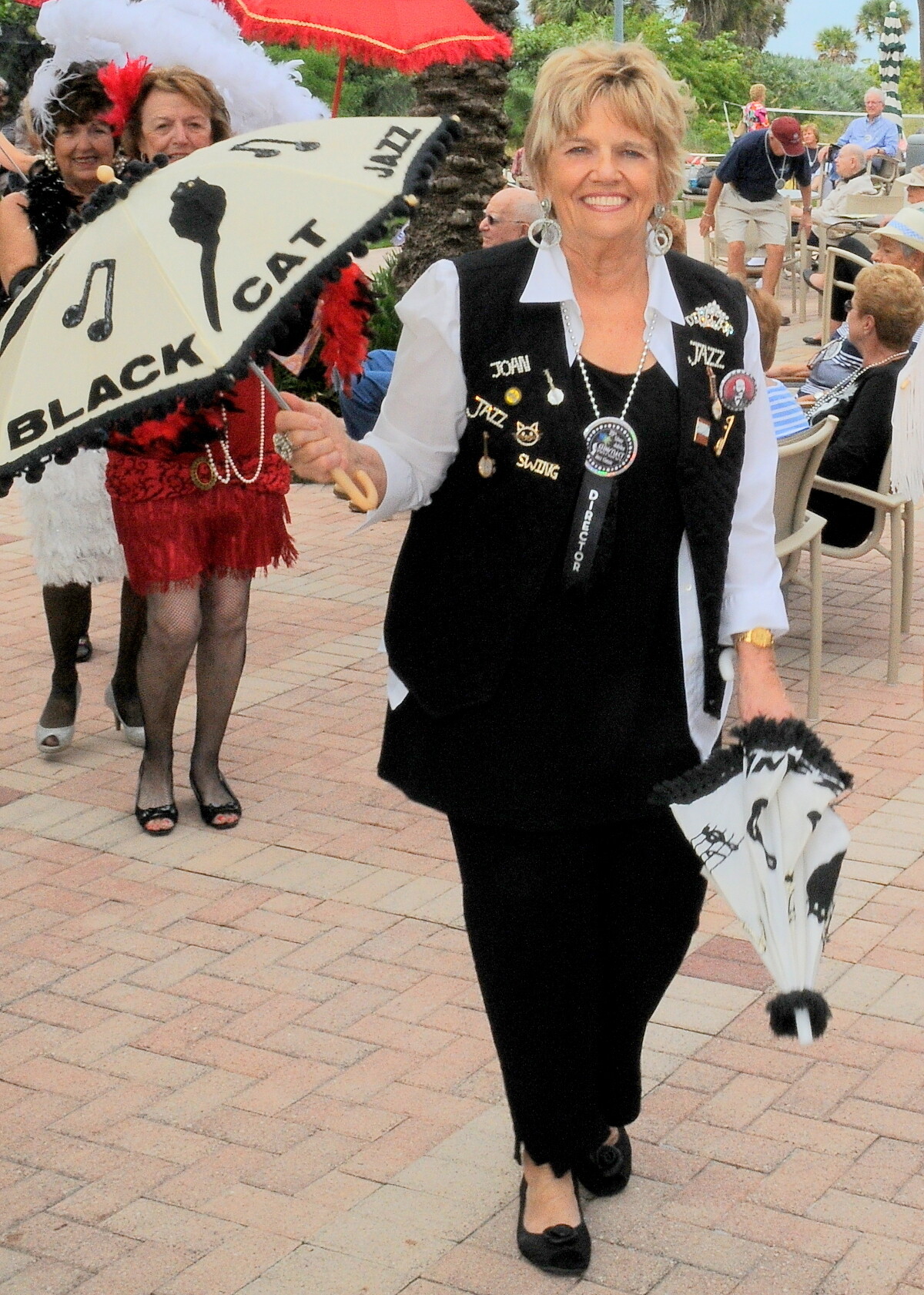 I played with the group doing some "street strolling"; however, times were different then, and Disney did not like to see a woman walking around playing banjo. And eventually, they decided to only use men to back up the flapper girls in the "Class of '27."
Life changes led me back east to Boston. It was there that I became involved in union Performance Trust Fund jobs, met some wonderful players in the area, and began booking bands for events. One fabulous little trio with whom I had the pleasure of working for a few years included Jim Mazzy on banjo and John Fuller on bass.
There were wonderful music schools in Boston, such as Berklee, so there was always a great pool of musicians. That's how I came to meet the incomparable Pete Collins who asked me to join his "Jazz Band Ball." We did jobs around Massachusetts (Duxbury and the South Shore) most of the year, and then Damariscotta, Maine, during the summer.
From Boston, I moved to Florida for what I thought would be "a leg up on retirement," but, of course, I never retired. Instead, I opened my first foray into the food business, the "Black Cat Gourmet to Go and Deli" on Clearwater Beach. Due to customer demand, we moved from Clearwater Beach to Belleair Bluffs, and I ran that business for about 12 years before eventually selling it.
During those Black Cat years, we formed the "Black Cat Jazz Band," playing at the early Suncoast Jazz Festivals and keeping busy year-around with all sorts of jobs again. We were a great bunch of "music nuts" having fun; I suppose that we were more of a party group than a concert stage band. Thanks to the Black Cat Band, I was invited to join the Board of Directors for the Suncoast Jazz Festival. I eventually became Suncoast Festival Director in 2008. 2020 was to be our 30th anniversary year.
I am always learning as I go, but I have also been able to draw upon my years of experience in music, the food business, and promotions to keep our Festival fresh and relevant.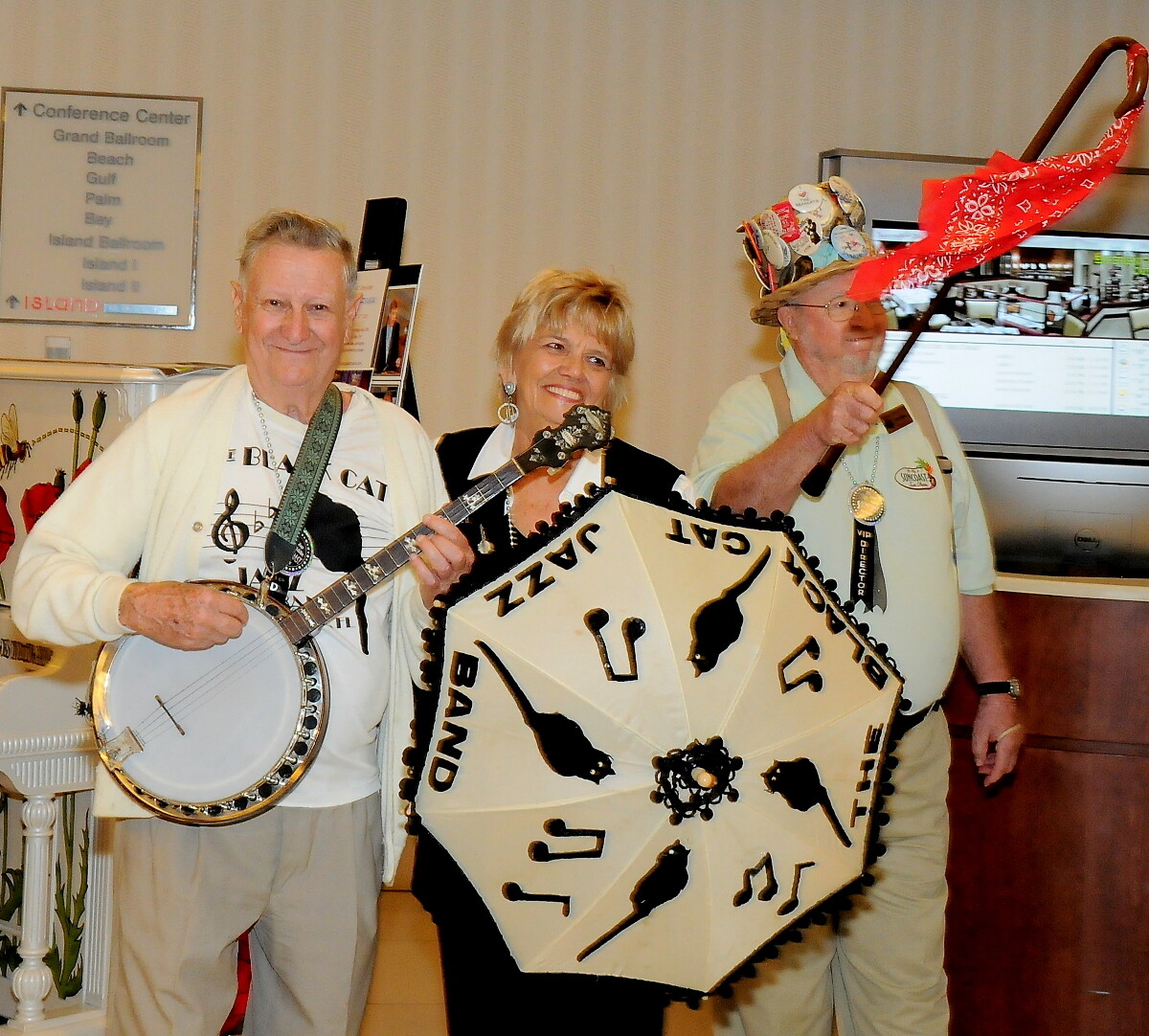 The food business career keeps going. A few years after selling "The Black Cat," a good friend and I decided to launch the "Wildflower Café" here in Clearwater, FL where we have been serving great breakfast and lunch for the past 20 years. After about 14 years, we enlarged the dining area and added our mighty little Marketplace.
I say "mighty" because The Market became a crucial part of our business this year when the coronavirus hit. Essential businesses could remain open. We had to close the Cafe for about 2 months, and we have recently reopened the indoor/outdoor dining area at 50% capacity.
So now, many years later, I am directing the Suncoast Jazz Festival. All festivals these days are facing the challenge of crossing over music genres to keep up with changing tastes and bringing in younger audiences.
To maintain interest and keep the crowd's feet tapping, Suncoast has evolved from a uniquely Dixieland/trad event into a weekend extravaganza that takes place at the Sheraton Sand Key and the Marriott Suites, two hotels on the beach where our event rooms burst with music lovers enjoying Swing, the Great American Songbook, Cajun/Zydeco, blues, and even a little bit of rockabilly. While we now celebrate many different styles of jazz-inspired music, we will always hold strong to our roots and continue to feature fantastic traditional and Dixieland groups.
Looking back, I owe so much to my early days with "Your Father's Mustache." In fact, the old gang actually did "get to Carnegie Hall" in the Fall of 2011 and, subsequently, a few years later, we had the great honor of being inducted into the Banjo Hall of Fame in Oklahoma City.
Never could I have imagined that a shy, young girl from New Jersey would have had such memorable experiences. I just feel so fortunate and grateful.
To read about the rescheduling of the Suncoast Jazz Festival (and for other information about Suncoast) please visit www.suncoastjazzfestival.com.