It's tricky to find much online about Olivia Cook—unless you're seeking her almost-namesake Olivia Cooke, the English actress who starred in Psycho prequel Bates Motel. But you're not: you're seeking the late New Orleans pianist and bandleader better known as "Lady Charlotte"—a woman denied her concert pianist dream by dint of her race, who nevertheless graced jazz festival stages right up to her demise. Did I mention that she taught Harry Connick Jr. to play? Read on for a biography, drawing on the fascinating research of jazz historian Sherrie Tucker and the dusty archives of the Times-Picayune.
Cook was born Olivia Williams in 1913 to Rose Williams, a railroad maid. (Little is known about her father Roland, who "didn't stay with us very long," Cook told one interviewer.) They lived with her maternal grandparents: midwife Olivia Mayo and William James Mayo, who was a church musician and Pullman railroad porter. The younger Olivia took lessons in praise music from her grandfather, performing on piano and organ at his church from the age of just six. She was also a student of Juilliard-trained musician "Miss Beatrice" Stewart Davis, who taught her the classical etudes—music young Olivia fell in love with.
Davis arranged for Olivia to attend Juilliard, winning her a scholarship to do so, but her mother wouldn't allow it as she couldn't bear to be separated from her daughter. So the fifteen-year-old piano prodigy went instead to New Orleans University and Straight College, all-Black establishments run by the Methodist Episcopal Church and the American Missionary Association, respectively. This was perhaps best for young Olivia's future, in fact, for—as noted by the Times-Picayune in a 2001 interview—"in 1930, segregation [kept] a brown-skinned girl from a career in classical music" anyway.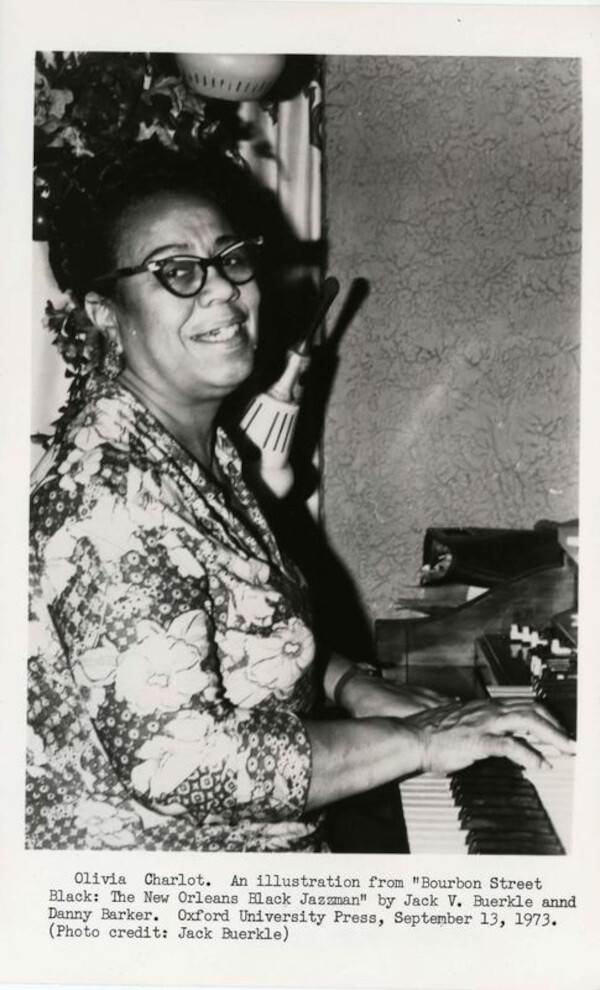 Olivia realized that she would have to play jazz, if she was to earn a crust in New Orleans. Like a lot of her female contemporaries, her formal training and ability to read charts made her an attractive rhythm player. The idea horrified her grandma, who warned that only "bad women" play jazz and that jazzmen "gonna disrespect you." ("In that time, the old people strictly didn't like no jazz no how," Cook told the Times-Pic.) But her well-travelled grandfather—who had seen female bands in New York and was hep to that jive—gave it the green light. "He loved it," Cook said. "If my grandfather hadn't been a Pullman porter, I never would've played jazz … He said, 'Let the girl play anything she wants to play.'"
The talented (and trained) young pianist found "plenty work" with the city's trad combos, but it "wasn't much money." Her preferred style was stride, "back and forth with the left hand." This helped make up for a lack of amplification, she explained: "There wasn't much bass, so you had to create a bass on piano." This rhythmic touch caught the ear of Herbert Leary, the trumpeter whose fifteen-piece Society Syncopators were in demand at uptown soirées. "He'd hear me from a distance and say, 'I know that's Charlotte playing up there,'" Cook said. "That's because of Miss Beatrice. She told me, 'You deliver how you feel.' So I deliver a song my way." But confident Cook—the outfit's only woman—wasn't popular with her bandmates. "[They liked that] I could read anybody's manuscript," she explained, "but they hated that [I] was a woman."
It was with Leary that "Lady Charlotte" acquired her popular moniker—one which was well deserved, according to bassist Walter Payton, who called her "a true lady," when speaking for her Times-Pic obituary. The straight-laced pianist (who was also minister of music at St. Joan of Arc's Catholic Church for half a century) never drank—for her personal protection as much as her professional reputation—cultivating an aura of civility which led most men to leave her alone. The Times-Pic summed it up poetically, saying that in the loose world of New Orleans jazz, Cook was the corset. "That's how you keep going in life, she explained, "you keep your pride … When I used to go out with Leary's band, I'd be the only woman. So, you know I had to take care of myself … Everybody had respect for me. I played music. I got through. I came home." (She also carried a pistol on the road, which can't have hurt her confidence.)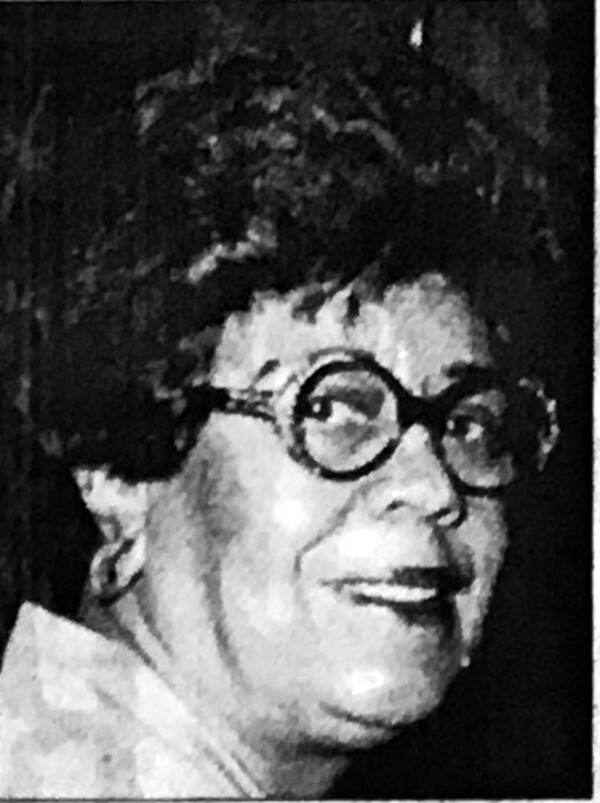 Despite harboring classical ambitions her whole life, Olivia found a second love in jazz (and in Albert Cook, a young army veteran and silver polisher, who she wed after marrying and ditching a wastrel barber named Charlot who "sat on his butt and gambled more than anything"). Payton, who performed with her repeatedly at the New Orleans Jazz and Heritage Festival (Jazz Fest), claimed her classical training and church upbringing were assets. "With the fulfillment of the classics and the soul of church music, when you put them together, you've got jazz," he told the Times-Pic.
Cook wanted to be in the heart of jazz—on Bourbon Street with the hoi polloi, not performing at hoity toity balls. So she left Leary's outfit in the fifties to play with Papa Celestin's Tuxedo Brass Band (under his successor Papa French and his sons, George and Bob French), as well as Wallace Davenport, Danny Barker, and Louis Nelson. In 1965 she turned bandleader, founding Olivia Charlotte Cook's Men of Rhythm and playing the strip clubs and tourist traps like the Famous Door. But respectability was always paramount—there was no drinking or smoking, on Lady Charlotte's bandstand. ("When I say leading, I mean just that," she said—musically and morally.) Once, she told the Times-Pic, she even had to fend off a frisky Freddie Kholman, brandishing her gun when he tried barging into her bedroom at night while touring in France—though she added that he was a "real nice guy."
The unstoppable Lady Charlotte never retired, becoming a regular fixture on the Jazz Fest stage from the 1980s until 2004, the year she died. In 1999, myNewOrleans.com recruited Cook to their Jazz All-Stars—a fantasy band whose line-up has changed annually since 1990. (She 'appeared' with Ernie Elly on drums, Manuel Crusto, on sax, Clifford Brown on guitar, Anthony "Tuba Fats" on tuba, Scotty Hill on trombone, and Dave Bartholomew on trumpet.) She was still playing regularly at the Maison Bourbon in 2001, when interviewed by the Times-Pic, and the 2002 JazzFest program introduced her as an "eighty-eight-year-old pianist" who "has played with a who's-who of the New Orleans music scene … including the late legend Danny Barker and trad jazz brothers Bob and George French." It dubbed her sets "a loving tour of traditional twentieth century New Orleans music," though it appears she never set foot in a recording studio.
Like many lady musicians with their formal training, Cook had a professional sideline in piano tuition. She conducted this privately in her home (as attested to by classifieds in the Times-Pic) and through the New Orleans Recreation Department, as well as several dance companies. Lady Charlotte lived for over seventy years at 8608 Spruce Street—a modest home, which her mother bought for her in 1929. This was recently transformed from a derelict squat, ravaged by Hurricane Katrina's winds and waves, into a modern, spacious, open-plan home (worth $239,000) by the city's Preservation Resource Center. It seems a fitting epilogue to the life of a lady who—like her shotgun shack and the pistol in her pocket—had been a mainstay of the city's music since the Jazz Age.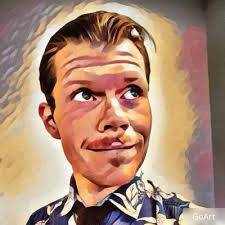 Dave Doyle is a swing dancer, dance teacher, and journalist based in Gloucestershire, England. Write him at [email protected]. Find him on Twitter @DaveDoyleComms.