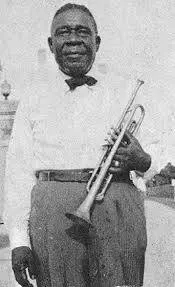 Papa Celestin (January 1, 1884 – December 15, 1954) was one of the most popular of New Orleans cornetists and considered a major player in the development of jazz. Arriving in New Orleans in 1906, Celestin became a member of Henry Allen Sr.'s Excelsior band in 1908.
In 1910 Celestin started the Original Tuxedo Jazz Orchestra which would become one of the most enduring bands with musicians like Peter Bocage, Louis Armstrong, Bebe Ridgley, Lorenzo Tio, Jr. and Isidore Barbarin (guitarist Danny Barker's grandfather).
He began recording with his own groups for Okeh until the Depression forced him to give up the group. During World War II he was found working in a shipyard. After the war Celestin re-formed his band and began recording for various companies and doing live broadcasts from local radio stations. He was also a mainstay and tourist attraction on Bourbon Street until his death.
In view of the tremendous contribution Celestin made in jazz throughout his lifetime, the Jazz Foundation of New Orleans had a bust made and donated to the Delgado Museum in New Orleans. -by Ted Gottsegen